In the ever-evolving world of coffee makers, finding the perfect blend of functionality, design, and brewing excellence can be a challenging pursuit. Enter the Bonavita 8-Cup Coffee Maker, a machine that has piqued the interest of many caffeine aficionados and prompted discussions across coffee forums. In this Bonavita 8-Cup Coffee Maker review, we, at The Coffee Guru, have taken it upon ourselves to provide an expert analysis, diving deep into its features, performance, and value proposition. Whether you're contemplating a purchase or simply looking to stay updated on the latest in the coffee-making realm, this review promises insights that will cater to all your caffeinated curiosities.
Bonavita 8-Cup Connoisseur: Key Takeaway
Superior Coffee Quality: The Bonavita 8-Cup Coffee Maker excels in delivering a brew comparable to high-quality pour-overs, especially when using freshly ground beans.
Temperature Precision: Designed with optimal temperature settings, the machine provides a perfect brew for black coffee enthusiasts, though it may be slightly cooler for those who prefer creamers.
User-Friendly with Versatility: Its user-friendly interface, combined with added features like the preinfusion setting, offers both simplicity and versatility for those keen on experimenting.
Design Appeal: Aesthetically, the Bonavita stands out from typical coffee makers, showcasing a sleek appearance that harmonizes with modern kitchen appliances.
Value for Money Concerns: While the machine offers a solid coffee experience, considerations regarding its actual capacity and heat retention might raise questions about its overall value for its price point.
Guru's Score Verdict
The Bonavita 8 Cup One Touch: Unpacking the Features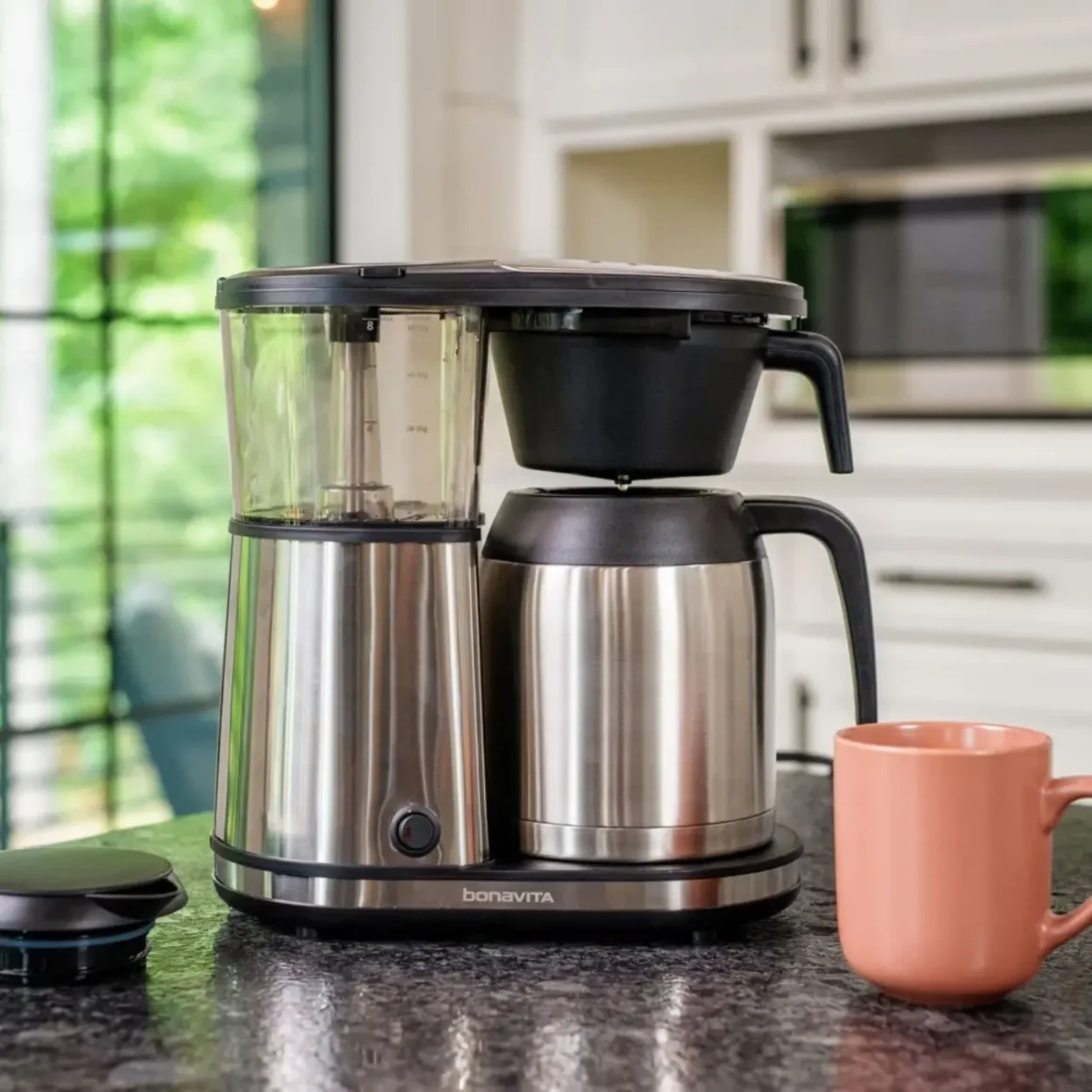 Crafting a delightful cup of coffee is often a blend of science and art. In recent times, coffee makers have come to the forefront, helping millions brew that perfect cup effortlessly. Among these, the Bonavita 8 Cup One Touch Coffee Maker stands out as a game-changer in home coffee brewing, marrying function with finesse.
Design & Aesthetics of the Coffee Maker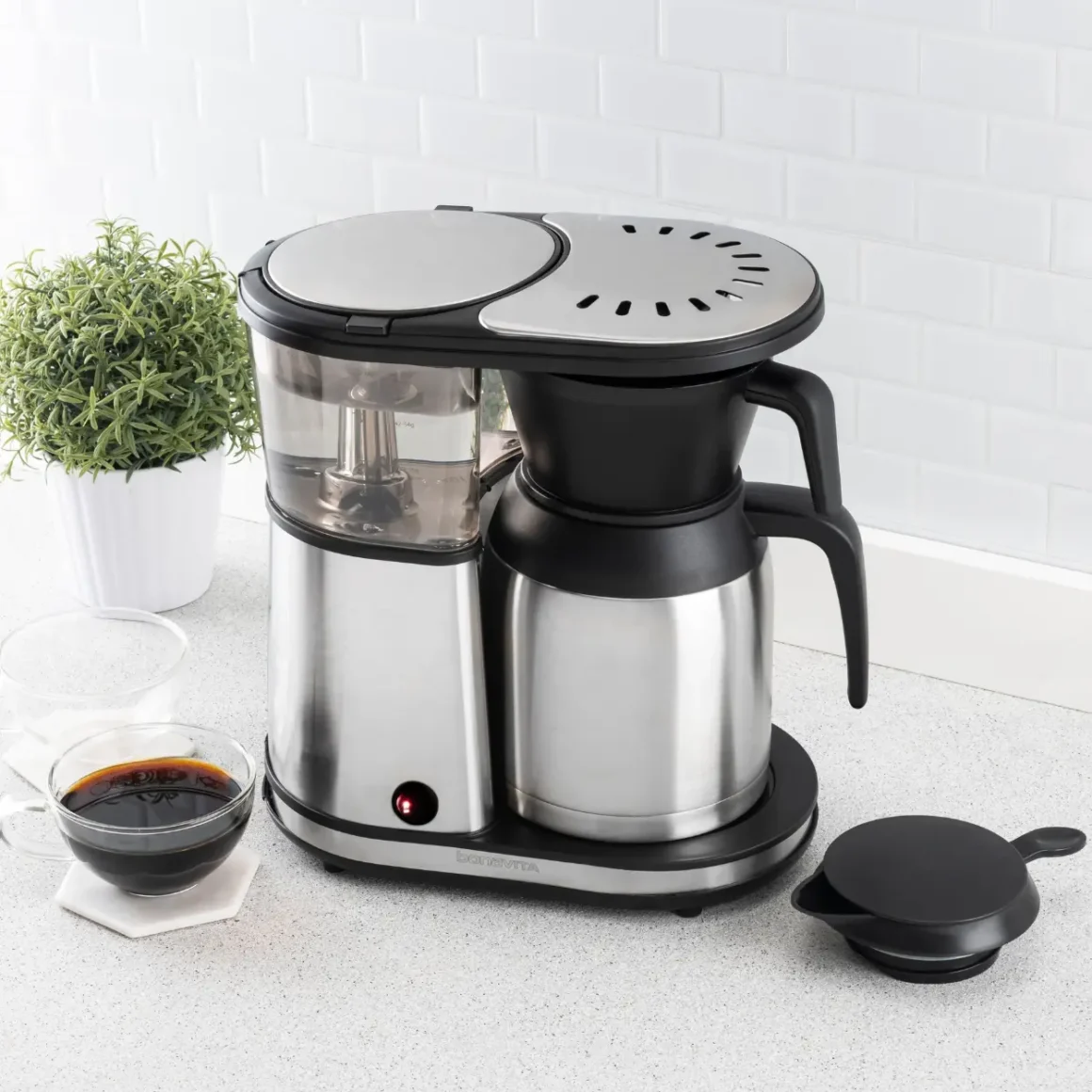 The Bonavita 8 Cup Coffee Maker, widely recognized as the Connoisseur, brings the craft and elegance of pour-over coffee making right to your kitchen counter. With a body crafted from stainless steel, it not only exudes a premium feel but is also designed to last.
Materials: Crafted from stainless steel, the primary body features an elegant and robust design. Components such as the carafe lid, filter basket, and showerhead are constructed using BPA-free plastic, guaranteeing the integrity of your coffee. (1)
Suspended Design: One of the most distinctive features is its suspended filter basket, which promises an even extraction, delivering a flavor-rich coffee.
Thermal Carafe: Double-walled and made from stainless steel, the carafe ensures your coffee remains hot for an extended period.
Technical Specifications & Brewing Capacity
Bonavita has painstakingly detailed every aspect of the 8 Cup One Touch Coffee Maker, ensuring that it doesn't just make coffee but crafts an experience.
Heater Power: With a formidable 1500-watt heater, the brewer consistently maintains the optimal brewing temperature, a range of 195°F to 205°F (91°C to 96°C).
Brewing Capacity: The brewer, living up to its name, serves an 8-cup carafe, delivering it impressively within approximately six minutes.
Specifications: The machine operates at a voltage of 120 volts and a current of 12.5 Amps. Its plug type is primarily for the U.S. and Canada (Type A).
Dimensions: Measuring a length of 12.4 inches, a width of 6.8 inches, and a height of 12.2 inches, it's perfectly sized for both compact and spacious kitchen countertops. Plus, with a weight of 5.8 lbs., it's easy to move or stow away if needed.
Ease of Use & User Interface
The Bonavita Coffee Maker Manual promises an intuitive experience, and the product delivers on every count.
One-Touch Brewing: Simplicity is at the heart of this machine. With a single press, the Bonavita 8 Cup One Touch brews your coffee, emulating the complex techniques of pour-over coffee making.
Pre-Infusion Mode: A feature for the coffee aficionado, this mode wets freshly roasted ground coffee, letting it degas before the brewing begins. It's these small steps that make all the difference in taste.
Auto-off Functionality: For those busy mornings or days you're in a rush, the auto-off feature ensures safety and energy efficiency.
Easy Cleaning: Post-brewing, cleaning up is a breeze. The carafe lid, filter basket, and showerhead are all dishwasher-friendly, ensuring hygiene without the hassle.
Navigating the world of coffee makers can be daunting, but with the Bonavita 8 Cup One Touch, it's about experiencing coffee, one crafted cup at a time.
Bonavita 8 Cup Coffee Maker: Performance Analysis
When it comes to selecting the ideal coffee maker, performance is paramount. It's not merely about getting a hot cup of coffee but about ensuring that every cup brewed matches the taste and quality that a connoisseur expects. Diving deeper into the performance of the Bonavita Coffee Maker 8-Cup, here's a thorough examination of what it brings to your kitchen counter.
Brewing Time & Temperature Control
The brewing process's success largely depends on the machine's ability to maintain consistent temperatures and brew within an ideal time frame.
Swift Brewing: One of the standout features of the Bonavita Connoisseur Coffee Maker is its quick brewing time. As mentioned before, In approximately six minutes, it serves up an 8-cup carafe. Such efficiency ensures that you're not waiting endlessly for that morning cup.
Consistent Temperature: As mentioned earlier, the machine is equipped with a precise 1500-watt heater. This powerful heating element maintains an ideal brewing temperature range between 195°F to 205°F (91°C to 96°C). This consistent control over temperature ensures that each cup of coffee is as exceptional as the one before.
Coffee Taste & Quality
At the heart of every coffee lover is the quest for the perfect cup – a brew that tantalizes the taste buds while warming the soul.
Flavorful Extractions: Thanks to its design, especially the large showerhead, the Bonavita ensures that coffee grounds are uniformly saturated. This meticulous saturation results in a rich extraction of flavors, giving you a cup that's both robust and nuanced.
Pre-Infusion Magic: The pre-infusion mode is a cherry on top. Allowing coffee grounds to bloom before brewing, ensures the release of gases, leading to a cleaner taste profile. It's akin to the pour-over method but without the manual work.
Durability & Longevity
A coffee maker isn't just another appliance; it's an investment. And like all good investments, it should stand the test of time.
Sturdy Build: The main body, sculpted from stainless steel, doesn't just add to its aesthetics but speaks volumes about its durability. The machine is designed to withstand daily wear and tear, ensuring it remains a staple in your kitchen for years.
Easy Maintenance: The recommendation to descale the coffee maker after every 100 uses is a testament to its design that prioritizes longevity. Regular maintenance, paired with its robust build, ensures the Bonavita doesn't just last but consistently delivers top-notch performance.
Assured Warranty: A 1-year limited warranty underlines the brand's trust in its product. While the coffee maker is built for durability, it's reassuring to know that the company stands firmly behind its product.
In the vast world of coffee makers, the Bonavita Coffee Maker 8-Cup emerges as a frontrunner. It's not just about brewing coffee; it's about ensuring every cup is a masterpiece. Whether you're a casual coffee drinker or a connoisseur, this machine promises and delivers excellence with every brew.
How to Brew Coffee with the Bonavita 8-Cup Coffee Maker
Embarking on the journey of making a perfect cup of coffee at home is a rewarding experience. With the Bonavita 8-Cup Coffee Maker, this process is simplified, ensuring you get a consistent and delicious brew each time. Here's a step-by-step guide to help you navigate this process effortlessly.
Initial Brewer Set-up
Before you start brewing, it's essential to properly set up your Bonavita coffee maker:
Commence the process by eliminating any wrapping materials, tags, and adhesive labels.
For the purpose of cleaning the brewer, pour clear and cold water into the water reservoir, filling it up to the indicated maximum level. Properly place the filter basket into position until you hear a secure clicking sound, ensuring that the handle indicator is not visible.
Position the carafe underneath the filter basket, making sure that the lid is not in place, and initiate the coffee maker to enable the water to flow through.
It's advised to repeat this water-only cycle at least twice before brewing coffee, waiting 5 minutes between each run.
Crafting the Perfect Brew
Achieving the ideal brew involves paying attention to the coffee quality, the coffee-to-water ratio, and the water temperature:
Steps for Brewing:
Raise the water reservoir lid and gently pour in fresh, cold water, making sure to adjust the amount to fit within the 4 to 8 cup range. It's crucial to exercise caution and avoid surpassing the indicated MAX fill line.
Place a basket-style filter within the filter basket. To provide guidance, it's advisable to select a filter with a base dimension of approximately 3 1/4 inches.
Place coffee grounds into the filter. As a general guideline, use around two level tablespoons of grind coffee for every cup, which equates to roughly 7 to around 9 grams of coffee per cup.
Carefully slide the filter basket into its designated holder, applying gentle pressure until it securely clicks into position.
Position the carafe below the filter basket without its lid, turn on the machine, and await the completion of the brewing process.
Upon the culmination of the brewing process, remove the carafe that holds the freshly brewed coffee. Discard the filter that has been used and remove the coffee grounds from the filter basket. Give the filter basket a thorough rinse and permit it to air dry naturally.
To retain the coffee's heat while serving, secure the carafe lid soon after brewing completes.
Should you be utilizing recently roasted coffee or aiming for a pre-infusion mode, hold down the power for approximately 5 seconds. This action will result in the light blinking while producing two distinct beeping sounds. This serves as confirmation of the pre-infusion mode being activated. To initiate the brewing process, press the power switch once more.
Tips for an Exceptional Coffee Experience
Bonavita brewers eliminate the need for guesswork during the brewing process. Nonetheless, there are a couple of factors to take into account that can elevate your overall coffee experience:
Coffee Quality and Grind: Choose freshly roasted coffee, ideally roasted within the past 30 days, for optimal flavor. Store it in an airtight container in a dark place. For the best taste, grind your beans just before brewing, aiming for a texture similar to coarse salt.
Coffee-to-Water Ratio: For consistent results, maintain a steady ratio between water and coffee grounds. For a 6-cup batch, use 1000ml of water with 55 grams (or 12 tablespoons) of ground coffee. For an 8-cup batch, opt for 1300ml of water and 65 grams (or 16 tablespoons) of ground coffee.
Water Quality and Temperature: Water plays a pivotal role in the brewing process. Always use fresh, preferably filtered, water. This brewer is engineered to heat water within the industry-standard temperature range of 198°F-205°F, ensuring optimal extraction.
With these steps and tips in mind, your Bonavita 8-Cup Coffee Maker is sure to serve you the perfect cup of coffee every time.
Bonavita Connoisseur Comparative Analysis
In the fiercely competitive coffee brewing industry, understanding the differentiating factors between products is essential for an informed purchase. Let's delve into how the Bonavita Connoisseur 8-Cup One-Touch Coffee Maker compares with its leading competitors, assess its price-to-value ratio, and inspect the sentiments expressed by actual customers.
Bonavita vs. Leading Competitors
In the crowded arena of coffee brewing, the Bonavita Connoisseur seeks to distinguish itself from the pack. But how does it fare when pitted against industry stalwarts? Let's compare the nuances that set each machine apart.
Bonavita Connoisseur vs. OXO Brew vs. Breville Precision Brewer
Price: The Bonavita 8-Cup Coffee Maker is priced at $189.99, marking it as an intermediate option between the OXO Brew, priced at approximately $225, and the Breville Precision Brewer, which retails at $329.95.
Brewing Precision: All three coffee makers maintain rigorous standards for optimal brewing temperature. However, while Bonavita impressively maintains a temperature range between 195°F and 205°F with its 1500-Watt heating power, the OXO Brew's BetterBrew™ technology and Breville's PID Control offer precision in temperature control as well.
Design & Material: The Bonavita Connoisseur stands out with its stainless steel brewer body, insulated thermal carafe made of double-layered stainless steel, and BPA-free plastic components. In comparison, both OXO Brew and Breville flaunt stainless steel designs, but Bonavita's suspended filter basket feature does set it slightly apart by enabling uniform flavor extraction.
Special Features: Bonavita's pre-steep mode emulates artisanal pour-over brewing techniques, enhancing the coffee's flavor. The OXO Brew, with its Rainmaker shower head, emphasizes even water distribution, while Breville's Precision Brewer boasts six brewing modes and a unique My Brew setting for personalized adjustments.
Price-to-Value Ratio
Every consumer yearns for a balance between cost and quality. With a myriad of options in the market, understanding the price-to-value ratio of the Bonavita Connoisseur can shed light on its real worth in your kitchen.
Quality and Affordability Combined
Optimal Brewing: The Bonavita 8-Cup Coffee Maker, at its price point, offers features commonly found in more expensive machines, such as consistent temperature control and a pre-steep mode that elevates the brewing process.
Durable Design: Fabricated from double-layered stainless steel and BPA-free plastic, its durability ensures that the machine is not just another fleeting kitchen accessory but a long-term investment.
Certifications: Being SCA Certified and ETL Certified further adds value, indicating that the machine adheres to rigorous industry standards and assures quality brewing.
Customer Reviews & Feedback
There's no better way to gauge a product's efficacy than by hearing from those who use it daily. Dive into firsthand accounts and testimonials to discern the real-life performance of the Bonavita Connoisseur.
Hearing from the Connoisseurs
David O (08/22/2023): Highlighting the machine's user-friendliness and compact design, David emphasizes how the Bonavita Connoisseur model has emerged as the finest coffee brewer he has ever used at home.
Diane S (07/19/2023): Diane praises the brewer's efficiency, specifically noting its capability to produce flavorful coffee in a remarkably short time. The clear water indicators also seem to have caught her eye, ensuring the perfect brew quantity.
S Scott (07/10/2023): A testament to the Bonavita's consistency, S Scott lauds the machine's precise temperature control and uniform saturation, resulting in an exquisite cup of coffee every time. The thermal carafe, which maintains the coffee's temperature, adds to the experience, allowing users to savor their coffee at their leisure.
In this competitive landscape, the Bonavita Connoisseur 8-Cup One-Touch Coffee Maker holds its ground, offering a blend of quality, affordability, and efficient design that pleases both novice and experienced coffee enthusiasts alike.
Maintenance & Care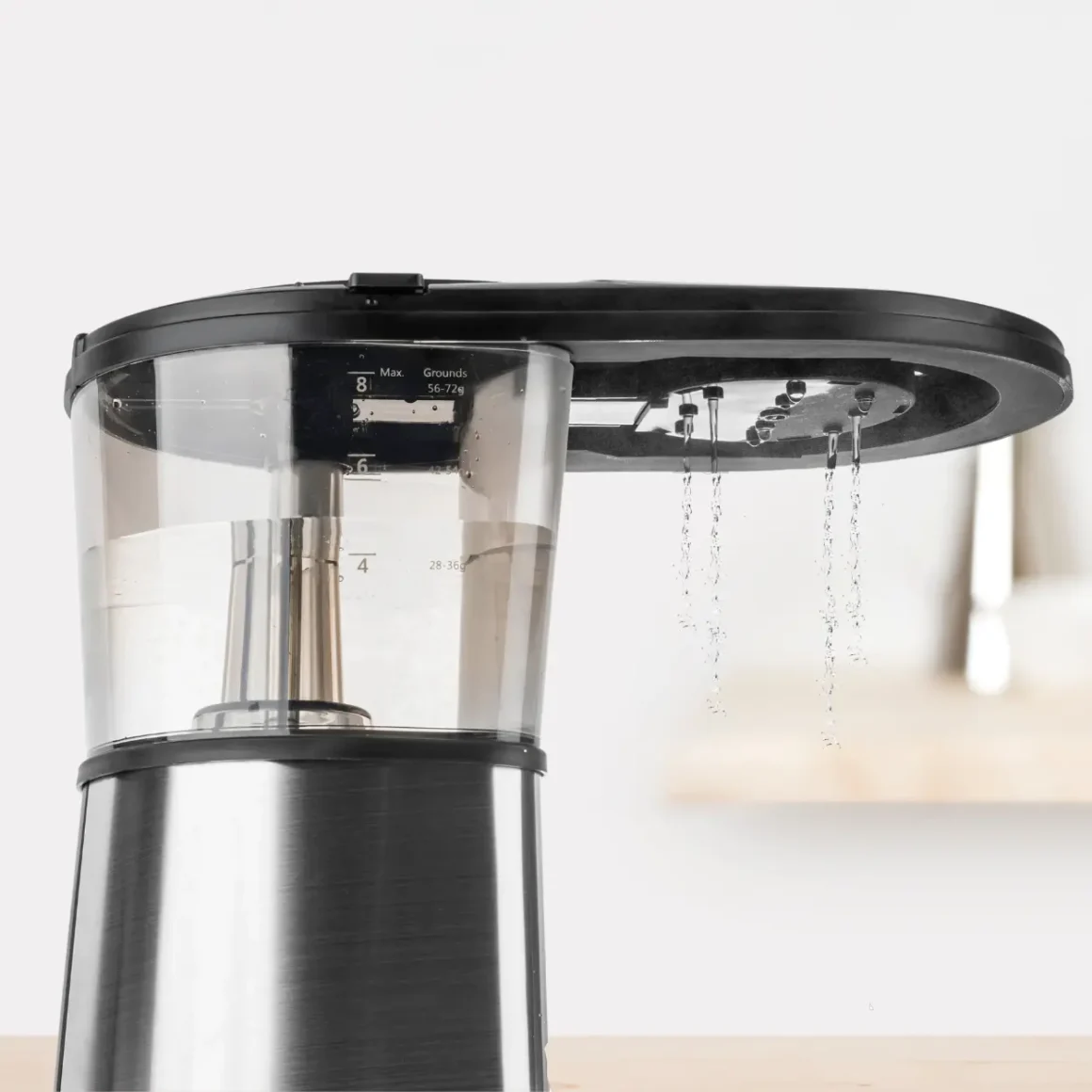 Ensuring that your coffee maker remains in optimal condition not only provides consistently great-tasting coffee but also extends the machine's lifespan. In the following sections, we will explore a set of recommended practices for ensuring the proper maintenance of your brewer. This will encompass instructions on cleaning your Bonavita coffee maker, covering essential cleaning guidelines as well as addressing common troubleshooting concerns.
Cleaning Tips & Tricks
Regular cleaning ensures that your coffee always tastes its best and prevents the build-up of oils and residues. Here are some cleaning tips tailored to keep your machine shining:
For cleaning the exterior of the brewer, which includes the carafe and housing, employ a soft, damp cloth infused with a mild dish-cleaning liquid. Remember to thoroughly rinse the cloth afterward.
You can conveniently clean the filter basket, brewer lid, and carafe lid by placing them on the top rack of your dishwasher.
Every once in a while, consider using a designated cleaning product for the filter basket and carafe. This helps in removing residual coffee oils. Remember, this is distinct from a descaler which targets mineral buildup inside the brewer.
Cleaning the Brewer Lid and Shower Head:
It's crucial to ensure the brewer's lid and shower head are clean for efficient functioning.
Start by unplugging the coffee brewer.
Gently pull the front edge of the brewer lid to remove it, clean it, and then reattach it.
Potential Issues & Troubleshooting
All machines can face occasional hiccups. Here's a quick guide to address some common issues:
Brewer stops mid-cycle: This often signals that descaling is needed. Refer to the provided instructions on how to descale the machine effectively.
Brewing takes longer than usual: This is another sign that descaling may be required.
Grounds in coffee: Ensure you're using a taller filter and might want to adjust to a coarser grind.
Water leaking from the bottom or water not flowing into the filter or carafe: These could be signs of a potential internal issue. In such cases, it's best to consult the warranty details and consider reaching out for professional help.
Warranty & Customer Support
Bonavita takes pride in offering robust support to its customers, both through a comprehensive warranty and responsive customer service.
Warranty Details:
As mentioned before, Bonavita offers a 1-year limited warranty from the original date of purchase, exclusive to the United States and Canada.
The warranty applies solely to the original buyer or the intended recipient of the gift. It is vital to keep the original receipt as it is essential for any warranty claims.
The warranty does not cover damages resulting from incorrect connections, misuse, or unauthorized repair attempts. This extends to the use of cleaning or decalcifying agents not recommended by Bonavita.
Always remember that the device is intended for household use. Misuse or using it for unintended purposes might void the warranty.
Repairs carried out by unauthorized third parties or using non-original spare parts will void the warranty.
Reaching Out:
If you encounter issues or have queries about your brewer, Bonavita's support team is readily available. You can contact them via phone at 1-888-850-2675 or email at Support@Bonavita.life. They are dedicated to providing timely assistance and ensuring that your brewing experience remains unmatched.
About Bonavita
Bonavita stands as a beacon of dedication, continually striving to elevate daily life quality. With our array of kitchen appliances, we aim to make mornings less complicated and more fulfilling. From our signature bonavita coffee maker to the bonavita 5 cup coffee maker, our creations exemplify simplicity combined with excellence, ensuring that you kickstart your day on a positive note.
Establishing the Benchmark in the Coffee World
Setting Precedence: In 2012, Bonavita took a pioneering step by aligning our brewers with the revered Golden Cup Standard, setting a robust industry benchmark. This endeavor not only helped our brewers achieve the Specialty Coffee Association (SCA) Certification but also introduced the global coffee community to the esteemed Golden Cup Standard. This distinction is now sought after by coffee enthusiasts around the world, making it a hallmark of high-quality home brewing. (2)
Consistency and Excellence: Post this achievement, Bonavita's focus has remained unwavering. We continue to design brewers that consistently meet and exceed this universal benchmark for premium coffee. It's worth noting that our coffee brewers have gained the trust of the World Coffee competitions, a testament to their precision and taste caliber.
Durable and User-friendly: Families across the globe have come to rely on Bonavita for its durable, easy-to-use kitchen essentials. By blending unparalleled quality with affordability, we offer not just coffee makers, but also innovative nut processors characterized by their clean, efficient designs. Our mission? Making mornings hassle-free and thoroughly enjoyable for you.
Community at the Heart of Bonavita
Strong Belief in Global Togetherness: Bonavita's ethos goes beyond product creation. We're passionate about nurturing and supporting global communities, acknowledging the profound power of community ties that pave the way for mutual growth.
Charitable Initiatives: Our commitment to global welfare is manifested through our support for three key charities:

@Getchusomegear: A commendable initiative that provides essential coffee gear to marginalized coffee professionals, without any costs.
World Central Kitchen: An organization that stands at the forefront during humanitarian, environmental, and community challenges, offering meals to the affected.
Kyaffe Farmers of Uganda: This initiative focuses on empowering women in the realm of coffee. They provide essential training and ensure that the coffee is purchased from these women at fair trade rates.
Bonavita is immensely proud of its association with these noble organizations, always striving to make a positive difference, both inside and outside the kitchen.
Bonavita 8 Cup Coffee Maker: Pros and Cons
Diving into the world of coffee makers, the Bonavita 8 cup coffee maker emerges as a prominent contender. As is the case with all products, this model has its own set of advantages and challenges. Below, we'll delineate its pros and cons, based on user feedback and hands-on experience.
Pros:
Exceptional Brew Quality: The Bonavita 8 cup coffee maker excels at mimicking the quality of pour-over coffee, especially when used with premium, freshly ground beans. The result is a coffee output that stands out in its category.
Optimal Temperature: Specifically calibrated for black coffee enthusiasts, this coffee maker sustains a temperature that grants the user a leisurely window before the coffee becomes too cool.
Chemex Compatibility: An added advantage is its compatibility with a Chemex. In situations when the original carafe is unavailable, a Chemex can be used as an efficient substitute.
Ease of Use: Its user-centric design, paired with features like the preinfusion setting (ideal for coffee aficionados who like to play with brewing variables), makes the machine versatile and intuitive.
Sleek Aesthetics: Visually, this coffee maker holds its own. Distinct from typical coffee machines like Mr. Coffees and Keurigs, it showcases a refined design that complements other kitchen appliances seamlessly.
Cons:
Temperature Concerns for Creamer Users: Those who like to enrich their coffee with creamers might find the temperature a tad low. Given the brew temperature, adding flavor enhancers mandates that the coffee be consumed swiftly, or one must be prepared for a cooler coffee experience.
Heat Retention Issues: The coffee maker maintains its initial warmth for roughly 10 minutes post-brewing. After this brief period, the coffee's temperature drops notably. Given its design pairing a hot plate with a glass carafe, it struggles to retain heat effectively. Extended sippers might need to consider external heating methods or a different appliance.
Capacity Clarification: The machine's "8-cup" assertion can be misleading. In reality, it caters to 4 standard mugs and 2 larger ones. When considering larger travel mugs, the output barely meets the need for two. With smaller mugs or the addition of creamers, you might stretch the count to 5-6 mugs, but achieving the full 8 cups seems challenging unless you use exceptionally tiny cups.
Scope of Brewing: The Bonavita 8 cup coffee maker primarily focuses on drip brewing, limiting its capacity. Those wishing to explore diverse brewing techniques or expand their coffee equipment might find it not wholly satisfying. While the coffee maker delivers commendably, the juxtaposition of its price and the buzz it has garnered might not feel completely warranted to some users.
Bonavita 8 Cup Coffee Maker Review by The Coffee Guru Team
As dedicated aficionados in the realm of coffee, we at The Coffee Guru, decided to take the Bonavita 8 cup coffee maker for a test drive. Here's our comprehensive breakdown, criterion by criterion:
Quality of Coffee: 4/5
The Bonavita manages to brew coffee that impressively mirrors the quality of a pour-over, particularly when teamed with freshly ground premium beans. Its ability to maintain optimal temperature allows a satisfactory interval before cooling, ensuring the notes and flavors in the coffee are richly extracted. We deducted a star mainly due to the temperature concerns for those who enjoy creamers; the experience might slightly deviate from optimal.
Durability and Build Quality: 3/5
Constructed decently, the Bonavita feels sturdy in hand. However, the combination of a hot plate and glass carafe gave us some reservations about its long-term durability, especially when subjected to daily usage. The machine's build seems to be of good quality, but there are definitely more robust options available in the market.
Coffee Brewing: 4/5
It's clear that drip brewing is where the Bonavita 8 cup shines the brightest. The preinfusion setting is a bonus, offering added versatility for those wanting to experiment. Yet, its limited scope in terms of brewing variations nudges us to take away a star. For the aficionado looking to venture beyond standard drip coffee, this might be a point of contention.
Cleaning and Maintenance: 4/5
The Bonavita scores high on the ease-of-cleaning front. Its design allows for straightforward disassembly, facilitating hassle-free cleaning. Routine maintenance also appears uncomplicated. Our one-star deduction is primarily due to concerns about long-term maintenance, especially given the aforementioned heat retention issues that may impact the machine's longevity.
Design and Aesthetics: 5/5
From an aesthetic standpoint, the Bonavita 8 cup coffee maker is a winner in our books. It stands distinctly apart from generic machines, boasting a sleek and contemporary design. Its minimalist aesthetic ensures it melds smoothly with varied kitchen decors, making it a stylish addition to any countertop.
Value for Money: 3/5
When the capabilities of the Bonavita are weighed against its price point, it delivers a satisfactory performance. However, considering its "8-cup" capacity claim and its primary focus on drip brewing, there's a lingering feeling that one might find better value in other coffee makers, particularly for those who prioritize versatility.
Durability and Build Quality
Conclusion – Guru's Score Verdict: 3.9/5
In wrapping up our Bonavita 8-Cup Coffee Maker review, the team at The Coffee Guru has delved deep into the functionalities and aesthetics of this machine. With strengths such as its commendable design and quality of brewed coffee, juxtaposed with areas of potential improvement like its limited brewing versatility and durability concerns, it offers a mixed bag of experiences to users. Given our in-depth exploration, it's clear that while the Bonavita 8-Cup Coffee Maker might not be a one-size-fits-all solution, it does hold significant appeal for certain coffee enthusiasts. For those prioritizing aesthetics and a high-quality drip coffee experience, it's undeniably a worthy contender.
Our final verdict: This coffee maker scores a 3.9/5. An adept machine with nuances that potential buyers should weigh according to their individual coffee preferences and needs.
FAQ