In an age where the aroma of a personalized brew can feel as essential as a passport, many travelers are asking, "Can You Bring Coffee Beans on a Plane?" As we traverse the complexities of air travel regulations and coffee connoisseurship, this article will shed light on the nuances involved in transporting your beloved beans through the skies. Whether you're sourcing beans from a remote plantation or ensuring your favorite roast accompanies you on your journey, knowing the rules of the air can make all the difference. Join us as we embark on this caffeine-infused exploration, from understanding airport security protocols to packing tips that keep your precious cargo intact.
Bringing Coffee Beans on a Plane: Key Takeaway
Navigating the Skies with Your Brew: Bringing coffee beans on a plane is possible, but requires adherence to both TSA regulations and specific airline cabin baggage rules.
Secure Your Beans: Packing your beans correctly, in airtight and opaque containers, is crucial for maintaining the quality of the beans throughout your travel.
Smoother Security Checkpoints: Coffee beans may require additional screening at security checkpoints, but clear communication with the security officers can help expedite the process.
International Coffee Conveyance: International rules for carrying coffee beans can vary significantly, making it crucial for travelers to check specific import restrictions, duties, and customs regulations of their destination country.
A Whole Brew World: The journey extends beyond the flight, as maintaining the freshness of coffee beans, honing brewing techniques on the go, and exploring local coffee culture can greatly enrich the travel experience for coffee lovers.
Understanding Airline Regulations for Carrying Coffee Beans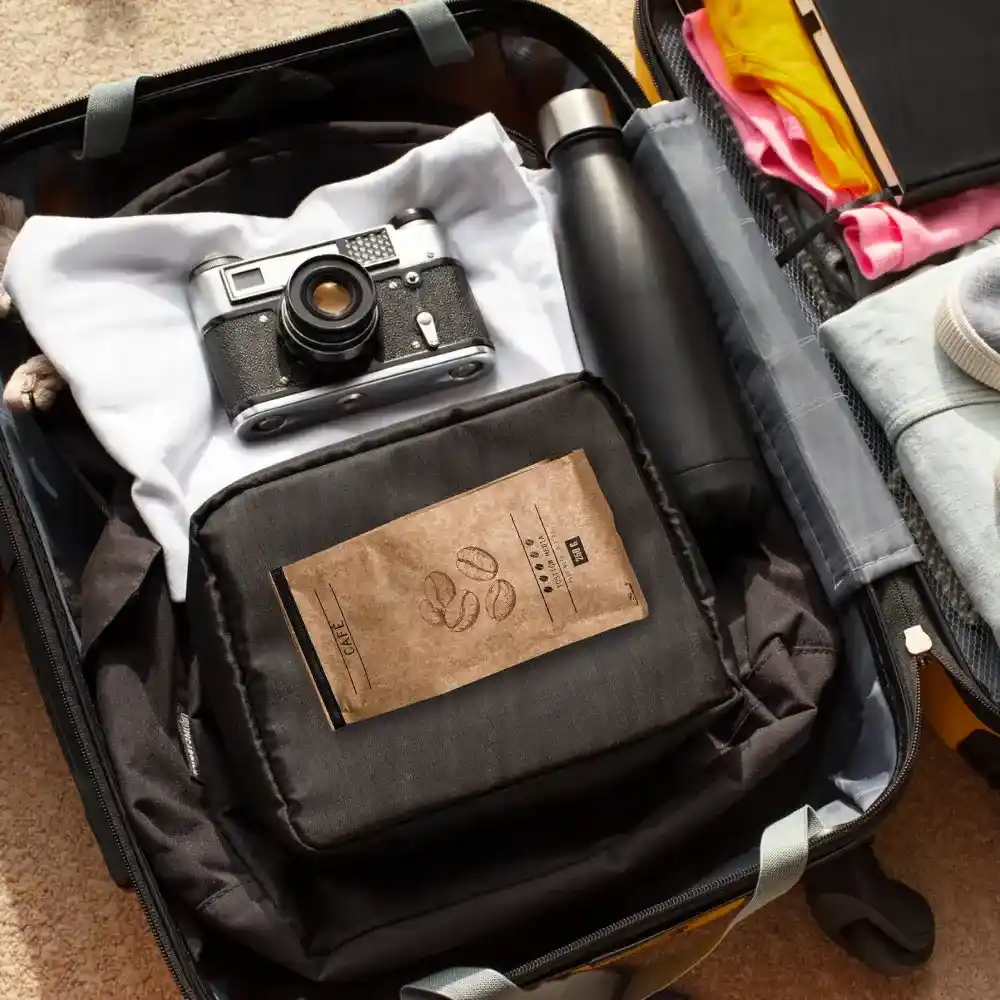 Navigating the labyrinthine world of air travel rules can feel daunting, particularly when considering specific items such as bringing coffee beans on a plane. Clearing this hurdle requires understanding several key areas: the Transportation Security Administration's (TSA) regulations, specific rules for carrying food items, and the role customs play in international travel.
Overview of TSA Regulations
The TSA, responsible for security at US airports, outlines a clear set of guidelines for travelers. These rules encompass everything from prohibited items to policies on liquids and gels. Importantly, the TSA categorizes coffee beans as food items that are allowed in both carry-on and checked bags. However, keep in mind that while TSA does not restrict the transportation of coffee beans, they might still need to be declared or inspected at your destination's customs, especially when traveling internationally. (1)
Specific Rules for Carrying Food Items
When it comes to food items, there are certain considerations to take into account:
Solid Foods: Solid foods, including coffee beans, are generally allowed in both your carry-on and checked baggage. However, all food items may be subject to further screening if they trigger an alarm during the security check.
Liquid or Gel Foods: For food items that fall into the liquid or gel category, the TSA has strict regulations. They must follow the 3-1-1 liquids rule, which allows travelers to carry 3.4 ounces (100 milliliters) or less per item, packed in a 1 quart-sized, clear, plastic, zip-top bag. This rule applies to any liquid or gel-based coffee products. (2)
Powdered Food: If you're carrying powdered coffee, keep in mind that powder-like substances over 12 oz (350ml) may require additional screening.
The Role of Customs in International Travel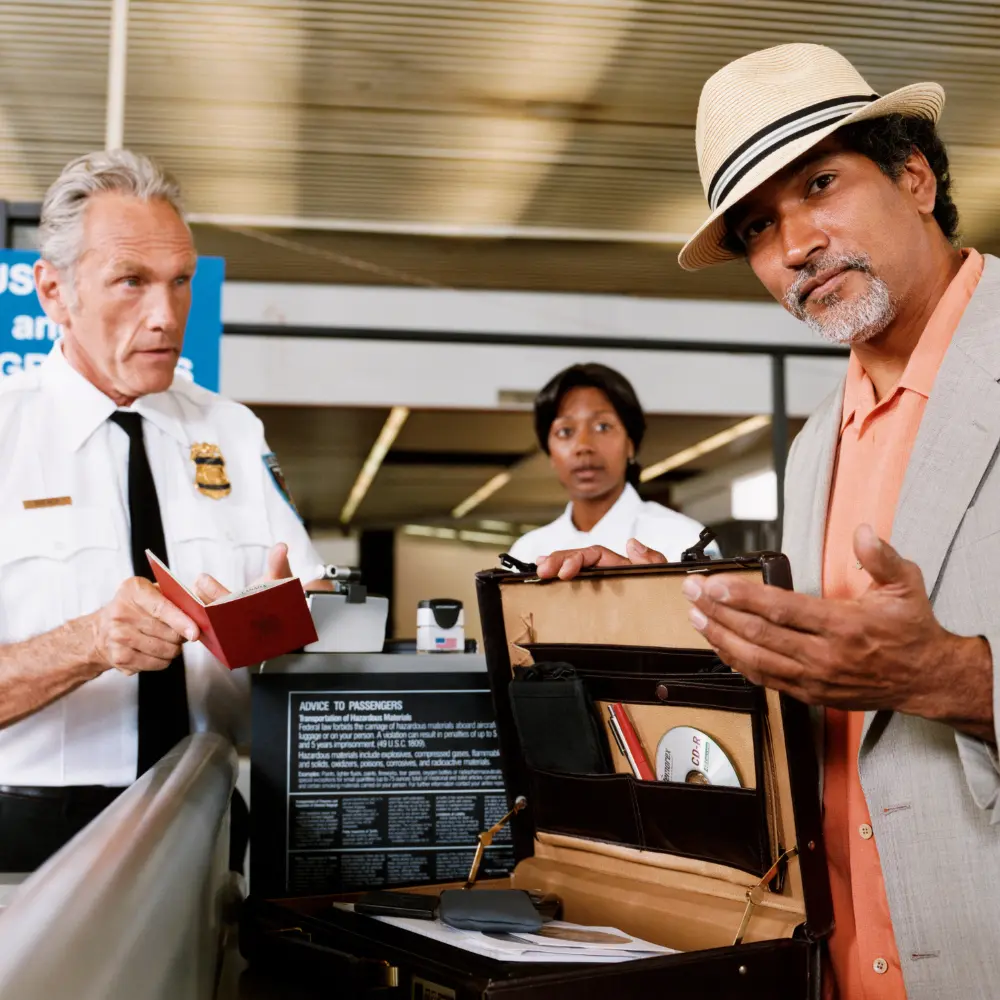 While the TSA oversees airport security within the United States, customs regulations play a crucial role when you're traveling internationally. Each country has its own customs and agricultural rules that you must adhere to:
Customs Declarations: Many countries, including the U.S., require travelers to declare food items upon entry. Failure to declare could result in fines or penalties.
Agricultural Restrictions: Certain countries have stringent agricultural restrictions to prevent the introduction of foreign pests and diseases. Before traveling, check your destination's customs regulations regarding coffee beans.
Duty-Free Allowances: All countries have a set duty-free allowance. While coffee beans usually fall within this allowance, exceeding the limit could mean you have to pay duties or taxes.
Understanding these various rules and how they impact your ability to travel with coffee beans is a key step in ensuring a smooth and hassle-free journey.
Packing Coffee Beans for Air Travel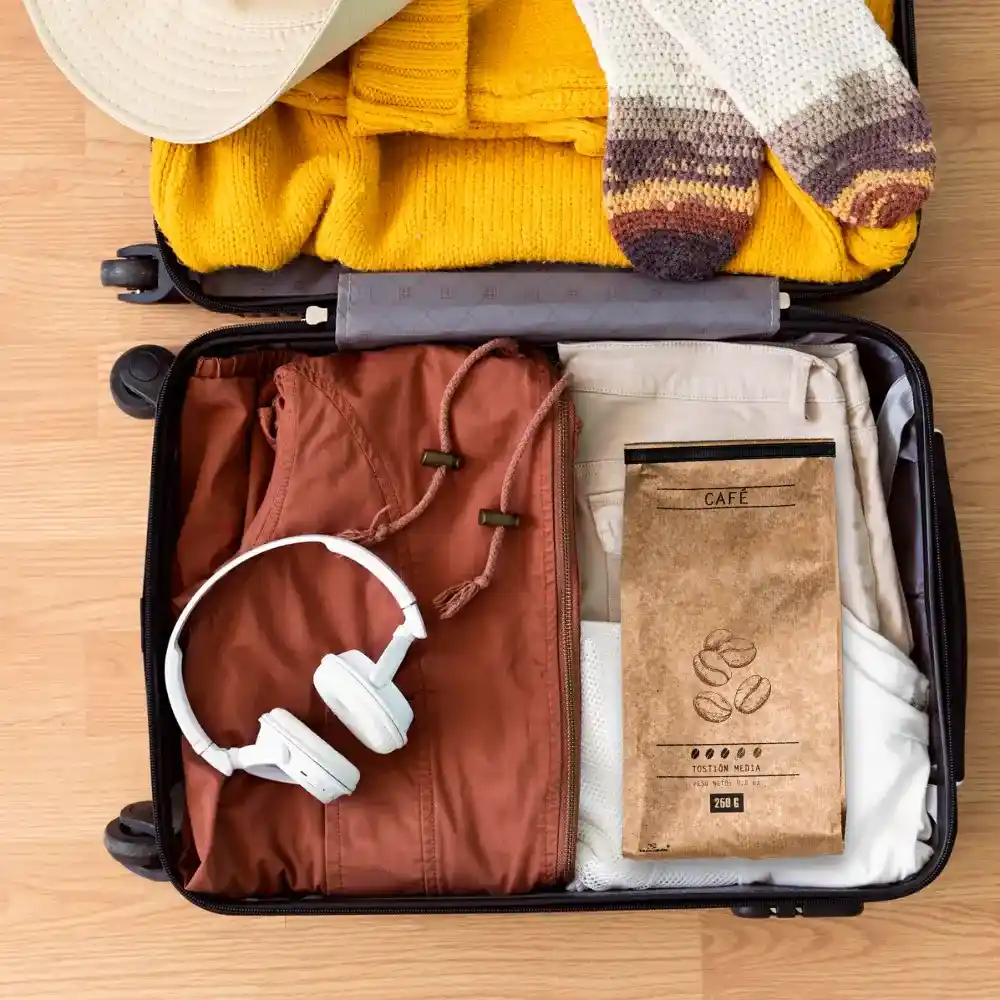 To fully enjoy your favorite brew while traveling, it's essential to ensure your coffee beans reach your destination in the best possible condition. Properly packing your coffee beans for air travel requires a few careful considerations, including selecting the right packaging, preserving the quality of the beans, and learning how to store coffee beans properly.
Choosing the Right Packaging
The first step in successful coffee transportation is selecting the best packaging:
Original Packaging: If your coffee beans are newly purchased, it's often best to keep them in their original packaging, particularly if the bag is equipped with a one-way valve. This allows gases emitted by the beans to escape without letting air in, thus maintaining freshness.
Airtight Containers: For those already opened or for longer travels, consider investing in a high-quality, airtight container. These containers can be made of stainless steel or ceramic, both of which can effectively preserve your beans by keeping air, moisture, and light at bay.
Preserving the Quality of Coffee Beans
Preserving the quality of your coffee beans during your journey is equally important:
Avoid Heat and Light: Exposure to heat and light can degrade the quality of your beans. Keep your beans in your cabin baggage if possible, as the temperature in the cargo hold can vary dramatically.
Seal Tightly: Ensure your coffee beans' packaging or container is sealed tightly to prevent exposure to air. Coffee beans can lose flavor when exposed to oxygen.
Grind on Arrival: If possible, bring whole beans and grind them at your destination. Coffee beans start losing freshness soon after grinding, so keeping them whole can help maintain flavor and aroma.
Pack Light and Smart: Essential Tips
To ensure a hassle-free travel experience with your coffee beans, here are a few additional tips:
Mind the Weight: Remember to factor in the weight of your coffee beans when packing your luggage to avoid any potential excess baggage fees.
Declare at Customs: If you are traveling internationally, be prepared to declare your coffee beans at customs. Although most countries allow coffee beans, it's always best to comply with customs regulations to prevent any unforeseen complications.
Travel-size Grinder: Consider investing in a travel-size coffee grinder to maintain the freshness of your coffee wherever you go.
By following these guidelines, you can guarantee that your beloved brew maintains its superior quality, turning your travel experience into a coffee lover's dream come true.
Navigating Security with Coffee Beans
Air travel often involves navigating through complex security measures, and carrying food items like coffee beans can sometimes complicate this process. Knowing what to expect at security checkpoints and how to deal with potential issues can go a long way in ensuring a smooth, stress-free experience.
Understanding Security Screening Processes
Airport security procedures, including those implemented by the TSA in the United States, are designed to ensure the safety of all passengers. Here's what you can expect:
Baggage X-Ray: All carry-on and checked bags undergo an X-ray screening process. This allows security officers to examine the contents of your luggage without having to open it physically. (3)
Additional Screening: If the X-ray scan cannot clearly identify an item in your luggage, your bag might be opened and searched manually. Coffee beans, particularly when packed in large quantities, could potentially be flagged for additional screening.
Liquid and Gel Rules: Although coffee beans are considered a solid food item and do not need to comply with the 3-1-1 liquids rule, any liquid or gel-based coffee products you're carrying must meet these requirements.
Dealing with Potential Issues at Security Checkpoints
Occasionally, carrying coffee beans may lead to minor hiccups at security checkpoints. Here are some potential issues and how to handle them:
Additional Bag Checks: If security officers can't identify the coffee beans on the X-ray monitor, your bag might be opened for a manual check. Stay calm and cooperative, explaining clearly that the item in question is coffee.
Potential Delays: Be prepared for potential delays in the screening process due to additional bag checks. It's always a good idea to arrive at the airport with plenty of time to spare to avoid rushing through security.
Unexpected Regulations: While coffee beans are typically allowed through security, different airports and countries may have unique rules or procedures. Always comply with the instructions given by security personnel.
Tips for a Smooth Security Experience
Follow these tips to minimize hassle at security checkpoints:
Pack Smartly: Place your coffee beans at the top of your bag or in an easily accessible location, so they can be quickly inspected if necessary.
Communicate Clearly: If your bag is chosen for a manual check, let the officer know about the coffee beans to expedite the process.
Follow Guidelines: Ensure any other items in your luggage, particularly liquids, and gels, comply with airport security rules. This reduces the chance of your bag being flagged for additional screening.
Navigating airport security with coffee beans in tow can seem challenging, but with a clear understanding of the process and some smart preparation, you can ensure a smooth, coffee-enhanced journey.
International Rules for Coffee Beans
Taking your favorite coffee beans on an international journey might seem like a simple task, but the rules governing the transportation of such items can vary significantly from country to country. In this section, we'll delve into import restrictions and duties, specific considerations for certain countries, and how to check a country's regulations regarding coffee beans.
Import Restrictions and Duties on Coffee Beans
When traveling internationally, it's crucial to understand potential import restrictions and duties:
Import Restrictions: Some countries may have restrictions or bans on the importation of certain agricultural products, including coffee beans, to prevent the spread of foreign pests and diseases. Always verify before traveling.
Duties and Taxes: While coffee beans are often not subject to import duties, if the amount exceeds the duty-free allowance, you may need to pay additional charges.
Declaration: As discussed, regardless of the country, always declare food products, including coffee beans, at customs. Failure to declare can result in fines or confiscation of the items.
Considerations for Specific Countries
Rules can vary considerably between countries, and some may have unique requirements:
Australia and New Zealand: Both countries have stringent biosecurity measures to protect their agricultural industries. Importing coffee beans may be restricted and subject to inspection.
European Union: Coffee beans are generally allowed, but if the quantity exceeds the duty-free allowance (usually for commercial purposes), you'll have to declare them and possibly pay duties.
Canada and the United States: Both countries allow coffee beans for personal use. However, it is always advisable to declare them at customs.
Hawaii to Mainland US: You can bring coffee beans on a plane from Hawaii. However, due to Hawaii's unique agricultural regulations, your beans may be subject to an agricultural inspection before departure. Once you've passed this inspection and ensured your beans are properly packed according to TSA guidelines, you're good to go.
How to Check a Country's Coffee Bean Regulations
Before packing your beloved brew, ensure you're aware of your destination's regulations:
Government Websites: Most countries have official government websites where you can find updated information about customs regulations, including those related to food products like coffee beans.
Embassies or Consulates: Contacting the embassy or consulate of your destination country can also provide you with accurate and detailed information.
Travel Forums: Online travel forums like TripAdvisor often have threads where travelers share their experiences with bringing food items, including coffee beans, into different countries.
Understanding the international rules for transporting coffee beans can seem overwhelming, but with proper research and preparation, you can enjoy your favorite coffee, no matter where your travels take you.
Beyond the Flight: Caring for Your Coffee Beans
Successfully bringing your favorite coffee beans on a flight is only half the battle. The journey doesn't end when you touch down at your destination; keeping your beans fresh throughout your trip is essential to maintaining that perfect brew. In this section, we'll explore how to care for your coffee beans during your stay, tips for brewing on the go, and how to explore and appreciate the local coffee culture at your destination.
Keeping Coffee Beans Fresh During Your Trip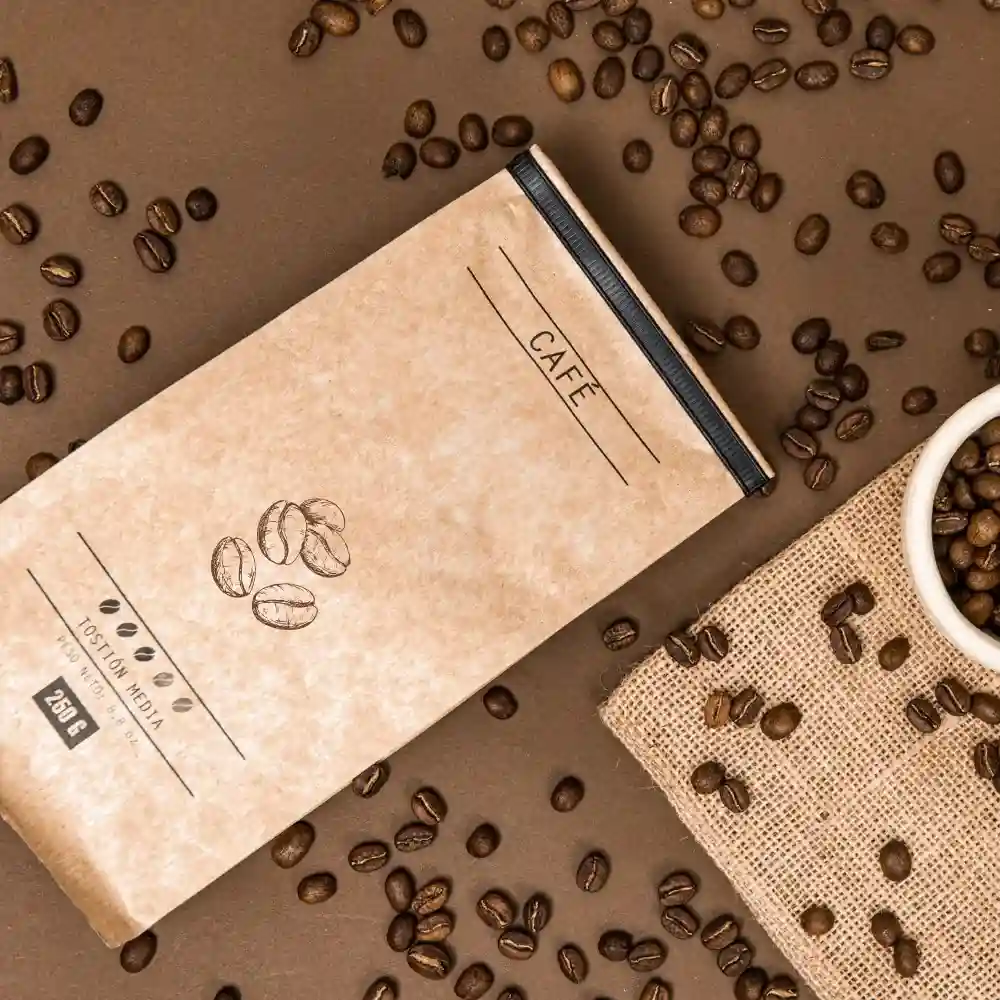 Preserving the freshness of your coffee beans while traveling is crucial. Here are some key points to consider:
Proper Storage: Store your coffee beans in a cool, dark place away from direct sunlight and high temperatures. If your accommodation has a refrigerator, resist the temptation to use it; the humidity can damage the beans.
Use an Airtight Container: As discussed earlier, using an airtight container is the best way to keep your coffee beans fresh. Containers made of opaque materials are particularly good, as they prevent light from degrading the quality of the beans.
Consume Quickly: Once opened, coffee beans begin to lose their freshness. Try to consume them within two weeks to enjoy the best flavor.
Brew Tips for Travelers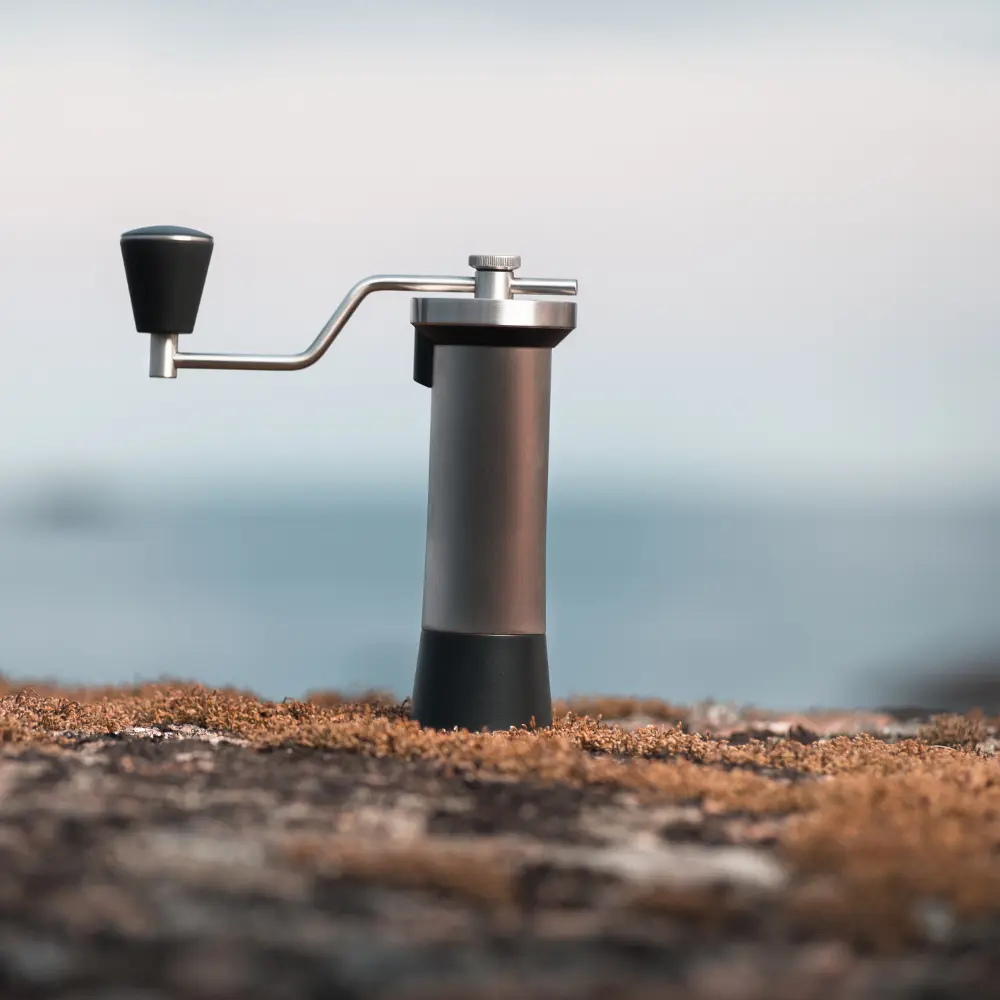 Brewing your coffee while traveling can be a unique experience. Here are some tips:
Portable Equipment: Consider investing in a portable coffee grinder and a compact travel coffee maker. These tools can make a significant difference to your brewing experience on the go.
Filtered Water: The quality of water can greatly affect the taste of your coffee. If possible, use filtered or bottled water instead of tap water to brew your coffee.
Grind as You Go: To maintain the freshness of your coffee, grind your beans just before you're ready to brew.
Exploring Local Coffee Culture at Your Destination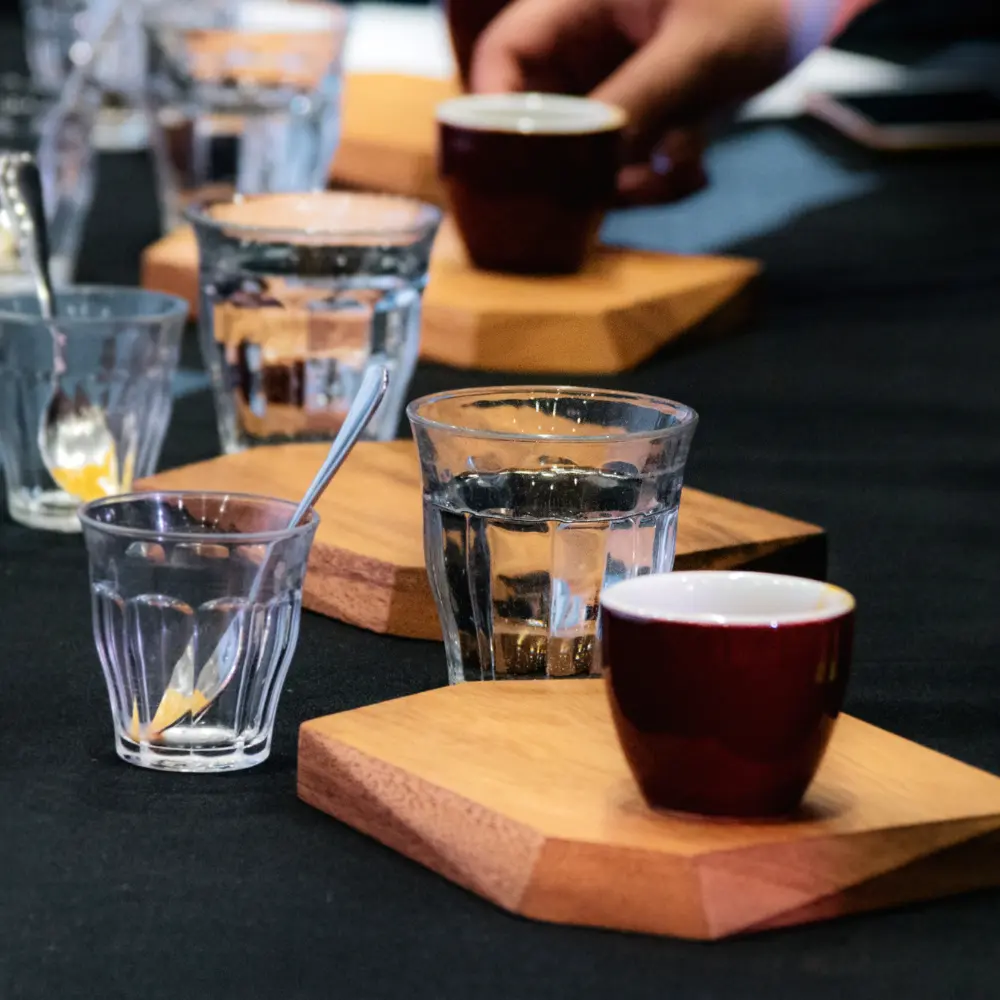 While enjoying your own coffee beans can be comforting, part of the joy of travel is experiencing local culture, and that includes coffee:
Visit Local Cafés: Spend some time in local coffee shops to taste the region's specialty coffee and observe how it's prepared.
Coffee Tastings: Some cities offer coffee tastings or tours. These can be an excellent way to learn about local coffee culture and discover new flavors.
Local Beans: Consider purchasing local coffee beans as a souvenir. This can give you a lasting taste of your trip once you return home.
By ensuring the quality of your coffee beans during your travels and immersing yourself in the local coffee scene, you can transform your journey into a true coffee lover's adventure.
So, Can You Bring Coffee Beans on a Plane? – Conclusion
Navigating the question, "Can You Bring Coffee Beans on a Plane?" can initially seem complex. However, as we've explored in this comprehensive guide, the journey of taking your beloved brew with you is not only possible, but it also opens up an exciting world of coffee adventures. While various regulations, packing procedures, and security processes must be considered, these are easily manageable with the right preparation and understanding.
Beyond the flight, the essence of your coffee escapade lies in maintaining the freshness of your beans, perfecting your brewing skills even while on the go, and immersing yourself into the local coffee culture of your destination. So, don't let your travels interrupt your love for coffee. With the insights and tips shared in this article, you can confidently pack your favorite beans for your next journey and enjoy the taste of familiarity, wherever you may land.
FAQ