Are you a fervent aficionado of the beloved morning beverage, coffee, and yearning to augment its profound impact on your daily routine? Search no further than the revolutionary elixir of cannabis-infused coffee. This recent and popularly sought-after beverage harmoniously amalgamates the invigorating effects of caffeine with the potentially healthful properties of cannabis. However, what precisely constitutes cannabis coffee and what is the process of preparing this liquid delicacy? In this definitive handbook, we will delve into all the fundamental aspects of crafting this therapeutic coffee drink, its conceivable benefits and effects, as well as its comparative analysis with other cannabis-infused products. Prepare to indulge in the sensory awakening and heighten your coffee experience with our all-inclusive guide to cannabis coffee.
Key Takeaway:
Cannabis coffee is a popular beverage that blends the stimulating effects of caffeine with the potential therapeutic benefits of cannabis.
Making this delectable beverage at home is easy and can be done through various methods, such as infusing coffee with cannabis oil or tinctures or by using pre-made products.
This delightful cup of joe may offer several benefits, such as pain relief, stress reduction, and improved mood, although further research is necessary to fully comprehend its effects.
The effects of this type of coffee depend on factors like dosage, potency, and THC-to-CBD ratio and may result in side effects like drowsiness, dry mouth, and increased appetite.
Compared to other cannabis products, this type of coffee provides a unique experience with different onset, duration, and potency.
Understanding the legal and safety aspects of this beverage, such as regulatory compliance and dosage control, is crucial to ensure the well-being of vulnerable populations.
What is Cannabis Coffee?
Cannabis coffee is an extraordinary fusion of two beloved beverages – coffee and cannabis. This infusion is achieved by combining coffee with cannabis compounds like THC or CBD, which are extracted from the plant using solvents like alcohol or CO2. The process of concocting this tantalizing beverage involves adding cannabis tincture, oil, or even flower during the coffee brewing process.
THC vs. CBD: Which One to Use for Cannabis Coffee?
The complex world of this plant is governed by two primary cannabinoids – THC and CBD. THC is the compound responsible for the "high" associated with marijuana use, while CBD is non-psychoactive and does not induce a high. The choice of whether to use THC or CBD in this type of coffee boils down to personal preference and desired effects. THC may offer a more potent and psychoactive experience, while CBD may provide a gamut of therapeutic benefits without the high. (1)
The Benefits of Drinking Cannabis Coffee
Indulging in a cup of this type of coffee, particularly containing CBD, may lead to an array of potential advantages, such as boosting energy, reducing anxiety, and enhancing mood. The caffeine in coffee may also heighten the effects of this plant's compounds, rendering a one-of-a-kind and pleasurable experience. Besides, some individuals may prefer this particular coffee as an alternative to smoking or edibles as it offers a different onset, duration, and potency. Nevertheless, it is crucial to comprehend the potential risks and constraints associated with this beverage including dosage control and legal matters. (2)
How to Make Cannabis Coffee at Home?
Fashioning a delectable cup of this particular coffee in the comfort of your abode might seem like a daunting task, but fret not! With a plethora of methods at your disposal, it is remarkably easy to prepare. Below are the rudimentary steps that you should follow:
Choose your coffee: To start with, opt for an exceptional quality coffee bean or ground coffee of your liking. It is imperative to note that the coffee's flavor would indubitably have a strong impact on the taste.
Choose your cannabis product: Next, decide the kind of product that you intend to use in your coffee, whether it be cannabis tincture, oil, or flower. Your choice will indubitably affect the coffee's overall taste and potency.
Combine coffee and cannabis: Brew a piping hot cup of coffee employing your preferred method, and then amalgamate the product into the coffee. You could either blend it directly with the coffee grounds, utilize a pre-made cannabis-infused coffee pod, or pour it into the already prepared cup of coffee. The choice is yours!
Mix and enjoy: After adding the product to the coffee, ensure that you thoroughly stir it to ensure that the plant compounds are evenly dispersed. Once done, savor the unbridled ecstasy of your cannabis-infused coffee!
The Best Cannabis Coffee Recipes
Crafting the perfect cannabis coffee is an art form that requires precision, creativity, and a little experimentation. While there are countless recipes available, we have curated a list of some of the most sought-after and scrumptious ones:
Classic Cannabis-Infused Coffee: Transform your regular cup of coffee into a cannabis-infused wonderland by infusing a few drops of cannabis oil or tincture.
Mocha Cannabis-Infused Coffee: Indulge your sweet tooth by adding chocolate syrup and a few drops of cannabis oil or tincture to a cup of coffee, then mop up coffee with whipped cream.
Vanilla Cannabis-Infused Coffee: Give your taste buds a tantalizing treat by adding vanilla syrup and a few drops of cannabis oil or tincture to a cup of coffee, then adorning it with frothed milk.
Dosage and Potency: How to Calculate and Control?
A crucial aspect to contemplate when creating this distinctive beverage is the dosage and potency of the cannabis product. It is essential to understand the product's potency and the correct amount to use to achieve your desired effects.
Dosing can be tricky, so the best approach is to begin low and progress gradually. Commence with a small amount of the product and incrementally increase the dosage until you reach your desired effects.
Moreover, it's imperative to be aware of the cannabis product's potency and calculate the amount of THC or CBD per serving. To determine this, you can employ a potency calculator or consult with a knowledgeable budtender. By keeping these factors in mind, you can concoct your ideal cup of coffee while ensuring a safe and enjoyable experience.
Tips for Brewing the Perfect Cup of Cannabis Coffee
Brewing a flawless cup of cannabis-infused coffee necessitates meticulous attention to detail and employing several techniques. Presented below are a few recommendations to assist you in attaining the best possible outcome:
Select a premium-grade coffee bean or coffee grounds that you take pleasure in savoring.
Employ freshly-purified water when brewing your coffee.
Ensure that your coffee is brewed at the appropriate temperature and duration.
Add your cannabis substance to the coffee after it has been brewed and cooled somewhat.
Stir your coffee mixture extensively to ensure uniform dispersion of the substance constituents.
Start with a minimal dosage of the substance, then gradually increase the quantity over time to prevent excessive consumption.
Typical Adverse Effects of Cannabis Coffee
Cannabis Coffee, especially containing THC, can cause common side effects. (3) These may include cognitive impairment; since coffee may promote this type of impairment which is caused by THC found in cannabis. Moreover, studies have shown that when mixed together (coffee and cannabis), memory performance can be significantly damaged. (4)
It's crucial to commence with a low dose of this substance and gradually increase the dosage over time to prevent excessive consumption and the potential for undesirable side effects. Additionally, it's important to be cognizant of the potency and dosage of your cannabis product and to consume it prudently.
Risks for Vulnerable Populations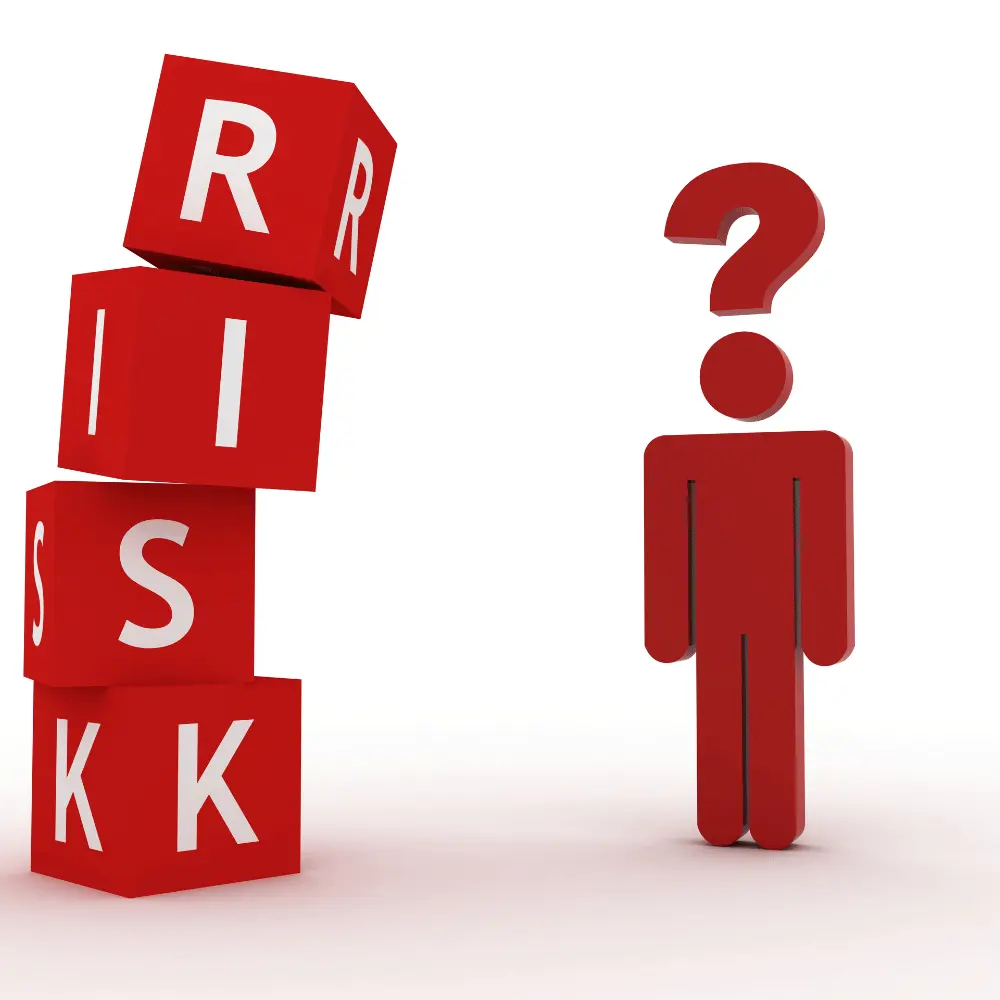 Although this type of beverage may be safe for most individuals to consume in moderation, some populations may be at higher risk of adverse effects. These populations may include:
Expectant or nursing individuals: Cannabis compounds can traverse the placenta and enter breast milk, potentially affecting fetal and infant development.
Minors and adolescents: these substance compounds may impact brain development in minors and adolescents, potentially leading to long-term cognitive impairment.
Individuals with cardiovascular problems: The consumption of these plant compounds can increase heart rate and blood pressure, which can be dangerous for individuals with underlying cardiovascular issues.
Individuals with mental health conditions: these substance compounds may intensify symptoms of certain mental health conditions, such as anxiety or depression.
It's crucial to confer with a healthcare provider before consuming this particular beverage, primarily if you are pregnant, nursing, have a history of mental health issues, or have cardiovascular problems. Moreover, it's imperative to contemplate legal and safety issues such as dosage control and regulatory compliance.
Pros and Cons of Cannabis Coffee
There are both pros and cons to consuming this type of coffee. Here are some of the most relevant ones to consider:
Advantages:
More pleasurable method of consuming cannabis for coffee aficionados
May offer a more reliable dose in comparison to edibles
Faster onset and potentially shorter duration of effects
Disadvantages:
The taste of these plant compounds may not be palatable to everyone
The risk of overconsumption, particularly if the dose is not monitored closely
Potential legal and safety concerns surrounding cannabis-infused items
Choosing Between Cannabis Coffee and Edibles
In essence, the choice between cannabis coffee and edibles will depend on individual preference and desired outcomes. This type of coffee may offer a more convenient and pleasurable means of consuming this substance for coffee enthusiasts, while edibles may provide longer-lasting effects and a wider range of product options. When deciding between the two, it's essential to take into account factors like onset time, duration of effects, potency, taste, and dose control. It's also vital to commence with a low dose and gradually increase it over time to prevent excessive consumption and the possibility of harmful side effects. Furthermore, it's crucial to consider the legal and safety issues concerning these substance products, such as potential risks for vulnerable populations.
Cannabis Coffee vs Smoking
Cannabis coffee and smoking are two widespread methods of taking in this substance compounds like THC and CBD. Despite both potentially having healing benefits, there exist some crucial distinctions to consider. Here is a detailed examination of these two methods:
Differences in Effects, Dosage, and Health Hazards
The primary difference between cannabis coffee and smoking lies in how the plant compounds are assimilated by the body. When cannabis is smoked, the compounds are quickly absorbed through the lungs and consequently enter the bloodstream immediately, resulting in a more rapid onset of effects. In contrast, the impact of this type of coffee might be delayed as the compounds are metabolized by the liver. (5) Besides, smoking this substance allows for more accurate control of dosage since the effects are felt instantly and can be fine-tuned accordingly. Nonetheless, it can also have certain health hazards, including lung irritation and exposure to toxic substances.
Cannabis Coffee vs. CBD Oil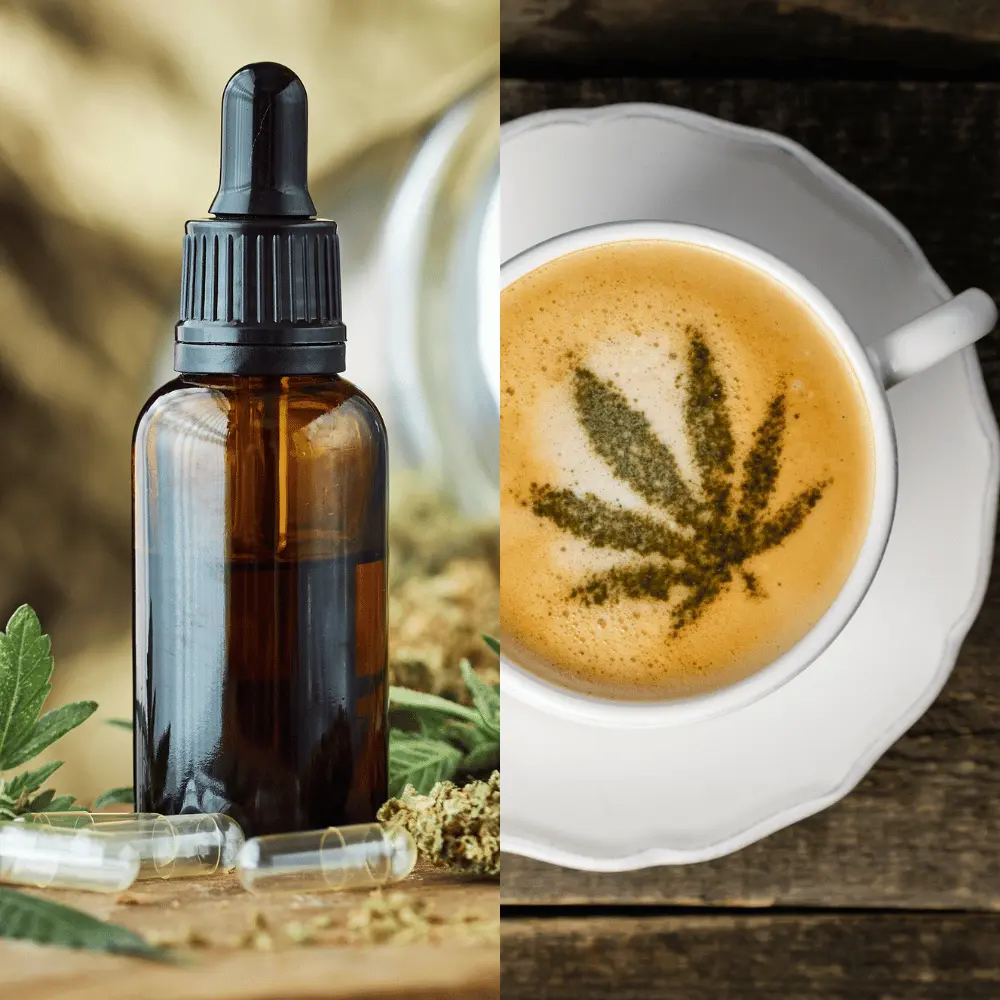 The consumption of these substance compounds, including THC and CBD, has become increasingly popular, with cannabis coffee and CBD oil emerging as two prevalent methods. Despite sharing potential therapeutic benefits, these methods possess significant differences that warrant close examination.
Differences in Benefits and Effects
Cannabis coffee and CBD oil differ in the way they deliver the plant compounds and the potential therapeutic benefits they offer. While this distinctive beverage offers the potential benefits of caffeine and unique advantages such as pain relief, anxiety reduction, and mood improvement, CBD oil boasts a wider range of potential benefits, including pain relief, anxiety reduction, and better sleep, without THC's psychoactive effects. (6)
Choosing between Cannabis Coffee and CBD Oil
Choosing between cannabis coffee and CBD oil ultimately depends on personal preferences and desired effects. This type of coffee drink may be more convenient and enjoyable for coffee enthusiasts, while CBD oil may provide a broader range of potential therapeutic benefits.
The Legal Status of Cannabis Coffee in the US and Worldwide
The legal status of cannabis-infused coffee is subject to variations in different countries and jurisdictions. Let us examine the current state of its regulations in the United States and worldwide.
Federal and State Regulations in the US
In the United States, cannabis holds a Schedule I drug classification under federal law, rendering it illegal to possess or use for any purpose. Nevertheless, several states have enacted laws that legalize it for medicinal and/or recreational purposes, some of which permit the sale of cannabis-infused products. The legal status of cannabis coffee can differ by state, and it is crucial to verify local regulations before consuming or selling it.
International Regulations and Trends
The legal status of this type of coffee varies significantly throughout the world. In certain countries, such as Canada and Uruguay, recreational use of cannabis is legal, and products like cannabis-infused coffee are also lawful. On the other hand, some countries strictly prohibit cannabis, and the possession or use of this substance items can result in severe penalties. However, there is a rising trend toward the global legalization of cannabis, and many countries are currently considering or have already implemented laws that legalize this plant for medicinal or recreational use.
Prospects for Legalization and Market Growth
As more countries legalize cannabis, the market for cannabis-infused products is anticipated to expand. Nevertheless, significant legal and regulatory barriers remain, especially in countries where cannabis is still strictly prohibited. It is also important to note that the legal status of these substance products infused with it can alter rapidly, and it is necessary to keep up with the latest laws and regulations in your region. Overall, the potential for legalization and market growth of cannabis coffee and other related products is promising, but it will likely take time for the legal and regulatory framework to catch up with the growing demand for these products.
How to Buy and Sell Cannabis Coffee Legally?
As the popularity of cannabis coffee increases, producers and retailers need to have an understanding of the legal requirements for selling and distributing these items. This article delves into the licensing and compliance requirements, quality and safety standards, and consumer education and protection initiatives surrounding the purchase and sale of this type of coffee.
Licensing and Compliance Requirements for Producers and Retailers
In the United States, state regulations govern the production and sale of cannabis-infused products like cannabis coffee, and licensing and compliance requirements can differ significantly from one state to another. Producers and retailers generally need to secure a license from the state, adhere to strict manufacturing and labeling guidelines, and pass regular inspections and audits to guarantee that quality and safety standards are met.
Consumer Education and Protection Initiatives
As the market for cannabis-infused products expands, there is a pressing need for initiatives that educate and protect consumers, ensuring they have information about the possible risks and benefits of these products. Several states have implemented programs that offer resources and education for consumers, such as state-run websites that give information on legal requirements, suggested dosages, and potential side effects. Moreover, consumer protection initiatives can help safeguard consumers from false advertising, mislabeling, and other potential risks. (7)
Overall, legal purchases and sales of this type of coffee necessitate strict compliance with state and federal regulations, as well as a commitment to quality and safety standards and initiatives that prioritize consumer education and protection. Producers and retailers who are willing to invest in these areas are more likely to thrive in this rapidly growing market.
Conclusion
In conclusion, cannabis coffee presents an innovative and exhilarating means of consuming this substance compounds like THC and CBD while also enjoying the energizing effects of caffeine. Whether you're a coffee aficionado seeking novel ways to relish your favorite beverage or an individual seeking potential therapeutic benefits from cannabis, cannabis coffee provides a convenient and pleasurable option. However, it is imperative to comprehend the potential risks and benefits of this distinctive beverage, initiate with a small dose and gradually increase the amount over time, and abide by all legal and safety requirements for the production and sale of cannabis products. By adhering to these recommendations, you can indulge in all the delights that this delightful drink has to offer securely and responsibly.
FAQ