There's a distinct pleasure in the simple act of sipping a freshly brewed cup of joe. The rich aroma, the warm mug in your hands, and that first sip that makes the world feel just a little more manageable. For many of us, this ritual is a vital part of our day. However, what if we told you there's a way to enhance this experience, making it not just more flavorful but also packed with added health benefits? Enter flaxseed in coffee, the unexpected pairing that's taking the coffee-drinking world by storm.
As the team at The Coffee Guru has often underscored, coffee is more than just a beverage; it's an experience, a moment of calm amidst the whirlwind of daily life. Our pursuit of the perfect cup often leads us to experiment with new flavors, techniques, and ingredients. And in this adventurous spirit, we've stumbled upon a delightful surprise: the marriage of coffee and these seeds.
The fusion of these two ingredients creates a unique concoction that appeals to the palate and offers an array of health benefits. This comprehensive guide aims to take you on a deep dive into the world of flaxseed in coffee – its origins, health benefits, how to prepare it, and much more. So, if you're ready for a brew like no other, read on. Let's embark on this aromatic journey together.
Flaxseed in Coffee: Key Takeaway
Health in a Cup: Adding these seeds to coffee not only enhances its nutritional value but also brings a multitude of health benefits including improved digestion, enhanced energy, weight management, heart health support, and reduced risk of certain diseases.
A Match Made in Brew Heaven: The natural nutty flavor of the seeds complements the robust taste of this beverage, creating a unique and pleasing sensory experience.
A Daily Dose of Wellness: Incorporating these seeds into your daily Cup of Joe routine can be an easy and enjoyable way to boost your intake of essential nutrients such as Omega-3 fatty acids, fiber, and lignans.
Breaking Down the Myths: While flaxseed in coffee is generally safe and beneficial for most people, it's crucial to debunk common misconceptions and understand potential precautions for the best experience.
Coffee Redefined: With a bit of creativity, these seeds can be a versatile ingredient in various coffee recipes, introducing a new dimension of flavor and health benefits to your favorite beverages.
Why Flaxseed and Coffee Make a Perfect Pair
For many, coffee is a cherished ritual, an indispensable part of the day. And flaxseed? It's a nutritional powerhouse that many health enthusiasts swear by. Combining these two might seem unusual, but here's why the two ingredients make such an incredible pair.
Understanding the Nutritional Power of Flaxseed
These seeds are tiny, nutrient-dense powerhouses that pack a significant punch for their size. They are rich in fiber, proteins, and a variety of essential minerals like magnesium, manganese, and phosphorus. However, the true gems within these seeds are the alpha-linolenic acid (ALA), a type of omega-3 fat, and lignans, both known for their profound health benefits. (1)
ALA is a plant-based omega-3 fatty acid, essential for heart health. Our bodies can't produce ALA, so it must come from our diet.
Lignans are plant compounds that possess antioxidant properties. Flaxseeds contain up to 800 times more lignans than other plant foods.
Beyond these, the seeds are also rich in dietary fiber, promoting good digestive health, aiding in weight control, and helping to stabilize blood sugar levels. The nutritional profile of these seeds makes them a potent health booster and a worthy addition to a well-balanced diet.
The History and Rise of Coffee as a Global Beverage
From its humble beginnings in the Ethiopian highlands to its current status as a global phenomenon, this beverage's journey has been fascinating. The story of coffee began centuries ago, with legends attributing its discovery to a Ethiopian shepherd who noticed his goats dancing after eating coffee cherries. Fast forward to today, this beverage has become the second-most traded commodity worldwide, only behind oil.
Coffee transcends cultures and lifestyles, offering comfort, energy, and a moment of respite in our hectic lives. It's not just the caffeine that lures us, but the complexity of flavors – from bitter to sweet, floral to fruity, acidic to full-bodied – making each cup a unique experience.
Exploring the Compatibility of Flaxseed and Coffee
So, can you put flaxseed in coffee? Yes, indeed! The question then turns to why you'd want to. Combining the health benefits of the seeds with the aromatic and invigorating qualities of this beverage creates a blend that is not only beneficial to health but also adds a new dimension to the cup of joe drinking experience.
These seeds add a slightly nutty flavor and a subtle texture to the coffee, enhancing the overall sensory experience of your morning brew. The gentle nuttiness complements the rich, robust profile of this beverage, creating a harmonious fusion that delights the palate.
Moreover, the addition of the seeds to coffee is a great way to effortlessly integrate this superfood into your diet. The warmth of this drink can also aid in the easier absorption of nutrients from these seeds.
Flaxseed in coffee is more than just a trend; it's an innovative way to add a healthful twist to your daily routine, all the while elevating your drinking experience. It's a perfect pair for those looking to balance wellness and pleasure in their cup.
Health Benefits of Flaxseed in Your Coffee
Flaxseed in coffee isn't just about creating a unique and enjoyable drink, it's also about harnessing an array of health benefits from this dynamic duo. Here, we explore the myriad ways in which adding these seeds to your cup of joe can contribute to your overall health and wellness.
Improved Digestion and Gut Health
One of the most noticeable benefits of incorporating flaxseed into your coffee revolves around digestion and gut health. They are an excellent source of dietary fiber, which aids digestion by adding bulk to your stool, thus facilitating regular bowel movements. (2)
The soluble fiber found in these seeds absorbs water in the stomach and intestines, slowing digestion and increasing nutrient absorption.
The insoluble fiber helps move food through the intestinal tract more quickly, aiding regular bowel movements and preventing constipation.
Integrating these seeds into your morning cup of joe can provide a significant fiber boost that aids in digestion, promoting overall gut health.
Assisting in Weight Management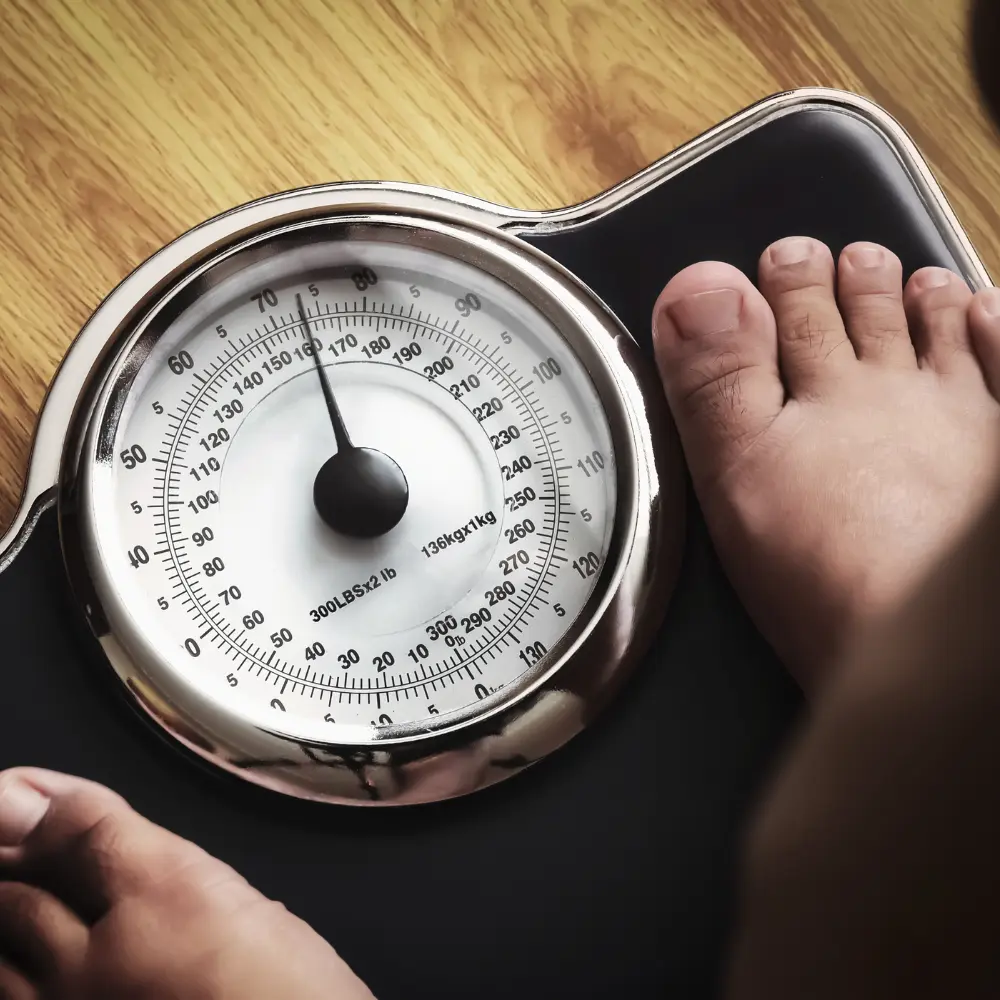 Flaxseed's high fiber content can also play a role in weight management. The fiber gives a sense of fullness, reducing hunger and helping to control appetite. This can lead to lower calorie intake throughout the day, assisting in weight loss or maintenance.
Moreover, the seeds contain proteins that can also help suppress hunger, further contributing to weight control. By adding these seeds to your beverage, you're creating a satisfying beverage that supports your weight management efforts.
Enhanced Energy and Focus
While coffee is well known for its caffeine content, providing an energy boost and enhancing focus, the addition of these seeds can complement these effects. The seeds contain high-quality plant-based protein and healthy fats, which provide sustained energy.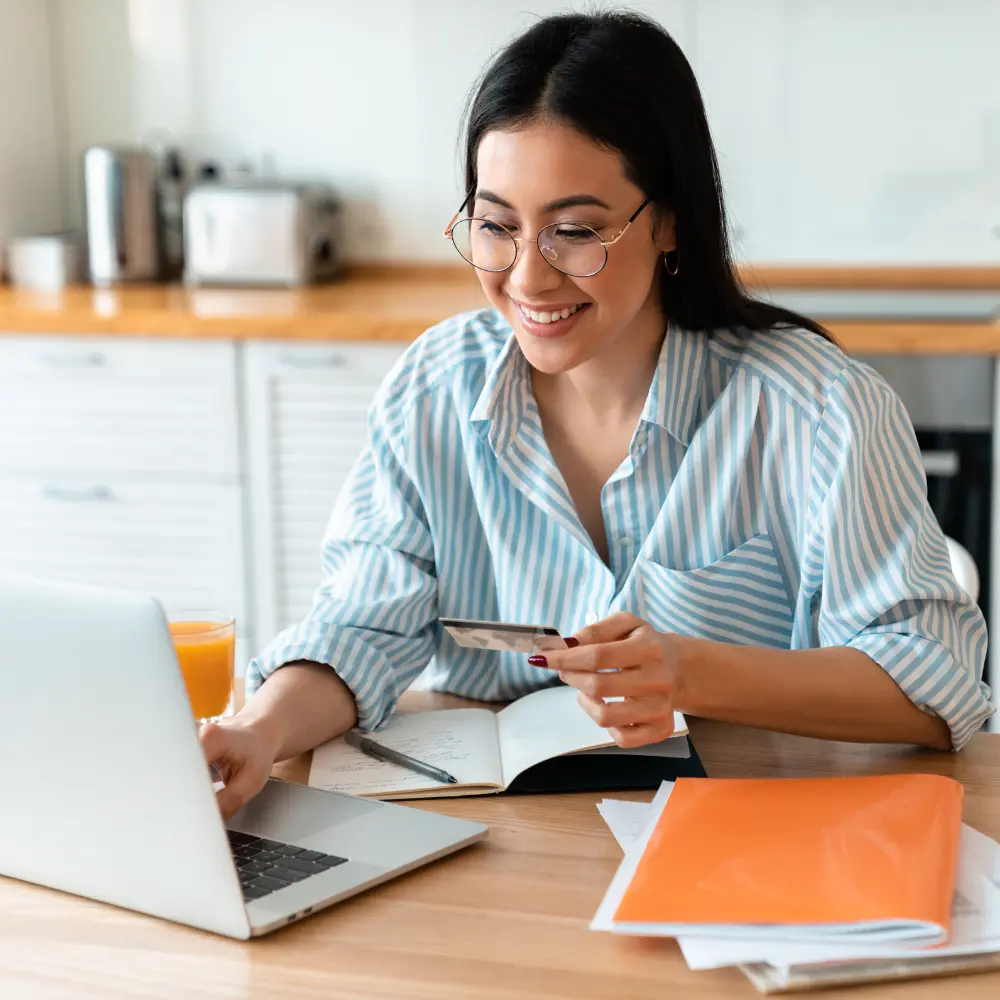 This combination of the two results in a beverage that not only gives you an immediate energy kick from the caffeine but also delivers prolonged energy release from the seeds, preventing the typical energy crash associated with caffeine consumption.
Heart Health and Cholesterol Management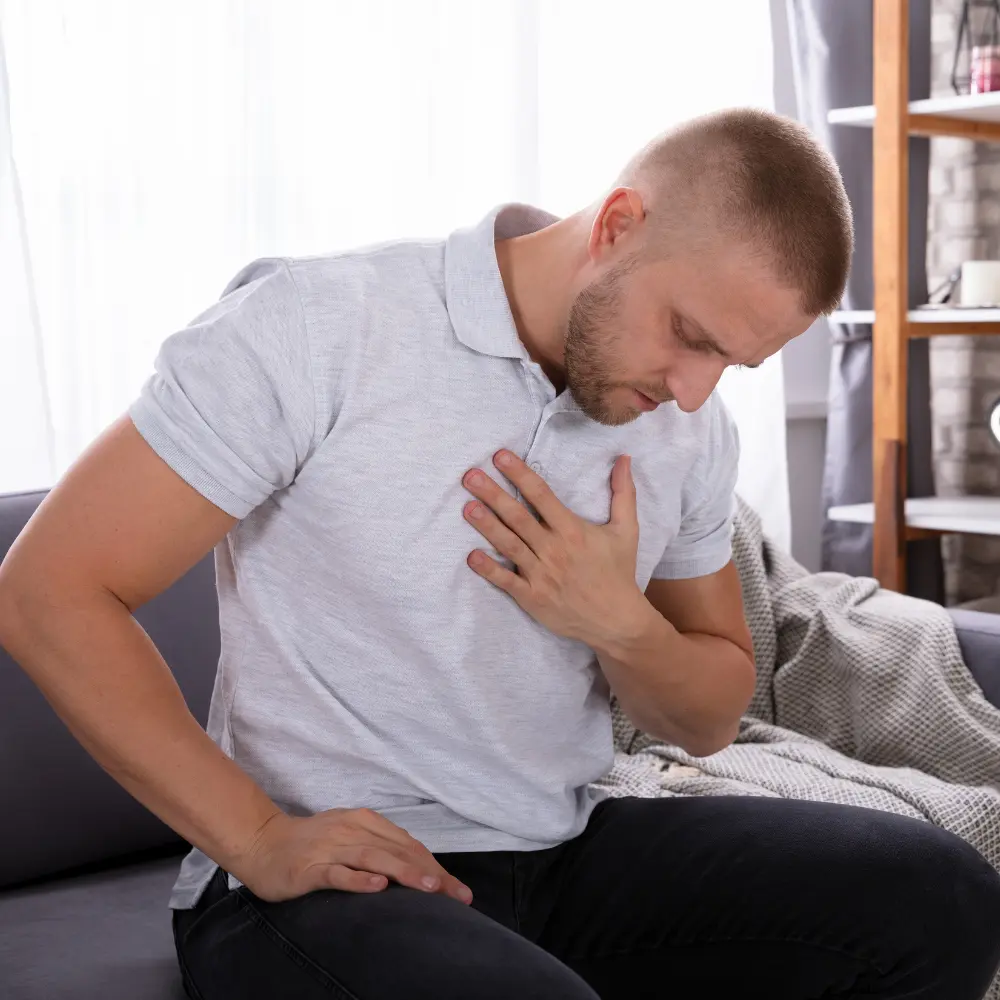 As discussed, These seeds are rich in alpha-linolenic acid (ALA), a type of Omega-3 fatty acid, which has been shown to have heart-healthy effects. ALA helps to reduce inflammation in the arteries and lower blood pressure. (3)
Additionally, the soluble fiber in flaxseeds can help lower LDL ("bad") cholesterol levels, further promoting heart health. Regularly adding these seeds to your drink can thus contribute to a healthier heart and better cholesterol management.
Mitigating the Risk of Certain Diseases
Finally, the addition of flaxseeds to your coffee may help reduce the risk of certain diseases. The lignans present in the seeds have antioxidant properties that can help mitigate the risk of certain types of cancer, including breast, prostate, and colon cancer.
Moreover, the ALA in these seeds may reduce inflammation that could lead to chronic conditions such as arthritis, asthma, and diabetes. Regular consumption of these seeds, such as through your daily cup of joe, can thus provide you with a preventive approach against certain health conditions.
The Synergistic Health Impact of Coffee and Flaxseed
While both coffee and flaxseed have their individual health benefits, combining them can create a synergistic effect, amplifying these advantages. Here's how the dynamic duo of coffee and flaxseed can work together for your health.
Coffee, a rich source of antioxidants, helps combat oxidative stress, which is linked to various chronic diseases such as heart disease and cancer. The key antioxidants in this beverage, including hydrocinnamic acids and polyphenols, work in tandem with the antioxidant properties of lignans in these seeds, offering a powerful blend of antioxidant protection.
Both coffee and flaxseed contribute to heart health. The caffeine in coffee has been linked to a lower risk of stroke and heart disease in moderate amounts. This, coupled with the heart-friendly omega-3 fatty acids and fiber in the seeds, provides a dual advantage for cardiovascular health.
The fiber in these seeds aids in slowing down the digestion process, resulting in a gradual release of glucose into the bloodstream. This can help moderate blood sugar spikes, which is beneficial for those with diabetes. Simultaneously, the chlorogenic acid in coffee may affect how the body handles blood sugar and metabolism.
Moreover, the blend of coffee and flaxseed can also contribute to improved cognitive health. Studies suggest that the combination of antioxidants from both coffee and flaxseed may protect against cognitive decline and certain neurological disorders such as Alzheimer's and Parkinson's diseases.
In essence, the pairing of coffee and flaxseed provides not only a unique flavor experience but also a combination of health benefits that go beyond what each can offer individually. This combination reaffirms the notion that food can be more than just fuel – it can also be a delicious means to support our well-being.
The Sensory Experience: Flavor and Texture
While the health benefits of this concoction are undeniable, the sensory experience of this unique beverage is also worth exploring. From flavor to texture, let's delve into what you can expect when savoring a cup of flaxseed coffee.
The Unique Flavor Profile of Flaxseed Coffee
As mentioned before, the seeds add a subtle, nutty undertone to coffee that complements the beverage's natural flavors. The resulting blend is a bit more complex than your average cup of joe, offering a layered taste experience that intrigues the palate.
While these seeds do not drastically alter the inherent flavor of coffee, it adds a fresh dimension that is discernable and enjoyable. The nutty notes of flaxseed mingle with the robust, aromatic flavors of this beverage, resulting in a well-rounded, enriched taste profile.
Perfecting the Coffee to Flaxseed Ratio
Like any good recipe, finding the perfect balance is key to maximizing the enjoyment of this concoction. The ideal ratio will depend on personal preference, but as a starting point, you might consider adding one tablespoon of ground seeds to your regular amount of coffee grounds. This allows you to appreciate the added texture and flavor without overpowering the drink.
Remember, the grind of your seeds matters too. A coarse grind will give a lighter flaxseed flavor and less pronounced texture, while a fine grind will provide a more robust taste and fuller texture.
Expert Tips to Enhance the Flaxseed Coffee Experience
To elevate your cup of joe experience, consider these expert tips:
Always use fresh flaxseed: The seeds can quickly become rancid due to their high oil content. Buying whole flaxseeds and grinding them just before use ensures maximum freshness and flavor.
Adjust according to your preference: Don't be afraid to tweak the coffee-to-flaxseed ratio to find what suits your palate best. Experimenting is half the fun!
Pair with a healthy fat: These seeds are high in fat-soluble nutrients. Pairing them with healthy fat like almond milk or coconut oil can enhance nutrient absorption.
Exploring this concoction is not just about unlocking health benefits; it's also a sensory journey that can bring a fresh twist to your routine. So, why not give it a try and savor the unique flavor and texture it offers?
How to Incorporate Flaxseed into Your Coffee Routine
Embracing this delectable concoction trend requires a bit of knowledge and practice. Here's your guide on how to successfully incorporate flaxseed into your cup of joe routine for the perfect balance of taste and health benefits.
Choosing the Right Type of Flaxseed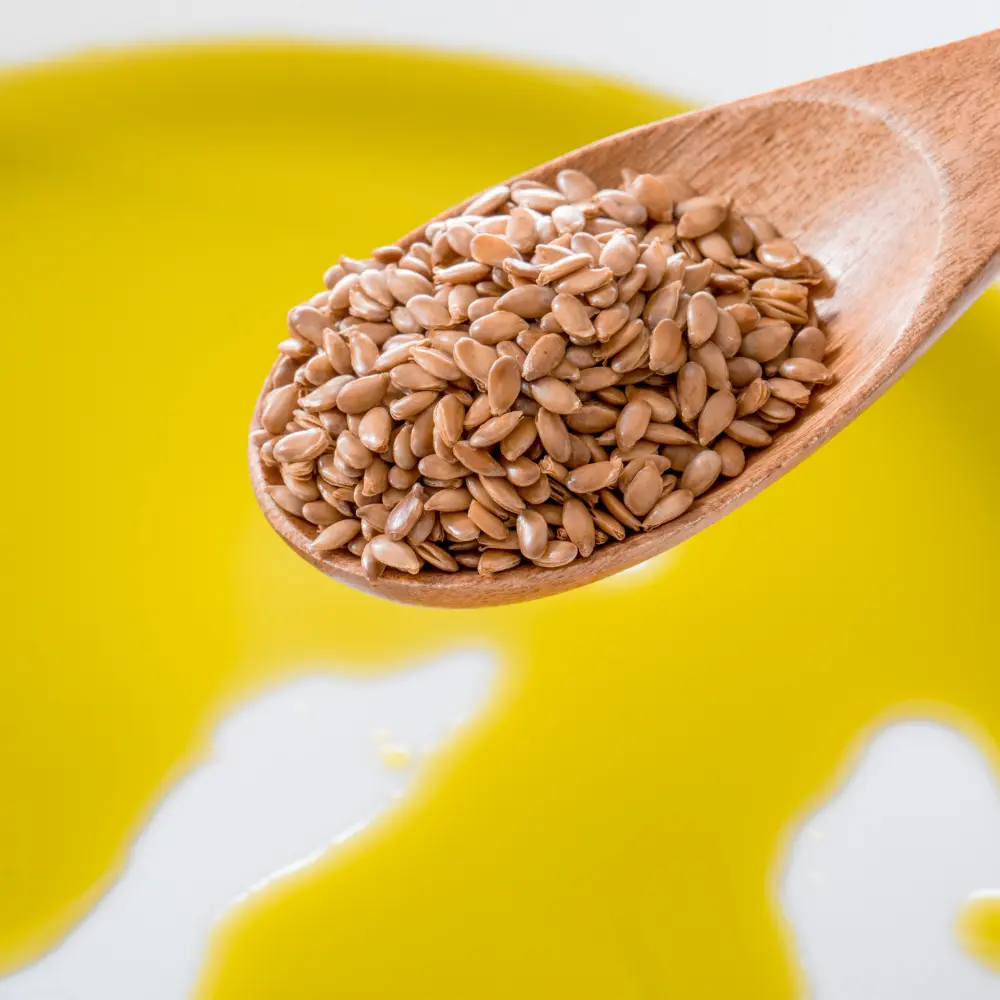 Flaxseed comes in two basic types: brown and golden. While both types are nutritionally similar, golden seeds tend to have a milder flavor compared to their brown counterparts. If you're new to flaxseed coffee, starting with golden seeds might be a good choice.
However, the preference between brown and golden seeds often comes down to individual taste and the specific flavor you want in your cup of joe. Whichever you choose, ensure that it's organic and free from any additives.
Grinding and Storing Flaxseed for Optimal Freshness
For optimal freshness and to unlock the full nutritional potential of the seeds, it's best to purchase whole flaxseeds and grind them just before use. These seeds contain delicate oils that can quickly become rancid once ground, hence fresh grinding ensures you're getting the most out of your seed.
A coffee grinder or a blender can be used to grind flaxseeds. Aim for a consistency that is slightly coarser than typical grounds.
Once ground, any leftover seeds should be stored in an airtight container in the refrigerator to maintain freshness. Whole flaxseeds, on the other hand, can be stored in a cool, dry place for up to a year.
Step-by-Step Guide to Adding Flaxseed to Your Coffee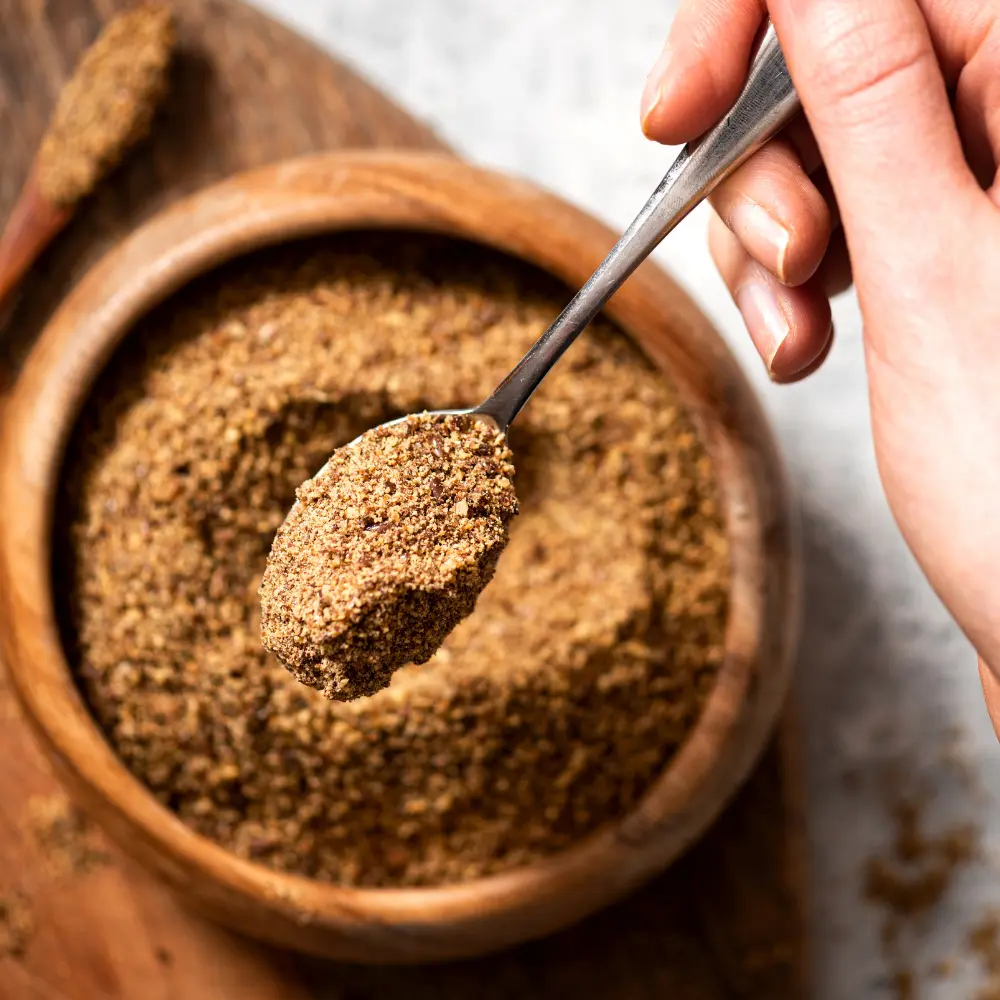 Making this concoction is surprisingly straightforward. Here are the steps:
Grind your seeds to a slightly coarse consistency.
Mix your ground coffee and ground flaxseeds. A good starting ratio is one tablespoon of ground seeds to your usual amount of coffee.
Brew your coffee as you normally would, using your preferred brewing method.
Enjoy as is, or add your favorite healthful additions such as almond milk or coconut oil.
Dos and Don'ts of Flaxseed Coffee Preparation
As you venture into the world of this lovely beverage here are a few dos and don'ts to keep in mind:
Do experiment with different types of seeds to find your preferred flavor.
Do adjust the flaxseed-to-coffee ratio to suit your personal taste.
Do grind the seeds fresh for optimal flavor and nutrition.
Don't use pre-ground flaxseed if possible, as it might be rancid.
Don't overlook the importance of storage – keep your seeds, whether whole or ground, in a cool place to maintain their quality.
Adding flaxseed to your coffee routine can be a delightful adventure, blending taste exploration with health benefits. So go ahead and try it out – your perfect cup of this delightful concoction awaits!
Debunking Myths and Addressing Common Concerns
The world of health and nutrition is rife with misconceptions and concerns, and this concoction is no exception. In this section, we tackle some common myths about flaxseed coffee, explore its suitability for different individuals, and share important precautions and recommendations.
Addressing Common Misconceptions About Flaxseed Coffee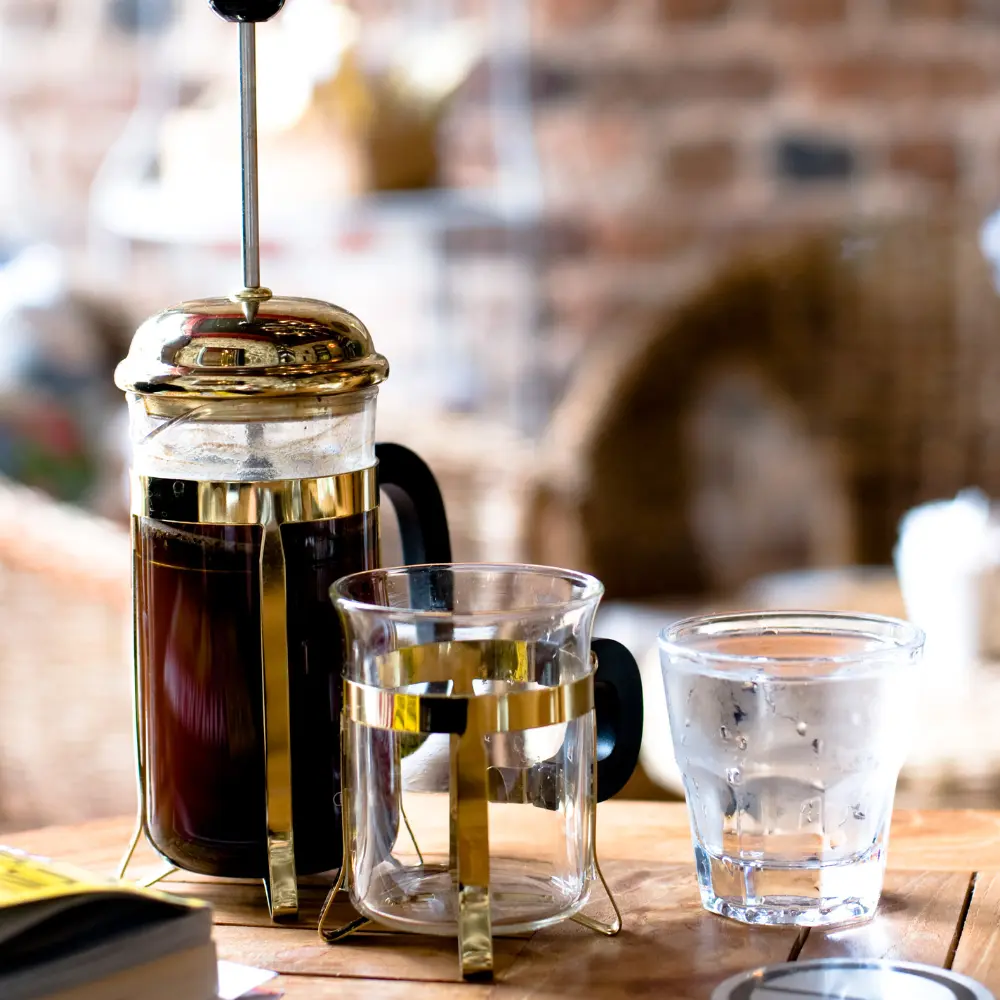 Like many novel health trends, this concoction comes with its share of myths and misunderstandings. Let's debunk some of the most common misconceptions:
Myth: "Flaxseed will make my coffee gritty." Reality: While the seeds do add texture to your cup of joe, it should not be gritty if ground and brewed properly. It should provide a subtle thickness, adding body to the coffee rather than a gritty feel.
Myth: "Flaxseed will drastically change the taste of my coffee." Reality: The seeds do alter the flavor of your cup of joe, but not drastically. It imparts a subtle nuttiness that many find enhances the complexity of the coffee's flavor profile.
Myth: "You can't prepare flaxseed coffee in a regular coffee maker." Reality: This concoction can be prepared using most standard brewing methods, from drip coffee makers to French press. Just add the ground flaxseed to your coffee grounds and brew as usual.
Flaxseed and Coffee: A Match for Everyone?
While flaxseed coffee offers a unique array of health benefits, it's not necessarily a match for everyone. For instance, individuals with a flaxseed allergy should avoid this combination. Additionally, since these seeds can lower blood sugar levels and blood pressure, individuals with diabetes or low blood pressure should consume this drink cautiously and under medical supervision.
Pregnant and breastfeeding women should also consult their healthcare providers before adding these seeds to their diet as it can affect hormone levels. Similarly, anyone taking medication or supplements that could interact with the seeds should seek professional advice before consuming this beverage.
Precautions and Recommendations for Flaxseed Coffee Consumption
In general, this delectable beverage is safe for most people when consumed in moderation. However, there are certain precautions to keep in mind:
Don't overdo it: The seeds are high in fiber, which is beneficial in moderate amounts but can cause digestive issues like bloating and gas if consumed excessively.
Stay hydrated: The high fiber content in flaxseeds can absorb water and cause dehydration, so ensure you're drinking plenty of fluids when consuming this drink.
Fresh is best: Flaxseeds contain oils that can quickly become rancid once ground, so it's best to grind the seeds just before use and store any leftovers properly.
Flaxseed coffee, when consumed mindfully, can be a fantastic addition to your daily routine. It's always important to listen to your body and adjust your consumption based on your individual needs and responses.
Delicious Flaxseed Coffee Recipes to Try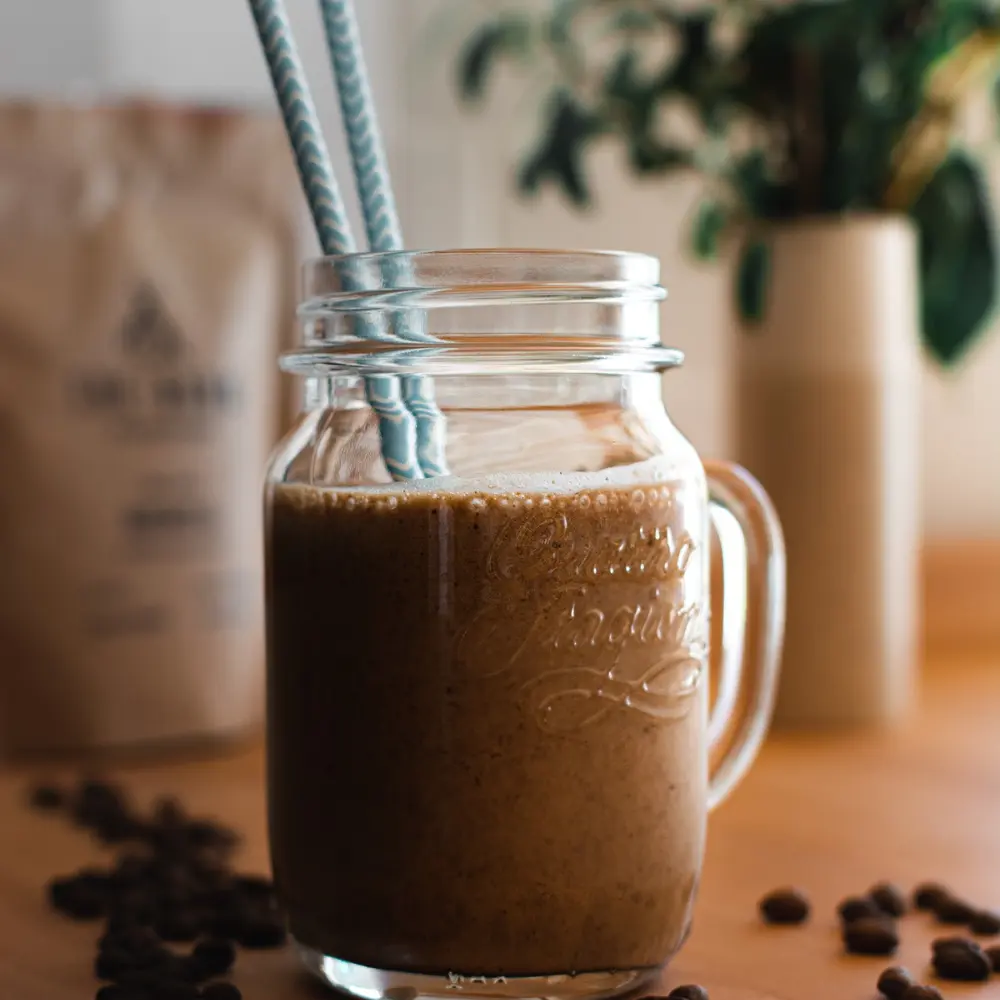 Now that you're familiar with the ins and outs of this lovely beverage, let's bring the theory to life with some delectable recipes. Whether you crave a decadent mocha latte, a refreshing iced coffee, or a comforting pumpkin spice blend, we've got you covered with these flaxseed-infused delights.
Flaxseed Mocha Latte: A Decadent Morning Indulgence
For those who love a rich, chocolatey start to their day, this Flaxseed Mocha Latte is sure to hit the spot.
Ingredients:
1 cup of freshly brewed coffee
1 tablespoon of ground seeds
1 tablespoon of unsweetened cocoa powder
1 cup of your choice of milk (dairy or plant-based)
Sweetener to taste
Instructions:
Brew your coffee, adding the ground seeds before brewing.
While your cup of joe is brewing, heat your milk in a saucepan over medium heat. Stir in the cocoa powder until fully dissolved.
Once your coffee is ready, pour it into your favorite mug. Add the cocoa-infused milk and sweeten it to taste.
Enjoy the rich, chocolatey goodness of your Flaxseed Mocha Latte!
Iced Flaxseed Coffee: Refreshing and Nutritious
Cool down with this refreshing Iced Flaxseed Coffee, perfect for hot summer days or whenever you need a chilled pick-me-up.
Ingredients:
1 cup of strong brewed coffee, cooled
1 tablespoon of ground seeds
Ice cubes
Milk of your choice, to taste
Sweetener to taste
Instructions:
Brew a strong cup of joe, adding the ground flaxseed to the coffee grounds before brewing. Allow it to cool.
Fill a tall glass with ice cubes. Pour the cooled beverage over the ice.
Add your choice of milk and sweetener to taste.
Stir well and enjoy your revitalizing Iced Flaxseed Coffee!
Flaxseed Pumpkin Spice Coffee: Embracing the Fall Vibes
Embrace the cozy flavors of fall with this Flaxseed Pumpkin Spice Coffee, a comforting blend that's sure to warm you up on crisp autumn days.
Ingredients:
1 cup of freshly brewed coffee
1 tablespoon of ground seeds
1/4 cup of pumpkin puree
1/4 teaspoon of pumpkin spice mix
Sweetener to taste
Milk of your choice, to taste
Instructions:
Brew your coffee, adding the ground flaxseed to the coffee grounds before brewing.
In a saucepan, heat the pumpkin puree, pumpkin spice mix, and a splash of milk. Stir until well combined.
Pour your brewed beverage into a mug, add the pumpkin mixture, and sweeten to taste.
Top off with additional milk if desired, stir well, and savor your delightful Flaxseed Pumpkin Spice Coffee!
With these recipes, you can bring variety to your concoction journey while indulging your taste buds and nourishing your body. 
Conclusion
As we conclude our journey into the intriguing world of flaxseed in coffee, we hope that this guide has equipped you with the knowledge and confidence to embark on your own exploration of this healthful trend. From understanding the nutritional power of flaxseed and the global love for this delightful beverage to debunking myths and crafting delectable recipes, we've covered the breadth and depth of this topic.
This blend of health and pleasure, tradition and innovation, epitomizes the beauty of integrating new health habits into our daily routines. Flaxseed in coffee is more than just a fad; it's an expression of our constant pursuit of well-being, one cup at a time.
Whether you're a seasoned coffee connoisseur or a newbie looking for healthier options, we invite you to experiment with flaxseed in coffee, savoring the unique taste profiles while reaping the remarkable health benefits. And remember, our team at The Coffee Guru is always here to guide you on your cup of joe journey.
FAQ