If you're in the market for a home espresso machine that promises barista-level coffee, the Mattino Pro Mattinata Espresso Machine might just be on your radar. This compact powerhouse is designed for espresso enthusiasts who don't want to compromise on quality, even at home. Join us as we put the Mattino Pro through its paces, assessing everything from its user-friendly features to the quality of the brew it produces. Get the insights you need with The Coffee Guru's detailed review.
Don't want to read? Press play and enjoy the article as an audio version below.
Introduction & Key Takeaway
https://app.mysoundwise.com/tracks/16996619522283196e.mp3
Features and Specifications
https://app.mysoundwise.com/tracks/16996619875003286e.mp3
Performance and Taste
https://app.mysoundwise.com/tracks/16996620232542874e.mp3
Ease of Use and Cleaning
https://app.mysoundwise.com/tracks/16996620604858701e.mp3
Mattino Pro: Pros and Cons
https://app.mysoundwise.com/tracks/16996620982069590e.mp3
How We Rate and Review the Mattino Pro Mattinata Espresso Machine
https://app.mysoundwise.com/tracks/16997230312247195e.mp3
Frequently Asked Questions
https://app.mysoundwise.com/tracks/16997233329869634e.mp3
Mattinata Mattino Pro: Key Takeaway
High-Quality Build and Design: The Mattino Pro impresses with its sturdy stainless steel construction, which not only adds to the durability but also complements any kitchen aesthetic.
Advanced Milk Frothing System: With its automatic cappuccino system and detachable milk reservoir, the machine offers a convenient way to create rich, dense milk froth for cappuccinos and lattes, rivaling the quality of your favorite coffee shop.
Intuitive User Interface: The machine boasts a user-friendly interface with programmable settings that allow for customizing the volume and strength of your coffee, ensuring that each cup meets personal taste preferences.
Considerate Maintenance Required: The Mattino Pro offers detachable parts and a self-cleaning option to aid in cleanliness, yet it requires regular deep cleaning cycles for optimal performance.
Exceptional Value: Priced at $199.99, the Mattino Pro offers a comprehensive set of features that are typically found in more expensive models, making it an excellent value for both novice and experienced espresso aficionados.
Guru's Score Verdict
Mattino Pro Mattinata: Features and Specifications
When assessing the capabilities of the Mattino Pro Espresso Machine, it is essential to explore its features and specifications in detail. This coffee machine has been designed with precision and functionality at its core, offering a robust array of features to enhance your coffee experience.
Build Quality and Design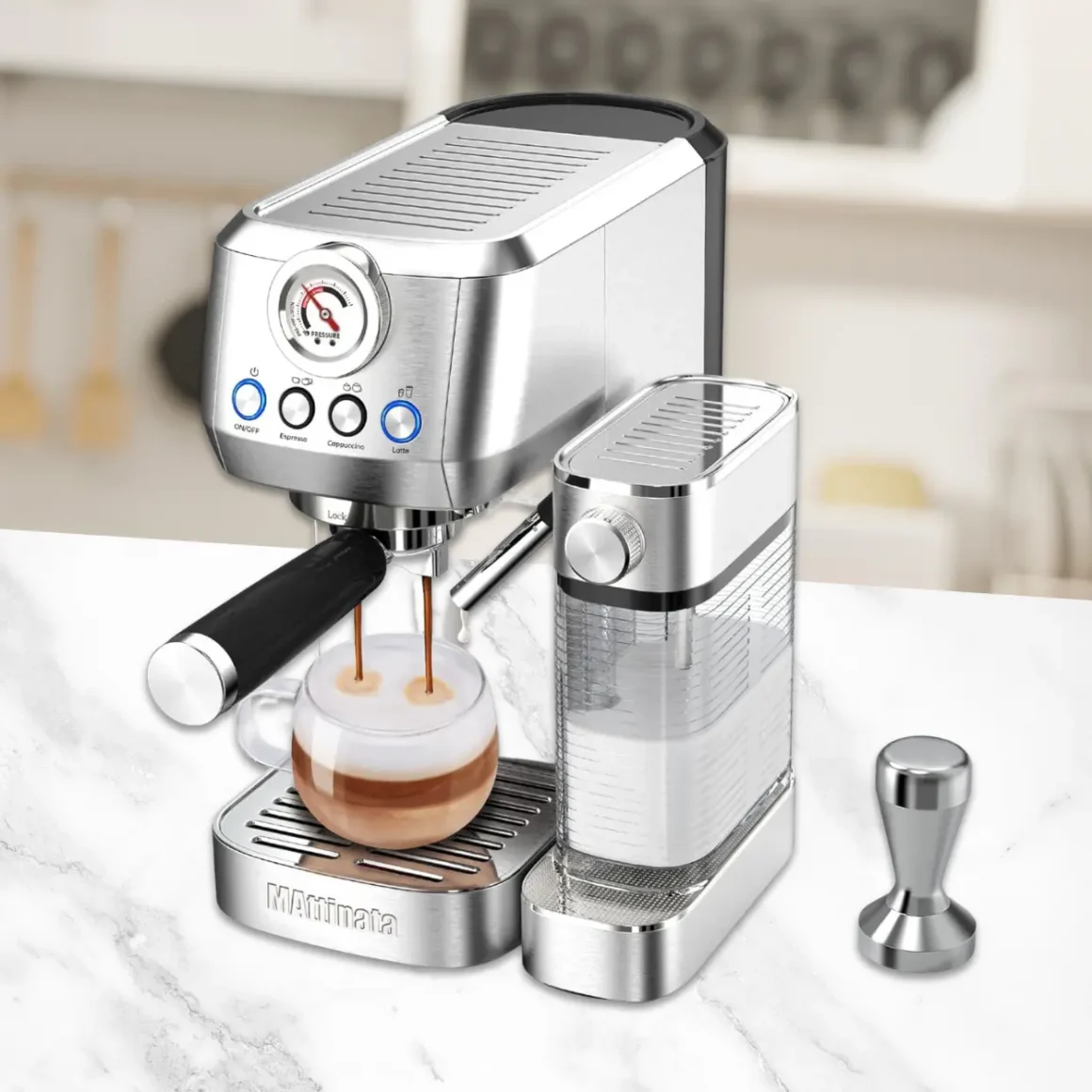 The Mattino Pro Mattinata boasts a build that speaks volumes about its durability and aesthetic appeal. The chassis presents:
Stainless Steel Construction: The body, drip tray grid, and other components are crafted from high-grade stainless steel, promising longevity and resistance to corrosion. (1)
Italian-Inspired Aesthetics: Echoing the vibrant hues of an Italian resort town, the design of the Mattinata Espresso Machine adds a touch of elegance and sophistication to any kitchen countertop.
Ergonomic and User-Friendly Design: The machine's interface, featuring a multifunctional touch panel, is intuitively designed for ease of use, allowing seamless operation even for those new to espresso making.
Size and Capacity: The dimensions of the machine ensure it is compact enough for home use while still accommodating a 1.3L water tank and a 700ml milk tank, perfect for hosting or daily use.
Brewing Capacity and Speed
Efficiency and speed are at the heart of the Mattinata Espresso Machine's brewing capabilities:
Dual Thermal Block Heating System: This allows for rapid and automatic preparation of espresso and milk froth, ensuring your coffee is ready without delay.
High-Pressure Pump: With a 20-bar high-pressure pump, the machine extracts every ounce of flavor, giving you that perfectly concentrated espresso with a rich crema top.
Pre-soaking Technology: It evenly saturates the coffee grounds, improving the overall extraction process and enhancing the coffee's acidity, sweetness, and aftertaste.
Milk Frothing and Steaming Options
The Mattino Pro Mattinata Machine elevates the art of milk frothing with its automated system:
Automatic Cappuccino System: This feature effortlessly produces a rich and creamy froth, turning your espresso into a delightful cappuccino or cafe latte.
Customizable Froth Density: Thanks to the machine's control panel, you can adjust the froth level to suit your taste, whether you prefer a light airy foam or a denser texture for your latte art.
Removable Milk Tank: For added convenience, the milk tank is detachable for easy cleaning and can be stored in the refrigerator to keep the milk fresh.
Incorporating these state-of-the-art functionalities, the Mattinata Espresso Machine offers a seamless coffee-making experience, from the swift brewing process to the fine art of milk frothing, designed to cater to the discerning tastes of Italian coffee aficionados.
Performance and Taste
When evaluating the Mattino Pro Mattinata, performance and taste emerge as pivotal factors for any coffee enthusiast. This machine's engineering not only aims to deliver professional-grade espresso but also ensures that every cup is a testament to the Italian coffee tradition. Let's delve into the details that make this machine stand out.
Espresso Quality and Consistency
The hallmark of a superior espresso machine lies in its ability to produce consistently high-quality espresso:
Precision Extraction: The Mattino Pro ensures precision in every pull, as previously mentioned, with the 20-bar high-pressure pump extracting the full flavor profile of the coffee beans, resulting in a rich and robust espresso.
Temperature Stability: A dual thermal block heating system provides a stable brewing temperature, which is crucial for achieving a balanced and aromatic espresso shot. (2)
Grind Size and Tamping: For the best results, the machine leverages a recommended grind size of 0.2mm – 0.3mm and employs a tamper for optimal coffee density, allowing for uniform water flow and extraction.
Cappuccino and Latte Art Potential
The Mattino Pro Cappuccino Machine excels not only in brewing espresso but also in creating the velvety milk texture necessary for cappuccinos and latte art:
Milk Frothing Perfection: The fully automated milk frothing system is designed to produce a creamy, rich froth, essential for constructing the perfect café cappuccino or topping off a latte.
Latte Art Readiness: The froth's consistency is fine and creamy, making it ideal for pouring and crafting latte art. The machine's design allows for the precise control needed to achieve intricate designs.
Customizable Milk Texture: Users can adjust the frothing settings to cater to their preferences, whether it's for a silky latte or a foamier cappuccino, enhancing the overall taste and presentation of each beverage.
Noise Level and Heat Management
An often-overlooked aspect of espresso machines is the noise and heat they generate during operation:
Quiet Brewing Technology: The Mattino Pro is designed to operate with minimal noise, ensuring that your morning coffee ritual or after-dinner espresso does not disturb the peace of your environment.
Efficient Heat Distribution: Thanks to its advanced heating system, the machine maintains optimal temperature without overheating, preserving the integrity of the coffee and ensuring user safety.
Overheat and Overpressure Protection: Built-in safety features protect against the risks associated with excessive heat and pressure, ensuring the longevity of the machine and the safety of its users.
The Mattino Pro Mattinata stands out for its superior performance, delivering espressos, cappuccinos, and lattes that speak to the soul of the coffee aficionado. Each element of its operation, from the quality of espresso to the potential for artistic latte creation, and even its whisper-quiet functionality, has been crafted with meticulous attention to detail. This dedication to excellence ensures that the coffee experience it provides is not only about taste but also about enjoying the serenity and artistry that goes into making each cup.
Ease of Use and Cleaning
The Mattino Pro MAttinata Espresso Machine marries convenience with sophistication, creating an experience that simplifies the barista process without compromising the quality of your coffee. Its design and features are tailored to enhance usability and ease of maintenance.
User-Friendly Interface
Sale
Operating the Mattino Pro should be intuitive, even for those new to the world of espresso:
Multifunctional Touch Panel: The interface includes buttons that are clearly labeled for various coffee preparations, from espressos to lattes, as well as for single or double-cup options, making selections a breeze.
Visual Indicators: The panel also provides visual feedback during the brewing process, with flashing lights to indicate when the coffee is being brewed or when the machine is ready for use.
Filter Installation: Inserting or removing the single and double filters is straightforward, with a firm push or pull as needed. A secondary filter can assist in removing a snug filter without much fuss.
Portafilter Locking: The filter holder is designed to easily slide and lock into the brew head, ensuring a secure fit with a simple twist action.
Cleaning and Maintenance Tips
Keeping the Mattino Pro pristine and functioning optimally requires regular cleaning, but thankfully, it's designed to make this process as painless as possible:
Cleaning the Milk System: Utilize the machine's automatic cleaning cycle for the milk frothing system to prevent blockages and maintain the taste integrity of your coffee. This should be done frequently, based on usage.
Durable Materials: The stainless steel components such as the drip tray, powder filters, and filter holder are not only robust but also resist corrosion, ensuring longevity and ease of cleaning.
Milk Reservoir Maintenance: The detachable 700ml milk reservoir can be easily cleaned and is refrigerator-safe, allowing you to store leftover milk and maintain freshness between uses.
Deep Cleaning Cycle: Regular deep cleaning cycles are recommended to prevent any buildup of milk residue. The provided instructions make this a simple task to ensure that every cup of coffee is as delicious as the first.
Water Reservoir and Drip Tray Capacity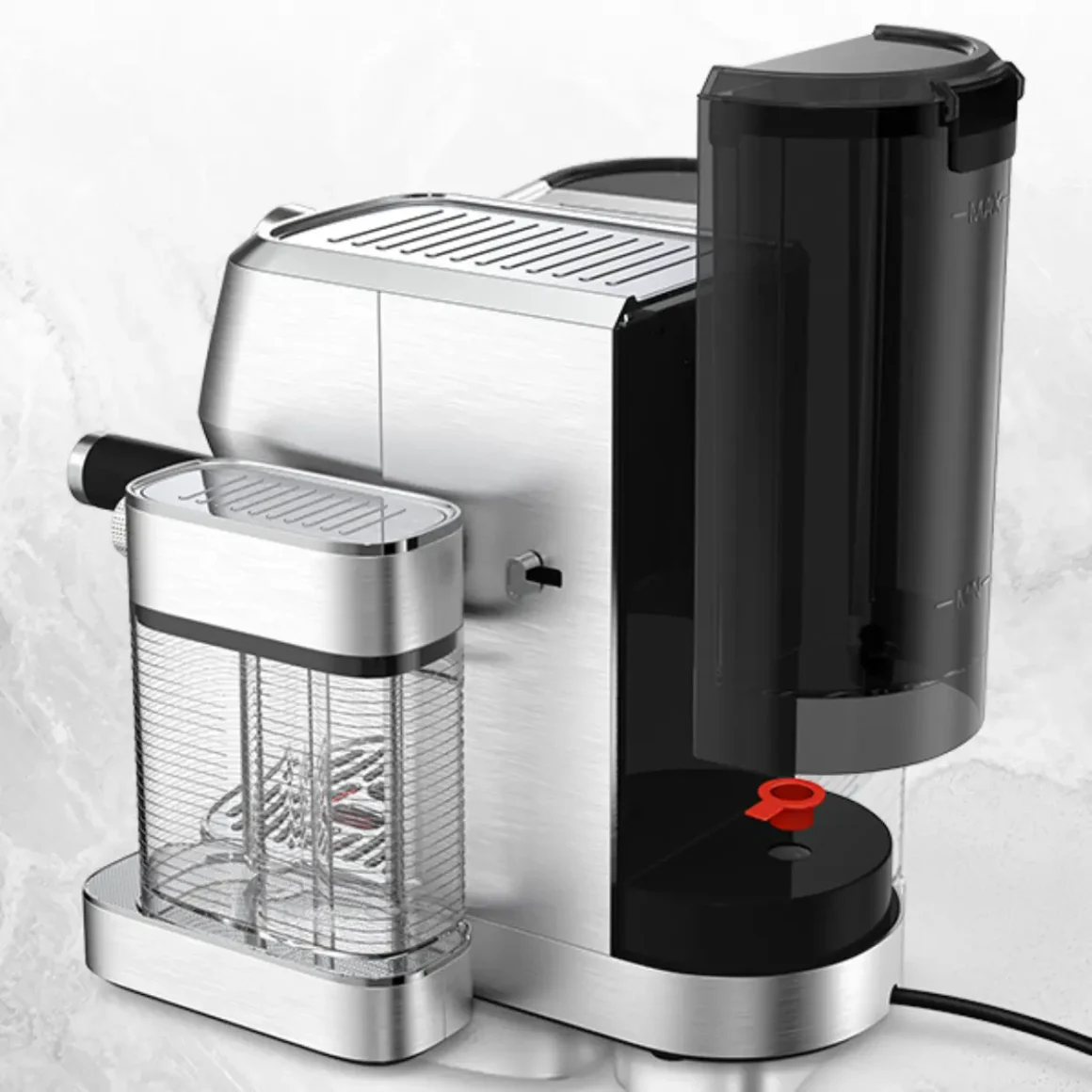 To minimize the frequency of refills and cleanups, the Mattino Pro is equipped with a water reservoir and drip tray that accommodate multiple uses:
Water Reservoir: The large water tank is transparent, allowing you to easily monitor the water level and refill it without guessing when it's necessary.
Drip Tray: The stainless steel drip tray is spacious, capturing spills and excess coffee, which reduces the mess and the need for constant attention.
Practical Design: Both the water tank and drip tray are designed for quick removal, making it effortless to empty and clean, ensuring that your machine remains in top condition.
The Mattino Pro is a paragon of user convenience and ease of maintenance. From the multifunctional touch panel to the simple cleaning routines, every aspect of the machine is crafted to streamline your coffee-making process. Whether you're a seasoned barista or new to home-brewed espresso, the Mattino Pro provides a no-fuss, enjoyable experience, ensuring that more time can be spent savoring your perfect cup of coffee.
Mattino Pro: Pros and Cons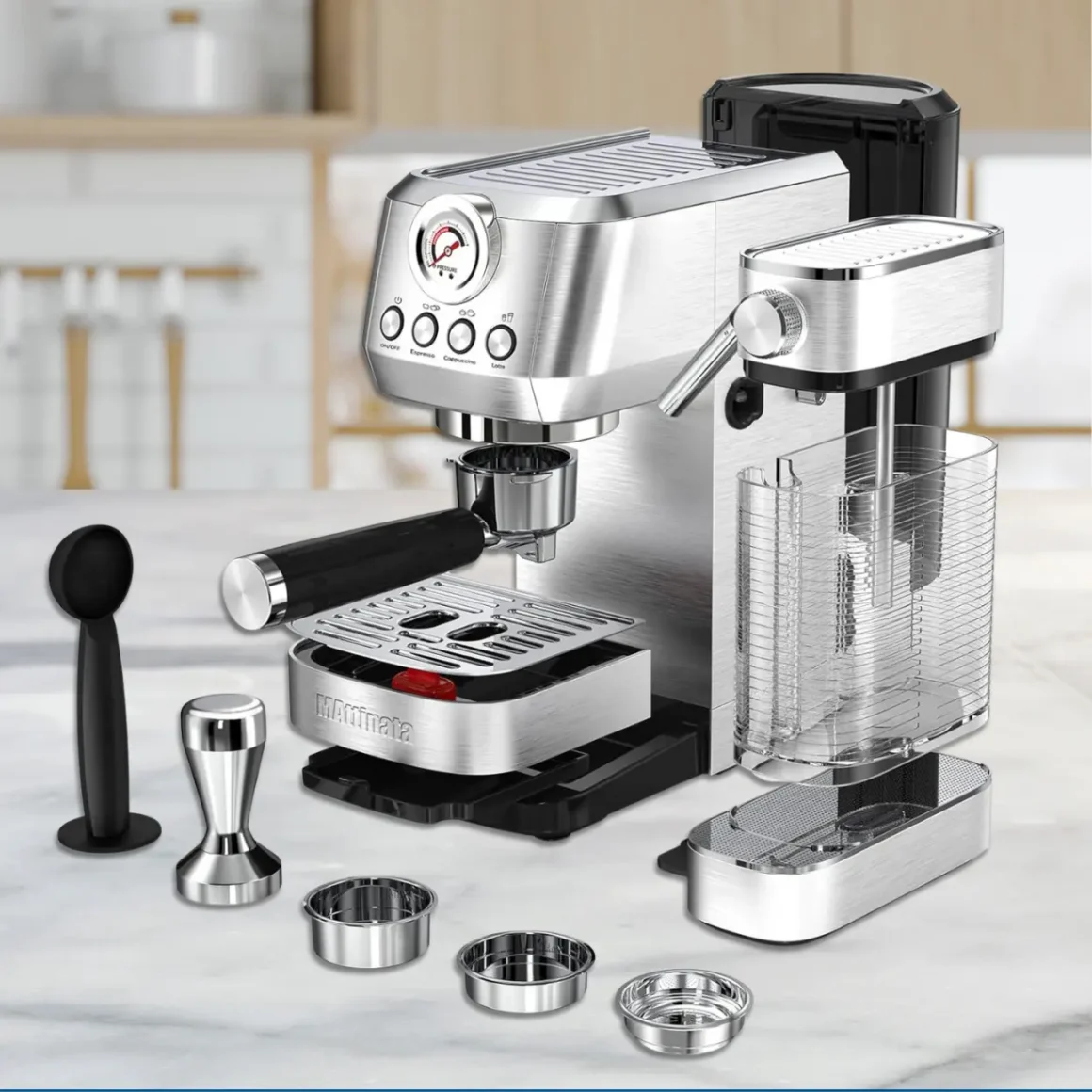 Sale
The Mattino Pro espresso machine boasts a plethora of features designed to delight coffee enthusiasts. Below, we delve into the advantages and disadvantages of this machine, ensuring prospective buyers have a clear understanding of what to expect.
Pros:
Removable Milk Reservoir: The 700ml milk tank is not only ample for multiple servings but is also detachable, facilitating easy cleaning. Being refrigerator-safe, it allows users to store leftover milk, maintaining freshness between uses. This feature also contributes to the creation of denser milk froth, especially when using chilled whole milk.
Automatic Cappuccino System: The inbuilt automated frother eliminates the hassle of manual frothing, delivering rich and velvety foam for lattes and cappuccinos at the touch of a button.
Customizable Beverage Volume: The machine offers a programmable system to adjust the volume of coffee, allowing users to tailor their brew strength and size to personal taste.
Simple Operation: With a user-friendly interface, the Mattino Pro has four touch buttons, making it straightforward to brew a variety of coffee drinks. Additional features such as preheating your cup for increased coffee temperature enhance the user experience.
Durable Construction: Constructed predominantly from stainless steel, the Mattino Pro promises durability and ease of maintenance.
Multifunctional Touch Panel: The touch panel is intuitively designed, featuring buttons for single or double cups, cappuccinos, lattes, and more, catering to all coffee preferences.
Cons:
Filter Installation and Removal: Some users may find installing and removing the single and double filters to be a bit challenging due to their snug fit.
Grinding Precision: The machine requires coffee grounds to be of a specific coarseness (0.2mm-0.3mm), which may necessitate a separate precision grinder for optimal results.
Maintenance: To prevent blockages and maintain the best flavor, a deep cleaning cycle is recommended regularly, which could be a bit demanding for some users.
How We Rate and Review the Mattino Pro Mattinata Espresso Machine
Design and Build Quality: 4.5/5
The Mattino Pro exudes elegance and robustness with its stainless steel construction, garnering a high rating from us at The Coffee Guru. The material choice not only provides a sleek, modern aesthetic that would complement any kitchen counter but also ensures longevity. We're deducting half a star due to reports that some users find the filter a tad snug when installing or removing.
Beverage Options & Quality: 4/5
With options to brew espressos, cappuccinos, lattes, and the ability to customize beverage volume, the Mattino Pro offers an impressive range of choices. The quality of the beverages, particularly the espresso, is rich and authentic, living up to the Italian standards it's inspired by. However, we are taking off a star because achieving the optimal flavor depends on the precision of the coffee grounds used, which may require an additional investment in a high-quality grinder.
User Interface & Customization: 4.5/5
The multifunctional touch panel on the Mattino Pro is a significant plus, with intuitive buttons that simplify the brewing process for a variety of drinks. The customization feature is another highlight, allowing users to tweak their coffee strength and size.
Milk Frothing System: 4/5
Mattino Pro's automatic frothing system is a gem, producing rich and creamy froth with ease. The removable milk reservoir is a thoughtful addition, scoring high on convenience.
Maintenance & Cleanliness: 3.5/5
We appreciate the detachable components and the stainless steel material, which facilitate easy cleaning. However, the required frequent deep cleaning cycles can be somewhat burdensome for users who prefer low-maintenance machines. For this reason, we deduct 1.5 stars, as the maintenance might be off-putting for those with a busy lifestyle or less patience for intricate cleaning processes.
Price & Value: 4/5
Considering the Mattino Pro's array of features, durable build, and the quality of coffee it produces, it offers substantial value for its price point. It's an investment for coffee lovers who appreciate a good brew at home.
Beverage Options & Quality
User Interface & Customization
Maintenance & Cleanliness
Conclusion – Guru's Score Verdict: 4.1/5
After thorough testing and consideration, The Coffee Guru rates the Mattino Pro Mattinata Espresso Machine as a commendable 4.1 out of 5 stars. The machine's sturdy build and diverse beverage capabilities stand out, though the user interface may have a slight learning curve. Its milk frothing system is top-notch, producing café-quality drinks. Maintenance is manageable, adding to its appeal. For its price, the Mattino Pro offers considerable value, making it a recommended option for espresso enthusiasts.
FAQ