In a world teeming with coffee appliances, a few manage to stand out, not just for their brewing capabilities, but also for their distinctive design. The Smeg drip coffee maker is one such iconic piece that seamlessly merges retro charm with modern-day functionality. Welcome to our Smeg Coffee Maker Review, where we'll delve deep into this celebrated appliance's offerings. From understanding its aesthetic allure to evaluating its brewing prowess, our team at The Coffee Guru aims to provide an all-encompassing insight into what makes this coffee maker both an appliance and a style statement. Join us as we percolate through the details and serve you a fresh perspective on this popular brewer.
Smeg Coffee Maker Review: Key Takeaway
Retro Reimagined: Dive into the Smeg Coffee Maker's unique 1950s design aesthetic, offering both a style statement and functional coffee brewing.
Brew Basics Covered: While the Smeg drip coffee maker efficiently handles fundamental coffee-making tasks, more is needed to satisfy the tastes of those seeking advanced brewing options.
Maintenance Matters: Despite its premium positioning, be prepared for a more demanding maintenance routine, especially with frequent descaling needs.
Value in Vision: The Smeg's price reflects its design prowess; however, its functionality might align closer to basic models available at more competitive price points.
Final Verdict: Our comprehensive Smeg Coffee Maker Review reveals a score of 3.6/5, highlighting the balance of form and function, with room for improvement.
Smeg Coffee Maker: A Blend of Aesthetics and Functionality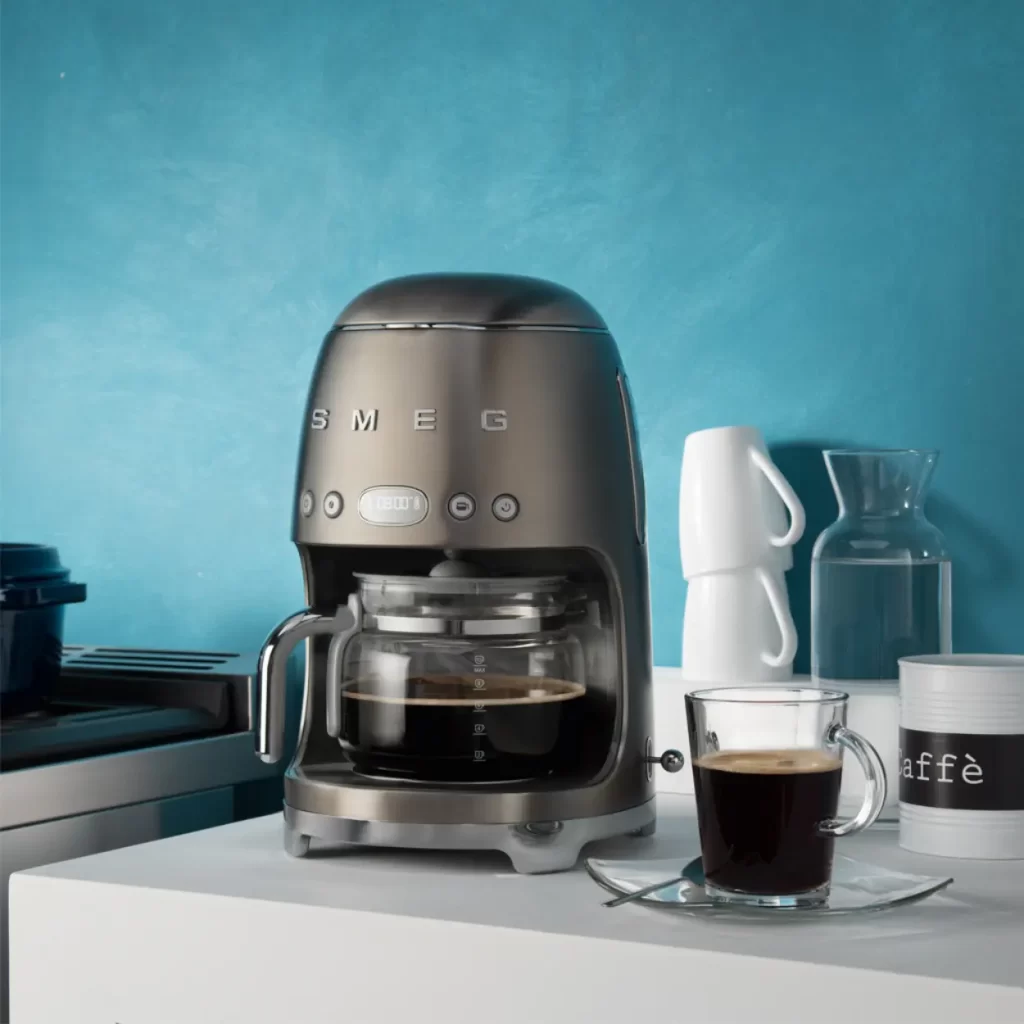 The Smeg Coffee Maker exemplifies a stellar union of captivating aesthetics and advanced brewing technologies. Renowned for its pleasing design, innovative brewing features, and user-friendly operation, this coffee maker is a prized asset in any kitchen.
Aesthetics that Transcend Time
The coffee machine establishes its presence with a timeless aesthetic, offering a blend of retro-style design and modern elements:
Its glossy body, a fusion of stainless steel and plastic, is available in a plethora of color choices like black, cream, slate gray, pastel green, pastel blue, red, stainless steel, and white. This versatile palette allows the device to perfectly fit into diverse kitchen interiors.
The polished chrome base, combined with the glass carafe, adds a sophisticated touch.
The zinc alloy clock/time lever infuses the coffee maker with a vintage charm, creating a statement piece in any modern kitchen setting.
Innovative Brewing Technologies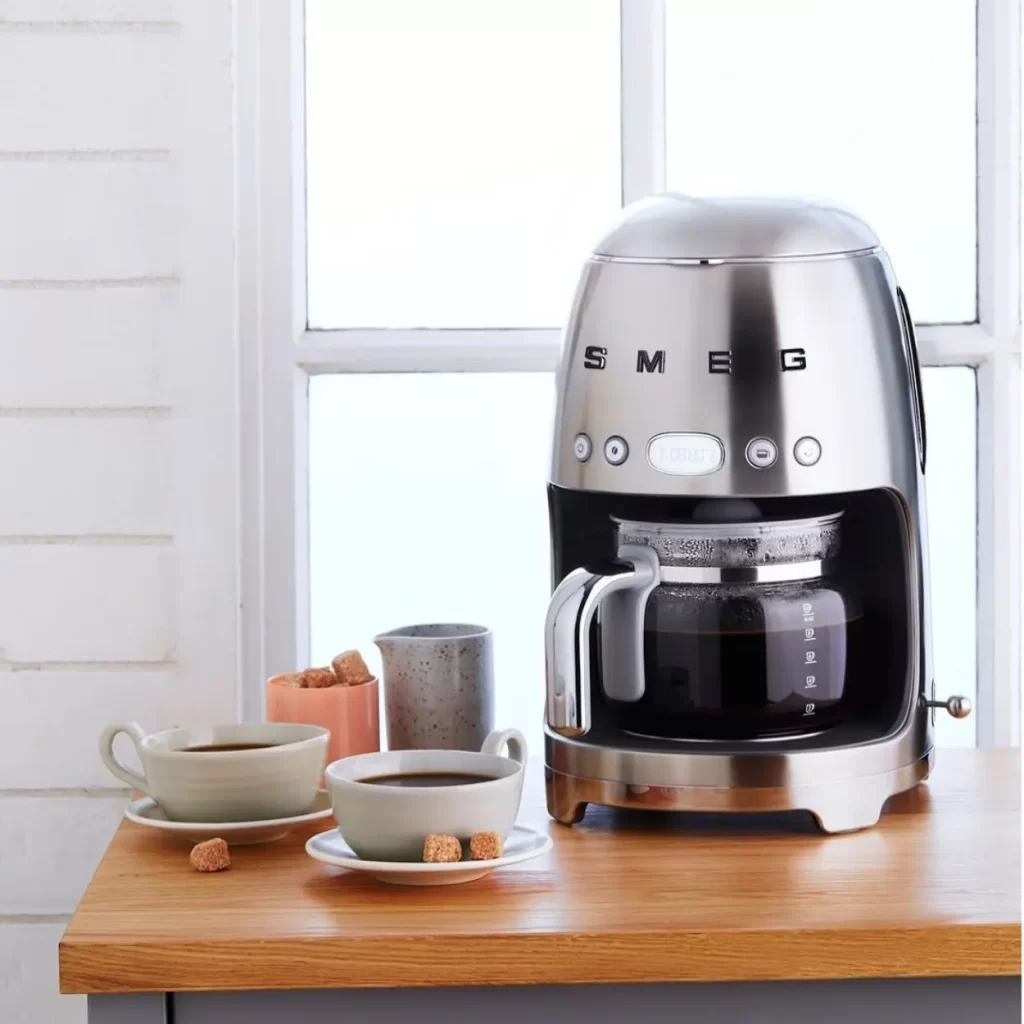 The Smeg drip coffee maker stands out with its robust brewing capabilities: (1)
The coffee pot employs a powerful electric resistance heating system for efficient and consistent brewing.
It provides a generous brew size with a water container capacity of 47.34 fl. oz. and can serve up to 10 cups of coffee.
Adjustable coffee intensity options, with light or intense levels, accommodate varying taste preferences.
The coffee maker features a no-drip system for a clean brewing experience.
Safety features include a decalcification alarm and anti-slip feet, ensuring reliable and long-lasting operation.
User-Friendly Features for Convenience
The coffee machine boasts an array of user-friendly features for an effortless coffee brewing experience:
The adjustable water hardness levels (light, medium, hard) allow customization according to local water quality.
The 1-4 cups function makes it suitable for both personal use and smaller households.
The automatic start setting facilitates pre-timed brewing, perfect for busy mornings.
A keep-warm mode, with a duration of up to 60 minutes, ensures your coffee remains hot and ready to serve.
The machine features a clear display and simple controls, including buttons and a lever.
An optional sound alarm after brewing keeps you alerted about the freshly brewed coffee.
To sum up, the coffee maker, with its appealing aesthetics, innovative brewing technologies, and convenient features, provides an unparalleled coffee brewing experience.
Coffee Quality and Brewing Performance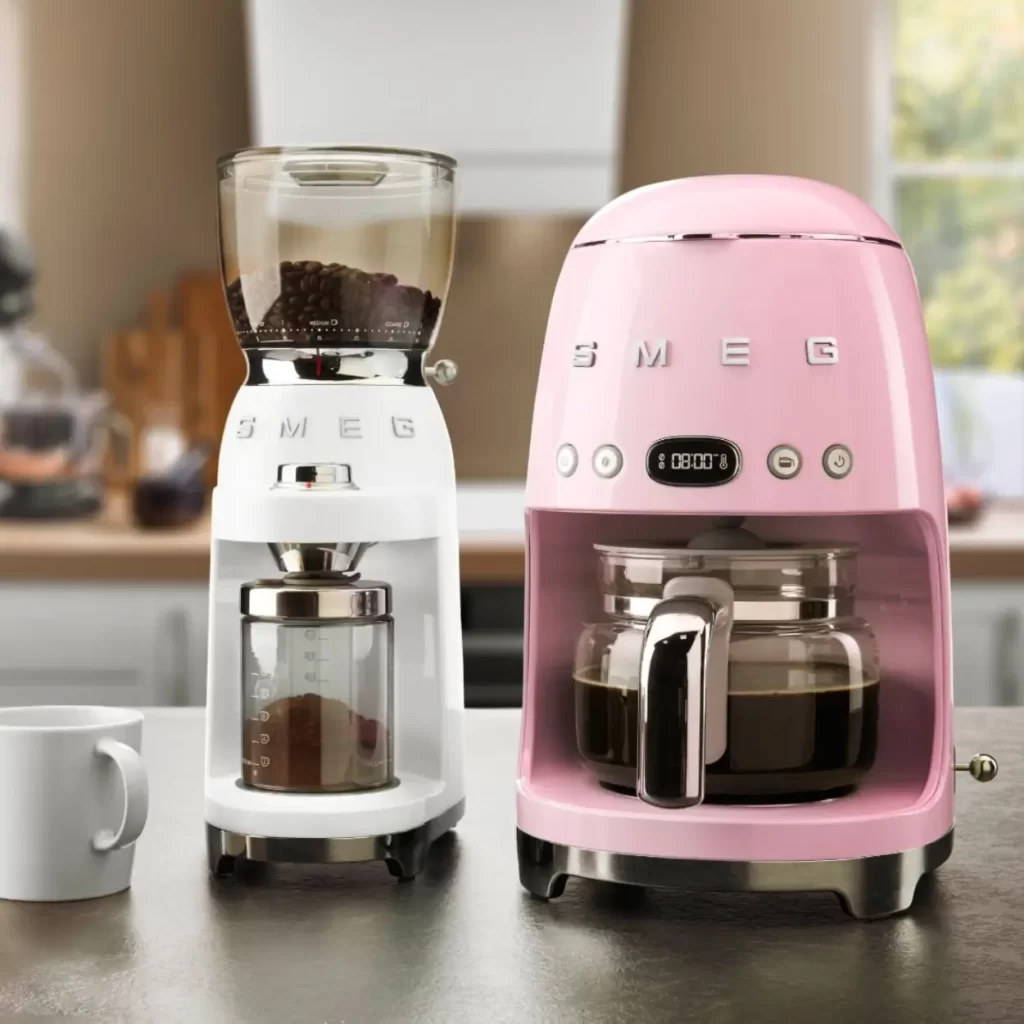 The drip coffee maker excels not only in its stunning design but also in the exceptional quality of coffee it brews. Let's delve deeper into the elements that contribute to its superior brewing performance: precise temperature control, extraction mastery, and flexible brew size options.
The Art of Precise Temperature Control
The crux of brewing an excellent cup of coffee lies in maintaining the optimal temperature throughout the brewing process. The drip coffee maker shines in this respect:
Powered by a robust 1050W electric resistance heating system, it ensures uniform and consistent heating. This precise temperature control plays a pivotal role in extracting the best flavors from your coffee grounds.
The machine's ability to adapt to varying water hardness levels also impacts the brewing temperature. As discussed, users can adjust settings between light, medium, or hard based on their local water quality. This feature allows the coffee maker to fine-tune the temperature, resulting in a superior coffee brew.
Extraction Mastery for Rich Flavor
Extraction is another critical factor influencing the taste and aroma of your coffee. The drip coffee machine exhibits mastery over this aspect:
Thanks to its adjustable coffee intensity options, users can choose between light or intense brews, tailoring the extraction process to suit their flavor preferences.
The coffee maker employs a stainless steel and plastic permanent filter. The combination of these materials helps in efficient extraction, allowing the coffee to maintain its rich, full-bodied flavor.
Coupled with the Smeg coffee maker instructions, which provide detailed brewing guidelines, even coffee brewing novices can achieve a perfect extraction every time.
Brew Size Options: From Solo Sips to Group Gatherings
Whether you're brewing a single cup to kickstart your morning or catering to a group of coffee aficionados, the coffee maker offers ample flexibility:
The large water container with a capacity of 47.34 fl. oz. and a carafe capacity of 42.27 fl. oz. means you can brew up to 10 cups of coffee in one go, making it a great choice for hosting.
The 1-4 cups function allows for brewing smaller quantities without compromising the quality or intensity of the coffee. This feature makes the coffee maker equally efficient for single servings or smaller households.
The Smeg brewer doesn't just make coffee—it crafts an experience. With its focus on precise temperature control, mastery in extraction, and versatile brew sizes, every coffee lover, from solo drinkers to party hosts, is assured of a superbly brewed cup of coffee.
Build Quality and Design Durability
The coffee maker shines not only in aesthetics and brewing prowess but also in its build quality and durability. Carefully crafted with high-quality materials, intuitive design for easy maintenance, and meticulous attention to construction details, the coffee machine ensures lasting performance.
High-Quality Materials for Longevity
The Smeg Coffee Pot flawlessly combines functionality and design, each part playing its role in delivering an enduring performance:
As previously discussed, the body, crafted from a perfect blend of stainless steel and glossy plastic, promises to withstand regular usage, retaining its gleaming appearance for years.
The carafe, constructed from glass, resists thermal shocks and scratches, ensuring a lasting clear view of the brewed coffee.
The heating plate and permanent filter, fabricated from stainless steel, are designed to resist corrosion and staining, ensuring the machine continues to function optimally.
Other construction materials like the zinc alloy clock/time lever and the plastic base not only enhance the overall aesthetic but also contribute to the machine's longevity.
Echoing the 1950's Retro-Style Aesthetic
Taking inspiration from the vibrant era of the 1950s, the Smeg coffee machine embodies a distinctive design aesthetic that transcends time:
The overall form factor and color palette echo the 1950s' retro style, offering a pleasing harmony of nostalgia and modernity. This fusion makes it a design centerpiece, capable of enhancing any kitchen decor.
From the polished chrome base to the glossy finish, every detail adds to its vintage charm. The machine is available in an array of color options, offering ample choices to match any kitchen theme.
The zinc alloy clock/time lever is a nod to the 50s' charm, adding a distinctive character to the machine. This element, combined with the overall design, results in a pleasing retro aesthetic that adds a touch of sophistication and charm to any kitchen space.
Are you captivated by the charm of retro coffee makers? Dive into our article highlighting the finest vintage coffee makers that exude nostalgic allure.
A Closer Look at Construction Details
A more detailed look at the coffee machine's construction speaks volumes about its durability and thoughtful design:
The coffee maker comes with anti-slip feet, ensuring stability and reducing the risk of accidental spills.
Operating at a standard voltage of 120 V and a frequency of 60 Hz, the machine is designed for efficient performance and long-term reliability.
The compact dimensions (9 5/8″ width, 10 1/16″ depth, and 14 1/4″ height) along with a net weight of 7 lbs signify a sturdy yet easily manageable appliance.
To sum up, with the Smeg, you're not just investing in a kitchen appliance but a timeless piece of design. Its high-quality construction, 1950s retro-style aesthetic, and meticulous attention to detail guarantee a durable and attractive coffee maker that stands the test of time.
Pros and Cons of the Smeg Coffee Maker
Every coffee maker comes with its unique set of strengths and potential drawbacks. Let's explore the advantages and disadvantages of the Smeg Coffee Machine to help you make an informed decision.
Pros of the Smeg Drip Coffee Maker:
Aesthetics: One of the main attractions of the Smeg brewer is its retro-style design, inspired by the aesthetics of the 1950s. Available in multiple color options, it easily fits into various kitchen interiors, adding a touch of charm and sophistication.
Quality and Durability: Constructed from high-quality materials like stainless steel and glass, the machine promises longevity. The anti-slip feet and no-drip system enhance its durability and user-friendliness.
Innovative Brewing Technologies: The coffee machine impresses with its powerful heating system and precise temperature control. The adjustable coffee intensity options and water hardness levels allow for customization, providing a personalized coffee brewing experience.
Convenience: The Smeg is loaded with convenient features. The automatic start setting, keep-warm mode, and 1-4 cups function cater to various user needs and preferences. An additional benefit is the keep-warm function that maintains the coffee's temperature for up to 60 minutes, ensuring a hot cup of coffee whenever you want it. The optional sound alarm and clear display further add to its ease of use.
Cons of the Smeg Coffee Machine:
Size: Despite its compact design, the coffee machine might be slightly large for kitchens with limited counter space.
Price: Given its high-quality construction and aesthetic appeal, the coffee maker falls in the higher price bracket. This might be a potential deterrent for budget-conscious shoppers.
Lack of Advanced Features: While the machine boasts a plethora of features, it might not meet the expectations of tech-savvy users looking for advanced functionalities like app-controlled operation or built-in grinders.
Overall, the coffee maker shines with its unique design, high-quality materials, innovative brewing technologies, and user-friendly features. However, it's essential to consider factors like space availability, budget, and preference for advanced features before making a purchasing decision.
How We Rate & Review The Smeg Coffee Maker
Quality of Coffee: 3.5/5
The Smeg Coffee Maker, with its limited settings of "light" and "intense," might not meet the expectations of coffee enthusiasts who are accustomed to a broader range of customizable brewing options. Advanced machines in the market offer features such as controlled water temperature, coffee bloom generation, and precise extraction times—all of which play a role in delivering a richer, more nuanced coffee flavor.
Reason for Deduction: Lacks the enhanced brewing techniques found in specialized coffee makers that can extract complex flavors from coffee beans.
Durability and Build Quality: 4/5
Constructed with premium materials, the coffee machine promises robustness. However, its demand for frequent descaling and maintenance might be indicative of a machine that, while looking stellar, may require consistent attention to ensure long-term functionality.
Reason for Deduction: While material quality is impressive, frequent maintenance could suggest underlying longevity issues or a higher sensitivity to water quality.
Brewing: 3.5/5
While the machine's brewing process is straightforward and user-friendly, the options are somewhat basic. Those seeking intricate customizations or experimental brewing methods might find the Smeg limiting.
Reason for Deduction: Compared to some competitors, the Smeg's brewing options are limited, lacking the finesse that might be desired by serious coffee enthusiasts.
Cleaning and Maintenance: 3/5
The requirement for frequent maintenance, especially descaling, suggests that the machine might be more sensitive to mineral buildup. This could be cumbersome for users, especially if they use hard water or brew coffee frequently.
Reason for Deduction: A coffee maker in this price range should ideally offer easier maintenance routines. The frequency required might be off-putting for daily users.
Design and Aesthetics: 4.3/5
The brewer's design is undeniably one of its strongest points. Embodying a 1950s retro charm, it's an eye-catching addition to any kitchen. However, its size might be a concern for those with limited counter space or those who prefer a more minimalist kitchen setup.
Reason for Deduction: While its aesthetic appeal is undeniable, its larger footprint may not be ideal for compact kitchens or those favoring sleeker, more modern designs.
Value for Money: 3/5
For those buying the coffee maker, they're investing as much in its style as its coffee-making capabilities. Yet, when comparing its functionality to its price, there are alternatives in the market that offer similar or better features at a more competitive price.
Reason for Deduction: For the cost, one might expect additional features or enhanced brewing capabilities that are standard in other premium coffee makers.
Durability and Build Quality
Conclusion – Guru's Score Verdict: 3.6/5
In the realm of coffee machines, the Smeg brewer has carved a distinctive niche with its unmistakable retro design and commendable functionality. As elucidated in our Smeg Coffee Maker Review, this iconic appliance promises both aesthetics and a dependable brewing experience, though it might fall short in terms of advanced features compared to other market leaders.
After rigorous assessment by our team at The Coffee Guru, we've given the Smeg drip brewer an aggregate score of 3.6/5. While its design and build quality are standout attributes, there's room for improvement in brewing sophistication and maintenance simplicity.
For those who prioritize aesthetics and seek a reliable basic brew, this appliance might just be the perfect centerpiece for your kitchen. However, coffee aficionados yearning for intricate brewing customizations might need to look elsewhere.
The Smeg drip coffee maker excels in style but could benefit from enhanced brewing features and a more user-friendly maintenance routine.
FAQ