Coffee comes in different forms, originating from diverse corners of the world. Perhaps the oldest of these forms is the Peruvian coffee, a variety as rich in history as it is in taste.
Its tremendous reputation has far exceeded the boundaries of the native Peruvian plains, permeating well into the rest of the world. Moreover, a large part of the coffee's fanbase is based in Europe and the United States. The only thing larger than the Peruvian Coffee's fanbase is its reputation.
You may wonder what makes it so alluring. Here's what you need to know about coffee from Peru.
The History of Peruvian Coffee
Although Peru is largely intertwined with coffee, it did not originate there. Instead, Spanish sailors discovered coffee faraway on the Ethiopian coast in the 1600s. The sailors made a destined journey to Peru with coffee in tow.
In the 1700s, Peruvians became ardent cultivators of coffee variants that adapted well to the mountainous climate. Just a century later, Peru became renowned for great coffee.
As events turned out, a leaf rust disease hit Indonesian coffee crops, Europe's main coffee source, and left its coffee industry dusted. Peru became a natural alternative, but the switch did not occur ideally. The government, indebted to England, had to restitute the debt by giving the British over 2 million hectares of land.
The British used the land for coffee farming until the economic crises in the aftermath of both World Wars, after which they sold their land back to Peru. After the foreigners left, the Peruvian government shared the land among the locals and encouraged coffee farming.
Although the locals eagerly took on the task but could not yield the prior export levels. Peruvians pooled efforts to form cooperatives that revived the coffee industry.
This resurgence boosted Peru to become the coffee giant of today.
What Does Peruvian Coffee Taste Like?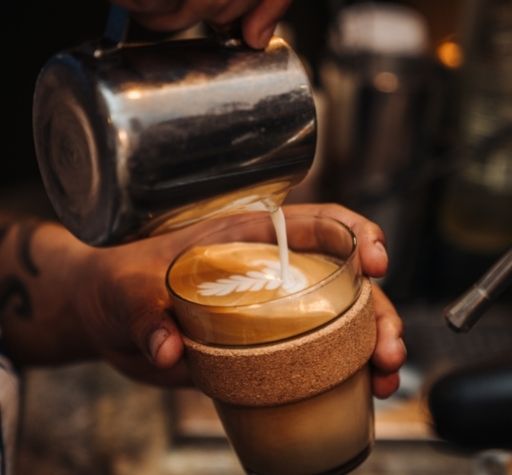 There is not much to say about a taste repeatedly vouched for by many. But we can tell you this: it is like nothing like you have ever had. It might come off as cliché, but the statement holds every truth. Banking on a mellow but pleasant taste, the coffee from Peru is a delight to savor.
Like any great coffee, Peru's finest export comes in different varieties, each more exciting than the last. Depending on where it was cultivated, the coffee offers a variety of flavors originating from absorbed soil minerals.
The typical coffee from Peru is distinguished by a medium body, balanced between syrupy and watery. A diversity of flavor notes are present in Peruvian coffee, including chocolate, nutty, citrus, cinnamon, caramel, etc. Coffee from Peru will surely delight your taste buds in ways you never knew were possible!
How is Peruvian Coffee Graded?
Coffee from Peru is graded by the country's industry standards based on where the coffee is grown; the grades are:
Strictly Hard Beans – Coffee is cultivated at 1350 meters above sea level
Hard Beans – Coffee is cultivated between 1200 to 1350 meters above sea level
Another unique system, called Machine Cleaned Mejorado, is also used. The system helps to classify coffee products into grades based on their degree of mechanical sorting and preparation. It is especially unique to coffee from Peru since they express a complex range of qualities.
For example, a cup profile of standard specialty, Peru Grade 1, will tend to be more of nutty, chocolate flavors imbued in a light-medium body. It will also spot a crisp acidity and a brisk finish.
8 Types of Coffee Beans in Peru
Peru's microclimates allow the cultivation of several coffee varieties. Most of these coffees belong to the Arabica coffee family. They include:
Typica: Although the coffee plant is infamous for producing less coffee than other varieties, it maintains a strong interest. It is renowned for its satisfying profile of elegance and complex flavors.
Pacamara: Created by science, the Pacamara lacks history but is imbued with intensely complex aromas. The coffee has a creamy texture of medium-dense bodies with a distinct acidity of several sweet notes.
Caturra: The Caturra variety was favored for its high yield and fungi intolerance. However, it is now renowned for its sweet, complex taste, bright acidity, and fruity undertones.
Catimor: This variety is especially known to delight with various tones (like vanilla, brown sugar, and strawberry). After its complex flavor comes a sweet aftertaste and mild acidity.
Mundo Novo: This variety is a direct breed between Typica and Bourbon variants. It does not disappoint with its delightful complex of apple, cinnamon, caramel, and dark chocolate flavors.
Pache: As a member of the Arabica family, Pache upholds the high-quality standard with its low bitterness and citrus undertones.
Catuai: This type of coffee spots a low acidity and high bitterness. Moreover, it imbues each brew with a fruity aftertaste and herbal flavor.
Bourbon: Upon all its contribution to the science of coffee, Bourbon is desired for much more. With its chocolate favors and mild fruit overtones, the sweet beans remain a fan favorite.
How is Peruvian Coffee Processed?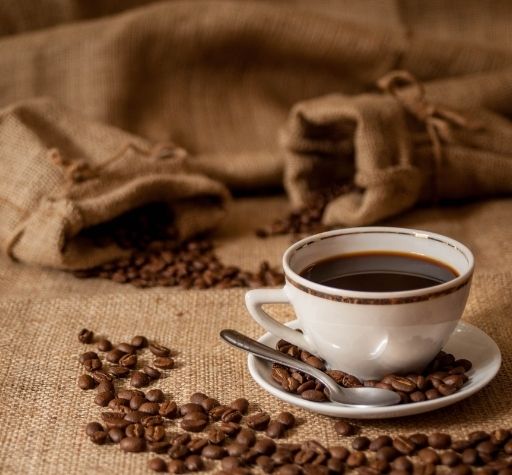 Behind the massive popularity of Peruvian coffee are the farmers themselves. They work hard to process the coffee into products ready for sale. Farmers usually spend the period between June & September harvesting their coffee plants.
In Peru, coffee harvesting is mostly done without any machinery, instead It's hand-picked from the tree. However, this may prove dangerous depending on the elevation of the farm. In addition, the high altitude of the coffee farms imbues the product with more nutrients, which means more complex flavors.
Once the cherries have been plucked, the beans are removed. Coffee beans are then subject to a method known as dry processing, whereby they are exposed to the sun and left to bask. This method is the most common form of Peruvian coffee processing.
An alternative method exists whereby farmers subject the coffee beans to fermentation. This method helps to highlight the inner flavor tones of the coffee; it is known as wet processing.
More unorthodox methods exist to produce other forms of coffee beans, such as the dung coffee. Originated in Asia, the bizarre process has become popular in Peru. Dung coffee involves feeding an animal the coffee cherries and allowing the animal's digestive tract to reduce its bitterness.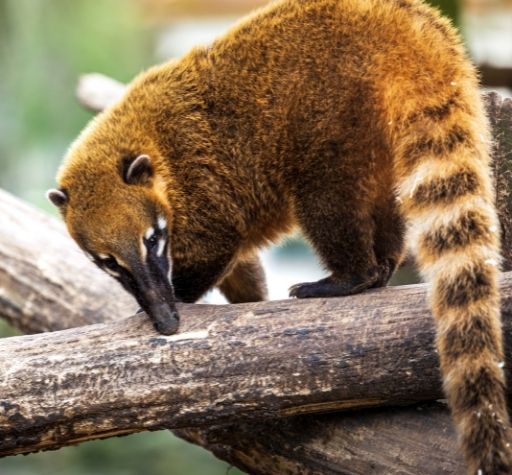 Peruvians use coatis, tiny raccoon-like animals, and feed them high-quality Arabica coffee beans. Once a coati poops, the coffee beans are selected and thoroughly washed. However, the coffee will retain the flavor of the animal's diet.
Distinct Flavor Notes of Peruvian Coffee
The Arabica coffees are Peru's most widespread coffee varieties, notable for their characteristic medium body, mild acidity, and sweet aromatic flavors. Peruvian coffee flavor profiles are on the high end due to their cultivation conditions.
As stated earlier, the flavor of a Peruvian coffee beans are aided and determined by the environment they were cultivated in. Perhaps the most determining environmental factor is the altitude of the farm and its soil properties. Thus, the taste of the coffee varies depending on where it was grown.
Farms in high-altitude Peruvian regions (especially in Cusco & Machu Picchu) produce coffee beans of mild acidity, fruity essence, tasty sweetness, and floral elements embellished with a nutty nature. On the other hand, low-altitude farms yield smoothly sweet coffee with bright acidity and distinct floral aroma.
Clearly, the yield in the high-altitude areas produces the highest grade of Peruvian coffee beans. In addition, due to the higher altitude, this coffee absorbs more minerals and boasts superior quality.
Top Peruvian Coffee Brands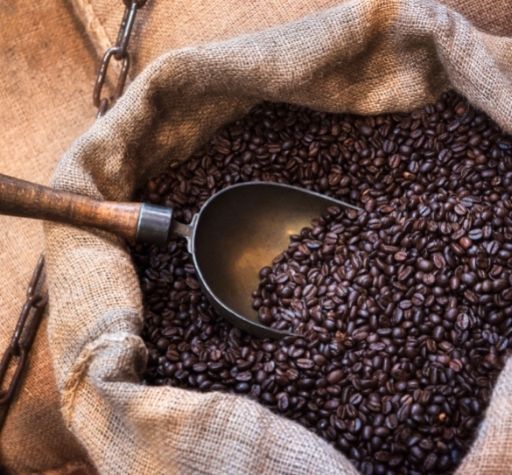 Getting to try Peruvian Coffee yourself is a must! Knowing it is out there is enough for a keen coffee lover. However, there are some things to consider when looking for a great Peruvian coffee fit.
Most Peruvian coffee brands sell certified organic coffee, which is the best choice for a clean taste of the world's top coffee offering. When purchasing your coffee, ensure it's 100% Arabica, and even a specific variety you fancy.
Choosing brands is a critical step, but we know some great brands that will ease your search! Here is your guide to top Peruvian coffee brands:
Boulder Organic Coffee
Quickly becoming a quintessential brand, Boulder organic offers one-time purchases and subscriptions to its 100% Arabica medium roast beans. This coffee is imbued with a mild-fruit taste and chocolate nutty notes attributing to its native environment in the Northeastern Amazonas region of Peru.
Each bag is truly a delight of the best Peruvian beans and contains a blend of Arabica varieties (including Bourbon, Catimor, Mundo Nova, Typica & Caturra). Beyond the coffee itself, each purchase aids in rebuilding schools in native Peruvian farming communities.
Volcanica Peru Coffee
Otherwise known as Tres Cumbres, Spanish for three summits, this brand of Peruvian coffee truly fulfills its nickname. With a rich cultivation heritage in the Chanchamayo region of the Peruvian Andes Mountain ranges, Tres Cumbres satisfies all attributes of a high-altitude coffee.
Tres Cumbres offers a coffee of complex taste, smoky overtones, floral aroma, mild acidity, and a clean tone. It is a fully organic Arabica coffee offered in a medium roast. Each bag comes in either whole beans or ground form, so you are good to go!
Peru Coffee, Ground, Tres Cumbres, Fresh Roasted, 16-ounce
Peru Coffee Tres Cumbres is a complex full bodied coffee with floral, smoky overtones, a gentle acidity and a clean, bright aromatic finish.
Medium roasted whole beans allowing the true flavor characteristic to come through for a remarkable taste.
Fresh roasted then immediately packed and sealed to assure freshness.
100% Customer Satisfaction Guaranteed
Cafe Altura Organic Peruvian Coffee
Upholding its reputation since 1980, Cafe Altura continues to bring the finest as the premier organic coffee company. The brand's coffee is no exception for its outstanding quality. Each bag boasts 100% Arabica Peruvian coffee beans which are freshly roasted every week.
An added variety is also offered, in terms of the roast, including French, medium, and dark roasts. Cafe Altura is a fantastic option to kick-start your day with a vibrant flavor and pleasant aroma.
AmazonFresh Organic Fair Trade Peru Coffee
More than a casual dipping, Amazon has put in all efforts to push its coffee to the peak of quality. Its 100% Arabica coffee encompasses a medium roast with a smooth, fragrant finish.
Grown in the mountains of Peru, it boasts mild acidity and chocolate flavor overtones. The AmazonFresh Peruvian coffee maintains a well-rounded taste with no bitter aftertaste. Suitable for both drip coffee and espresso brewing, it is an incredible option!
Mountain Comfort Coffee Organic Peru Medium Roast
Proud of its single-origin coffee, Mountain Comfort coffee brings the best of Chanchamayo to your brew. The coffee beans are harvested from the peaks of the fertile region, presenting some of the best Peruvian coffee out there.
Presented in a medium roast package, the 100% Arabica coffee boasts lush nutty flavors of citrus & chocolate. Nothing is more refreshing than a bag of that sweetness on your early mornings.
Peruvian Coffee Facts
While this guide article has presented a fascinating insight into Peruvian coffee, there is much more to learn about the entire industry.
Here are some interesting facts to know about the coffee from Peru:
There are 9 major growing Peruvian regions, namely: Amazonas, Cusco, Huanaco, Ayacucho, Junin, Villa Rica, Cusco, Pura & Cajamarca.
The average local farm size in Peru is 3 hectares.
Peru exports over 4.2 million bags of coffee annually; each pack weighs 69 kg.
The coffee industry makes about 25% of the country's agricultural income.
Coffee farming is a common trade in Peru, and the industry has over 110,000 farmers. So many of these farmers belong to co-operative societies. They are one of the world's highest coffee fair trade distributors.
2% of the world's coffee supply comes from the mountains of Peru. The country currently ranks as the 9th largest exporter of coffee and 5th largest exporter of Arabica.
Although the country relies on coffee exportation, its local consumption is comparatively low, with only 1 kilo of coffee beans consumed yearly. This statistic means most of the coffee produced is exported.
Wrap Up
Peruvian coffee is undoubtedly one of the coffee industry's finest offerings. A hidden gem for those who haven't tried it and a fantastic option for those who have.
The history behind the country's heartbeat is only a prelude to the most vibrant coffee you will ever have. Known for its memorable flavor, mild acidity, and refreshing smoothness, coffee from Peru is a delight for your taste buds!
FAQs
Peruvian coffee is renowned for its great complex of flavorful tastes due to its high-altitude cultivation. However, it is harder to survive at such high altitudes, meaning the coffee plant must absorb many soil minerals. These absorbed minerals become the flavors that enrich the Peruvian coffee characteristics and make them taste so good.
Once you acquire an organic Peruvian coffee, preferably 100% Arabica, you can use any brewing method. Its great flavor profile makes the coffee perfect for whichever method you use.
The typical Peruvian bean is mildly acidic and lacks any strong aftertaste. However, depending on the roast (dark or medium) and brew used, you can make some strong Peruvian coffee.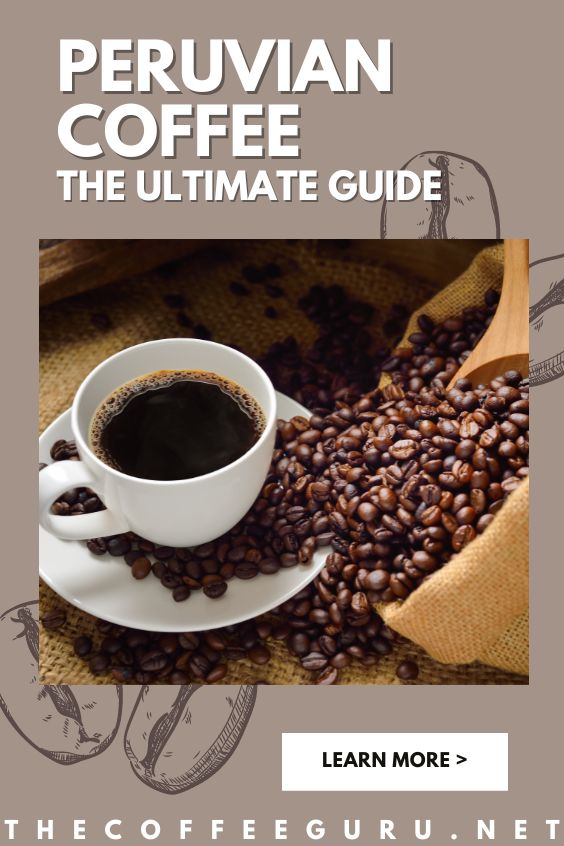 IF YOU'VE ENJOYED THIS ARTICLE, GIVE IT A PIN!