Making café-quality coffee has never been easier with the rising popularity of espresso machines, coffee machines, and different brewing methods. Espresso pod machines have become more accessible, which means people can have excellent quality coffee within the comfort of their own homes. It's so easy, put a capsule in the machine, add some water— and within a couple of presses, you can have great coffee.
Coffee pods are in demand, but there was always a concern about it being wasteful. After all, after using a capsule or pod, it must be thrown away. Those things add up quite quickly. In the following sections, we will talk about the different types of pods and recommend the best compostable coffee pods.
How coffee capsules came to be 
Over the past few years, the topic of sustainability has infiltrated the world of coffee, bringing to question the planting and cultivating practices of farmers and the sustainable solutions that manufacturers offer. These days, coffee brands and manufacturers of coffee capsules have been coming up with sustainable and environment-friendly options for these single-use capsules.
The first "generation" of capsules were made in 1986. Back then, machines were harder to come by and a lot more expensive. These days, it's so easy to pick out machines and capsules from the mall or the internet.
The main downside of these capsules is that they're bad for the environment—they are wasteful and are not biodegradable (at least the early versions). Some companies offer a recycling program (i.e., Nespresso). However, Nespresso only recycles their capsules and pods because it's made of specific material. Unfortunately, they don't accept used capsules from other brands.
Why are they so popular? 
Coffee capsules are extremely convenient. It's not time-consuming to make coffee, unlike traditional espresso machines, which have a lot of steps. Instead, the hard work is done for you with the capsule machines – you get the same result and taste every time.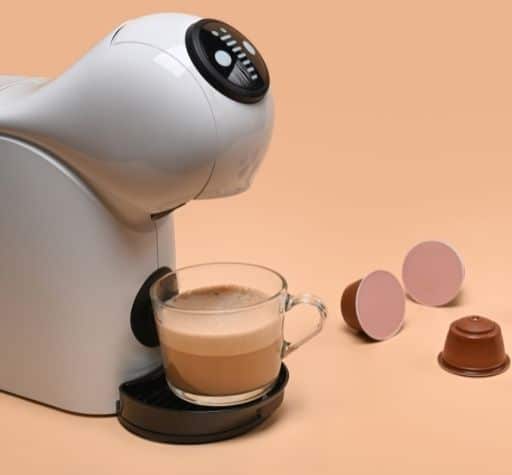 Coffee machines and coffee capsule packages come with simple instructions. You can rely on its speed and consistency. It is also cost-effective—you get café quality drinks without having to pay café prices. Cleanup is also easy.
Overall, the quality of the coffee has improved as its popularity improved. As these developments took place, manufacturers started to look for solutions as the demand for sustainable products increased. As a result, coffee pod machines have revolutionized the way people consume coffee.
Eco-friendly Coffee Pod Options
Coffee must be placed in packaging that maintains its freshness after roasting. Unfortunately, these packaging solutions are not necessarily the best for the environment. Capsules and pods do not help because they come in single-use packaging—when the coffee is brewed, the whole thing just gets thrown away. While being able to maintain the quality and freshness of coffee, single-use pods can accumulate and take a long time to decompose.
When we talk about eco-friendly capsules, it is a term that includes that they are made of sustainable, compostable, recyclable, and biodegradable materials. Coffee companies have made pods and capsules out of these materials to acknowledge the negative impact of single-use materials on the environment. In general, these eco-friendly pods attempt to manage waste and minimize plastic use.
Here is a short description of eco-friendly capsules:
Recyclable: these are usually made of aluminum. To recycle, users have to clean out the pods, dispose of the used coffee, and wash the pods before recycling them. One example of this is the Nespresso capsules. Their capsules and pods are made of hybrid materials (not 100% aluminum), and they have their own recycling program so that these can be disposed of properly. Unfortunately, they do not take in pods from other brands. This is not so sustainable for those who buy pods from different brands.
Compostable: these are made from plant-based materials (usually corn starch) that break down quickly. After use, the pods can be taken to a composting plant to be correctly disposed of. Certain brands make pods that can be added to your composting bin at home.
Reusable: these are usually made of either plastic or stainless steel. Users can simply fill it with their choice of espresso and use it with their machine.
The Best Compostable Coffee Pods/Capsules 
Coffee manufacturers have found packaging solutions that maintain the quality of the coffee while putting it in packaging that is safer for the environment. Many brands still sell pods and capsules in aluminum packaging, but there are eco-friendly options now.
A lot of the options listed below come from smaller, independent brands. The best part is that these products' price ranges can compete with the pods and capsules from mainstream brands. The brands listed are available on their respective websites and on Amazon.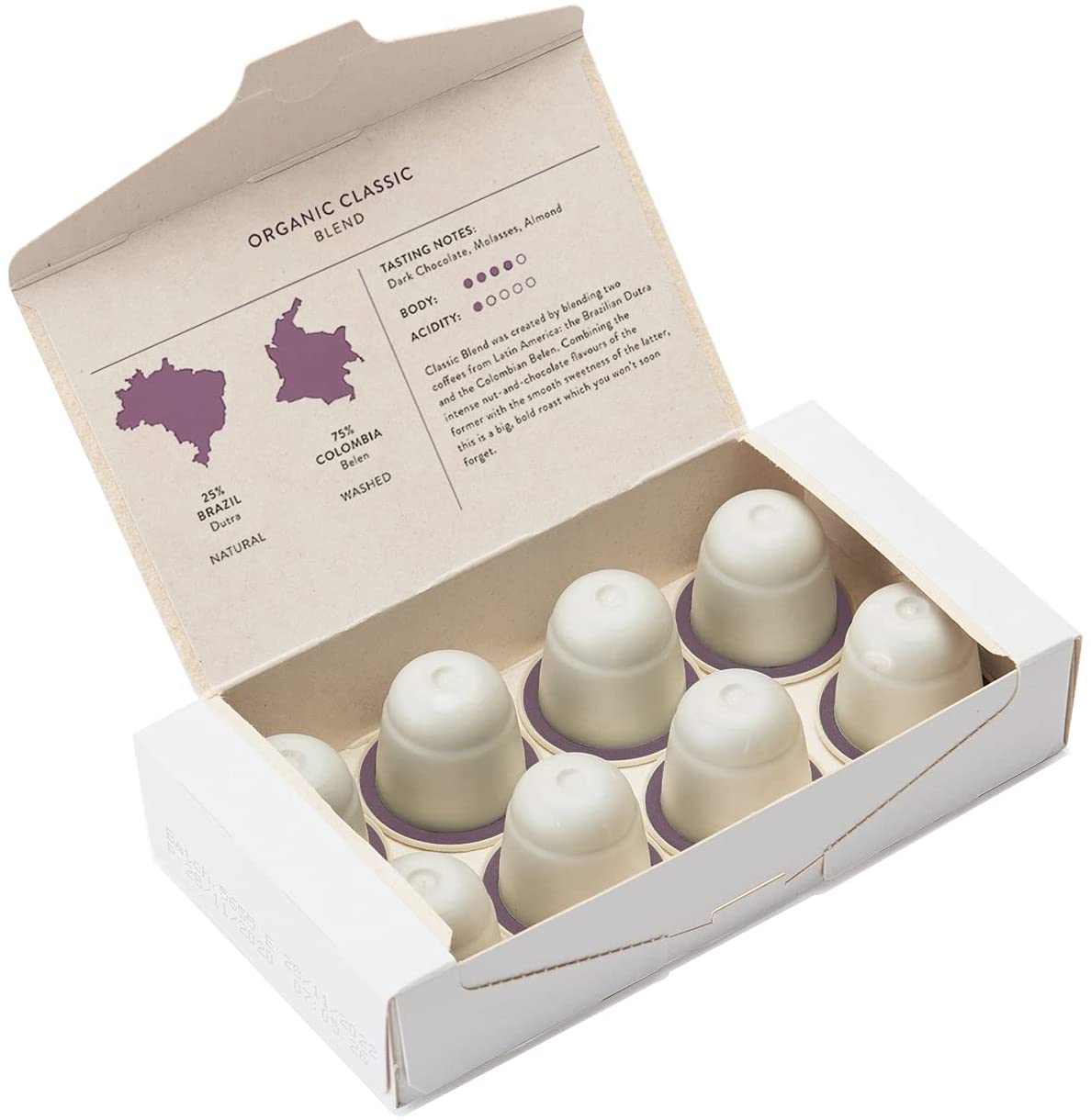 The coffee capsules are made of plant-based materials and are compostable. The coffee is also organic.
The pods are made from plant-based materials and are compostable.
Filicori Zecchini Armonia Fairtrade
The pods are made of biodegradable and compostable materials and are aluminum-free.
Filicori Zecchini GRAND CRU COSTARICA Nespresso Compatible Capsules Biodegradable Compostable - Arabica Coffee - 50 Espresso Pods for Nespresso OriginalLine Brewers - Environment Friendly Alternative
COMPATIBILITY - These 50 Single Serve Nespresso Pods can only be using a Nespresso OriginalLine Machine. They are NOT compatible with VertuoLine Machines.
100% BIODEGRADABLE and COMPOSTABLE – These Capsules are made entirely of bioplastic which is made of renewable raw (organic biomass sources materials); they are more eco-friendly than other plastic recyclable coffee pods. Through the use of a biodegradable seal paper, the Filicori Zecchini biocapsules are completely free from aluminium! The compostability (According to European Standard EN 13432) of these Capsules is certified as OK COMPOST by TÜV Austria / Vincotte.
ORIGIN COSTARICA - Filicori Zecchini coffee Grown in a socially and environmentally responsible way, by farmers with sustainable businesses they can depend on.
FRESHNESS - Filicori Zecchini compatible capsules are developed with an oxygen barrier that achieves total impermeability which allows our customers to enjoy a product with a superior taste fresh and flavourful compared to common plastic pods for Nespresso coffee machines.
PASSION FOR QUALITY SINCE 1919 - Filicori Zecchini coffee is served in more than 3,500 cafés all through Northern Italy. The two families, FILICORI and ZECCHINI, own and still run the company in Bologna since 1919.
Woken Compostable Coffee Pods
Pods are 100% compostable and plastic-free. The capsules are carbon neutral.
WOKEN COFFEE Compostable Nespresso Pods use with NESPRESSO Original Coffee Machine Variety Pack with 40 Biodegradable and Compostable Pods (40 Count)
DELICIOUS FLAVOR VARIETY PACK OF COFFEE PODS - Our medium and dark roast coffee flavors include Black and White, Riserva, Cremosa, and Lungo. Best served as a short espresso shot, long shot, or Cappuccino, and pairs well with chocolate or fruit.
ESPRESSO PODS FOR NESPRESSO MACHINE - Woken espresso capsules are compatible with Nespresso OriginalLine machines like Essenza, CitiZ, Prodigio, U, Inissia, and Pixie. Not compatible with VertuoLine machines. Comes in 4 boxes of 10 Nespresso flavored pods to make 40 cups of amazing espresso!
100% COMPOSTABLE ORGANIC COFFEE PODS - Our innovative oxygen seal allows us to package each coffee pod in a 100% BioBase made from renewable organic material for sustainable, long-lasting freshness.
ECO-CONSCIOUS SINGLE-SERVE COFFEE CAPSULES & PODS - Enjoy a cup of hot, healthy coffee with no plastic, aluminum, BPA, PFAS, preservatives or waste. Our espresso coffee pods are Home Compostable and TÜV Austria certified.
SUBSCRIBE AND SAVE - With our single serve coffee pods and coffee pods variety pack, you can subscribe and save. Simply choose how often you want to receive irresistible espresso Nespresso pods delivered to your doorstep so you can tackle early mornings with ease.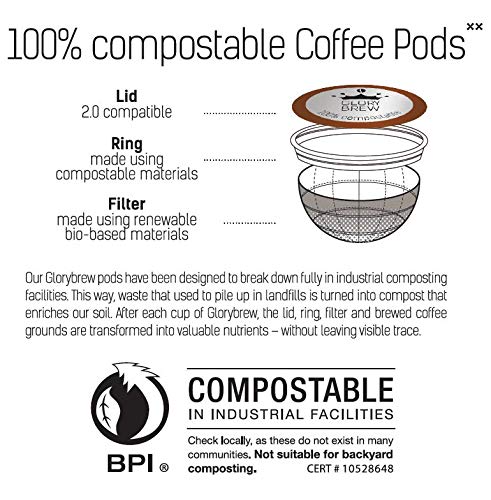 The packaging is 100% compostable and biodegradable.
The packaging is plastic-free, 100% compostable, and biodegradable.
Tayst Coffee Pods, Vanilla Cream and Happy Hazelnut Medium Roast, K Cups Compatible with Keurig Coffee Maker, Sustainable Single Serve, Pack of 50
20 Happy Hazelnut - Our Happy Hazelnut is a heavenly blend of premium beans tossed with natural hazelnut oils and nut dustings offering a deep rich flavor that satisfies the palate.
30 Vintage Vanilla Cream - Our Vintage Vanilla is the bees knees. Its base of a medium South American blend spun and ground down with old school natural vanilla oils.
Coffee with a purpose. Our coffee is sourced sustainably to be in harmony with the planet. We're focused on transitioning homes & offices from traditional plastic kcups into Tayst's 100% compostable pods. Simple changes have great impact.
Rainforest Alliance: Certified farmers do not use agrochemicals prohibited by the US EPA. We're proud to support such an organization
Life's Too Short, For Crappy Coffee! Our perfectionist roasters coddle the beans every step of the way, roasting them by hand to create deliciously crafted blends. Our grindmaster crushes and grinds the beans to the perfect feel to properly extract the flavors in your cup.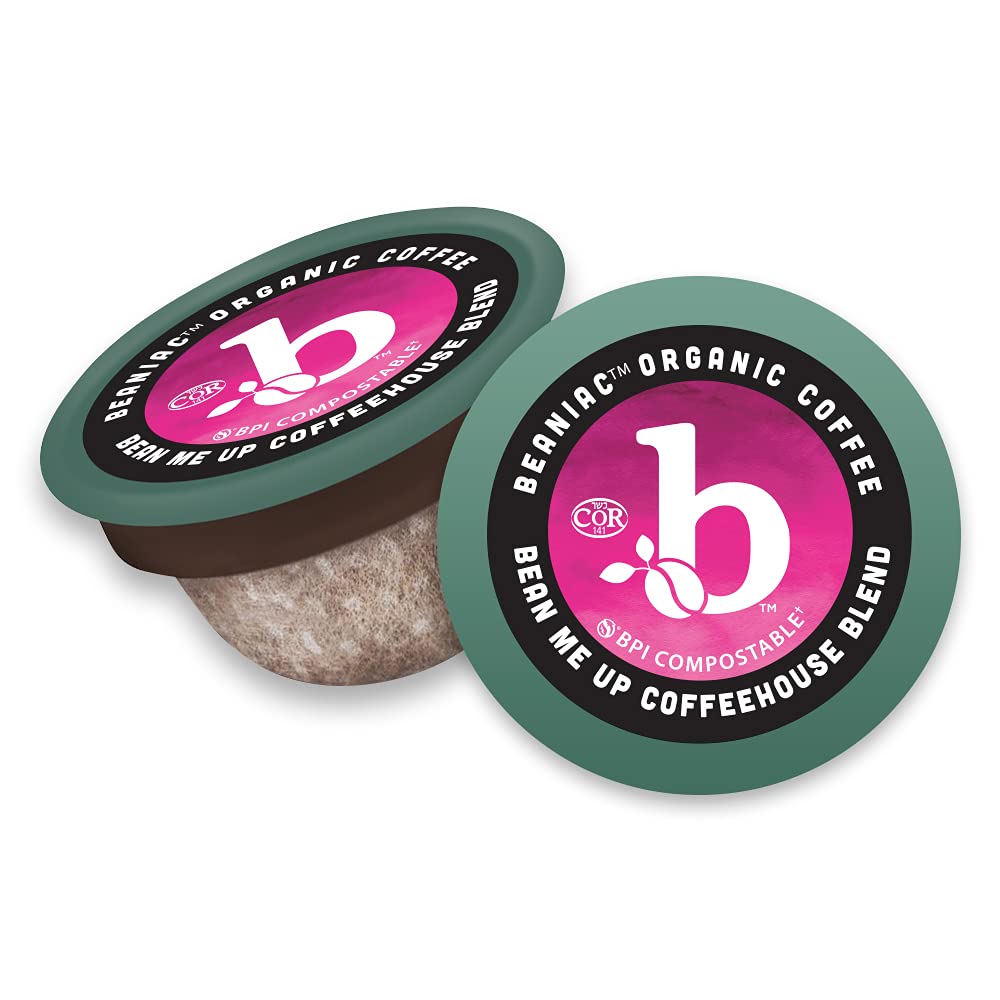 The pods are commercially compostable. The packaging materials are certified by the Biodegradable Products Institute (BPI).
The capsules are made of plant-based material and are biodegradable.
The Organic Coffee Co. Compostable Coffee Pods - Java Love (80 Ct) K Cup Compatible including Keurig 2.0, Medium Roast, USDA Organic
JAVA LOVE: Our Java Love organic coffee is a sweet, medium-light blend of coffees from Central America. This delicious blend has flavors of milk chocolate, cinnamon, and carmelized spices.
KEURIG COMPATIBLE: Designed for use with K cup style single serve brewers including Keurig 2.0. The Organic Coffee Co. is not affiliated with Keurig Green Mountain.
ECO-FRIENDLY, COMMERCIALLY COMPOSTABLE: OneCup pods, including the outer bag and one-way coffee valve, are made from plant-based materials and are certified fully commercially compostable by BPI.
QUALITY COFFEE: The Organic Coffee Co. uses only 100% arabica coffee and certified USDA Organic and Kosher coffee beans. Unlike kcups, our roasted coffee is ground and packaged fresh. We're so confident you'll love it.
THE ORGANIC COFFEE COMPANY is a family owned, American made company with a rich tradition.
Boyd's Coffee – Sustainable Coffee Capsules
The pods are 100% compostable. The packaging has been certified by the Biodegradable Products Institute (BPI).
Boyd's Good Morning Coffee - Medium Roast - Single Cup, 12 Count (Pack of 6)
MEDIUM ROAST FOR UNIVERSAL APPEAL – The perfect morning wake-up brew, Boyd's Good Morning medium roast is smooth yet satisfying. Made from the finest Arabica beans, selected for freshness and quality, this is an aromatic blend that entices you from the first drop. The perfect way to start your day, or to enjoy at any time
BIODEGRADABLE POD - Certified 100% compostable pods made with materials certified by the Biodegradable Products Institute (BPI). The lid is made from biodegradable paper while the filter uses a porous bio-based material. Even the ring that holds the pouch in place is made from coffee chaff, a by-product of coffee roasting. BPI Certification #10528537
EXPERT KNOWLEDGE - Experienced Roastmasters carefully select the perfect beans, roast them to the peak of perfection and then rigorously test each day's blend to ensure it meets the highest standards of quality, taste, aroma, body, and acidity. It is this expert knowledge that guarantees consistent satisfaction
ENVIRONMENTALLY FRIENDLY & SUSTAINABLE - As one of the first coffee roasters in the U.S to introduce USDA Certified Organic Coffee and Rainforest Alliance Certified coffees, Boyd's ensures that the coffee they use is grown to sustainable standards that protect the environment and the rights and welfare of workers, their families, and their communities
A BLEND OF THE PAST AND FUTURE - For over 100 years Boyd's coffee has been roasted with a passion for a great cup of coffee that doesn't cost the earth; that is why they are constantly striving to find new ways of producing sustainable, environmentally conscious coffee. After all, everyone deserves the perfect cup of coffee
Why Sustainability Matters 
Coffee is one of the most (if not the most) consumed drinks all over the world. So while looking into the sustainable and fair-trade practices in coffee production is important, the packaging and waste management aspects are just as important. After all, every ounce of coffee being sold is packaged in a certain way, and when it's consumed, the packaging is disposed of afterward.
Coffee pods have been a revelation over the past few years. Brands like Nespresso and Keurig have made high-quality coffee a lot more accessible to people through coffee pods and their respective machines. But, unfortunately, these single-use pods just add to the collective waste that people produce. To address this, companies have been coming up with sustainable packaging so that disposal is not damaging to the environment.
Final Thoughts 
As the world has started to reopen, so have cafes and restaurants. When people had to stay at home, many discovered the wonders of the different coffee machines—specifically coffee pod machines. Although they seem expensive upfront, people have realized that these are cost-efficient. Coffee capsules are a great innovation, but even more remarkable are the sustainable solutions currently available in the market. Coffee companies have been quick to come out with capsules made of compostable, biodegradable, and recyclable materials, leaving it up to consumers to choose better capsules for the environment.
IF YOU'VE ENJOYED THIS ARTICLE, GIVE IT A PIN!