Nestled in the heart of the Saint-Germain-des-Prés district, a visit to the iconic café known as Les Deux Magots is a delightful rendezvous with Paris's past and present. The rich aroma of freshly brewed coffee, the gentle murmur of hushed conversations, and the unique charm of this historic location transport you to a world that effortlessly blends art, literature, and culinary delight. It's here, at this café, Paris truly reveals itself in all its authenticity and timelessness.
Once the haunt of celebrated writers and intellectuals like Hemingway and Sartre, this café continues to be a hub of culture and sociability. Whether you're a culture enthusiast seeking a taste of Parisian history, or a culinary explorer looking to savor French cuisine at its best, a visit to this distinctive coffee house promises a memorable experience. So, let's embark on this exploration of an iconic Parisian café, a place where every corner whispers tales of the city's illustrious past, and every sip of coffee feels like a tribute to the enduring charm of the French capital.
Les Deux Magots Paris: Key Takeaway
Historical and Cultural Significance: This café is an iconic café located in the Saint-Germain-des-Prés district of Paris, known for its historical importance and cultural significance. It has been a gathering spot for intellectuals and artists for over a century, attracting famed personalities such as Jean-Paul Sartre and Ernest Hemingway.
Unique Ambiance and Design: The ambiance of this restaurant is unique, marked by its traditional architecture and interior design that blend old-world charm with modern comfort. The café's outdoor seating offers a delightful experience, allowing patrons to enjoy their meals while taking in the bustling Parisian streetscape.
Culinary Delights: The café provides a rich culinary experience, offering a classic French breakfast, signature dishes, and an array of beverages. Notable among these is the Les Deux Magots hot chocolate, a favorite among many visitors.
Presence in Popular Culture: This café has made notable appearances in literature, films, and television, further cementing its status as a cultural icon. It has been featured in works by authors like Ernest Hemingway and has been a filming location for several popular movies and TV shows.
Tips for Visiting: For the best experience, visitors are advised to consider the café's peak hours, explore nearby attractions such as the historic Saint-Germain-des-Prés Church and the Musée d'Orsay, and consider purchasing souvenirs from the café's boutique to commemorate their visit.
The Intriguing History of Les Deux Magots
The story of this café is steeped in a rich tapestry of history, arts, and culture, its roots deeply intertwined with the intellectual and creative history of Paris.
Origin of Les Deux Magots
The origin of the name of this coffee house might surprise you. "Magot" is a term that translates to "stocky figurine from the Far East." The origin of this distinctive name can be traced back to a fabric and novelty shop situated at 23 Rue de Buci, renowned for its sale of luxurious silk lingerie. The shop adopted its name from a renowned play of the 19th century titled "Les Deux Magots de la Chine," which enjoyed considerable popularity during that era. The renowned "Deux Magots" café is symbolized by two statues of Chinese mandarins, commonly referred to as "magicians," which continue to occupy a place of prominence within the café, attentively overseeing the surroundings with their watchful gaze. (1)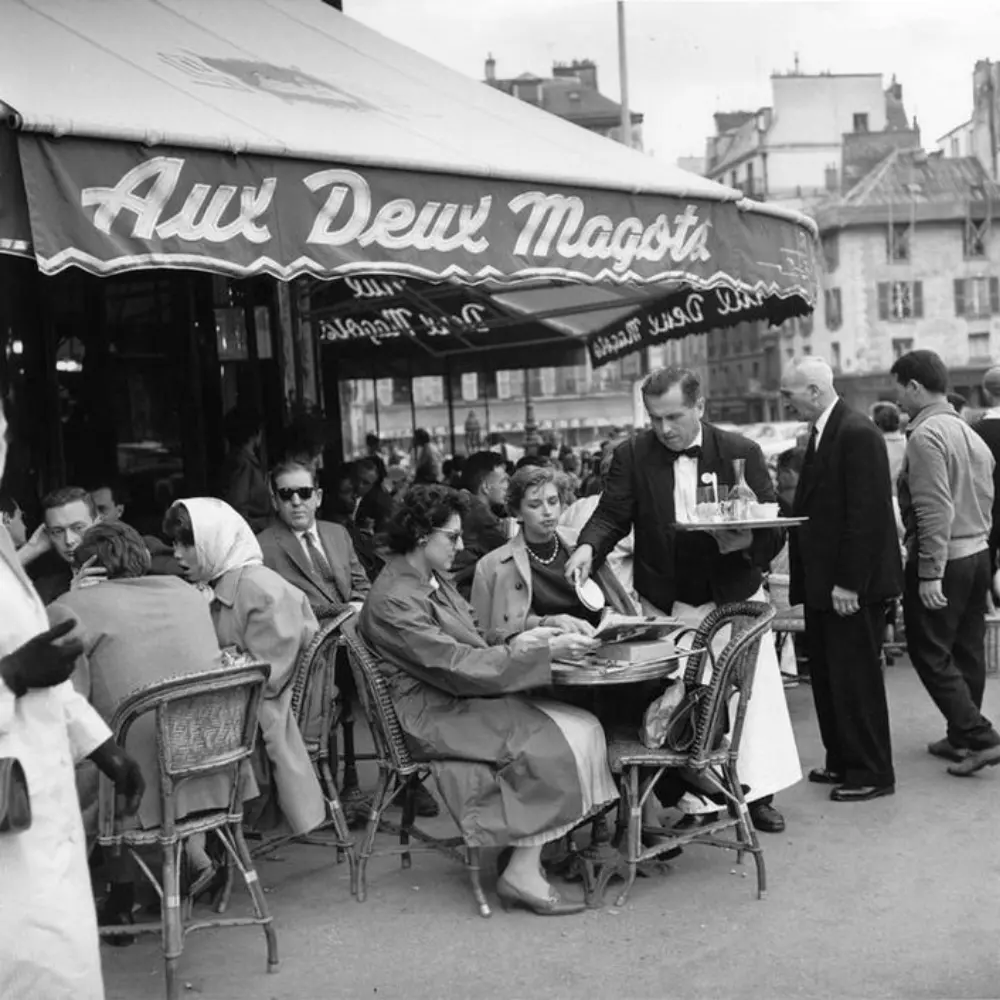 In 1873, the business relocated to the Place Saint-Germain-des-Prés where it stands today. After eleven years, the establishment underwent a transformation from a fabric store to a café and liquoriste, all while preserving its distinctive name – Les Deux Magots. It was in 1914 that Auguste Boulay, a visionary entrepreneur, bought the struggling café for 400,000 francs, saving it from the brink of bankruptcy. The current manager, Catherine Mathivat, continues the legacy as Boulay's great-great-granddaughter.
Iconic Patrons and Cultural Significance
Over the years, Les Deux Magots Paris has earned an enviable reputation as the favored rendezvous of the city's intellectual and literary elite. This café has hosted a number of illustrious patrons, including celebrated authors, artists, and thinkers. Jean-Paul Sartre and Simone de Beauvoir often found inspiration in its unique ambiance, as did a young Ernest Hemingway. The café has also been frequented by such luminaries as Pablo Picasso, Albert Camus, James Joyce, and American writers Chester Himes, Richard Wright, and James Baldwin. This connection to the intellectual and artistic circles has significantly enhanced the cultural significance of this coffee house.
In recognition of its contribution to French literature, the café has also been awarding the Deux Magots literary prize (Prix des Deux Magots) annually since 1933, reinforcing its role as a prominent literary landmark in the heart of Paris.
Les Deux Magots in Modern Times
In the modern era, this café continues to thrive, evolving from an intellectual hub to a popular tourist destination without losing its unique charm. While it remains a haven for literature enthusiasts and coffee aficionados, it's now also a destination for tourists from around the globe seeking a taste of authentic Parisian café culture. Through its transformation, this coffee house continues to retain its meaningful connection to the past, standing as a symbol of Paris's rich literary history and enduring café culture.
Discovering the Ambiance of Les Deux Magots
Stepping into this café is akin to traveling back in time to the bohemian era of Paris. The ambiance is an essential part of the cafe's charm and allure, which continues to captivate both locals and tourists alike.
Architecture and Interior Design
This coffee house reflects the quintessential café design found in Paris, merging the old with the new in an elegant dance. The architecture is reflective of French design, exuding warmth and sophistication. Inside, you'll find polished mahogany, gleaming brass fixtures, and mirrored walls that take you back in time, preserving the historical essence of the café. The two Chinese mandarin figurines, the 'Deux Magots,' are an integral part of the café's décor and heritage. The overall aesthetic is unpretentious yet refined, fostering an atmosphere that's both inviting and relaxing – a distinctive trait that makes Les Deux Magots one of the best coffee shops in Paris.
The Allure of the Outdoor Seating
The outdoor seating at this café is arguably one of its most enchanting aspects. The terrace, with its trademark white round tables and wicker chairs, offers a unique vantage point to observe the bustling street life of Paris. Here, under the Parisian sky, you can enjoy the ever-changing scenery of the Saint-Germain-des-Prés square. Whether you're sipping your morning coffee, having a leisurely lunch, or simply people-watching, the outdoor seating experience is as quintessentially Parisian as it gets.
The Cafe Culture and Local Vibes
Steeped in art history and cultural significance, this coffee house offers a unique insight into Paris's vibrant café culture. This is a place where locals and visitors intermingle, conversations flow freely, and the pace of life seems to slow down. The café culture here extends beyond just excellent coffee; it is about the shared experience of enjoying the simple pleasures of life. Musicians, writers, artists, and intellectual thinkers have all contributed to this cultural vibrancy, adding to the allure of this restaurant. Even today, the café remains a beloved venue for interesting conversations, creative inspiration, and of course, the chance to enjoy some excellent Parisian café fare. As such, the local vibes at this café are an integral part of its character, a testament to its standing as a cultural hub in the heart of Paris.
The Culinary Experience at Les Deux Magots
Beyond its historical significance and inviting ambiance, the gastronomical journey at this restaurant offers an equally captivating allure. With a menu that encapsulates the richness of French cuisine, each meal is an opportunity to partake in a delightful Parisian culinary experience.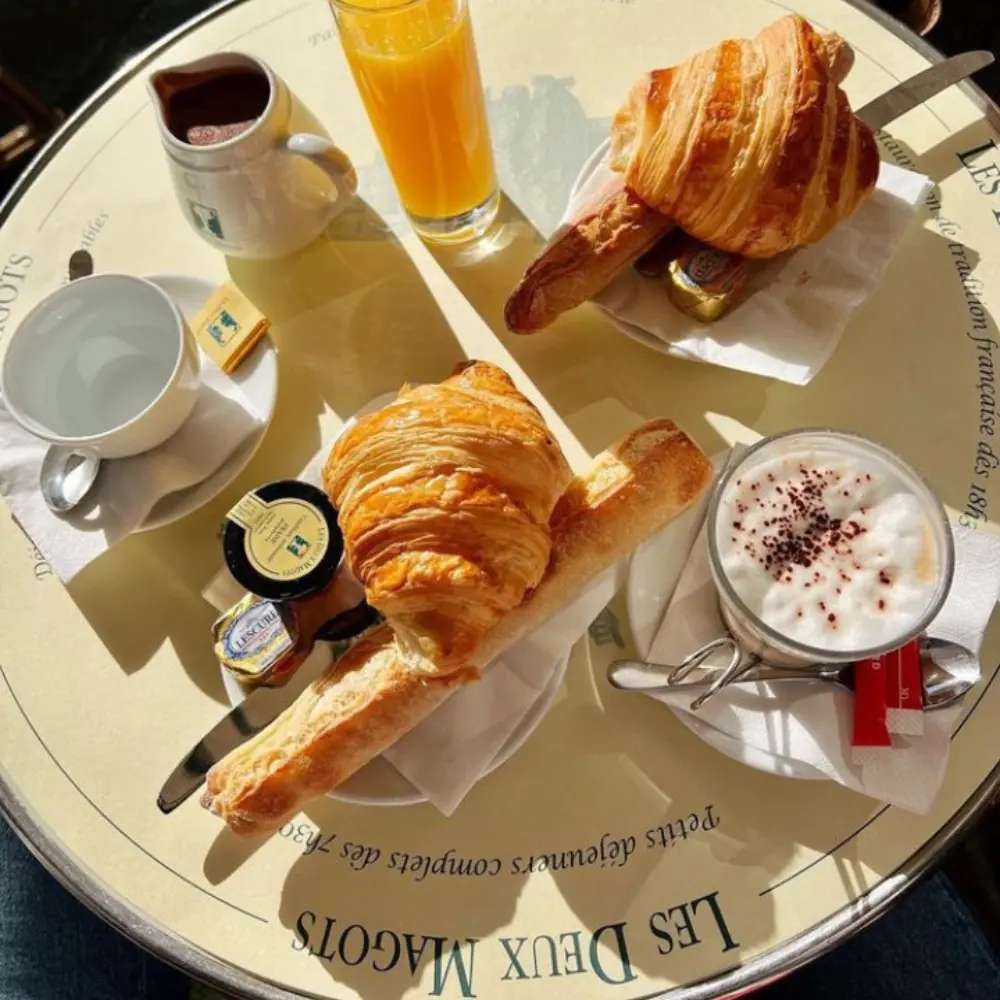 The Classic French Breakfast
At this café, breakfast ranges from the simple yet elegant "Le Classique" to the more elaborate offerings. With "Le Classique," start your day with a croissant and bread served with Poitou-Charentes butter, complemented by your choice of hot drink. Those seeking a fuller morning meal can opt for "Le Complet," which includes a viennoiserie, tartines with hand-crafted jam or honey, and freshly squeezed fruit juice along with your choice of hot beverage. Named after the illustrious American author Ernest Hemingway, "Le Petit Déjeuner Hemingway" offers an indulgent selection with organic eggs prepared to your liking, yogurt or seasonal fruit salad, and a drink of your choice with one refill.
Signature Dishes and Delicacies
The menu at this coffee house is replete with signature dishes that reflect the culinary richness of France. One such special offering is the "Le Petit Brunch Jean-Paul Sartre." Named after the famous French philosopher and writer, this dish includes shirred organic eggs, slices of roast beef, and 16-month Comté cheese, along with the baker's treat and baguette slices served with butter, homemade jam, or honey. Freshly squeezed fruit juice and a fruit salad are included in this meal, providing a well-rounded brunch experience.
The Art of French Café Beverages
The beverages at this restaurant are crafted with as much care and precision as their meals. For espresso enthusiasts, the organic Moka d'Éthiopie 100% Arabica will surely be a delight, while those seeking a bold flavor can indulge in the Deux Magots black filter coffee, served straight from the pot. To enhance your experience, the delightful "Route des Cafés" Grand Cru coffee is served with a delectable and complementary sweet treat. But a standout on the Les Deux Magots menu is the "Deux Magots' old-style hot chocolate." This delightfully rich and velvety beverage is a must-try for chocolate lovers. Teas from Dammann, including options like Earl Grey and Jasmine green tea, round out the selection for those preferring a lighter option.
At this café, the gastronomic journey is woven seamlessly with the café's history, ambiance, and cultural significance, offering an immersive experience that remains unparalleled in Paris's vibrant café scene.
Les Deux Magots in Popular Culture
Stepping into this coffee house is like walking into a living testament of cultural and historical significance. This famed café has been a noteworthy presence in various forms of media, furthering its status as a cultural icon of Paris.
Les Deux Magots in Literature
Literature has bestowed immortality upon this café, notably in Steve Matchett's "The Chariot Makers," where it is portrayed as the first café in the neighborhood to be graced by the morning sun's blessings. The café holds a prominent presence in Abha Dawesar's book "That Summer in Paris" and Katherine Neville's "The Magic Circle." Likewise, in Leonardo Padura's "The Man Who Loved Dogs," the café serves as a frequented location by Ramon Mercader, Trotsky's assassin.
Within the pages of Marco Missiroli's book "Atti osceni in luogo privato," the café becomes an essential part of the protagonist's early life when his father forges a friendship with writer Albert Camus in that very place. China Miéville's novella "The Last Days of New Paris" also places a spotlight on this coffee house, depicting it as the setting for a crucial event. In Ernest Hemingway's memoir of his time in Paris, "A Moveable Feast," the café is prominently mentioned in the eighth chapter, adding another layer of significance to its storied history.
Appearances in Films and Television
This café has also graced the silver screen and television shows, contributing to its legendary status. The café played a significant role in the visual storytelling of the 1949 film "The Man on the Eiffel Tower," with several scenes set within its walls. Similarly, Jean Eustache's 1973 movie "The Mother and the Whore" also utilized the café as a key location for unfolding the narrative. In the celebrated 2011 movie "The Intouchables," Philippe and Driss enjoy a stop at the café during a late-night stroll. Television enthusiasts may fondly remember catching a glimpse of this enchanting establishment in the concluding episode of the NBC show "The Good Place" and during the Paris tour segment of "The Late Late Show with Craig Ferguson."
Celebrities and the Café
The café's enchanting aura has always been a magnet for celebrities. With its rich history and the timeless charm of Paris, it has proven irresistible to various personalities from all walks of life. The allure of this café extends beyond the realms of literature and cinema, encompassing the world of visual arts and even music. Jean-François Debord's figurative paintings capture the essence of the café, while the enchanting track "A Rose Is A Rose" by singer Poe further immortalizes its allure. Additionally, the café garners recognition in the popular podcast "The Amelia Project," solidifying its ongoing significance in various forms of artistic expression.
Through literature, cinema, TV, art, and music, this distinctive coffee house has firmly established itself as a cultural landmark, a testament to its enduring allure that resonates far beyond the borders of Paris.
Tips for Visiting Les Deux Magots
Prepare for an enriching journey to this iconic café with these insightful tips. Enhance your visit to this iconic Parisian café by understanding the best times to go, nearby attractions to explore, and unique keepsakes you can bring home.
Best Time to Visit
When to visit this coffee house is heavily dependent on your personal preferences and what you aim to experience at this classic café.
Vibrant Atmosphere: If you thrive in a bustling ambiance and want to immerse yourself in the café's vibrant culture, plan to visit during late mornings or early afternoons. This period tends to be the busiest, where you can observe an eclectic mix of intellectuals, writers, and tourists converging over stimulating conversations and delectable meals.
Tranquil Experience: Those seeking a serene setting should consider early mornings or late evenings. These quieter periods offer a peaceful retreat where you can enjoy your meal and coffee while absorbing the café's rich history and charm.
Nearby Attractions and Landmarks
Situated in the heart of the lively Saint-Germain-des-Prés district, this distinctive coffee house is surrounded by an array of historical and cultural landmarks.
Saint-Germain-des-Prés Church: Just a stone's throw away is the historic Saint-Germain-des-Prés Church, recognized as the oldest church in Paris. (2)
Musée d'Orsay: A short distance from the café, this world-class museum houses an expansive collection of impressionist and post-impressionist masterpieces.
Shakespeare and Company Bookstore: Book lovers shouldn't miss this iconic bookstore, known for its unique charm and rich literary heritage.
Café de Flore: Experience the friendly rivalry between Les Deux Magots and the nearby Café de Flore, another legendary Parisian café. Both establishments have been competing for the title of the best intellectual hub in Saint-Germain-des-Prés for decades.
Souvenirs and Keepsakes from Les Deux Magots
To remember your unique visit to this unique café, consider bringing home a memento from their in-house boutique.
Branded Items: The boutique offers a variety of Les Deux Magots-branded items including stylish apparel, mugs, and postcards.
Signature Coffees and Teas: Take a taste of the café home with you through their signature coffees and teas, perfect for recreating your this café experience.
Literary Works: For literature enthusiasts, editions of works by Hemingway, Sartre, and other famous patrons of the café are available. These can serve as cherished keepsakes, echoing the café's deep connection with literary legends.
Heeding these tips will enhance your experience at this remarkable coffee house, making your visit an unforgettable plunge into the rich cultural and historical milieu of Paris.
Les Deux Magots vs. Café de Flore
Tucked away in the Saint-Germain-des-Prés district of Paris, Les Deux Magots and Café de Flore are two of the most renowned cafés in the city. Both establishments have rich histories, strong connections to the literary and intellectual world, and unique charms that have attracted locals and tourists alike for many decades. Here, we delve into a comparison of these two historic landmarks to help you decide which café to visit on your next Parisian adventure, or why not both?
Setting and Ambiance
Both of these coffeehouses are located just a stone's throw from each other, but each offers a slightly different ambiance.
Les Deux Magots: Known for its elegant interior and outdoor seating that catches the morning sun, this café exudes an air of historical significance. Patrons are instantly transported back to the times of Hemingway, Sartre, and Beauvoir, giving the café a truly intellectual vibe.
Café de Flore: Boasting an art deco style with red seating and mahogany tables, Café de Flore offers a slightly more contemporary and artistic ambiance. Known as a gathering place for artists and philosophers, this café continues to attract a creative crowd.
Culinary Experience
Both cafés offer excellent French cuisine, but each has its specialties and highlights.
Les Deux Magots: Known for its delectable breakfast offerings and renowned hot chocolate, this restaurant delivers a classic French café culinary experience. The variety in its menu, from the simple "Le Classique" breakfast to the robust "Le Petit Brunch Jean-Paul Sartre," caters to a broad range of tastes.
Café de Flore: Famous for its savory onion soup and indulgent hot chocolate, Café de Flore provides a taste of traditional French gastronomy. Its extensive menu, including a variety of sandwiches and desserts, ensures that every patron finds something to enjoy.
Historical Significance
Both cafés are deeply entwined with Paris' intellectual and literary history, serving as the favored spots for many influential figures.
Les Deux Magots: With a history dating back to 1885, this café is particularly associated with the literary and intellectual elite of the 20th century. It was a regular haunt for the likes of Ernest Hemingway, James Joyce, and Jean-Paul Sartre.
Café de Flore: Since the end of World War II, Café de Flore became the hub for the existentialist movement, attracting philosophers such as Jean-Paul Sartre and Simone de Beauvoir. It continues to host the annual Prix de Flore, a literary prize initiated in 1994.
To sum up, both of these coffeehouses offer enriching experiences steeped in history and culture. Whether you're a lover of literature, a foodie, or simply someone in search of the Parisian café atmosphere, both establishments offer a peek into the vibrant intellectual history of Paris, leaving you with memories to cherish long after your visit.
Conclusion
In the heart of Paris, nestled in the vibrant district of Saint-Germain-des-Prés, stands the iconic café, Les Deux Magots. A symbol of French café culture, this coffee house is more than just a place to enjoy a cup of coffee or a plate of croissants. It is a testament to the history and cultural vibrancy of Paris, a gathering spot for intellectuals, a source of inspiration for artists and writers, and a window into the city's past.
From its exquisite architecture and enchanting outdoor seating to its rich culinary offerings and frequent appearances in literature and films, Les Deux Magots is a café with a character unlike any other. Its ambiance, steeped in history, continues to draw both locals and tourists alike, making it one of the best coffee shops in Paris.
Whether you're savoring the classic French breakfast, leafing through a novel by one of the café's famous patrons, or simply soaking up the local vibes, a visit to Les Deux Magots Paris promises an immersive and unforgettable experience. As you sip your coffee, surrounded by the echoes of intellectual debates and literary discourses, you become a part of the café's ongoing narrative – a story that continues to unfold, one cup of coffee at a time. It is not just a visit, but a journey into the rich tapestry of Parisian life – a journey that leaves you with a deeper appreciation of the city's vibrant café culture.
FAQ