Dive into our Philips 4300 LatteGo Review as we thoroughly examine this super-automatic espresso machine's capabilities, features, and performance. From its aesthetics to its brewing prowess, the team at The Coffee Guru offers an in-depth analysis to guide both novice and seasoned coffee enthusiasts in making an informed decision. Join us on this caffeinated journey as we unravel what the Philips 4300 LatteGo brings to the table.
Prefer to multitask? Let the article play in audio while you do other things.
Introduction & Key Takeaway
https://app.mysoundwise.com/tracks/16987150803978970e.mp3
A Glimpse into the Philips 4300 LatteGo
https://app.mysoundwise.com/tracks/16987151005174966e.mp3
Brewing Capabilities of the 4300 LatteGo
https://app.mysoundwise.com/tracks/16987151318007151e.mp3
Maintenance and Longevity
https://app.mysoundwise.com/tracks/16987151589489451e.mp3
Philips 4300 LatteGo: Technical Specifications
https://app.mysoundwise.com/tracks/16987151764542725e.mp3
Comparing to Other Super Automatic Espresso Machines
https://app.mysoundwise.com/tracks/16987152049869448e.mp3
Philips 4300 LatteGo: Pros and Cons
https://app.mysoundwise.com/tracks/16987152317690740e.mp3
How We Rate and Review the Philips 4300 LatteGo
https://app.mysoundwise.com/tracks/16987157081710718e.mp3
Frequently Asked Questions
https://app.mysoundwise.com/tracks/16987157701613586e.mp3
Philips LatteGo: Key Takeaway
Design & Build Quality: The Philips 4300 LatteGo boasts a robust design with premium build materials, ensuring it not only looks sleek on your countertop but also stands the test of time.
Beverage Quality: Offering a variety of customizable beverage options, this machine delivers consistent coffee quality, rivaling many coffee shops, though some users might wish for more intuitive customization options.
Maintenance & Cleanliness: While the self-cleaning features are commendable, certain aspects, like the wastewater tray and milk frothing system, could be refined for an even more hassle-free experience.
Price & Value: Positioned as a premium super-automatic espresso machine, its performance justifies the price tag for most, though some users might desire a few more refinements to make it a perfect value proposition.
Final Verdict from The Coffee Guru: Garnering a solid 4 out of 5 stars, the Philips 4300 LatteGo is a testament to Philips' dedication to quality and innovation in the coffee brewing industry. However, there's always room for fine-tuning to achieve near perfection.
Guru's Score Verdict
A Glimpse into the Philips 4300 LatteGo
The Philips 4300 LatteGo stands as a testament to the innovation and precision of Philips in the realm of bean-to-cup coffee machines. Crafted with sheer elegance, this machine combines the allure of sleek design with the functionality of a pro-grade espresso machine.
Design and Build Quality
Blending aesthetics with durability, the Philips 4300 Series boasts a design crafted to impress and built to last.
Materials & Construction: Made predominantly of ceramic, the Philips 4300 LatteGo is both elegant and robust. The ceramic components ensure that the machine remains corrosion-free, preserving the true essence and flavor of coffee beans. Its sturdy construction, weighing in at 8.3 kilograms, ensures durability and promises a lifespan that extends through at least 20,000 cups. (1)
Technical Origin: The espresso machine is a culmination of Italian design aesthetics and precision engineering, made with care in Romania.
Key Feature: The heart of the machine is its robust ceramic grinders. These are crucial in unlocking the aromatic potency of coffee beans, ensuring that each grind, from coarse to ultra-fine, retains the full-bodied flavor coffee enthusiasts crave.
Interface and User Experience
Marrying sophistication with simplicity, the interface of the Philips 4300 coffee machine promises a user-centric coffee brewing experience like no other.
User-Friendly Display: The Philips Espresso Machine offers an intuitive touch-display, making the journey from bean selection to brewed cup both smooth and enjoyable. With this, users can seamlessly choose from 8 diverse coffee blends, ranging from black coffee varieties to creamy, milk-based delights.
Coffee Customization: The machine's 'My Coffee-Choice Menu' ensures a bespoke brewing experience. Users can modify the strength and volume of their drink, with three distinct aroma settings and 12 grinder adjustments. It also features two user profiles, allowing for the customization and storage of individual coffee preferences, and even has a guest profile to cater to the tastes of visitors without altering preset configurations.
Maintenance & Hygiene: With features like the AquaClean filter, users can enjoy up to 5000 cups without the need for descaling. The machine's removable group brew allows for easy cleaning, and several parts, including the LatteGo system's components, are dishwasher-safe, emphasizing convenience and hygiene.
How It Stands Out from Competitors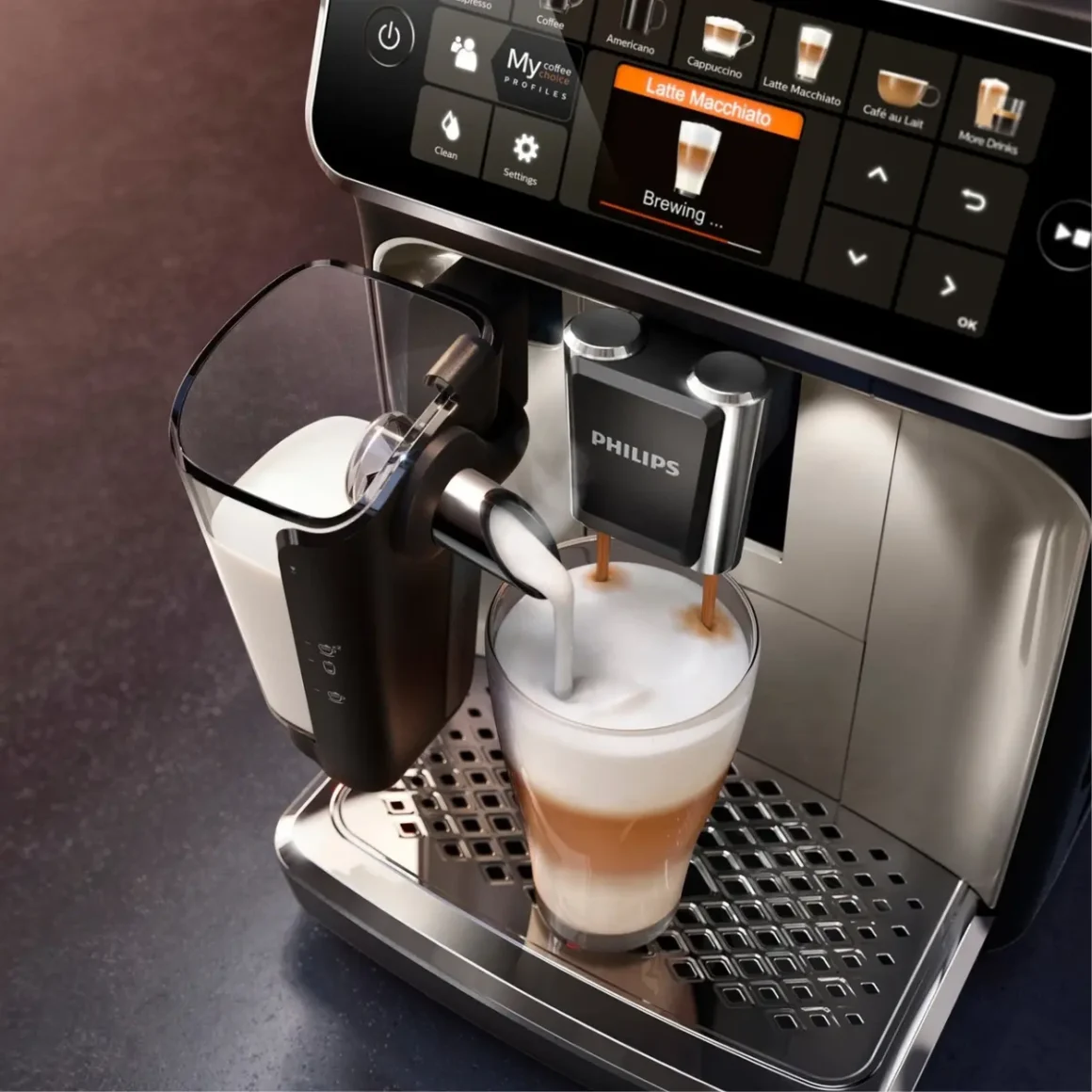 In a market flooded with bean-to-cup coffee machines, the Philips 4300 carves its niche, offering unparalleled features that truly distinguish it from the rest.
Latte-Go Milk System: What truly sets the Philips 4300 LatteGo apart in the competitive world of super-automatic espresso machines is its innovative LatteGo milk system. This system elevates milk-based beverages with a velvety froth, ensuring barista-quality cappuccinos, lattes, and more. Moreover, it boasts of being the quickest milk system to clean with its easily detachable components.
Brewing Excellence: The Extract Aroma system stands out as yet another notable characteristic, achieving a perfect equilibrium between the brewing temperature and the extraction of aroma. This ensures a consistent taste, temperature, and aroma in every cup.
Diverse Coffee Selections: With the Philips 4300 LatteGo, users aren't just buying an appliance; they're investing in an experience. From the robustness of an espresso to the creamy indulgence of a latte macchiato, this machine offers a coffee for every mood, all with the simple touch of a button.
Brewing Capabilities of the 4300 LatteGo
Coffee enthusiasts often measure the value of a machine not just by its aesthetic or ease of use, but by its ability to consistently deliver a flavorful cup. The Philips coffee maker underscores this by effortlessly marrying art with technology in its brewing process.
Espresso and Coffee Making Prowess
The art of crafting the perfect espresso coffee is a combination of grind precision and brewing mastery. The Philips coffee maker encapsulates this blend, promising each brew to be an embodiment of flavor and aroma.
Precision Grinding: At the heart of any good espresso or coffee lies the grind's quality. With the Philips coffee maker, this process is taken care of by its robust ceramic grinders, which extract the finest aroma and flavor from coffee beans, from coarse to ultra-fine. This ensures that every shot of espresso is packed with flavor and aromatic richness.
Variety: This fully automatic espresso coffee maker caters to diverse preferences. Whether it's a robust shot of espresso to kick-start the morning or a gentler coffee blend to wind down the day, the machine's range ensures every coffee desire is fulfilled.
Frothing and Steam Performance of LatteGo
The magic of a creamy cappuccino or a velvety latte often lies in the froth's quality. Philips LatteGo steps into this arena with unparalleled prowess, delivering consistently rich and smooth froth to elevate every milk-based beverage.
Silky-Smooth Froth: One of the standout features of the Philips LatteGo is its exceptional milk frothing capability. As previously discussed, elevating every milk-based beverage, the LatteGo system introduces a velvety, dense froth that enhances cappuccinos, lattes, and other creamy concoctions.
Plant-Based Alternatives: Recognizing the evolving preferences of today's consumers, the Philips LatteGo can also froth plant-based milk alternatives. Whether it's almond, soy, or oat milk, the system ensures a froth quality that rivals that of traditional milk, thanks to its cyclonic frothing technology.
PRO TIP: For the best frothing results with plant-based milks, opt for the 'barista' versions of these alternatives. They are formulated specifically to yield a richer and more consistent froth. However, be aware that rice milk and hemp milk typically don't produce a satisfactory foam, neither in the LatteGo nor in most foaming methods. It's also advisable to avoid sweetened variants of these milk alternatives to ensure the purest flavor and optimal froth consistency.
Efficient Cleaning: Besides delivering exceptional froth, the LatteGo system is also designed for convenience. Its components can be easily disassembled and are dishwasher safe, ensuring hygienic cleaning in minimal time.
Consistency and Temperature Control
The soul of an exquisite coffee experience often rests in its consistent taste and optimal temperature. With meticulous temperature regulation and grinding adaptability, the Philips coffee maker ensures that every cup mirrors the perfection of its predecessor.
Aroma-Extract System: As previously mentioned, the Philips coffee maker's Extract Aroma system serves as the guardian of your cup of joe's quality. Through meticulous adjustment of both the brewing temperature and aroma-extraction, it assures the perfection of each brew. The system diligently controls the water temperature, keeping it consistently within the 90 to 98°C range, thereby ensuring the continuous enjoyment of every cup.
Adaptable Grinder Settings: Catering to different coffee beans and individual preferences, the machine offers 12 grinder settings. Whether one prefers a coarse grind or an extremely fine powder, the machine's flexibility ensures the best extraction for each brew.
In essence, from grinding to brewing to frothing, every feature of the Philips coffee maker, particularly the Philips LatteGo system, has been engineered to ensure coffee perfection in every cup.
Maintenance and Longevity
Maintaining your coffee machine's performance and lifespan requires regular attention and care. With the Philips espresso machine, designed with user convenience in mind, this task becomes more streamlined. Let's delve into the essential maintenance aspects of this machine.
Cleaning the LatteGo System
The Philips LatteGo system, a crucial component in your coffee-making experience, necessitates frequent cleaning. For consistently creamy lattes and cappuccinos, adhere to the following guidelines:
After Each Use:

Start with the 'Quick milk clean' program while LatteGo is still attached to the machine.
Detach the LatteGo and rinse under running water. For a thorough cleanse, you can also place it in the dishwasher.
Daily and Monthly Maintenance Routines
A comprehensive maintenance approach can significantly extend the lifespan and efficiency of your Philips 4300:
Daily Tasks:

Empty and clean the drip tray, especially when the 'drip tray full' indicator appears.

Weekly Tasks:

Remove and rinse the brew-group to prevent coffee residues from clogging the system.
Check the pre-ground coffee compartment for any blockages and clear them.
Clean the water tank and machine front with a non-abrasive cloth.

Monthly Tasks:

Lubricate the brew-group every two months. Apply a thin layer of Philips grease to key components, ensuring smooth operation.
Durability and Warranty Insights
Philips products, celebrated for their quality and durability, come with a commitment to customer satisfaction. For the Philips espresso machine:
Warranty Period: Typically, for purchases made in the USA, a 24-month warranty period is standard. This warranty ensures free servicing in cases of defects, as long as the product is used as instructed. (2)
Service Abroad: If you've purchased your machine outside the USA but seek service within the country, Philips strives to honor the warranty terms of the purchase origin.
Exceptions: This warranty applies specifically to consumer products. For professional products, the terms outlined in the purchase agreement apply.
To get the most out of your Philips LatteGo, always refer to the user manual or the dedicated support section on the Philips website for detailed instructions, troubleshooting tips, and additional resources.
Philips 4300 LatteGo: Technical Specifications
Sale
Diving into the specifics of the Philips 4300 LatteGo, here's a comprehensive overview of its technical details:
Origin and Design:
Origin: Designed in Italy, Manufactured in Romania
Customization Features:
Aroma Strength Settings: Offers 5 levels
Grinder Settings: 12 adjustable settings
Coffee and Milk Length: Customizable
Pre-Brew Aroma Control: Enabled
User Profiles: Allows 2 main profiles along with a guest profile
Temperature Options: 3 settings available
Variety of Beverages:
Beverage Options: Espresso, Americano, Cappuccino, coffee, Latte Macchiato, Caffé crema, Ristretto, Café au Lait, Milk froth, Hot water
Additional Features: Coffee-Powder Option, Double Cup (for coffee) availability, but no Double Milk Cup.
Additional Features:
Maintenance and Cleaning: Features like a removable-brew group, aroma seal, guided descaling, and AquaClean filter ensure the machine's longevity and cleanliness.
Accessories: The package includes a measuring scoop, a water hardness test strip, a grease tube, an AquaClean filter, and a LatteGo storage lid.
Dimensions and Capacity:
Cord Length: 100 cm
Appearance: Black with a spray-painted silver finish
Electrical Specs: Operates at 230 V and 50 Hz frequency
Capacities: The milk carafe holds up to 0.26 L, the water tank has a 1.8 L capacity, the waste container can store up to 12 servings, and the coffee bean compartment holds 275 grams.
Weight: 8 kg
Accessibility: Both the waste container and water tank are accessible from the front.
Size Dimensions: The product measures 246x372x433 mm, with a maximum cup height of 150 mm. Compatible with AquaClean filters, it operates at a pump pressure of 15 bars.
General Features:
Spout Height: Adjustable between 85 – 145 mm
Milk Solution: Uses the LatteGo system
Cleaning and Maintenance: Compatible with the AquaClean-filter and features dishwasher-safe parts like the drip tray and LatteGo. Boasts a TFT display for easy interfacing.
Warranty: Comes with a 2-year guarantee
Sustainability and Power:
Eco-friendly Features: Equipped with an ECO setting
Power Consumption: Uses 1500 W during brewing
Packaging: Over 95% of the packaging material is recyclable.
Comparing to Other Super Automatic Espresso Machines
In the world of espresso machines, the market is crowded with competitors vying for a place on your kitchen counter. In this section, we'll delve deep into a side-by-side comparison of two top espresso machines: the Philips 4300 LatteGo and De'Longhi Magnifica Evo. We'll evaluate their features, price points, and even what other trusted experts have to say about them.
Philips 4300 vs 2300: A Side-by-Side Comparison
Sale
When it comes to super-automatic espresso machines, Philips has established a strong reputation. Two popular models in their line-up are the Philips 4300 and the 2300. In this comparison, we'll delve into the specifics of each model, highlighting their features, advantages, and differences.
Origin and Design:

Both the Philips 4300 and 2300 were designed in Italy and manufactured in Romania, reflecting a commitment to quality and style.
Customization:
Philips 4300: Offers 5 aroma strength settings, 12 grinder settings, and 3 temperature options.
Philips 2300: Features 3 aroma strength settings, the same 12 grinder settings, and 3 temperature options.
Beverage Variety:
Philips 4300: Provides a wider variety, incorporating Espresso, Americano, Coffee, Cappuccino, Café au Lait, Latte Macchiato, Caffé crema, Ristretto, Milk froth, and Hot water.
Philips 2300: Comes with options for Espresso, Hot water, Cappuccino, Coffee, Latte Macchiato, and Americano.
Technical Specifications:
Voltage & Frequency: The Philips 4300 operates at 230 V with a frequency of 50 Hz, while the 2300 operates at 120 V with a frequency of 60 Hz.
Capacities & Dimensions: Both models are quite comparable in capacity, featuring a milk carafe capacity of 0.26 L, a water tank capacity of 1.8 L, and a coffee bean capacity of 275 g. Their dimensions are also very similar, with just a minor difference in depth.
Appearance: The Philips 4300 boasts a spray-painted silver finish, whereas the 2300 comes in a glossy black finish.
User Interface: While the Philips 4300 features a TFT display, the Philips 2300 offers a touchscreen display.
General Features: For both models, the spout height is adjustable between 85-145 mm. They utilize the innovative LatteGo system for milk frothing and feature AquaClean filter compatibility for ease of maintenance.
Sustainability: Both the 4300 and 2300 Philips prioritize eco-friendliness. They come with an ECO setting, a power consumption of 1500 W during brewing, and packaging that's over 95% recyclable. An added highlight for the 2300 is its A-class energy label.
Price Comparison: The Philips 4300 is priced at $999.00, while the 2300 is available for $752.91.
From a value perspective, the Philips 4300's higher price tag can be justified by its expanded beverage options and refined finishing. However, if you're looking for essential features and are content with a more limited beverage selection, the 2300 offers considerable value at a reduced cost. While both models have a lot in common, the choice between Philips 4300 vs 2300 boils down to individual preferences in aroma strength settings, beverage variety, and user interface. Whether you lean towards the Philips 3200 or the 4300, each model promises a superior brewing experience backed by Philips' commitment to quality and sustainability.
Philips 4300 LatteGo vs. De'Longhi Magnifica Evo
Sale
Shifting our focus from the Philips 4300 LatteGo, the De'Longhi Magnifica Evo emerges as another contender in the fully automatic espresso-machine market. Before diving into specifics, let's provide a quick overview of how they compare.
Philips 4300 LatteGo:

Price: $999.00
Weight: 8kg, 17.63 Pounds
Key features: 8 beverage selections, intuitive touch display, and LatteGo milk system for easy cleaning.
Customization: Up to 12 grinder adjustments, 2 user profiles, and aroma strength settings.
Extras: Ceramic grinders, AquaClean filter, and a brew-group that can be removed for cleaning.
De'Longhi Magnifica Evo:

Price: $899.95
Weight: 9.59kg, 21.16 Pounds
Key features: 7 one-touch recipes, perfect grinding with 13 settings, and a LatteCrema system for milk texturing.
Customization: Personalize with the "My Latte" feature.
Extras: Conical Burr Grinder, 2+1 year warranty, and easy cleaning with removable parts.
Price Point and Value Proposition
When investing in top espresso machines, it's essential to weigh the balance between cost and value. Evaluating the features offered by models such as the Philips 4300 LatteGo and the De'Longhi Magnifica Evo against their respective price tags can shed light on their value proposition. Let's explore what each brings to the table for its cost.
Philips 4300 LatteGo:

Priced slightly higher at $999, it offers a comprehensive set of features with an emphasis on customizability and user experience. The LatteGo system, in particular, simplifies the milk frothing and cleaning process, providing added value for those who frequently enjoy milk-based drinks.

De'Longhi Magnifica Evo:

At $899.95, it is more budget-friendly and doesn't compromise on core features. With 7 one-touch recipes and the unique LatteCrema system, it's a worthy contender in the espresso machine market.
Philips 4300 LatteGo: Pros and Cons
The Philips 4300 LatteGo has rapidly gained a reputation in the market for its advanced features and intuitive user interface. Let's delve into the machine's strengths and areas for improvement, highlighting its pros and cons.
Pros
Customizability: One of the standout features of the Philips 4300 LatteGo is its ability to provide a customized brewing experience. Users can adjust everything from coffee strength, and temperature, to the amount of milk froth, ensuring each cup meets individual preferences.
LatteGo System: As mentioned before, this feature offers a fast and convenient milk frothing solution. Unlike other machines, its innovative design ensures minimal parts are in contact with milk, making cleaning a breeze.
Intuitive Interface: With its easy-to-navigate touch screen, even beginners can operate the machine effortlessly. Its display provides clear instructions and feedback, enhancing the user experience.
Ceramic Grinders: The machine's grinders are made from high-quality ceramic, ensuring durability and precision. They provide consistent grind sizes, which is crucial for optimal coffee extraction.
Cons
Machine Noise: Though only momentary, the machine's grinding noise can be a little startling, especially during the morning's serene moments.
Volume Limitation: The machine has a preset volume, dispensing around 12 oz of coffee. For larger servings, additional cycles are needed, which might be slightly inconvenient.
Grind Adjustment: Tweaking the grind can be challenging, requiring changes while the machine is on. Furthermore, it might feel counterintuitive as it moves in unexpected directions.
Waste Management: Emptying the wastewater tray can be tricky due to its dual-exit design. The puck refuse section often retains water, making disposal less straightforward compared to drier models.
Capacity Concerns: Frequent refills might be needed as the water reservoir and bean hopper are not as expansive as some might prefer. Additionally, there are concerns about the seal on the bean hopper's lid weakening over time.
LatteGo Carafe: Minor inefficiencies include milk wastage, as the carafe doesn't empty entirely.
The Philips 4300 LatteGo offers a comprehensive set of features tailored to both novices and seasoned coffee enthusiasts. While its size and price may deter some, its quality, performance, and user-friendly nature make it a worthy consideration for many.
Sale
How We Rate and Review the Philips 4300 LatteGo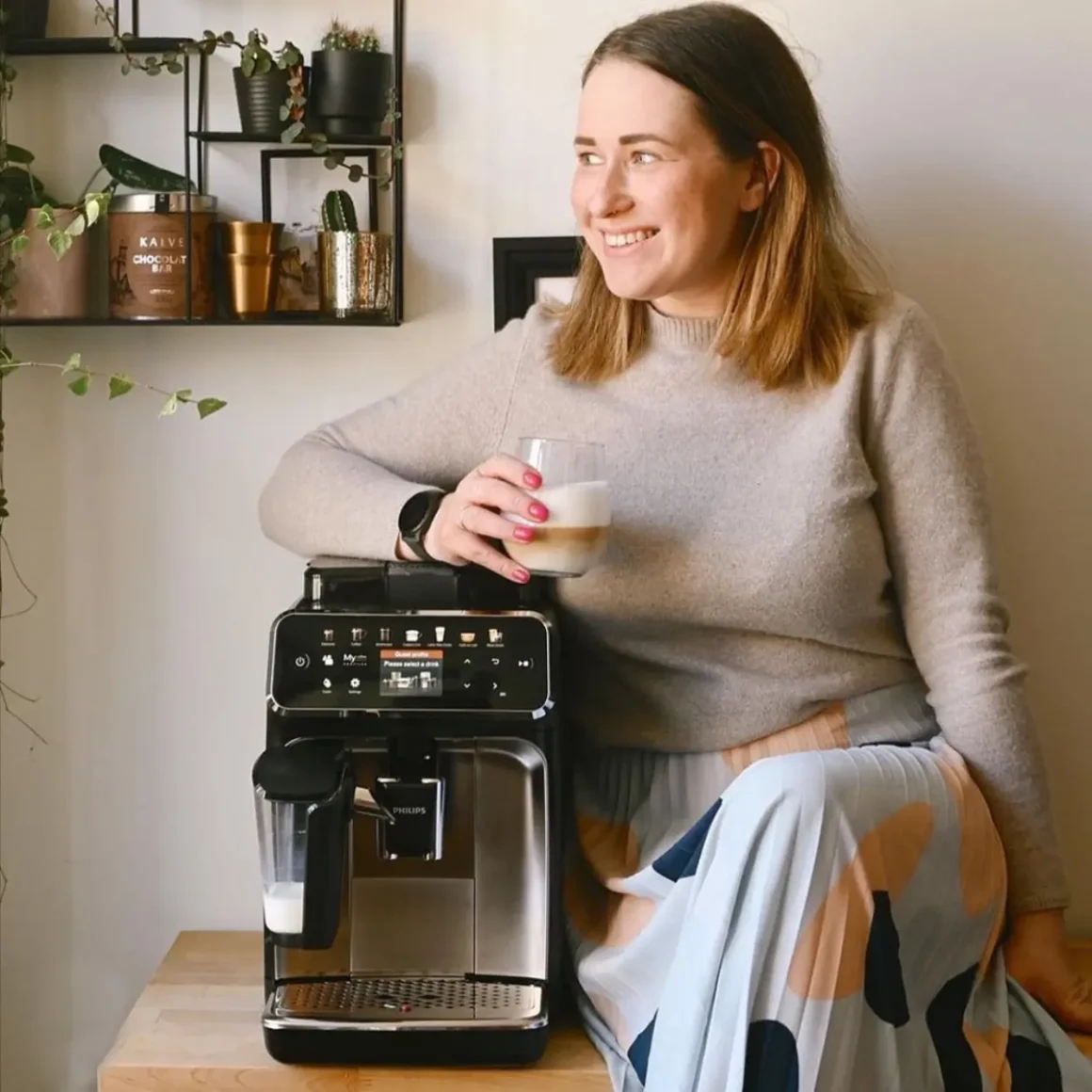 Design and Build Quality: 4/5
The Philips 4300 boasts a sleek and modern design, seamlessly fitting into most kitchen aesthetics. The build feels robust with some durable components, but there are minor concerns about the seal on the bean hopper's lid which weakens over time, and that slightly affects the overall build score.
Beverage Options & Quality: 4/5
There's no denying the range of beverage options this machine offers, and once dialed in, the coffee rivals that of popular coffee shops. However, the limitation in volume, dispensing about 12 oz as its max, takes away from what could have been a full 5-star rating.
User Interface & Customization: 4/5
While offering a commendable range of customization, there are certain aspects of the user interface that could be more intuitive. The grind setting, for instance, can be challenging to adjust, and the fact that double shots aren't saved in profile settings seems like a missed opportunity for more user-friendly customization.
Milk Frothing System: 4/5
The LatteGo system is innovative and produces great froth. However, minor inefficiencies such as not emptying entirely and being limited to producing only 12 oz lattes affect the overall score. An upgrade in future models would certainly be welcome.
Maintenance & Cleanliness: 3.8/5
While it's admirable that the machine self-rinses frequently, some elements make maintenance slightly cumbersome. The wastewater tray, in particular, can be tricky to empty, and the puck refuse section tends to retain water. The presence of steam in the pre-ground coffee slot also poses a challenge for cleaning.
Price & Value: 4/5
Given its features and overall performance, the Philips 4300 offers reasonable value for its price point. There are some elements where improvements would bolster its value proposition further, but it's certainly a machine that offers a lot for what it costs.
Beverage Options & Quality
User Interface & Customization
Maintenance & Cleanliness
Conclusion – Guru's Score Verdict: 4/5
Concluding our detailed examination, the Philips LatteGo stands out as a significant player in the super-automatic espresso coffee machine market. Through the lens of this comprehensive review, we've pinpointed its commendable features and spotlighted areas that could benefit from a touch-up. With a solid score verdict of 4 out of 5 stars from our team at The Coffee Guru, it's evident that while there's room for improvement, the Philips LatteGo is a blend of innovation and quality that shouldn't be overlooked. If you're seeking a premium coffee experience right in your kitchen, this machine is undeniably a contender worth your attention.
FAQ