In the ever-evolving world of coffee makers, the super-automatic espresso coffee machine segment has been drawing significant attention. At the forefront of this is the Gaggia Cadorna Prestige. Our comprehensive Gaggia Cadorna Prestige Review delves deep into this machine's features, performance, and value proposition, answering the burning question: Is it truly worth the investment? Dive in as we break down its every aspect, helping you make an informed decision.
Don't want to read? Press play and enjoy the review as an audio version below.
Introduction & Key Takeaway
https://app.mysoundwise.com/tracks/16986200996937468e.mp3
Technical Specifications & Features
https://app.mysoundwise.com/tracks/16986201270208027e.mp3
Brewing Experience & Taste Profile
https://app.mysoundwise.com/tracks/16986201952078667e.mp3
Comparison with Other Leading Espresso Machines
https://app.mysoundwise.com/tracks/16986202261489629e.mp3
Tips & Tricks for Optimal Performance
https://app.mysoundwise.com/tracks/16986202522498269e.mp3
The Brand Behind the Machine
https://app.mysoundwise.com/tracks/16986202729735725e.mp3
Pros and Cons
https://app.mysoundwise.com/tracks/16986203333144863e.mp3
How We Rate and Review The Gaggia Cadorna Prestige
https://app.mysoundwise.com/tracks/16986203566048279e.mp3
Frequently Asked Questions
https://app.mysoundwise.com/tracks/16986204024647668e.mp3
Gaggia Cadorna Prestige: Key Takeaway
Italian Excellence in Design: The Gaggia Cadorna Prestige boasts a sleek and meticulously crafted design, reminiscent of Italy's esteemed tradition in premium appliances, making it a stylish addition to any modern kitchen.
Exceptional Beverage Quality and Options: With 14 pre-set beverages, the machine offers a diverse range for coffee aficionados. Its advanced brewing process ensures each espresso's distinct taste profile, with the added benefit of customizable aroma intensity.
User-Centric Interface: Its full-color TFT display combined with backlit buttons ensures effortless navigation. Additionally, with four custom user profiles, the machine allows for individualized beverage settings, catering to multiple users in a household.
Maintenance Considerations: While the machine offers convenient features such as automatic rinsing and descaling cycles, it requires consistent maintenance of detachable parts for optimal performance, which might be a bit demanding for casual users.
Value Proposition: At its discounted price of $949, the Gaggia Cadorna Prestige presents considerable value considering its premium features. However, the initial investment might be considered steep for some, balancing its high-end attributes with its cost.
Guru's Score Verdict
Technical Specifications & Features
Dive deep into the world of the Gaggia Cadorna Prestige as we unravel its intricacies and innovations. From its unparalleled brewing capabilities to its user-centric design, this section meticulously details the specifications and features that make this fully automatic espresso machine a marvel in modern coffee technology. Whether you're seeking the best espresso or curious about the types of espresso drinks it can craft, this guide provides a comprehensive look into what makes the Cadorna Prestige stand out.
Highlighting the Key Features of Cadorna Prestige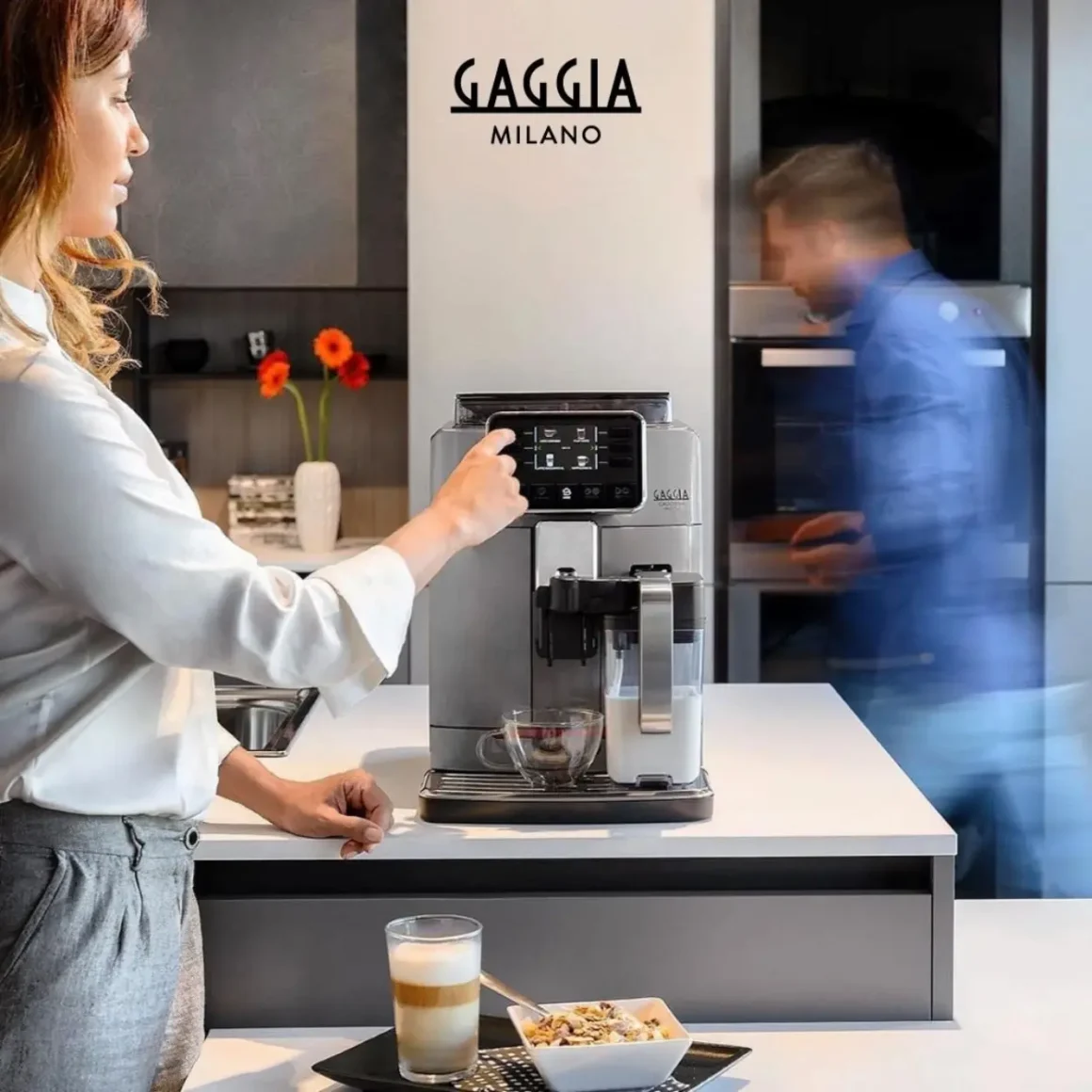 The Gaggia Cadorna Prestige is the epitome of a fully automatic espresso machine. Here are the features that make it stand out:
Beverage Range: With 14 pre-programmed beverages, Cadorna Prestige offers everything from the distinguished ristretto and classic espresso to the velvety cappuccino and creamy café au lait.
Personalized Experience: The machine provides the ability to create up to four user profiles. This feature ensures that your best espresso or any other favorite drink remains consistently delightful.
Espresso Mastery: The built-in espresso tray is a testament to Gaggia's 80 years of espresso expertise, ensuring impeccable espressos each time with zero splashes.
Integrated Milk Carafe: Achieve seamless milk frothing with this carafe. Designed to deliver the perfect milk foam texture and temperature, it ensures luscious milk-based drinks every time.
100% Ceramic Grinders: The durable ceramic grinders are crafted to extract the purest essence from coffee beans, offering the freshest cup possible. (1)
User Interface & Customization Options
Navigating the Cadorna Prestige is a delightful experience:
Vibrant Display: The full-color TFT screen display, coupled with backlit buttons, offers users an intuitive interface. It not only showcases the types of espresso drinks but also provides detailed guidance for personalization, brewing, and cleaning.
Tailored Coffee Creations: The OptiAroma feature allows users to adjust aroma intensity, leading to personalized coffee beverages. With a variety of settings, including coffee length and temperature adjustments, you can concoct your signature beverages effortlessly.
Four User Profiles: As discussed above, the freedom to save your coffee preferences ensures that your personalized barista menu is just a click away. This feature ensures every cup is just as you like it, without the need to readjust settings.
Maintenance & Durability Insights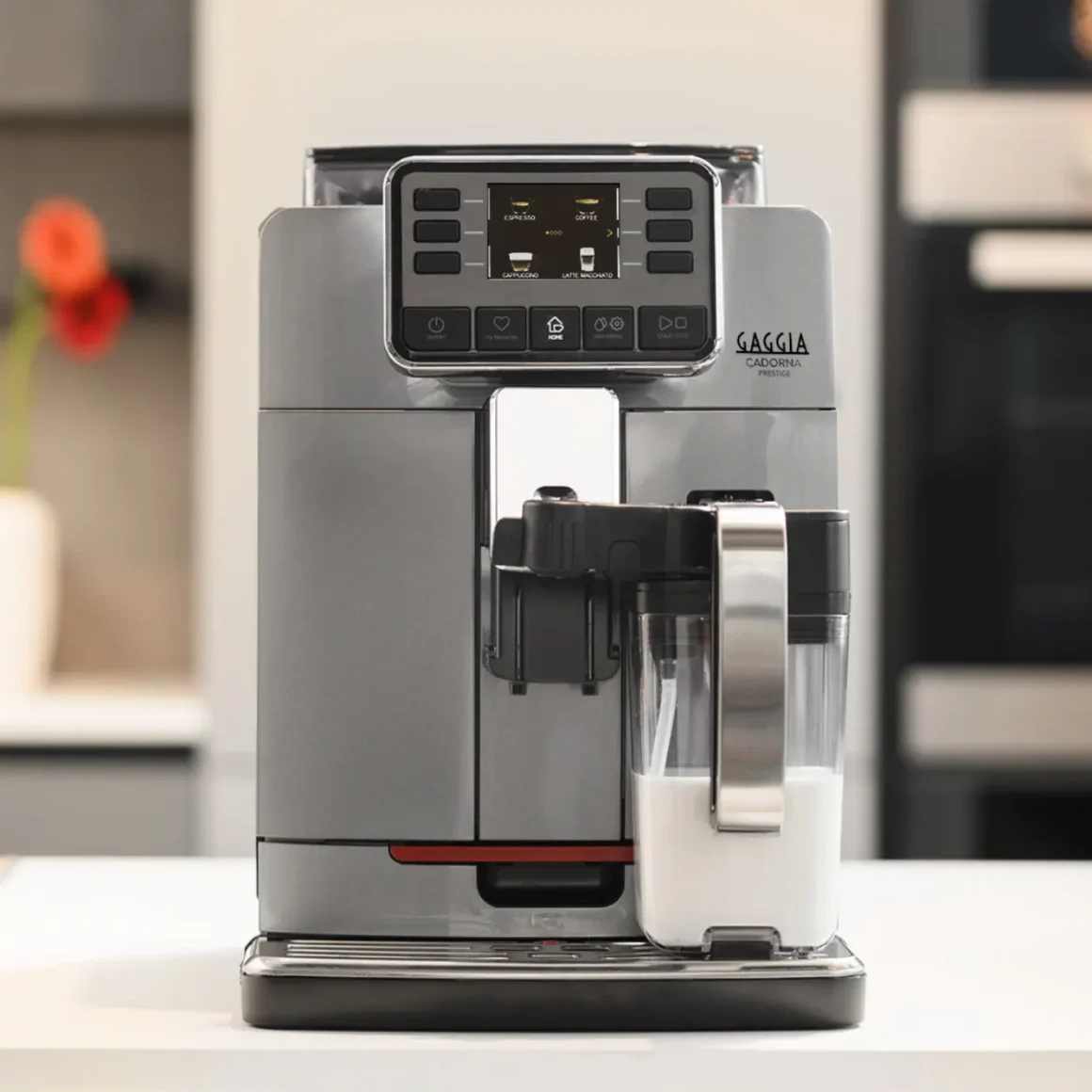 For those concerned about longevity and ease of maintenance:
Easy Cleaning: Features like the removable brew group allow for easy rinsing and thorough cleaning. The integrated milk carafe also undergoes an automatic rinse cycle, ensuring no lingering milk residues and a hassle-free cleanup.
Material Excellence: The Gaggia Cadorna Prestige boasts construction materials like black ABS for its bodywork and spray-painted anthracite for its front. The use of stainless steel in areas like the drip tray attests to its durability.
The Cadorna Prestige embodies Italian excellence, ensuring that every coffee enthusiast can enjoy the best espresso right at home. Its range of features, combined with user-friendly interfaces, makes it a top contender in the world of espresso coffee machines. Whether you're a novice or a seasoned barista, this machine is designed to elevate your coffee experience.
Gaggia Cadorna Prestige: Brewing Experience & Taste Profile
The Gaggia Cadorna Prestige is not just about aesthetics and technical prowess; it's a symphony of brewing artistry that curates a unique coffee experience for every user. Delving into its brewing capabilities, we dissect the espresso it produces, its milk preparation finesse, and the overall user journey from bean selection to savoring the final cup. Here's our deep dive.
The Espresso: Aroma, Flavor, and Texture Analysis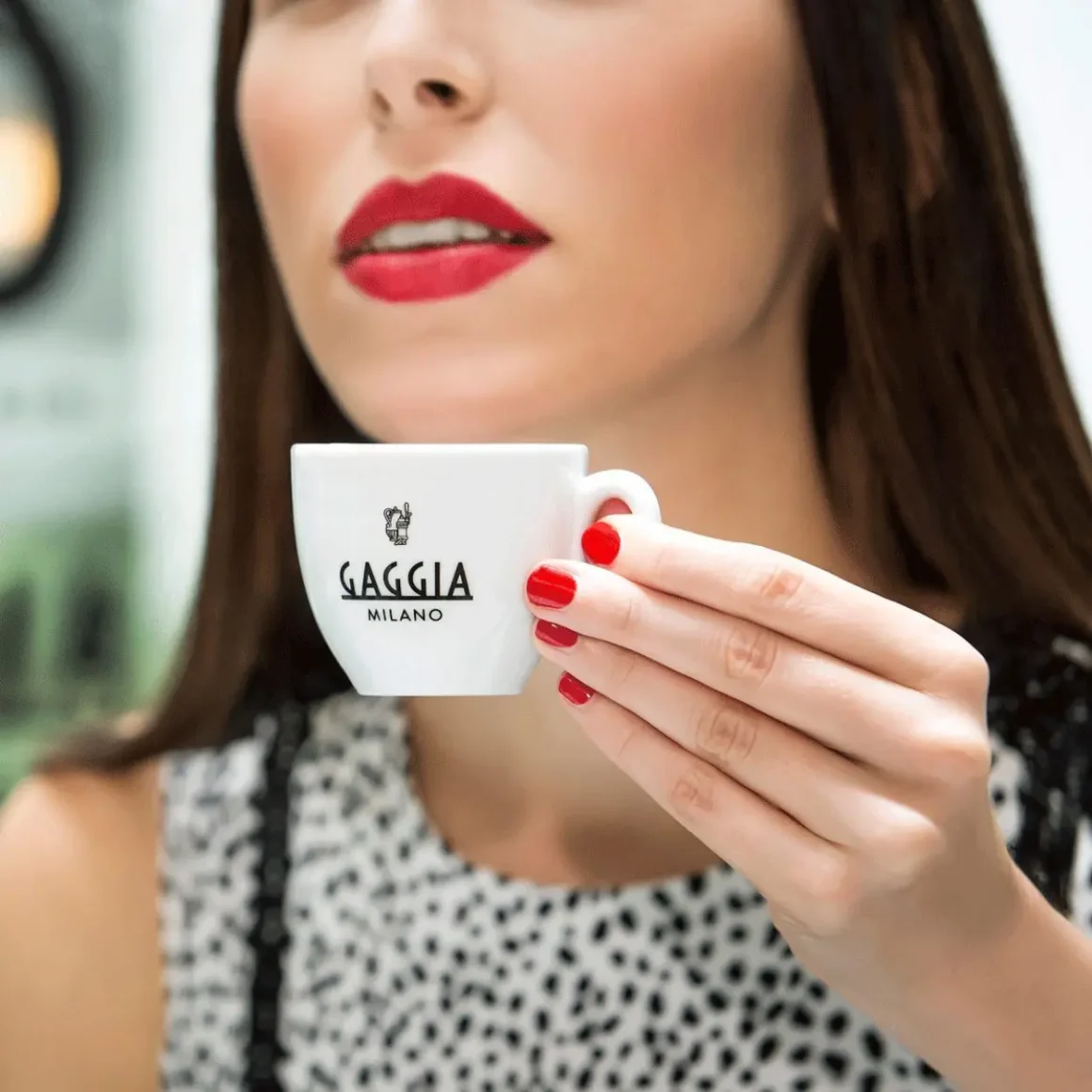 When our team at The Coffee Guru set out to analyze the espresso produced by the Gaggia Cadorna Prestige, we took into account three primary dimensions: aroma, flavor, and texture.
Aroma: The very first interaction with an espresso is its aroma. As the machine worked its magic, the air was filled with an inviting coffee aroma that hinted at the richness of the brew. This aromatic experience speaks volumes about the freshness of the grind and the integrity with which the Cadorna Prestige preserves the beans' natural scent.
Flavor: On the palate, the espresso reveals its full story. We found a harmonious balance between acidity, bitterness, and sweetness, showcasing the machine's ability to extract the full spectrum of flavors from the coffee beans. This balance ensures that whether you prefer a robust dark roast or a fruity light roast, the machine captures the bean's essence in every sip.
Texture: An often overlooked but crucial aspect of a good espresso is its texture. The Cadorna Prestige delivers a velvety mouthfeel, accompanied by a consistent and rich crema layer on top. This crema is a testament to the machine's precise pressure and temperature controls, ensuring that each espresso shot is as sumptuous as it is flavorful.
Milk Steaming and Frothing Performance
An essential component for many beloved coffee beverages like cappuccinos and lattes is the milk. The Gaggia Cadorna Prestige showcases its prowess in this department too.
Steaming: The machine rapidly heats milk to the optimal temperature, ensuring that it complements the coffee's temperature without scalding the milk. This precise control is crucial for preserving the milk's sweetness and ensuring a harmonious blend with the espresso.
Frothing: The integrated milk carafe is a wonder. It not only froths milk but does so with a consistency that is hard to replicate even by professional baristas. Whether you prefer a dense foam for your café cappuccino or a silky microfoam for your latte, the Cadorna Prestige rises to the occasion, delivering perfect results every time.
User Experience: From Bean to Cup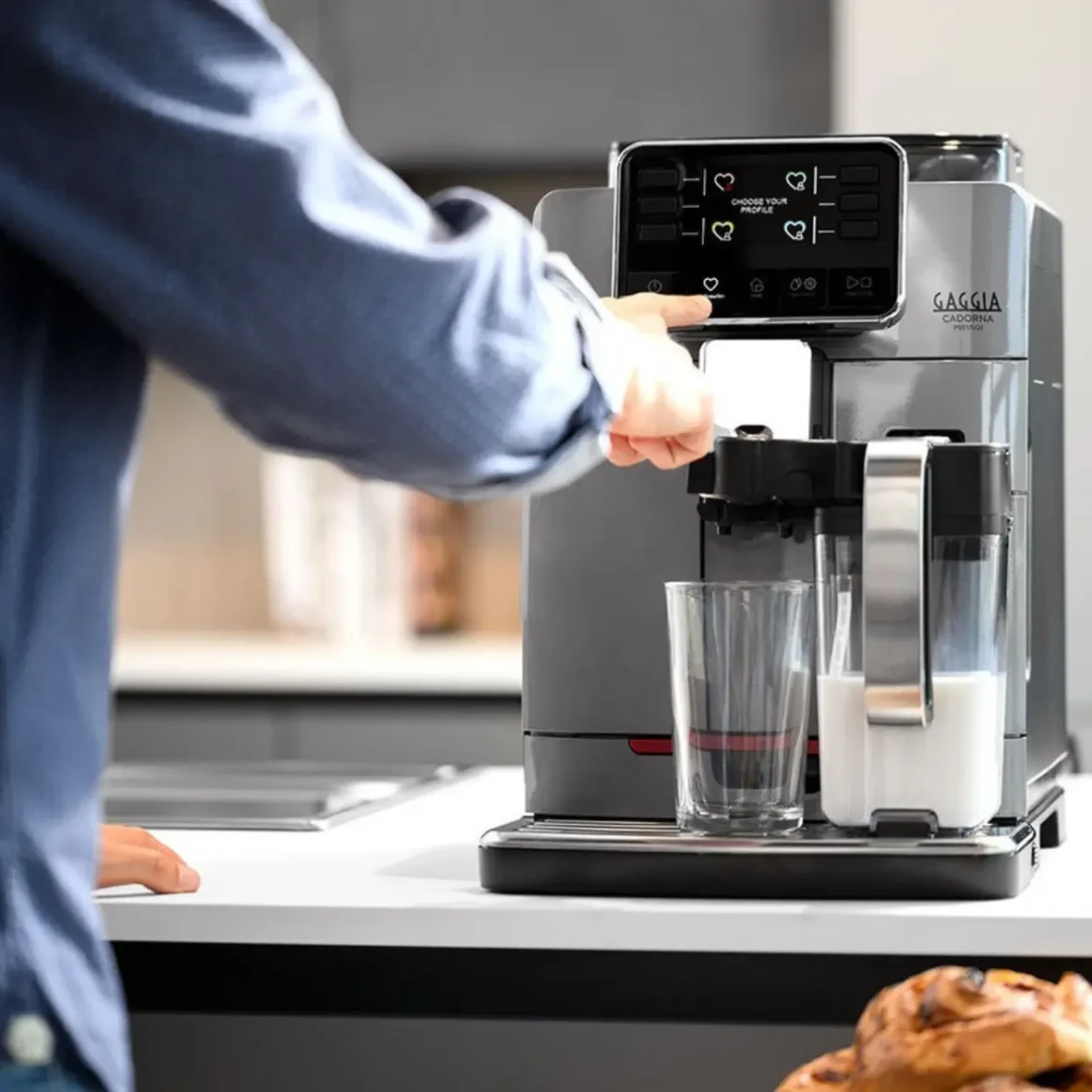 The brewing experience is not just about the end product but the journey of crafting that perfect cup of coffee.
Bean Selection and Grinding: The machine's 100% ceramic grinders ensure that the coffee beans are ground without overheating, preserving their intrinsic flavors. Users can choose from 10 grind options, tailoring their brew strength and flavor profile.
Coffee Customization: As previously mentioned, with its intuitive user interface, personalizing your coffee has never been easier. From adjusting the aroma intensity with the OptiAroma feature to selecting the type of espresso drink, the machine provides a seamless user journey.
Maintenance and Cleaning: Post-brewing, the Gaggia Cadorna Prestige prioritizes hygiene. As discussed, features like the automatic rinse cycle for the milk carafe and the easily detachable brew group for rinsing ensure that cleanliness is as integral to the machine as its brewing capabilities.
The Gaggia Cadorna Prestige offers a holistic brewing experience. Every aspect, from the aroma that fills the room to the final sip, is thoughtfully crafted, making every cup a celebration of coffee artistry.
Sale
Comparison with Other Leading Espresso Machines
In the bustling world of espresso machines, where features and functionality often determine superiority, it becomes crucial to weigh the offerings of various leading models. Here, we delve into an analytical comparison of the Gaggia Cadorna Prestige against other prominent espresso machines, examining their key features, benefits, and potential drawbacks.
Gaggia Cadorna Prestige vs. Philips 4300 Series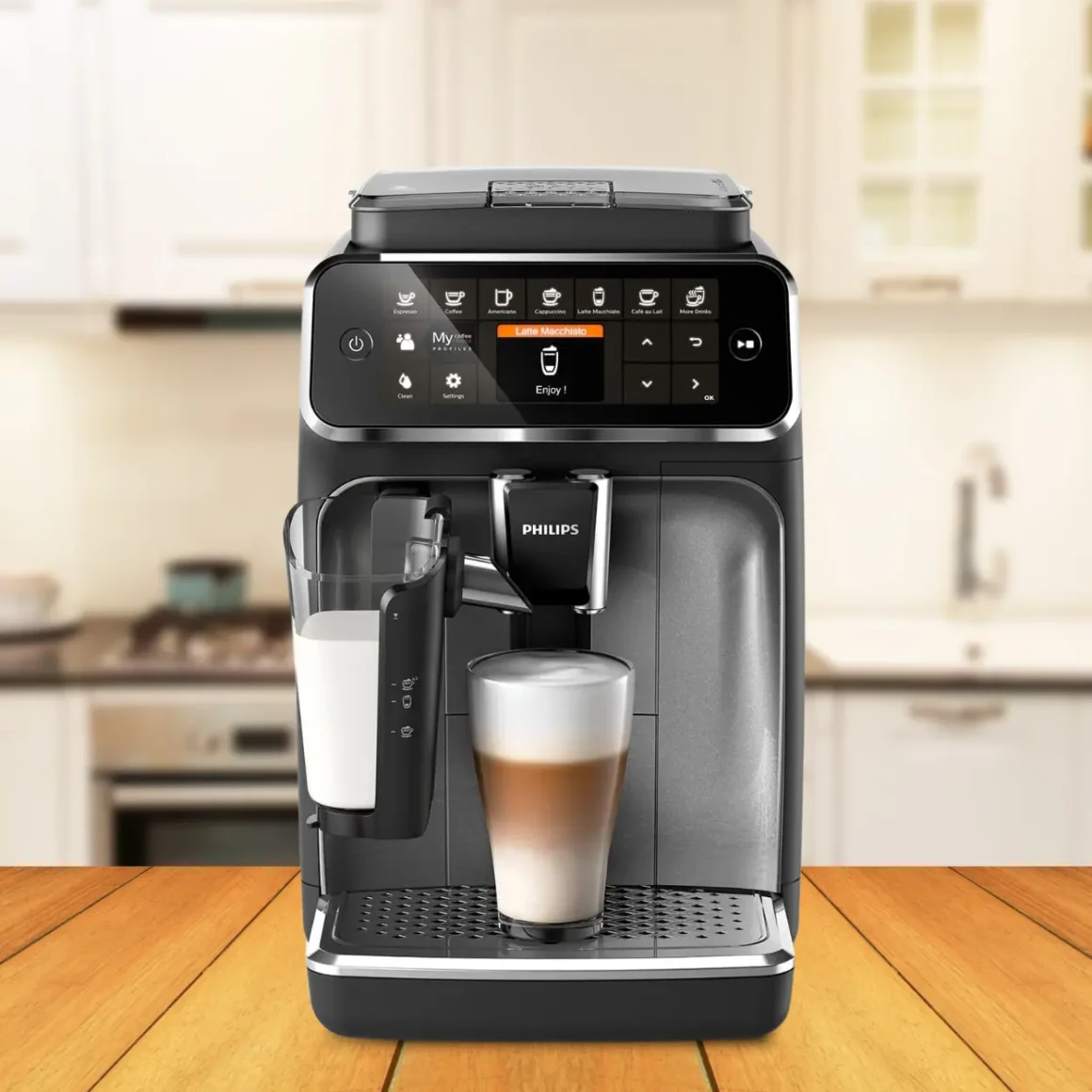 Sale
Navigating between the luxury of Gaggia's Cadorna Prestige and the efficiency of the Philips 4300 Series can be a challenge for coffee aficionados. This section will draw a side-by-side comparison of these two titans, focusing on their performance, build quality, and user experience to help you discern which machine aligns best with your espresso desires.
Gaggia Cadorna Prestige:
Price: $949 (On sale from $1,299.99)
Origin: Designed and Made in Italy
Beverage Variety: 14 options including ristretto, espresso, café au lait, and more.
User Profiles: 4 custom profiles to store beverage preferences.
Grinders: 100% ceramic adjustable grinders with 10 settings.
Maintenance: Removable brew group for thorough cleaning; Intenza+ water filter compatibility for enhanced purification.
Philips 4300 Series:
Price: $999.00
Origin: Designed in Italy; Made in Romania
Beverage Variety: 8 coffee varieties including black coffee.
User Profiles: 2 profiles with an additional guest profile.
Grinders: Ceramic grinders built for at least 20,000 cups with 12-step grinder levels.
Maintenance: Descaling-free for up to 5,000 cups due to the AquaClean filter.
Key Takeaway: While the Philips 4300 Series emphasizes easy cleaning and an intuitive touch display, the Gaggia Cadorna Prestige offers more beverage variety and user customization at a comparable price.
Gaggia Cadorna Prestige vs. De'Longhi Dinamica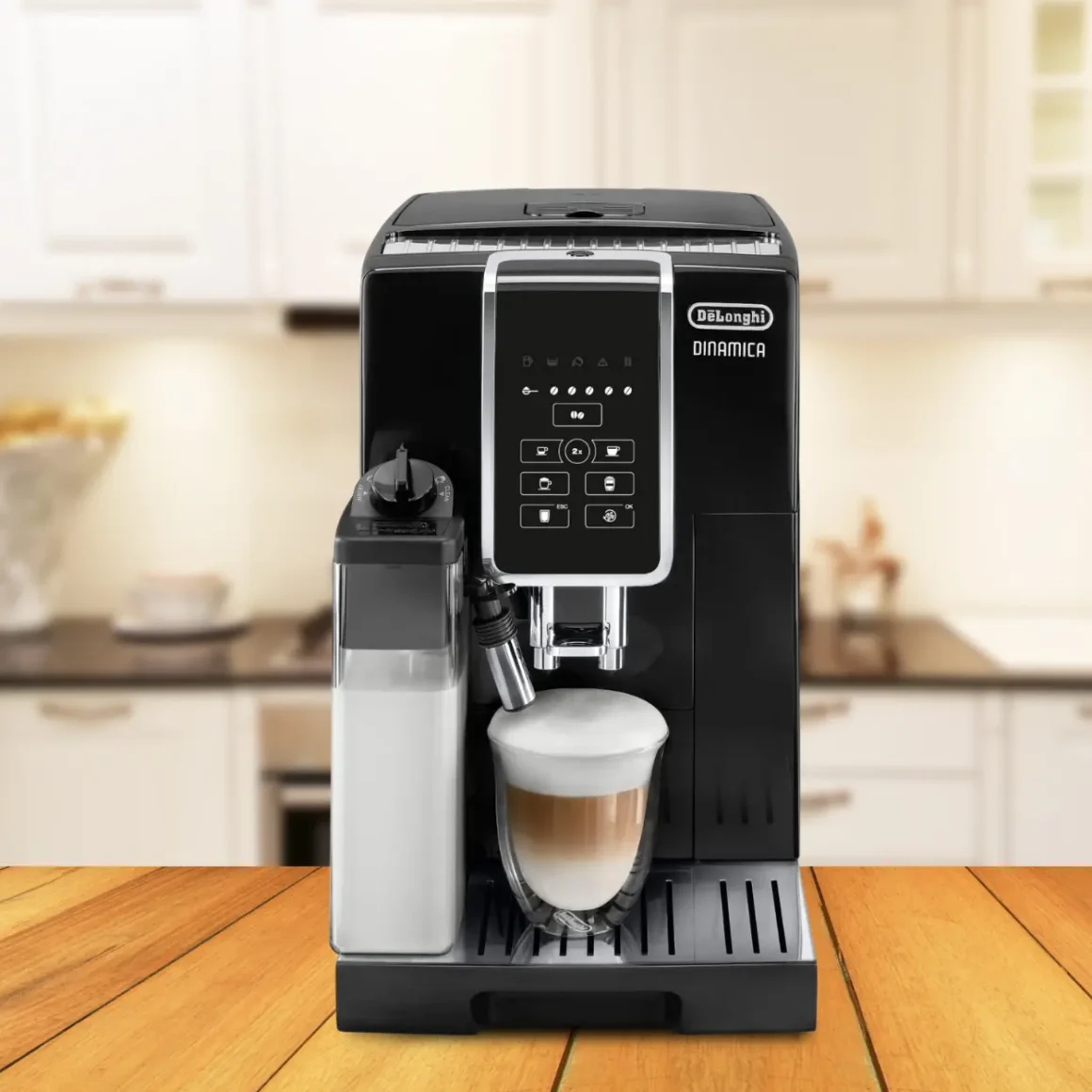 Two behemoths in the world of espresso, Gaggia's Cadorna Prestige and De'Longhi's Dinamica, both promise an unmatched coffee experience. But which one truly stands out in terms of consistency, customization, and convenience? In this section, we will juxtapose these machines, highlighting their strengths and areas of improvement to give you a clearer perspective.
Gaggia Cadorna Prestige:
Price: $949 (On sale from $1,299.99)
Material & Build: Black ABS bodywork with a frontal stainless steel drip tray.
Beverage Feature: A wide range of 14 beverages with an adjustable coffee spout.
Grinding & Brewing: OptiAroma feature for aroma intensity adjustments and a pre-brewing system.
Maintenance: Automatic milk circuit cleaning and descaling cycles.
De'Longhi Dinamica:
Price: $682.00
Material & Build: Plastic with a stainless steel finish.
Beverage Feature: Unique iced coffee recipe to produce smooth coffee over ice without dilution.
Grinding & Brewing: Built-in steel burr grinder with 13 settings; no grounds left in the brew unit.
Maintenance: Removable brew unit and dishwasher-safe drip tray for easy cleaning.
Key Takeaway: Gaggia Cadorna Prestige focuses on Italian excellence with a rich beverage variety, while De'Longhi Dinamica stands out with its unique iced coffee feature at a lower price point.
Market Overview: Value Propositions
In today's competitive espresso machine market, the value proposition of a product can set it apart from the rest. This segment delves into the core offerings of leading machines in the industry, examining how they cater to diverse user needs and preferences. By understanding the value each machine brings, consumers can make more informed purchasing decisions.
Philips 4300 Series: Offers an easy-to-use experience with an intuitive touch display, a wide range of beverage selections, and effortless maintenance. Its LatteGo milk system ensures luxurious milk froth with swift cleaning.
De'Longhi Dinamica: Prides itself on being the first automatic coffee machine with an iced coffee feature. Its quick heat-up time and revolutionary grinder guarantee fresh brews with each use. Additionally, it offers ease of cleaning and customization options for beverage strength and size.
Gaggia Cadorna Prestige: Embodies 100% Italian excellence, with a robust range of 14 beverages. The machine focuses on user customization with four distinct profiles, and its brewing system ensures the finest in-cup results with features like the OptiAroma and pre-brewing.
Key Takeaway: Each espresso machine brings its unique value to the table, catering to various user needs and preferences, from those who prioritize customizability, to those who seek ease of use, to aficionados who want the best in-cup results.
Tips & Tricks for Optimal Performance
In a market teeming with choices, getting the most out of your fully automatic espresso machine requires a combination of careful maintenance, understanding the nuances of bean selection, and keeping the machine clean. For those who've taken the time to read our Gaggia Cadorna Prestige review, you'll understand the importance of optimizing this elite machine for the best espresso outcomes. Below, we present some pivotal advice to help you do just that.
Enhancing the Lifespan of Cadorna Prestige
The longevity of your espresso machine is intertwined with the diligence you exercise in its care. Here's how you can maximize the lifespan of the Gaggia Cadorna Prestige:
Routine Checks: Regularly inspect the machine for any signs of wear, damage, or potential issues. Addressing them early can save costly repairs in the future.
Avoid Overfilling: Respect the water tank's capacity. Overfilling can lead to spillage or damage to the internal components.
Use Filtered Water: Minimize the use of hard water, which can lead to mineral build-up, affecting both taste and machine efficiency. (2)
Regular Updates: Manufacturers periodically release software updates. Ensure your machine's firmware is always up-to-date for improved functionality.
Choosing the Perfect Espresso Beans:
Your espresso's flavor and aroma heavily depend on the beans you choose and their consistency. Here's a guide to help you make the best choices:
Bean Selection: After thorough research, many agree that some of the best espresso beans come from regions like Ethiopia, Colombia, and Brazil. They offer a balanced flavor profile that pairs well with the Gaggia Cadorna Prestige's brewing capabilities.
Freshness Matters: To achieve the best results, it's essential to purchase fresh beans and grind them just before brewing. This practice guarantees optimal flavor extraction while also releasing a captivating burst of aromatics. It enhances the anticipation and elevates the overall sensory delight of your coffee experience.
To sum up, the path to a remarkable espresso starts with selecting the right beans and ensuring their freshness. By exploring beans from regions like Ethiopia, Colombia, and Brazil and prioritizing freshness through proper storage and grinding, you can unlock the full potential of your Gaggia Cadorna Prestige and savor every sip of your rich and flavorful brew.
The Brand Behind the Machine
Giovanni Achille Gaggia, the visionary founder of the company bearing his name, made history in the world of coffee with his groundbreaking inventions and contributions to the espresso industry. Here, we delve into the rich history of Gaggia and how it set the standard for espresso machines.
History of Gaggia: Setting the Espresso Standard
Gaggia's journey through time is a testament to its pioneering spirit and commitment to shaping the espresso culture.
Pioneering Steamless Coffee Machine: In 1938, Gaggia submitted a patent application that marked a pivotal moment in the history of coffee. He introduced the first steamless coffee machine, designed for commercial use in his coffee bar. This innovative machine harnessed high-pressure water flow to extract the unique 'crema' that characterizes espresso. (3)
Establishment of Gaggia Company: The Gaggia company officially came into existence in 1947 and was formally incorporated in 1948. Initially, its focus was on manufacturing espresso machines for commercial purposes, catering to the demands of coffee businesses.
Entry into Home Coffee Machines: The brand achieved a significant milestone when one of its machines was installed at the Motta & Biffi bar in Milan's Galleria Vittorio Emanuele. The resulting customer queue showcased the machine's success. While Gaggia's coffee machines were initially designed exclusively for professional use, a shift occurred in 1977 when the company expanded its production to include coffee machines for domestic use.
A Return to Heritage: Navigating Turbulent waters
Gaggia's resilience and commitment to its Italian manufacturing heritage shone through during challenging times.
Challenges and Transformation: In 2007, Gaggia encountered a sales decline that raised concerns. Two years later, the company followed in the footsteps of its parent company Saeco, which was acquired by the Dutch multinational Philips.
Continued Italian Manufacturing: As of 2010, all Gaggia espresso and coffee machines continued to be proudly manufactured in Milan at the Robecco Sul Naviglio factory.
Evolution through Ownership: Gaggia's Journey with Saeco, Philips, and Beyond
Gaggia's story is one of adaptation and innovation, as it navigated changes in ownership and industry dynamics while preserving its legacy of crafting exceptional coffee machines.
Integration with Saeco and Philips: In 1999, Gaggia S.p.A. was acquired by its Italian competitor, Saeco International Group, which, in turn, was purchased by the Dutch manufacturer Philips in 2009. While Gaggia maintains its identity as a separate entity, it incorporates Saeco designs into some of its domestic espresso machines.
Change in Ownership: In 2017, Philips sold the Saeco Professional division. However, The domestic coffee machine division remained within the Philips group, ensuring that Gaggia's legacy endures.
Overall, Gaggia's remarkable journey through history, challenges, and ownership transitions underscores its enduring commitment to crafting exceptional espresso machines and its enduring legacy in the world of coffee.
Gaggia Cadorna Prestige: Pros and Cons
The Gaggia Cadorna Prestige is a super-automatic espresso machine that promises a high-end coffee experience. A brainchild of Italian craftsmanship, it embodies the legacy of Gaggia while incorporating contemporary advancements in the world of coffee-making. As with all products, it comes with its strengths and areas that could be improved. Here's a deeper dive into its pros and cons:
Pros:
Beverage Options & Quality: With its array of 14 pre-set beverages, it covers the gamut from a punchy ristretto to a creamy café au lait. Its pre-brewing process accentuates the depth of flavors, and the adjustable ceramic grinders promise the freshest brew.
User-Friendly Interface: The Cadorna Prestige's full-color TFT display coupled with backlit buttons ensures easy navigation. Its revamped UI offers a holistic view of settings, and the inclusion of four user profiles is a boon for households with multiple coffee lovers.
Integrated Milk Carafe: This feature ensures that you get the perfect milk froth for your lattes and cappuccinos. Plus, its auto-rinse functionality guarantees hygiene and its design accommodates easy storage and cleaning.
Aesthetic and Build: Representing the best of Italian design, its sleek appearance would enhance any kitchen countertop. The use of premium materials ensures durability without compromising on aesthetics.
Cons:
Maintenance Needs: While it does have automatic rinsing and descaling features, the Cadorna Prestige requires regular attention and cleaning of detachable parts to ensure optimal performance. This might not be ideal for users looking for a low-maintenance machine.
Size of Water Tank and Drip Tray: A few users have pointed out that the water tank could be larger, and the drip tray might benefit from a design that's deeper or easier to handle without spilling.
Price Point: Though it offers an array of features and ensures a high-quality brew, its premium price might deter some potential buyers.
The Gaggia Cadorna Prestige is undoubtedly a gem in the realm of super-automatic espresso machines. However, like any other product, it comes with its unique set of strengths and challenges. Prospective buyers would need to weigh these factors based on their individual needs and preferences.
Sale
How We Rate and Review The Gaggia Cadorna Prestige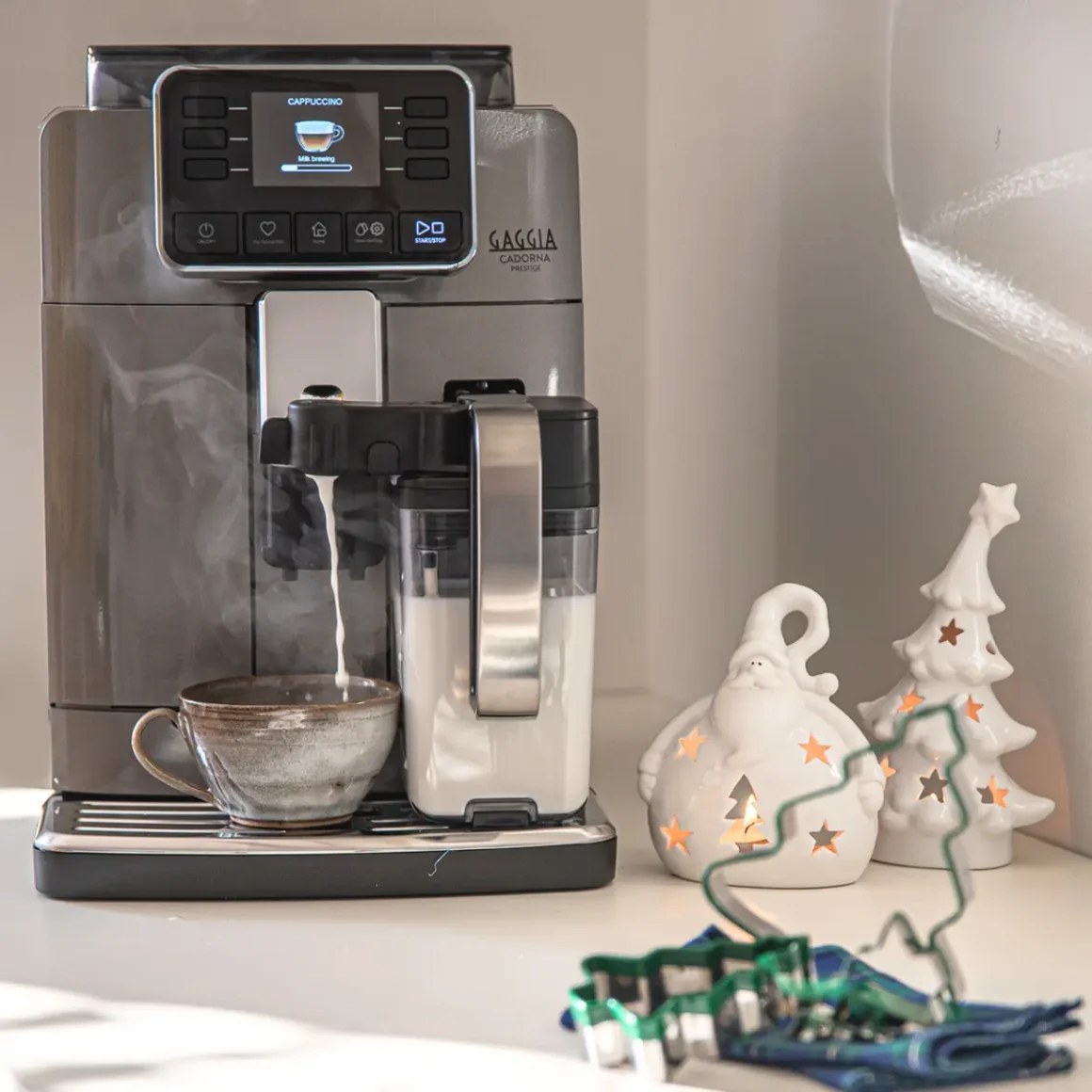 Design and Build Quality: 3/5
Taking inspiration from the streets of Italy, the Gaggia Cadorna Prestige showcases exquisite craftsmanship. Though it bears a striking presence with its elegant aesthetics, users may find functional design issues. The hopper and water tank capacity may not be satisfactory for everyone, hinting that the design may prioritize form over some functional elements.
Beverage Options & Quality: 4/5
The Cadorna Prestige boasts a delightful range of pre-set beverages, ensuring a cup for every preference. It consistently produces excellent espresso with a tantalizing crema and a cappuccino that can compete with the finest from Rome. However, potential inconsistencies after extended usage, like water ending up in the drip tray, slightly mar the overall beverage experience.
User Interface & Customization: 4/5
While it flaunts a full-color TFT display ensuring seamless navigation, users might face occasional hiccups with brew cycle interruptions. The machine's design to forget its progress after refilling can be a slight inconvenience. Nonetheless, the vast customization options and multiple user profiles keep it user-centric.
Milk Frothing System: 3/5
Its integrated milk carafe is generally impressive, but it's worth noting that it may not meet the standards of non-dairy milk enthusiasts, particularly with soy milk. Potential obstructions, despite regular rinsing, can also detract from its overall reliability.
Maintenance & Cleanliness: 3/5
Maintenance demands could be likened to caring for a luxury car: frequent and meticulous. Even with features like removable brew groups and auto-rinsing, the machine may show performance issues within months if not given "ever-loving attention." The drip tray design, which often receives the rinse after servings, can be a minor annoyance for some users.
Price & Value: 4/5
Given its discounted price and the range of features on offer, the Gaggia Cadorna Prestige undeniably offers considerable value. While it promises a sublime coffee experience, potential buyers might weigh the maintenance concerns against the initial investment.
Beverage Options & Quality
User Interface & Customization
Maintenance & Cleanliness
Conclusion – Guru's Score Verdict: 3.5/5
In conclusion, the Gaggia Cadorna Prestige certainly showcases the elegance and expertise of Italian coffee craftsmanship. Its expansive features and exceptional coffee quality offer a tantalizing glimpse into the premium segment of super-automatic espresso machines. However, while it has many strengths, the dedicated maintenance it requires, paired with some design considerations, could be a deterrent for casual users. The team at The Coffee Guru gives it an overall rating of 3.5/5. Ultimately, the Cadorna Prestige might be the ideal fit for coffee enthusiasts ready to invest not just money, but also time in maintaining their machine to perfection.
FAQ