Coffee has long held a cherished spot in our lives, waking our senses each morning and punctuating our daily routines with its rich and invigorating aroma. But imagine transforming this daily delight into a lingering ambiance for your home. Enter the world of coffee candles. Bridging the aromatic notes of your favorite brew with the gentle flicker of candlelight, these creations offer more than just illumination; they stir memories, create moods, and envelop spaces with warmth. Whether you're seeking the best coffee-scented candles on the market or just exploring the allure of the coffee candle phenomenon, this article is set to guide you through the sensory journey of brewing aromatic ambiance in your very own sanctuary.
Coffee Candles: Key Takeaway
Deep Historical Roots: Coffee candles are not just a modern trend; they're an evolution of the long-standing tradition of candle-making, enhanced by the universally cherished aroma of coffee.
Therapeutic and Ambient: Beyond their delightful scent, coffee candles offer aromatherapeutic qualities, setting a calming ambiance and serving as a perfect mood enhancer for any setting.
DIY Potential: Crafting DIY coffee-scented candles can be a rewarding experience, allowing for personalization in scent strength and design, making each creation unique and tailored to individual preferences.
Care and Maintenance: To maximize the lifespan and scent throw of your coffee candle, it's essential to follow safe burning practices, store them correctly, and understand how to best care for them.
Brand Varieties: From trusted names like Yankee Candle's coffee scent to boutique artisans, there's a vast range of coffee candles available in the market, ensuring there's an option for every preference and occasion.
Best Coffee Scented Candles
Embark on a sensorial journey that fuses the indulgence of coffee with the allure of ambient lighting. When seeking the best coffee-scented candles, a connoisseur will discern nuances in fragrance notes, quality of wax, burn time, and the aesthetic appeal of the candle. In this review, we will delve deep into some of the finest brands that have mastered the art of the coffee candle: Blue Bottle, 96NORTH, Lamarion's Bazaar, Sense Island, Yankee Candle, Crossroads, Village Candle, and Make Life Exclusive.
Blue Bottle x Cavern New York Origin Coffee Candle
Venturing into the world of candles, the collaboration between Blue Bottle Coffee and Cavern New York has birthed a masterpiece that truly captures the heart and soul of the coffee universe. As a seasoned coffee aficionado, I can attest to the authenticity of this fragrance, which pays a remarkable tribute to the intricate journey of the coffee bean. The scent encapsulates the romance of a morning stroll through a lush coffee plantation, with each note whispering tales of coffee blossoms, dew-kissed foliage, and the invigorating freshness of moss. It isn't merely a candle; it's an olfactory expedition that transports you to the breathtaking highlands of Guatemala or the majestic Colombian mountains. When one pairs this blue bottle candle with their morning cup, the experience is nothing short of transcendental, intertwining the pleasure of taste with the allure of aroma.
Candle Highlights:
A result of a thoughtful collaboration between Blue Bottle and Brooklyn-based fragrance atelier, Cavern New York
Crafted by Derek Heydle, the mastermind behind Cavern New York, with a personal connection to the world of coffee
Evokes the pristine beauty of coffee plantations at dawn with hints of coffee blossoms, leaves, and moss
Impeccably designed, this votive seamlessly integrates with any setting, enhancing its ambiance
Encourages a holistic sensory experience when paired with a morning coffee, resonating with the entirety of one's perception.
96NORTH Luxury Roasted Coffee Soy Candle
Imagine an early morning where you're greeted by the rich aroma of a freshly roasted espresso, delicately intertwined with traces of toasted cacao. The 96NORTH Luxury Roasted Coffee Soy Candle is reminiscent of such an experience, offering more than just a scent; it's a narrative of luxury and indulgence. Crafted for the true coffee enthusiast, it serves as an impeccable wake-up call that transcends the ordinary.
Candle Highlights:
Elegantly presented in a gold foil-adorned gift box
Crafted with 100% natural soy wax and superior cotton wicks
Generous burn time of up to 50 hours
Features a tri-wick design for a powerful, enduring aroma
The chic monochromatic style makes it an exquisite piece of decor
Lamarion's Bazaar Fresh Coffee Candle
For those who find solace in the comforting embrace of a freshly brewed cup, Lamarion's Bazaar Fresh Coffee Candle embodies this very sentiment. Its aroma is authentic, a genuine reflection of what a morning brew should feel like. It's not just a coffee-smelling candle; it's a heartfelt tribute to every coffee bean that's been meticulously roasted to perfection.
Candle Highlights:
Authentic aroma achieved through genuine coffee bean fragrance
Crafted with 100% pure soy wax ensuring a clean burn
Remarkable burn time of 60-80 hours
Safely housed in a glass jar with a scent-preserving lid
Comes in rustic brown Kraft packaging, emphasizing its earthy allure
Sense Island Coffee Scented Candle (Caramel Frappuccino)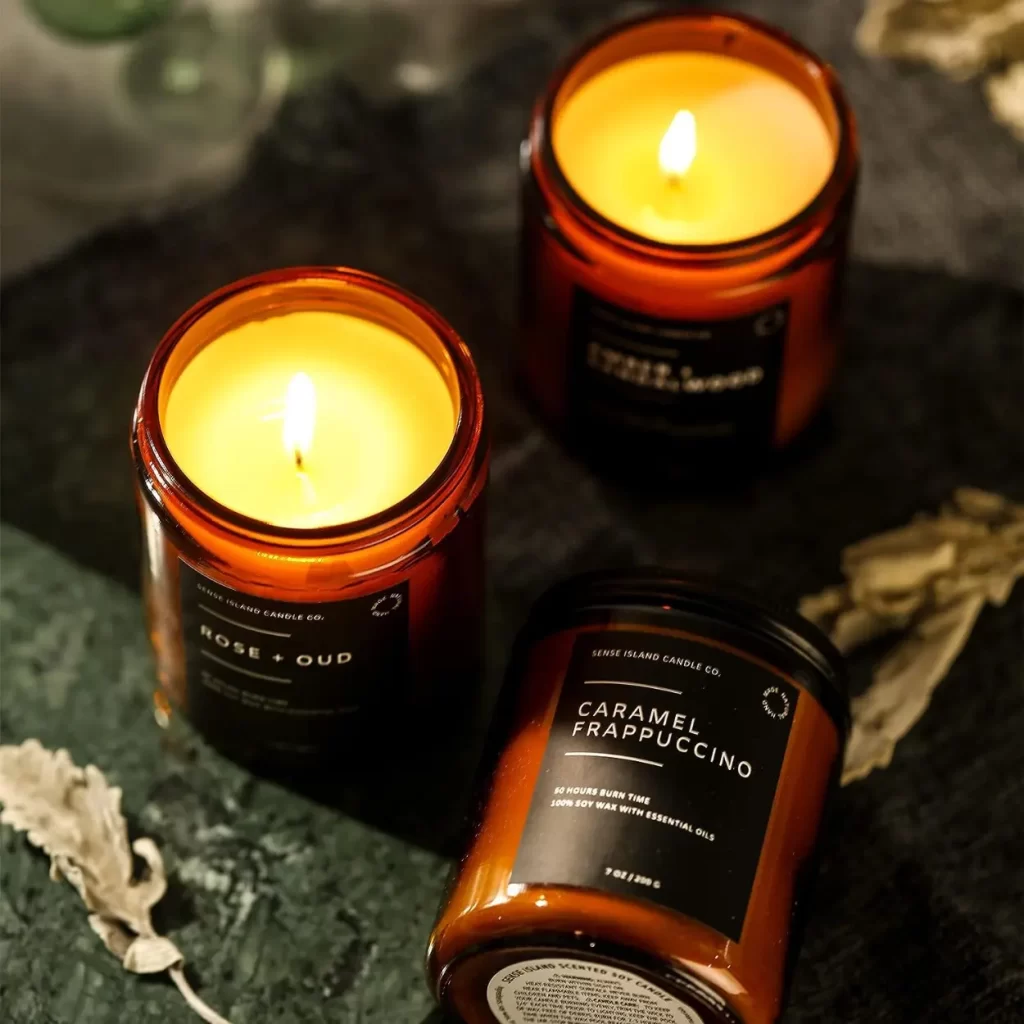 Sense Island's rendition of the coffee bean candle stands out, not just for its quality but for its unique aroma profile. Drawing inspiration from the popular Caramel Frappuccino, this candle blends the richness of coffee with the sweetness of caramel. It's a celebration of those delightful moments when we indulge in our favorite beverages, making it a must-have for those who appreciate the finer nuances of a well-crafted coffee candle.
Candle Highlights:
Perfumed with an 8% concentration of premium fragrance oil
Crafted from a blend of natural soy wax
Housed in an elegant amber glass container, accentuated by a black label
Provides a burn time of up to 45 hours
Perfect for all seasons, reflecting its versatile aroma profile
Yankee Candle Café al Fresco Coffee Scented Candle
As you light the Yankee Candle's Café al Fresco, a feeling akin to being seated in a bustling outdoor café embraces you. The scent is a delicate amalgamation of cinnamon, coffee, and a dulcet hint of caramel. It's not just about invoking the sensations of coffee, but of a larger narrative, where coffee, ambiance, and memories fuse. The candle, with its extensive burn time and robust aroma, seamlessly intertwines the sophistication of premium paraffin wax with the conscientious approach of eco-friendliness, ensuring that your passion for sustainability is as prioritized as your coffee expertise.
Candle Highlights:
Captures the ambiance of an outdoor café
Impressive burn time of 110 to 150 hours
Crafted with top-tier paraffin-grade wax for a clear, steady burn
Generously sized at 22-ounce with dimensions of 6.6 inches in height and 4 inches in diameter
Commitment to sustainability with 100% recyclable partnership with TerraCycle
Crossroads Roasted Espresso Coffee Scented Candle
The Crossroads Roasted Espresso candle is for those who crave a robust and authentic coffee aroma. Envision this: an artful blend of freshly brewed espresso, accentuated with subtle notes of coconut, chocolate, and a touch of vanilla. It's more than just a candle; it's an ode to the age-old tradition of coffee roasting. With an exemplary burn time and two lead-free wicks, this candle serves as an authentic tribute to coffee in all its glory.
Candle Highlights:
Generous 26-ounce container promising a grand olfactory experience
Superior blend of paraffin ensuring a consistent aroma release
Estimated burn time of 120 to 140 hours
Exceptional quality with top-notch fragrance blend
Presents a sensory journey of espresso, coconut, chocolate, and vanilla
Village Candle Coffee Bean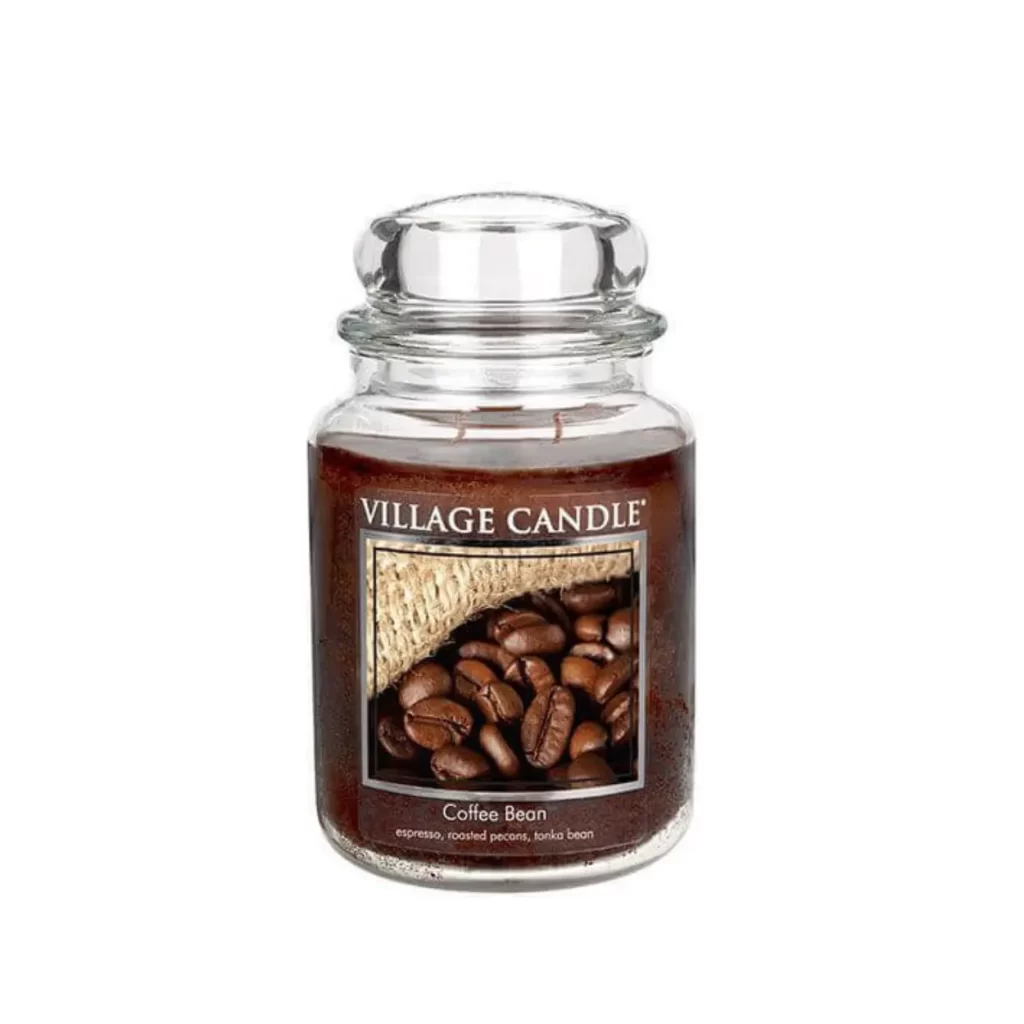 The Village Candle's Coffee Bean is nothing short of an elixir for the senses. Encased within the deep brown hue lies a symphony of scents, masterfully blending espresso's intensity with the warmth of roasted pecans and the sweetness of tonka beans. The dual wick technology, a game-changer in the candle world, promises an unparalleled fragrance immersion. It's not just about lighting a candle; it's about kindling memories, ones that bring forth the comfort of a steaming coffee cup on a cold morning. Every time you light this candle, you're not just engaging in an act, but rather partaking in a tradition that has been refined and perfected over the years.
Candle Highlights:
A rich blend of espresso, roasted pecans, and tonka beans
Crafted using premium food-grade paraffin wax
Features innovative dual wick technology for cleaner and more efficient burn
Promises a lasting burn time of up to 170 hours
Proudly American-made by skilled candlemakers in Wells, Maine
Make Life Exclusive Fresh Coffee Candle for Men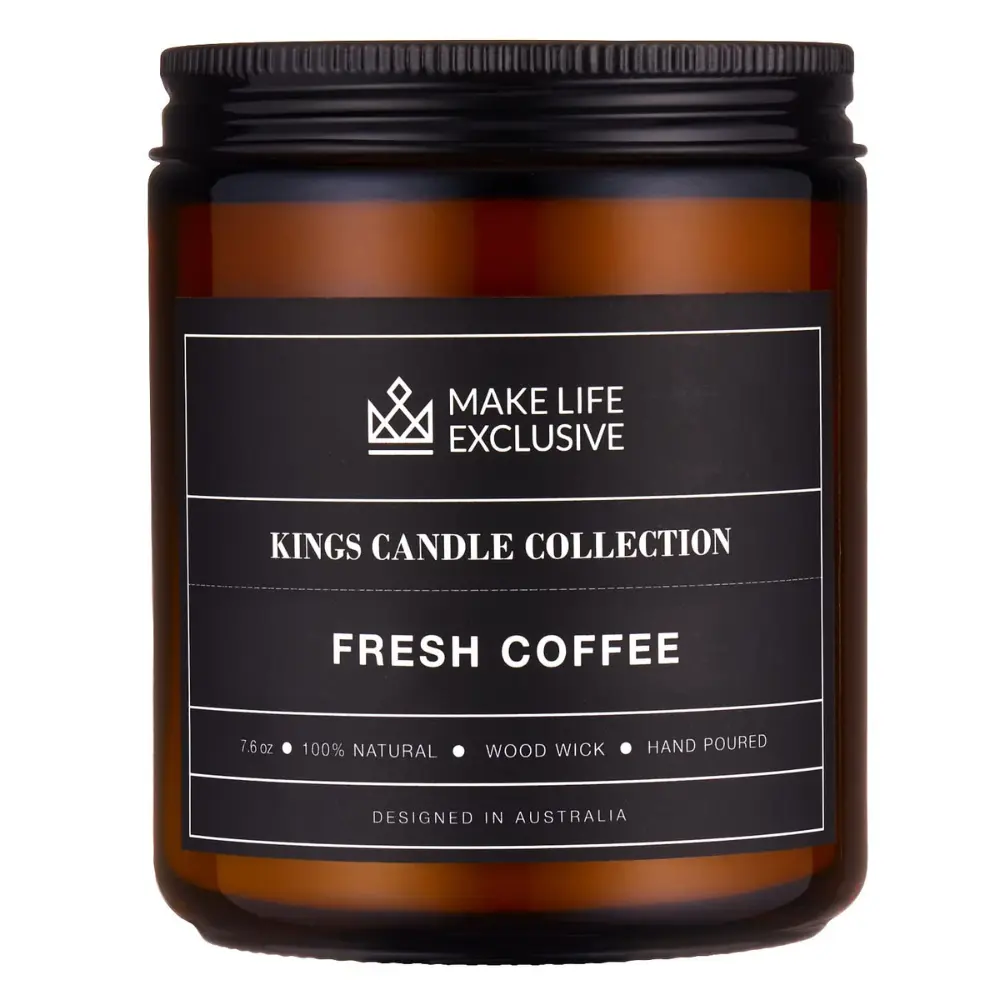 The 'Make Life Exclusive Fresh Coffee Candle for Men' is an ode to the quintessential man who appreciates the finer things in life. As a coffee connoisseur, I find that this candle evokes the spirit of fresh mornings, where the aroma of freshly brewed espresso envelops the senses and stirs the soul. What sets this candle apart is its masculine undertone, rendering it the ideal accent for a sophisticated man's abode. It seamlessly integrates with your décor, offering not just an aromatic experience but also an aesthetic upgrade to your living space. This isn't just a candle; it's a statement piece that tells tales of elegance, taste and an undying love for coffee.
Candle Highlights:
Infused with premium essential oils, capturing the essence of freshly brewed coffee
100% natural soy formula ensures a clean and long-lasting burn (45 Hours)
Tailored for the modern gentleman with a 7.6oz capacity
Designed for gifting, symbolizing appreciation and everlasting memories
Comes with the Make Life Exclusive Assurance, which includes a 1-year money-back guarantee
Coffee and Whiskey Candle by White Barn
The Coffee and Whiskey Candle by White Barn is an intoxicating blend that intrigues the senses and beckons for a closer encounter. As someone deeply attuned to the world of coffee, I can vouch for the authenticity of this candle. It isn't just about the coffee, but the fusion with Irish whiskey that transforms it into an elixir of comfort and luxury. Each flicker brings forth memories of cozy evenings, where the velvety notes of Irish whiskey blend harmoniously with a touch of vanilla and the seductive allure of coffee. It's not just one of the best coffee candles; it's an exploration into the harmonious dance of two world-renowned beverages.
Candle Highlights:
Captivating scent profile combining robust Irish whiskey with vanilla and coffee nuances
Crafted from a premium soy blend wax ensuring a consistent aroma
Burn time of approximately 45 hours
Elegant dimensions of 5″W x 5″H with a weight of 0.91 Pounds
A stellar choice for those who appreciate the fusion of coffee and whiskey in a candle.
The History and Evolution of Candles
Delving into the enchanting universe of coffee-scent candles, one must navigate their lineage against the rich tapestry of candle-making's expansive history. From rudimentary rushlights to the sophisticated coffee-smelling candle that graces modern homes, the transformation has been both intriguing and captivating.
The Origins of Candles
The storied past of candles spans over 5,000 years, often presenting an enigma veiled in the annals of time:
Ancient Egyptians are often credited for introducing the world to candle-like illuminations, known as rushlights. These were essentially reeds soaked in animal fat but were devoid of the signature wick we associate with candles today.
The advent of wicked candles occurred around 3,000 B.C., with notable developments in Ancient Rome. Here, papyrus was immersed in tallow or beeswax to create candles. These not only adorned homes but also served as guides for nighttime travelers and became integral to various sacred ceremonies. (1)
As civilizations evolved, they crafted candles suited to their surroundings. This led to the utilization of waxes from plants, insects, and even extracts from fruits.
However, the candle's true aromatic potential was not fully realized until the mood-centric era of the late 20th century, especially the 1990s. It was then that the aromatic charm of scented candles, especially the coffee-scented variants, began to sweep across households.
Evolution of Candles as Scented Decorative Objects: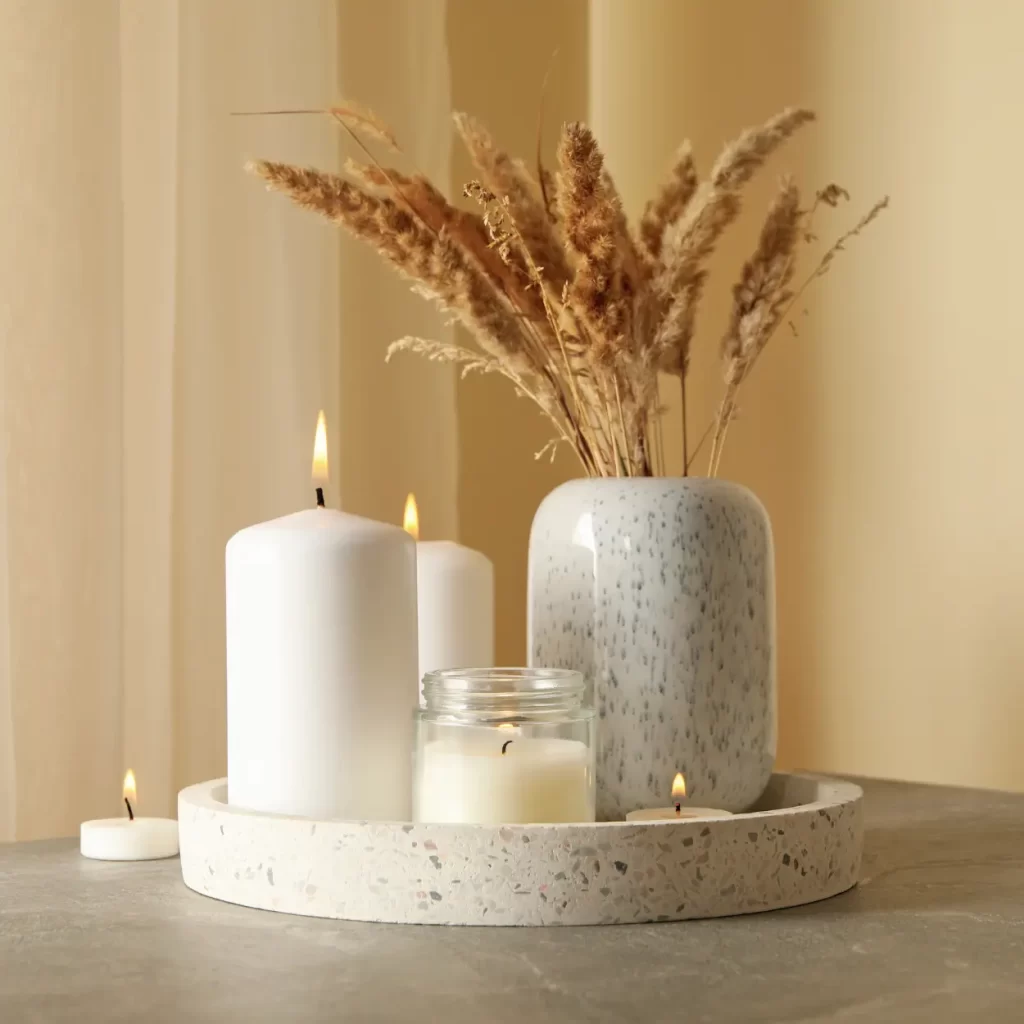 This exploration delves into the fascinating narrative of how candles, infused with delightful aromas, have woven their fragrant magic across the annals of history, leaving an indelible mark on our sensory experiences.
Evolution Across Eras
Candles have held their significance across millennia for diverse reasons, ranging from illuminating spaces to participating in religious ceremonies. Nonetheless, scented candles boast a more concise historical timeline. The inception of scented candles emerged from the aspiration to infuse living spaces with delightful aromas, harnessing the inherent soothing and gratifying influences they possess.
Ancient Origins and Aromatic Infusions
As previously discussed, the roots of scented candles can be retraced to antiquated civilizations like Egypt, where candles found utility in both spiritual and pragmatic contexts. The Egyptians, renowned for their affinity for aromatic elements, crafted candles from beeswax, exuding a delightful essence reminiscent of honey. These dual-purpose candles served as sources of light and envoys of fragrance within residences and sanctuaries.
From Practicality to Sensory Delight: Unveiling the Journey
Advancing into the Middle Ages, candles continued to serve predominantly functional roles like illumination and warmth. However, the utilization of scented candles progressively extended to concealing unpleasant odors that pervaded homes and communal areas. This era witnessed the widespread adoption of scented candles, particularly in Europe, notably France. Here, artisans concocted candles infused with fragrances like lavender, rose, and vanilla.
Aristocratic Allure to Mass Appeal
The Renaissance era witnessed the permeation of scented candles among the elite strata of society. The favor garnered by scented candles persisted through the 17th and 18th centuries, gaining substantial traction in England and France, where they adorned both domestic abodes and grand palaces.
Democratizing Fragrance: Paraffin Wax's Influence
The 19th century ushered in the invention of paraffin wax, democratizing candle ownership by rendering them more affordable and accessible to the general populace. This revolution catalyzed the surge in popularity for scented candles, particularly evident in the United States, where they dually served the functions of illumination and olfactory enhancement.
A Tapestry of Fragrant Heritage
In summation, the history of scented candles stretches across extensive and diverse chapters, interwoven with numerous cultures and individuals who contributed to their evolution. From the ancient annals of Egypt to the opulent tapestries of Renaissance France, culminating in the landscapes of the United States, scented candles have indelibly enriched our living spaces with their fragrant allure and ambient resonance.
How The Coffee Fragrance Found Its Way into Candles
With the transition of candles from merely functional objects to decorative and aromatic entities, the late 20th century, as discussed above, observed a boom in scented candles:
The coffee-smelling candle, in particular, resonated deeply with the masses.
Industry frontrunners were quick to recognize and harness the enchanting draw of coffee's comforting and invigorating aroma.
Innovations ensued, with pioneers infusing their candles with coffee-centric notes. This made them an irresistible home accessory, with the allure being so compelling that a single flicker had the power to mentally transport an individual to a cozy coffee corner, rife with warmth, relaxation, and a touch of nostalgia.
The Intersection of Coffee Culture and Aromatherapy
The global obsession with coffee is both legendary and timeless:
This beverage, with its rich aroma and distinct flavor, has been an irreplaceable part of morning routines, social meetups, and moments of reflection.
Concurrently, aromatherapy began to make waves, championing the therapeutic merits of scent to evoke emotions, memories, and a sense of tranquility.
This confluence gave rise to coffee scent candles, a delightful fusion that not only encapsulated the essence of a fresh coffee brew but also promised a comprehensive sensory engagement.
For aficionados, igniting a coffee-scented candle became more than a mere act. It transformed into a ritual—an open invitation to pause, reminisce, and relish the present.
The Production Process of Coffee Candles
Embarking on the fascinating journey of crafting a coffee scent candle is akin to brewing the perfect cup of coffee—it requires precision, passion, and an unwavering commitment to quality. The meticulous process of transforming raw materials into a candle that encapsulates the invigorating aroma of fresh coffee involves several critical steps, from selecting the right coffee beans to ensuring the highest manufacturing standards.
Choosing the Right Coffee Beans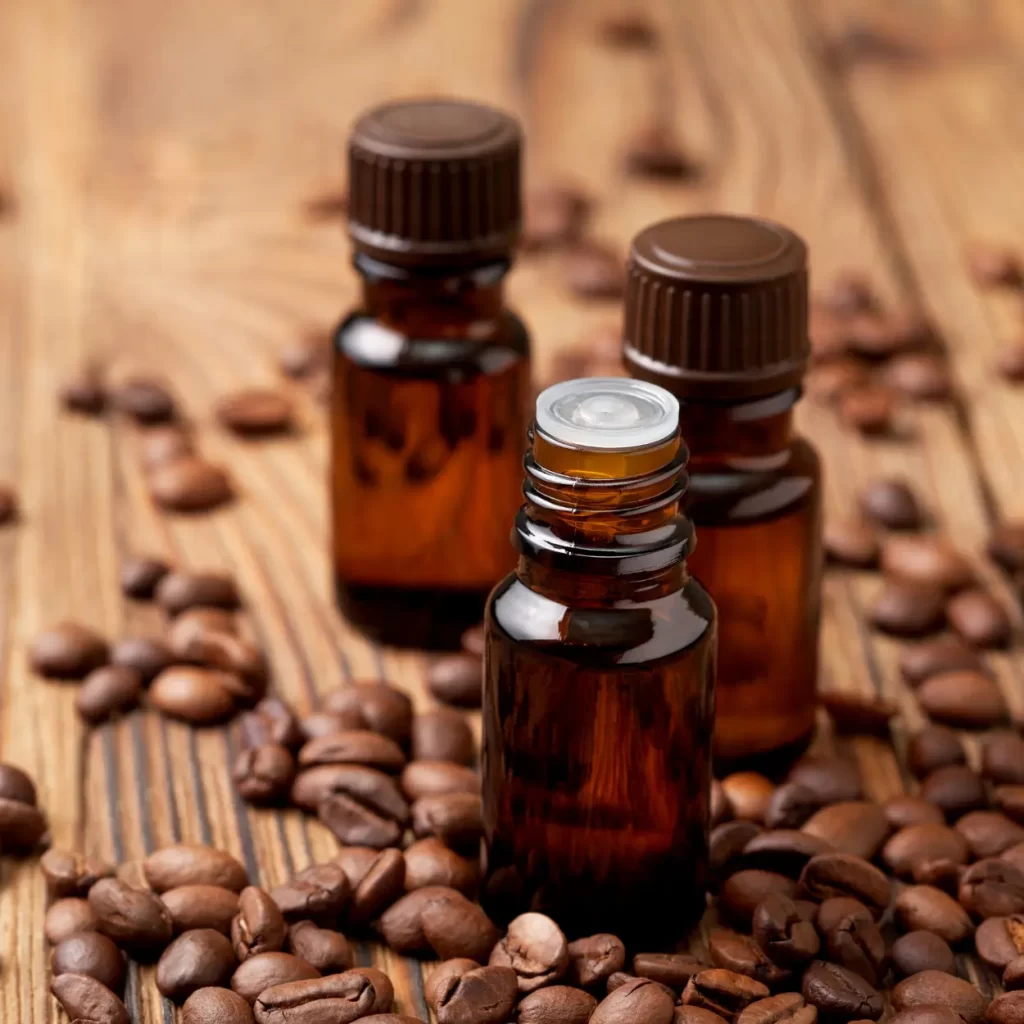 The genesis of a transcendent coffee scent candle starts with the bean:
Origin Matters: Like fine wine, coffee beans have terroirs. This means the region where the beans are cultivated profoundly impacts their flavor profile. For candles, it's the aromatic essence that's vital. Beans from Latin American countries might impart bright, fruity notes, while those from African nations could offer floral or berry undertones.
Roast Level: The depth of the roast can dramatically influence the aroma. Light roasts often exude a more acidic, nuanced scent, while dark roasts bring forth robust, caramelized aromatics. The chosen roast level should align with the desired end note of the candle.
Freshness Factor: Just as stale coffee disappoints the palate, outdated beans can lack the vibrancy required for a compelling candle fragrance. It's essential to use beans that have been roasted recently to capture their aroma in its prime.
The Blend: Merging Coffee and Wax
Once the beans are chosen, the symphony of blending begins:
Extraction Process: The first step involves extracting the coffee's aromatic oils. This is achieved by grinding the beans and then using solvents or cold-press techniques to draw out the essence.
Wax Selection: The choice of wax plays a pivotal role in how the coffee aroma diffuses when the candle burns. Soy and paraffin are popular choices, but each has distinct burning properties and scent throw capabilities.
Melding Together: The coffee extract is then carefully amalgamated with the melted wax. This process requires a keen understanding of temperatures and ratios to ensure the coffee's essence is neither overpowered nor lost.
Quality Control and Assurance in Manufacturing
Creating a product that's consistent in quality demands rigorous oversight:
Batch Testing: Every production batch undergoes stringent tests. This can involve burning the candle under controlled conditions to assess its scent throw, burn time, and overall performance.
Visual Inspections: Beyond scent, the visual appeal of the candle—its color, the placement of the wick, and the absence of imperfections like air bubbles or frosting—holds paramount importance.
Feedback Loop: A robust system to gather feedback, both internally from quality control teams and externally from consumers, is crucial. This feedback not only ensures the consistent quality of the coffee scent candle but also drives continuous improvement in the production process.
Benefits and Uses of Coffee Candles
Coffee-scented candles have a unique allure that transcends their primary function of illumination. More than just a source of light, they can transport the senses, evoke memories, and transform atmospheres. Their blend of aromatic coffee essences and soft, ambient light offers an array of benefits and versatile uses.
Aromatherapeutic Qualities of Coffee
The rich aroma of coffee is not only a morning wake-up call but also possesses therapeutic qualities:
Mental Alertness: One of the foremost benefits of coffee-scented candles is the invigorating aroma that can enhance mental alertness and concentration. Just as sipping a cup can sharpen your focus, its aroma can stimulate the mind.
Stress Reduction: The familiar and comforting scent of coffee can act as a mood stabilizer, helping reduce feelings of stress and anxiety. Lighting such a candle after a long day can create a calming sanctuary, aiding relaxation. (2) However, additional research in this area is required due to significant discrepancies in other studies.
Memory Booster: Certain studies suggest that the scent of coffee can enhance memory retention and recall. Hence, having a coffee-scented candle lit while reading or studying might just give your cognitive functions a gentle boost. (3)
Setting the Ambiance: The Perfect Mood Enhancer
A well-placed coffee-scented candle can do wonders for ambiance:
Cozy Evenings: The combination of a warm glow and the rich aroma can transform a regular evening into a cozy, intimate setting—perfect for unwinding or romantic dinners.
Energized Mornings: As dawn breaks, the scent can emulate the experience of freshly brewed morning coffee, invigorating the surroundings and setting a positive tone for the day.
Social Gatherings: When guests arrive, lighting a coffee-scented candle can create a welcoming and comforting environment, making social interactions even more enjoyable.
Gift Ideas and Decorative Uses
Beyond personal indulgence, the benefits of coffee-scented candles extend to gifting and decor:
Thoughtful Gifts: Given their wide appeal, these candles make for versatile gifts, be it birthdays, anniversaries, or housewarmings. They represent warmth, comfort, and luxury—all wrapped in one.
Decorative Pieces: Their elegant designs can complement various home aesthetics. Whether placed on a dining table, a bedside stand, or a bathroom counter, they enhance the decor's elegance.
Themed Events: For events or parties with a coffee or rustic theme, these candles can serve as centerpieces, party favors, or even be integrated into event activities, making the occasion memorable for attendees.
DIY Coffee Candle Creation
Embracing the comforting aroma of coffee within the confines of your home can be a delightful venture. If the thought of creating a DIY coffee candle appeals to you, you're in for a treat. Here's a comprehensive guide to crafting your very own coffee-scented candles.
Essential Ingredients and Tools
Before diving into the process, gather the necessary tools and ingredients:
Vessel: Mason jars, tin cans, metal coffee mugs, or glass candle votives are all viable options.
Wax: Opt for soy wax flakes due to their easy melting quality and clean burn.
Fragrance: Ground coffee or coffee-scented candle-making fragrance oil for authentic aroma.
Dye: Brown candle-making dye, if desired for enhanced color.
Wick: A tabbed wick that suits the size of your chosen vessel.
Thermometer: A candy-making thermometer ensures you maintain the right temperatures throughout.
Heating Equipment: A double-boiler setup, preferably with a heat-safe glass measuring cup or metal can.
Step-by-Step Coffee Candle Making
Crafting a coffee-scented candle from scratch is an aromatic journey that allows you to capture the essence of your favorite brew uniquely. It's an art that combines sensory delight with hands-on creativity. Whether you're a seasoned DIY enthusiast or a curious beginner, this step-by-step guide will walk you through the process, ensuring you craft a candle that not only smells divine but also burns beautifully.
Melting the Wax
Prepare your chosen vessel by cleaning it thoroughly. Refrain from attaching the wick at this stage.
Organize a double-boiler by placing your heat-safe container within a pot filled with a few inches of water. The water shouldn't touch the rim of the container.
Fix a candy-making thermometer onto your container.
Using your vessel as a guide, measure soy wax flakes to 1.5 times the capacity and melt them, ensuring the temperature stays below 200 °F (93 °C).
Infusing Fragrance and Color
Introduce the coffee fragrance by adding 1 tablespoon (5 g) of ground coffee per 12 oz (340.2 g) of wax. Alternatively, for a more pronounced aroma, use coffee-scented fragrance oil—1.5 ounces (44.4 mL) per 1 pound (453.6 g) of wax.
Mix the wax for a few minutes to ensure uniformity of scent and color.
For added richness in color, infuse thin shavings from a brown dye block.
Pouring and Solidifying
Let the wax cool down to around 100 °F (38 °C).
Secure a tabbed wick inside your vessel using tape or glue, and stabilize it using a pencil across the vessel's mouth.
Pour approximately 75% of your scented wax, reserving some for topping up later.
Allow the wax to cool completely, which might take anywhere from several hours to a day.
Finishing Touches
If you notice a well or depression in your candle as it solidifies, reheat the reserved wax and pour it in to level the surface.
After a brief cooling period, trim the wick to about 1⁄8 inch (0.32 cm) to ensure a controlled flame.
Customizing Scents and Designs
While the traditional coffee aroma has its charm, there's room for personalization:
Flavored Coffee Scents: You can introduce nuanced fragrances by adding essential oils or other candle-making fragrance oils. Just remember to use them sparingly to retain the coffee scent's dominance.
Varied Vessels: Don't limit yourself to standard containers. Feel free to explore different shapes and sizes to suit your decor or personal aesthetic.
Embracing the DIY spirit to make coffee-scented candles ensures an authentic experience. Not only will you bask in the rich aroma of your favorite brew, but you'll also have the satisfaction of a job well done.
Caring for and Maximizing Your Coffee Candle
A coffee-scented candle offers a sensory delight that fills your space with warmth and the invigorating aroma of freshly brewed coffee. However, to fully enjoy the rich experience and ensure your candle's longevity, proper care and attention are essential. From the initial light up to the storage phase, each step plays a critical role in enhancing the candle's performance.
Safe Burning Practices
Safety should always be at the forefront when burning any candle. A coffee-scented candle, with its rich aroma, requires the same precautions as any other candle to ensure both its efficacy and safety.
Always Burn on a Level Surface: Ensure your candle is placed on a flat, heat-resistant surface away from drafts, vents, or any flammable items.
Keep Away from Children and Pets: Make sure candles are out of reach from curious hands or paws. The enchanting aroma might attract unwanted attention.
Never Leave a Candle Unattended: No matter how entrancing the scent is, always remember to extinguish your candle if you're leaving the room.
Trim the Wick: Before every burn, trim the wick to about 1/4 inch to ensure a cleaner burn with less soot and a controlled flame height.
Maximizing Scent Throw and Lifespan
To make the most out of your coffee-scented candle's aromatic potential and longevity, consider the following:
First Burn is Crucial: The first time you light your candle, allow it to burn until the melt pool (the liquid wax) reaches the edge of the container. This ensures an even burn for subsequent uses and maximizes scent release.
Avoid Short Burns: Lighting your candle for short periods can cause "tunneling," where only the center wax melts, wasting a significant portion of your candle. Aim for burns that last 2-4 hours or until the melt pool forms evenly.
Optimize Room Size: For the best scent throw, use the candle in a room size that matches its volume. A candle in a vast space might seem less aromatic than when used in a smaller, cozier setting.
Storing Your Coffee Candles
Proper storage ensures that when you're ready to light your candle again, it retains its coffee aroma and pristine condition.
Store in a Cool, Dark Place: Direct sunlight or excessive heat can warp the candle and fade the scent. A cupboard or drawer is ideal.
Use a Lid or Cover: If your candle comes with a lid or cover, use it. It prevents dust and debris from settling on the surface and keeps the scent intact.
Avoid Storing Near Other Fragrances: Keep your coffee-scented candles away from other strongly scented items to prevent scent mingling or contamination.
Taking the time to care for your coffee-scented candle enhances your experience and ensures that you can enjoy its warm, aromatic embrace for as long as possible.
Conclusion
In our quest for creating serene, aromatic spaces, coffee candles have emerged as a sublime fusion of two beloved comforts—coffee and the gentle glow of candles. The rich, immersive experience they offer is unmatched, conjuring memories of cozy mornings and vibrant coffee shops. Whether you've set your sights on the best coffee-scented candles available, have an itch to embark on a DIY coffee candle adventure, or even if you're drawn to trusted brands like Yankee Candle's coffee scent, the options are as diverse as they are delightful. As we conclude our journey, it's evident that coffee candles are more than just a trend—they're a timeless ode to our love for coffee, and an invitation to transform any space into a haven of aromatic tranquility.
FAQ