Indubitably, dark roast coffee is frequently deemed as the unsung hero of the coffee sphere. Its opulent and sturdy flavors, coupled with its profound character, undoubtedly captivate one's senses. This comprehensive guide aims to dive deep into the richness and flavor profile of dark beans, unraveling their enigmatic and bold nature. From comprehending the essence of this distinctive coffee roast, with its unique and distinctive characteristics, to unraveling the secrets behind selecting the perfect beans and brewing methods, this guide intends to provide you with an all-encompassing understanding of this sophisticated and complex beverage.
For both novices and coffee connoisseurs alike, this guide is poised to delve into the world of these delectable dark beans and their unparalleled allure. We will scrutinize the origins and varieties of these beans, analyze the impact of the roasting process, and divulge tips and tricks to enhance your overall coffee experience. Thus, whether you're a seasoned dark roast aficionado or an inquisitive explorer seeking to broaden your coffee horizons, this guide is unequivocally your passport to a realm of undiscovered flavors and unparalleled depth.
Dark Roasted Coffee: Key Takeaway
Intensity Personified: Dark roast coffee is characterized by its bold, robust flavor, full body, low acidity, and darker color, resulting from a longer roasting process.
Alchemy of Flavor: The roasting process significantly impacts the flavor of this coffee by breaking down acids, sugars, and proteins, creating new flavor compounds.
Crafting Bold Brilliance: Brewing methods such as cold brew, pour-over, French press and espresso are well-suited for this roast, allowing the rich flavors and full body to shine.
Guardians of Freshness: Proper storage of dark roasted coffee beans is essential for maintaining freshness and optimal flavor; use an airtight container in a cool, dry place away from direct sunlight and heat sources.
Empower Your Sip: This coffee roast offers various health benefits, including being a rich source of antioxidants, and its potential to improve cognitive function and reduce the risk of certain diseases.
Best Dark Roast Coffee Beans
Discover the best dark roast coffee beans available on the market to experience the full richness and bold flavors that these beans have to offer. Each brand provides unique highlights and characteristics, ensuring you find the perfect match for your taste preferences.
H. R. Higgins Colombia Supreme Dark Roast
Rich and Full-Bodied: This Colombian dark roast boasts a rich, full-bodied flavor with a velvety texture.
Chocolate Notes: Colombia Supreme Dark Roast features prominent chocolate notes, making it a great choice for pairing with desserts or enjoying on its own.
Ethically Sourced: H. R. Higgins is committed to sourcing its beans ethically, ensuring a high-quality product that supports sustainable coffee production.
For more information check out the H. R. Higgins product page
Taylors of Harrogate After Dark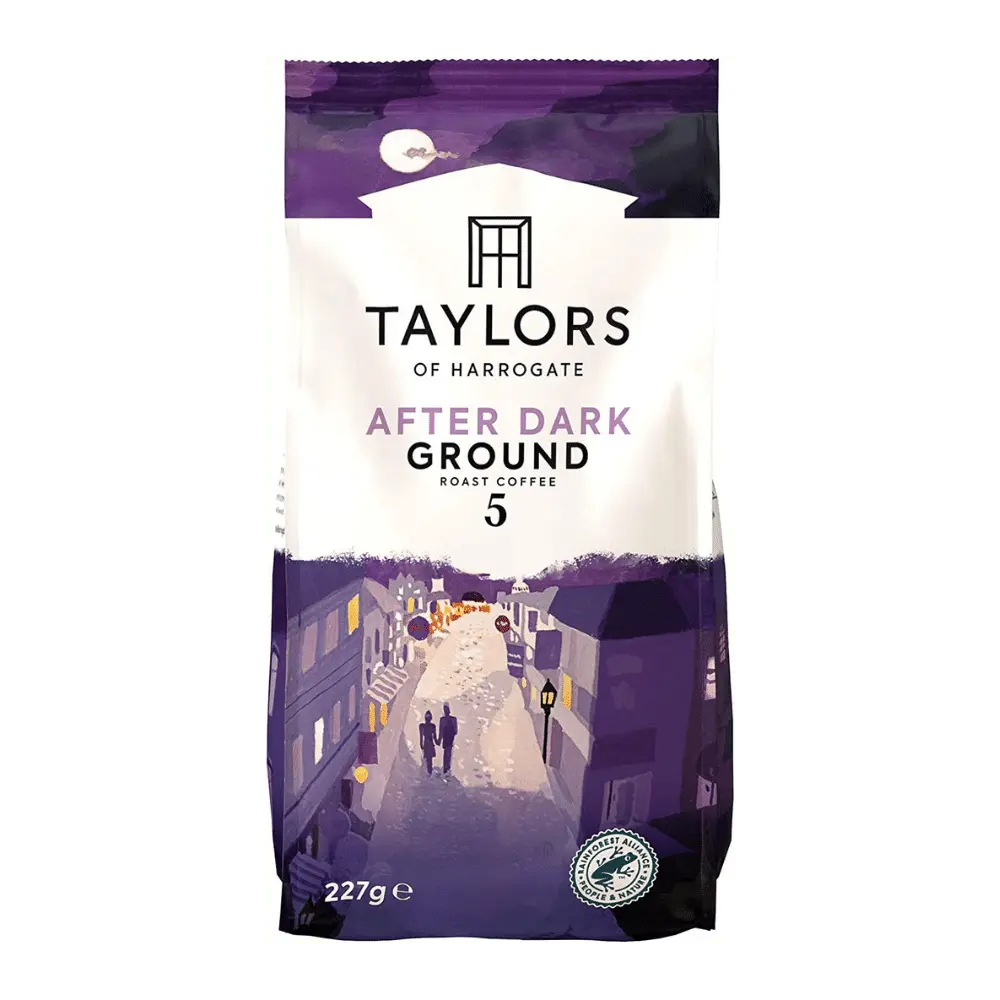 Smooth and Velvety: Taylors of Harrogate After Dark delivers a smooth and velvety coffee roast with a well-rounded flavor profile.
Chocolate Undertones: This coffee features delicious chocolate undertones, providing a balanced and indulgent cup.
USDA Organic: Taylors of Harrogate is committed to sustainability, and they're After Dark coffee is Certified, ensuring environmentally friendly and socially responsible coffee production.
Kona Coffee Dark Roasted Peaberry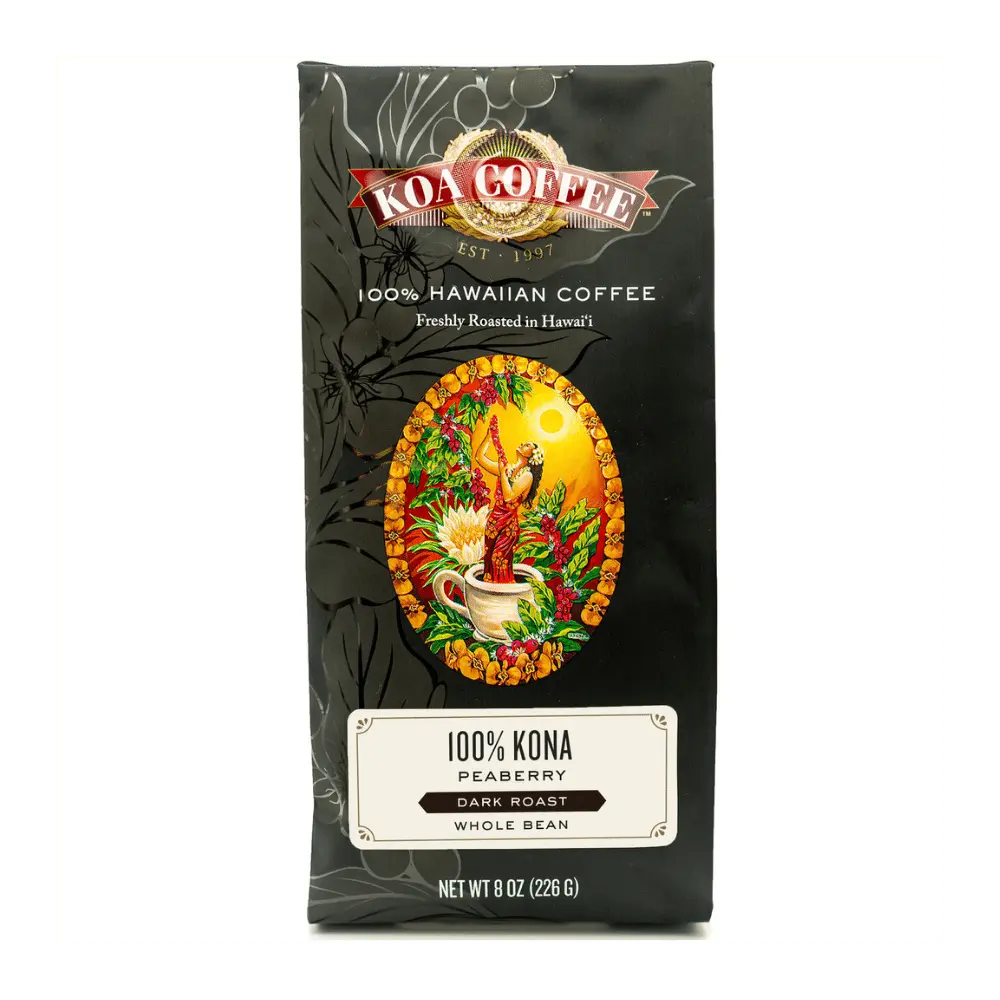 Exclusive Peaberry Beans: Koa Coffee's Dark Roasted Peaberry features rare and sought-after peaberry beans, which are known for their concentrated flavors and unique shape.
Intense Flavor Profile: This coffee roast offers an intense flavor profile with a complex balance of fruity and earthy notes.
Hawaiian Origin: Sourced from the slopes of Mauna Loa Volcano in Hawaii, Koa Coffee Dark Roasted Peaberry provides a taste of the unique terroir of the Hawaiian coffee-growing region.
For more information check out the KOA Coffee product page.
Volcanica Costa Rican Dark Roast
Bold and Robust Flavor: Volcanica's Costa Rican Dark Roast delivers a bold, robust flavor with a clean finish.
Bright Acidity: Despite being a dark roast, this coffee still maintains a bright acidity, which adds to its complexity and appeal.
Single-Origin: Sourced exclusively from Costa Rica, this coffee provides a distinct taste that showcases the terroir of the renowned coffee-growing region.
For more information check out the Volcanica product page.
Volcanica Sumatra Mandheling Dark Roast Decaf Coffee
Decaffeinated Option: For those seeking the bold flavors of this coffee roast without caffeine, Volcanica's Sumatra Mandheling Dark Roast Decaf is an excellent choice.
Rich and Earthy: This decaf dark roast features a rich and earthy flavor profile with subtle hints of chocolate, delivering a satisfying cup for decaf drinkers.
Swiss Water Process: Volcanica uses the Swiss Water Process for decaffeination, ensuring a chemical-free and environmentally friendly method that preserves the coffee's original flavors.

For more information, check out the Volcanica product page
The Alluring Legacy of Dark Roast Coffee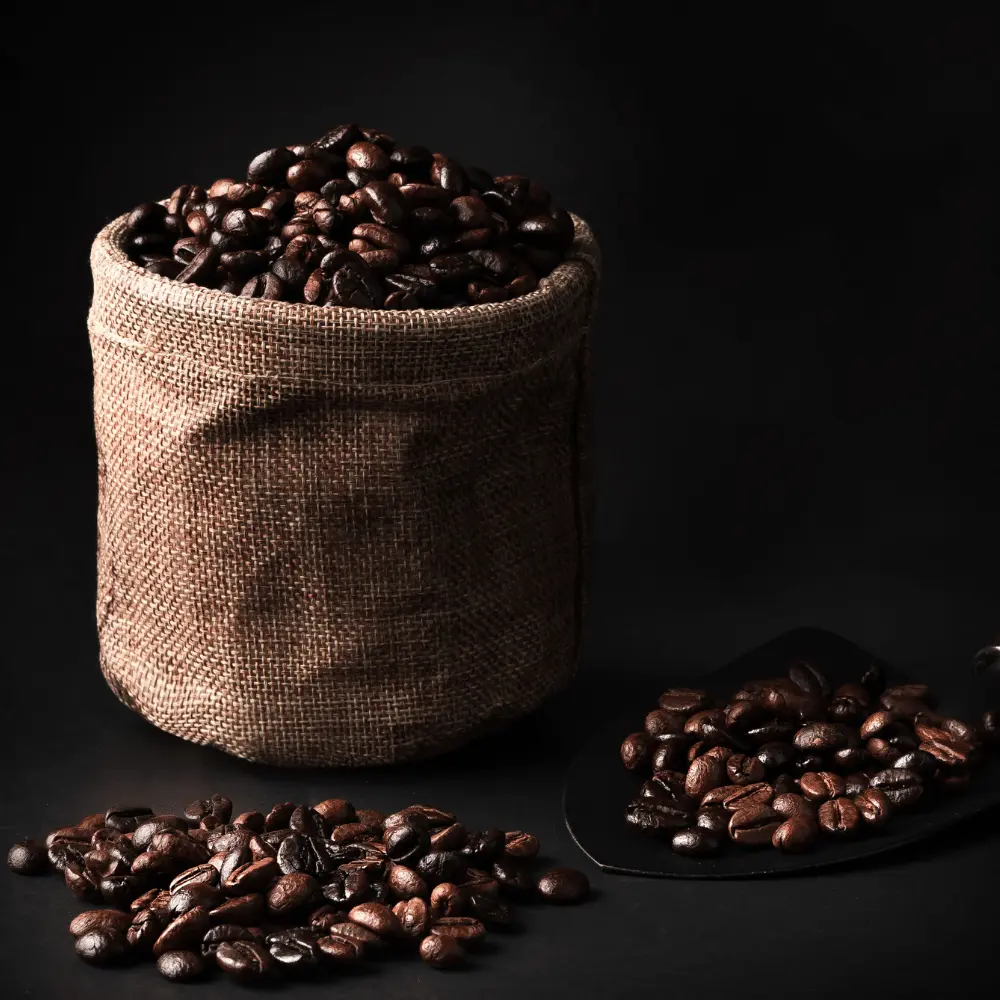 The history of this coffee roast can be traced back to the early days of coffee cultivation and consumption. Understanding its origins and evolution helps to appreciate the rich, bold flavors and cultural significance that this roast has to offer.
Early Beginnings: Coffee is believed to have originated in Ethiopia. The beans were initially consumed as food, with tribes grinding the coffee cherries and mixing them with animal fat to create energy-rich balls. The practice of roasting coffee beans began around the 15th century in the Arabian Peninsula, where beans were roasted over an open fire to produce a dark, strong brew. (1)
European Influence: As coffee made its way to Europe in the 17th century, different roasting styles emerged. The French, in particular, embraced the darker roast, which became known as the French roast. Italian immigrants to Europe also favored a darker roast, resulting in the popular Italian roast style.
The Espresso Era: The invention of the espresso machine in the early 19th century further popularized this coffee roast. The intense brewing process of espresso required a darker roast to achieve the bold, robust flavors that could withstand the high pressure and temperature used in espresso preparation. (2)
Specialty Coffee Movement: In recent years, the specialty coffee movement has emphasized lighter roasts to highlight the unique flavors and terroir of specific coffee-growing regions. However, dark beans continue to hold a special place in the hearts of many coffee enthusiasts who appreciate their bold, rich flavors and historical significance.
Understanding Dark Roast Coffee
Before diving into the world of this coffee roast, it's essential to understand the basic characteristics of dark roast beans, the roasting process, and how dark roasts differ from their lighter counterparts.
Characteristics of Dark Roast Beans
Dark roasted coffee beans are distinguished by their deep brown color, glossy surface, and larger size compared to lighter roasts. As coffee beans are roasted for longer periods, they lose moisture, causing them to expand and become less dense. Dark roasts have a more pronounced bitterness, lower acidity, and a heavier body than lighter roasts.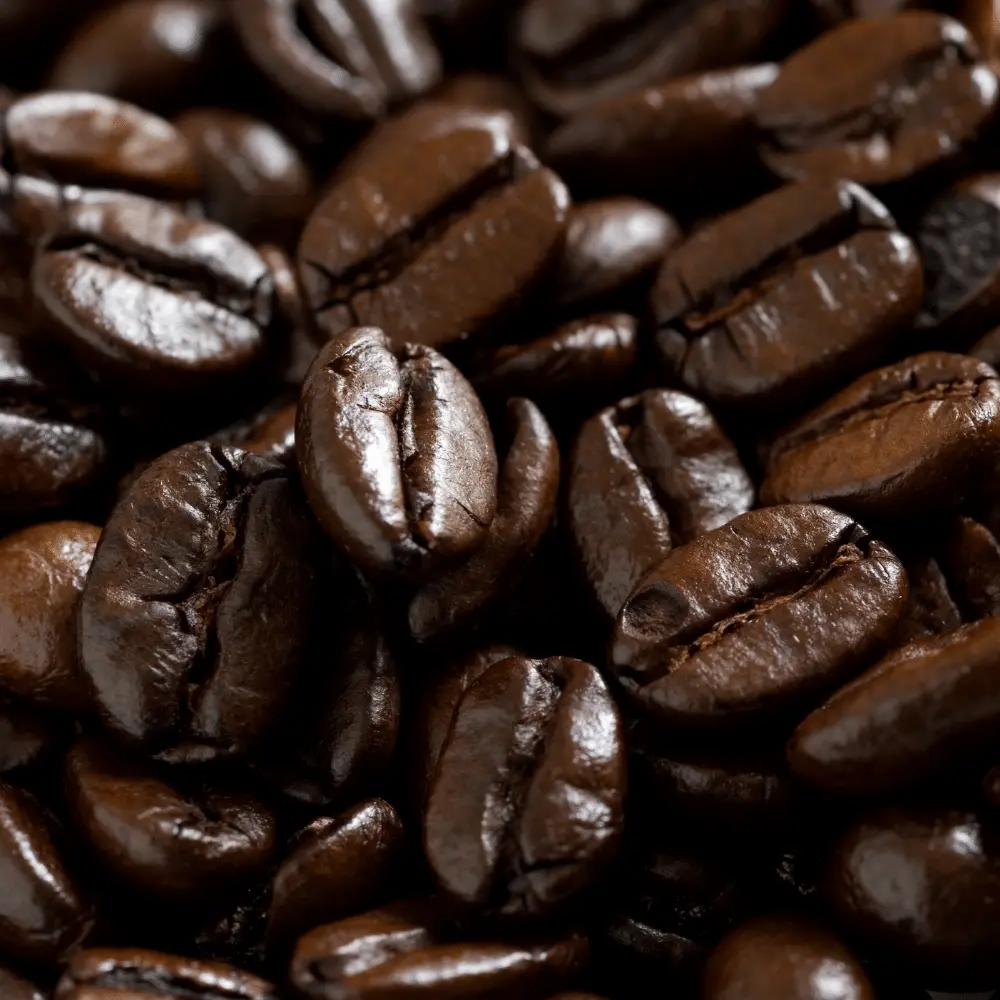 The flavors found in dark beans tend to be bold, smoky, and chocolatey. The dark roasting process also reduces the prominence of the beans' original flavors, which are derived from their specific growing conditions and terroir. (3)
The Roasting Process and Its Impact on Flavor
The roasting process plays a significant role in shaping the flavor profile of coffee. As beans are roasted, a series of chemical reactions take place, transforming the raw green beans into the flavorful, aromatic beans we know and love.
This coffee roast undergoes a longer roasting process, typically between 12 to 15 minutes, reaching temperatures of around 465°F to 480°F (240°C to 249°C). This extended roasting time allows the beans to reach what is known as the "second crack," a point at which the beans' cellular structure breaks down further and oils rise to the surface.
This second crack is crucial in determining the flavor profile of this coffee roast. The longer roasting time results in a deeper, more complex flavor, with the beans' natural sugars caramelizing and producing notes of dark chocolate, caramel, and roasted nuts. The process also diminishes the acidity of the coffee beans, creating a smoother, more mellow cup of coffee.
Light vs Dark Roast Coffee: Key Differences
The primary differences between dark roast and light roast coffee lie in their flavor profiles, acidity, and body.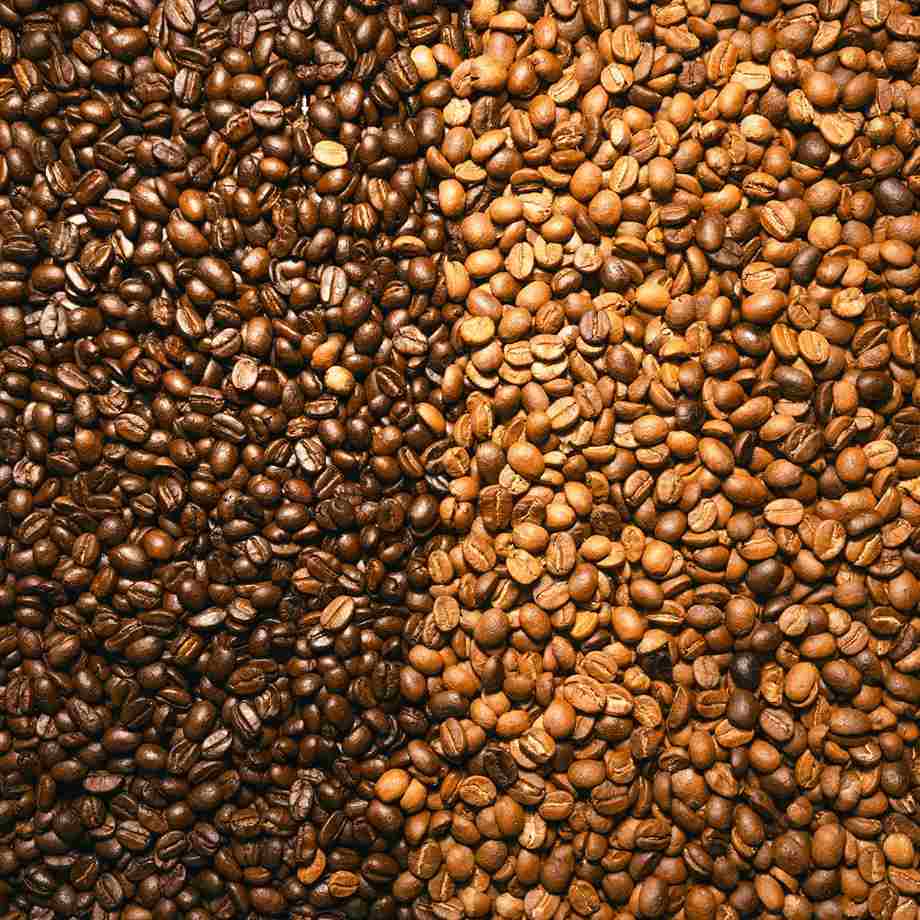 Flavor: Dark beans have a bold, smoky, and bittersweet flavor profile, while light roast coffee tends to have brighter, fruitier, and more acidic notes.
Acidity: Light roast coffee is generally more acidic, with a lively, tangy taste that many coffee lovers appreciate. Dark roasted coffee, on the other hand, has a lower acidity, creating a smoother and less sharp taste.
Body: Dark beans have a heavier body and mouthfeel, often described as "rich" or "full-bodied." This is due to the longer roasting time, which breaks down the beans' cellular structure and releases oils to create a more robust texture. Light roast coffee typically has a lighter body and a more delicate mouthfeel.
In summary, understanding the characteristics, roasting process, and differences between dark and light roast coffee will allow you to appreciate the unique qualities of each roast and help you make informed decisions when selecting beans or brewing methods to suit your taste preferences.
Medium vs Dark Roast Coffee: Key Differences
Medium and dark roasted coffees have distinct differences in terms of flavor, acidity, and color, primarily due to variations in the roasting process. Here are the key differences between them:
Roasting Process: Medium roast coffee undergoes a shorter roasting process. The beans are typically roasted until they reach the first or second crack, while dark roast beans are roasted beyond the second crack.
Flavor Profile: Medium roast coffee has a more balanced flavor profile, showcasing both the original bean characteristics and the flavors developed during roasting. On the other hand, dark beans have a bolder, more robust flavor with smoky and sometimes bitter notes, resulting from the longer roasting process.
Acidity: Medium roast coffee usually has a higher acidity level. The extended roasting time in dark roasted coffee reduces the beans' acidity, resulting in a smoother and less acidic taste.
Body: Dark roast coffee has a fuller body than medium roast coffee, providing a richer mouthfeel and a heavier texture.
Color: Medium roast coffee beans have a medium-brown color, while dark roast beans have a darker color, often with an oily surface due to the longer roasting process.
In summary, the primary differences between these two roasts lie in the roasting process, flavor profile, acidity, body, and color. The choice between the two depends on personal taste preferences and desired coffee characteristics.
Choosing the Right Dark Roast Beans
Selecting the perfect dark roast beans for your taste preferences can be a rewarding and enjoyable experience. By understanding the origins, varieties, and key elements of coffee labels, you can make an informed decision when choosing the beans that will elevate your coffee experience.
Origins and Varieties of Dark Roast Beans
Dark roasted coffee beans can come from various regions across the globe, each contributing its unique characteristics to the final product. Some of the most popular origins for dark roast beans include:
Latin America: Dark roast beans from countries like Colombia, Brazil, and Guatemala often have a balanced flavor profile with chocolatey and nutty notes, as well as a smooth, full body.
Africa: Beans from Ethiopia and Kenya, when dark roasted, can exhibit rich, wine-like flavors and fruity undertones, with a hint of earthiness.
Asia: Indonesian beans, particularly those from Sumatra, Java, and Sulawesi coffee, are known for their earthy, spicy, and sometimes smoky flavor profile, making them ideal candidates for dark roasting.
It's important to note that not all beans from these regions are dark roasted, but they often have qualities that lend themselves well to this roast level. Experimenting with different origins can help you discover the unique flavors and nuances that each region has to offer.
Decoding Coffee Labels: Roast Level, Bean Origin, and Certifications
Understanding coffee labels can greatly assist in choosing the right dark roast beans. Key elements to look for on coffee labels include:
Roast Level: Look for terms like "dark roast," "French roast," "Italian roast," or "espresso roast" to identify the roast level of the beans. These terms generally indicate a darker roast, with bold flavors and low acidity.
Bean Origin: The label should indicate the country or region where the beans were grown. This information can provide insight into the beans' flavor profile, as different regions produce beans with distinct characteristics.
Certifications: Look for certifications like Fair Trade, Organic, or Rainforest Alliance, which can indicate the beans' ethical and environmental standards. Choosing beans with these certifications can contribute to a more sustainable and socially responsible coffee industry.
Types of Dark Roast Coffee Varieties
Dark beans encompass various types and varieties, each with its unique flavor profile and characteristics. Let's explore some of the most popular varieties of this distinctive coffee roast.
French Roast: French roast coffee is characterized by its dark brown color and oily surface. It has a bold, intense flavor with smoky and slightly burnt undertones. This type of dark roast is well-suited for espresso, as the strong flavors hold up well when combined with milk.
Italian Roast: Italian roast coffee is roasted even longer than French roast, resulting in a nearly black color. The flavor profile is bold and robust, with a more pronounced bitterness and smoky notes. Italian roast is commonly used for espresso and espresso-based beverages.
Vienna Roast: Vienna roast coffee is slightly lighter than French and Italian roasts but still falls into the dark roast category. It features a medium-dark brown color, a mild oily sheen, and a well-rounded flavor profile with a balance between the beans' natural flavors and the roasting process's caramelized notes.
Espresso Roast: Espresso roast coffee is specifically crafted for brewing espresso shots. It typically has a dark brown color, an oily surface, and a bold flavor profile that can stand up to the intense brewing process. Espresso roast coffee can be made from various bean origins and blends, depending on the desired flavor characteristics.
Single-Origin Dark Roasts: Many coffee-producing regions and countries offer single-origin dark roast varieties, such as Sumatra Mandheling, Ethiopian Yirgacheffe, or Costa Rican Tarrazu.
When selecting a variety, consider the flavor profile you prefer and the brewing method you plan to use. Experimenting with different types of coffee varieties can help you find the perfect match for your taste preferences and brewing style.
Brewing the Perfect Dark Roast Coffee
To truly enjoy and appreciate the rich flavors and aroma of this coffee roast, it's essential to understand the best brewing methods, water quality and temperature, and proper grinding techniques. By mastering these factors, you can create a consistently delicious and satisfying cup of joe.
Recommended Brewing Methods for Dark Roast Coffee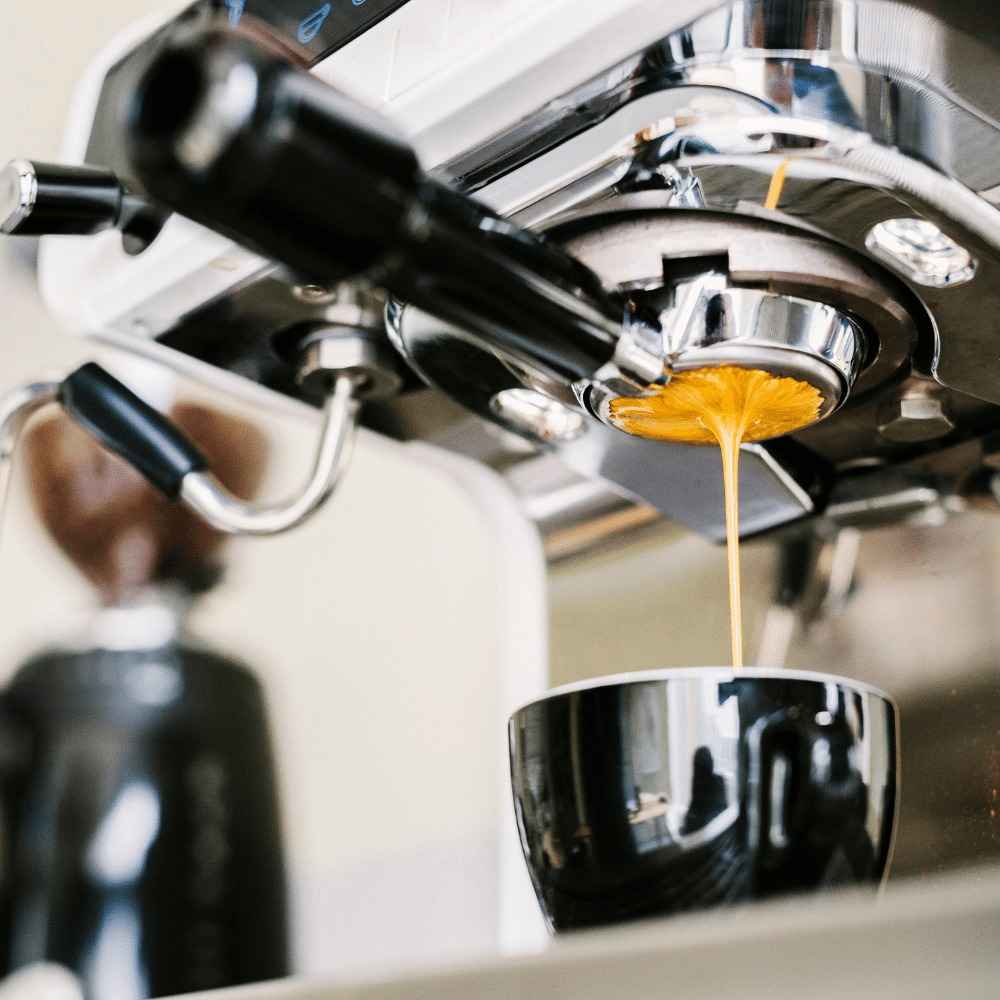 Several brewing methods work exceptionally well with this coffee roast, allowing the bold flavors and full body to shine. Some of the recommended brewing methods include:
Espresso: Dark roast beans are commonly used for espresso due to their low acidity, rich crema, and bold flavor. The high pressure of the espresso machine extracts the oils and flavors from the beans, creating a concentrated and intense coffee experience.
French Press: This method allows for a longer steeping time, which is ideal for extracting the full flavor profile of dark roast beans. The result is a rich, full-bodied coffee with a velvety mouthfeel.
Cold Brew: Dark bean's bold flavor and low acidity make it an excellent choice for cold brewing. The extended steeping time in cold water produces a smooth, concentrated coffee with a natural sweetness and a refreshing taste.
Pour-Over: While typically associated with lighter roasts, pour-over brewing can also work well with dark roasts. Using a slower pour and a coarser grind can help extract the robust flavors without over-extracting the bitterness.
The Importance of Water Quality and Temperature
Water quality and temperature are critical factors in brewing the perfect cup of joe. Here's why:
Water Quality: Coffee is primarily composed of water, so using high-quality water is essential. Tap water containing impurities or high mineral content can affect the taste of your coffee. Using filtered or bottled water can help ensure a clean and balanced flavor.
Water Temperature: The ideal water temperature for brewing this coffee roast is between 195°F to 205°F (90°C to 96°C). The importance of water temperature in the coffee brewing process cannot be overstated. Using excessively hot water can lead to an over-extraction of the coffee, thereby generating an unpleasant and bitter taste. Conversely, using water that is too cool can cause the coffee to be under-extracted, resulting in a feeble and tart flavor profile. As a result, it is crucial to find the optimal water temperature to extract the ideal balance of flavors from the coffee beans.
Fellow Stagg EKG Electric Gooseneck Kettle – Pour-Over Coffee and Tea Kettle – Stainless Steel Kettle Water Boiler – Quick Heating Electric Kettles for Boiling Water – Matte Black
STAGG EKG ELECTRIC KETTLE: Simple aesthetic meets powerful design. A gooseneck kettle that pours as good as it looks, it's made from quality 304 stainless steel with a minimalist base to save space and a 0.9-liter capacity.
PRECISION POUR: Stagg EKG's sleek pointed spout is designed for a powerful but precise stream for the optimal pour-over flow rate, and the counterbalanced handle provides a sturdy grip encouraging a slower pour.
TEMPERATURE MATTERS: Speed up your brewing process with Stagg EKG and its 1200-watt quick-heating element for boiling water. The to-the-degree temperature control makes perfecting your manual cup of coffee or steeped tea seamless and precise.
BREW LIKE A PRO: A sleek LCD screen indicates the desired Set Temp and Real-Time Temp for your drip coffee or tea. Use the built-in Brew Stopwatch to time your extraction and engage the toggle to keep your water hot for up to 60 minutes.
FELLOW: Experts in coffee with a love for product design, we at Fellow believe coffee is a journey. We are dedicated to melding beautiful design with flawless functionality to help aficionados and beginners alike find the fun in the brewing process.
Grinding Techniques and Coffee-to-Water Ratios
Grinding your coffee beans correctly and using the appropriate coffee-to-water ratio is essential for extracting the best flavor from your dark roast beans.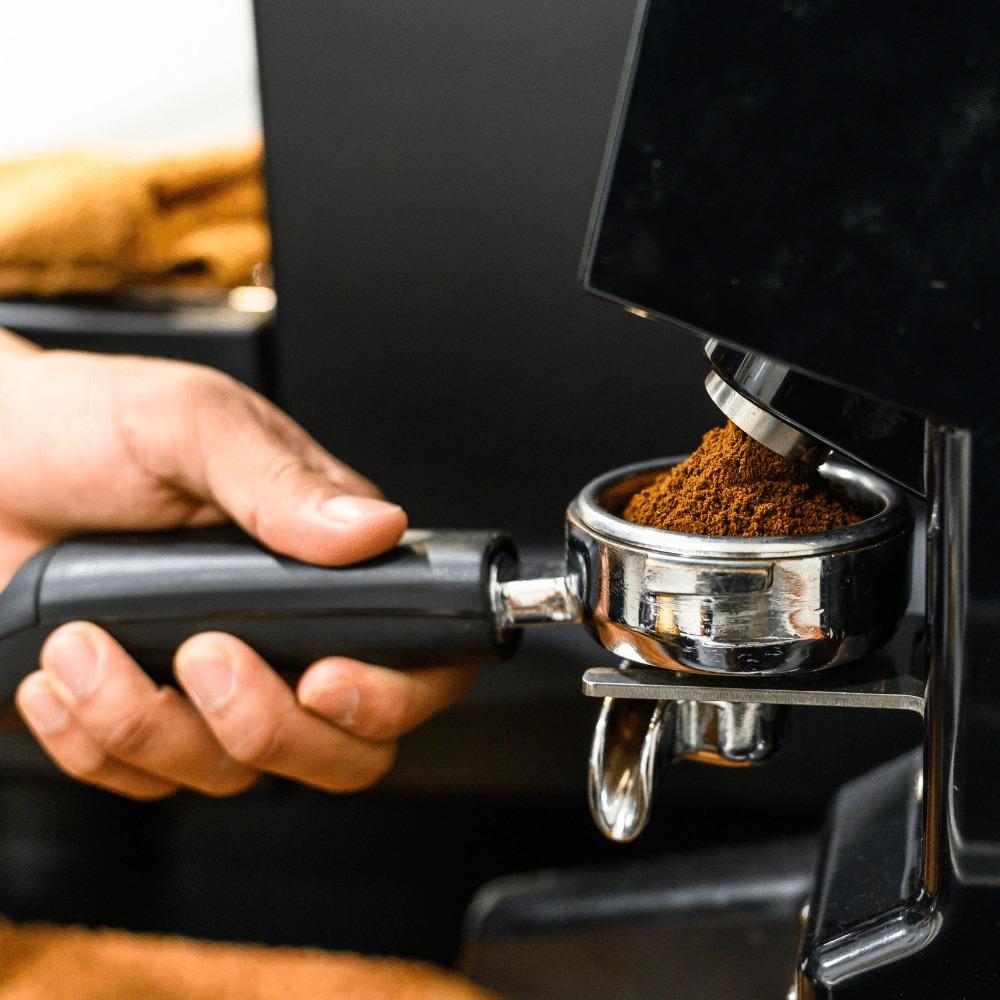 Coffee Grinding Techniques: The coffee grind size should correspond to your chosen brewing method. For espresso, use a fine grind; for French press, use a coarse grind; for pour-over and cold brew, use a medium to coarse grind. Burr grinders are recommended for achieving consistent grind size and preserving the beans' flavors and aromas.
Coffee-to-Water Ratio: The ideal coffee-to-water ratio for this coffee roast is typically 1:15 to 1:18 (coffee to water, by weight). Adjusting this ratio can help you find the perfect balance of strength and flavor for your taste preferences.
By mastering the recommended brewing methods, water quality and temperature, and proper grinding techniques, you'll be able to consistently enjoy the rich flavors and aroma of your dark roasted beans.
Enhancing Your Dark Roast Coffee Experience
To fully savor and appreciate the richness of this coffee roast, there are several ways to elevate your coffee-drinking experience. From pairing your coffee with complementary foods to experimenting with recipes and proper storage, these tips will help you get the most out of your cup of joe.
Pairing Dark Roasted Coffee with Food
Dark beans' bold flavors and full body make them an excellent companion for various foods. Pairing your coffee with the right food can enhance the flavors and create a delightful gastronomic experience. Some food pairing suggestions include:
Chocolate: The rich, bittersweet flavors of dark chocolate complement the smoky and chocolatey notes in dark beans, creating a harmonious and indulgent pairing.
Pastries: Flaky, buttery pastries like croissants, Danish pastries, or cinnamon rolls can balance the bold flavors of this coffee roast and provide a satisfying contrast in texture.
Nuts: Roasted nuts like almonds, hazelnuts, or walnuts can accentuate the nutty flavors of dark beans, adding depth and complexity to your coffee experience.
Cheeses: Bold, aged cheeses like cheddar, Gouda, or Parmesan can stand up to the strong flavors of dark beans, creating a savory and rich pairing.
Experimenting with Coffee Recipes and Flavored Syrups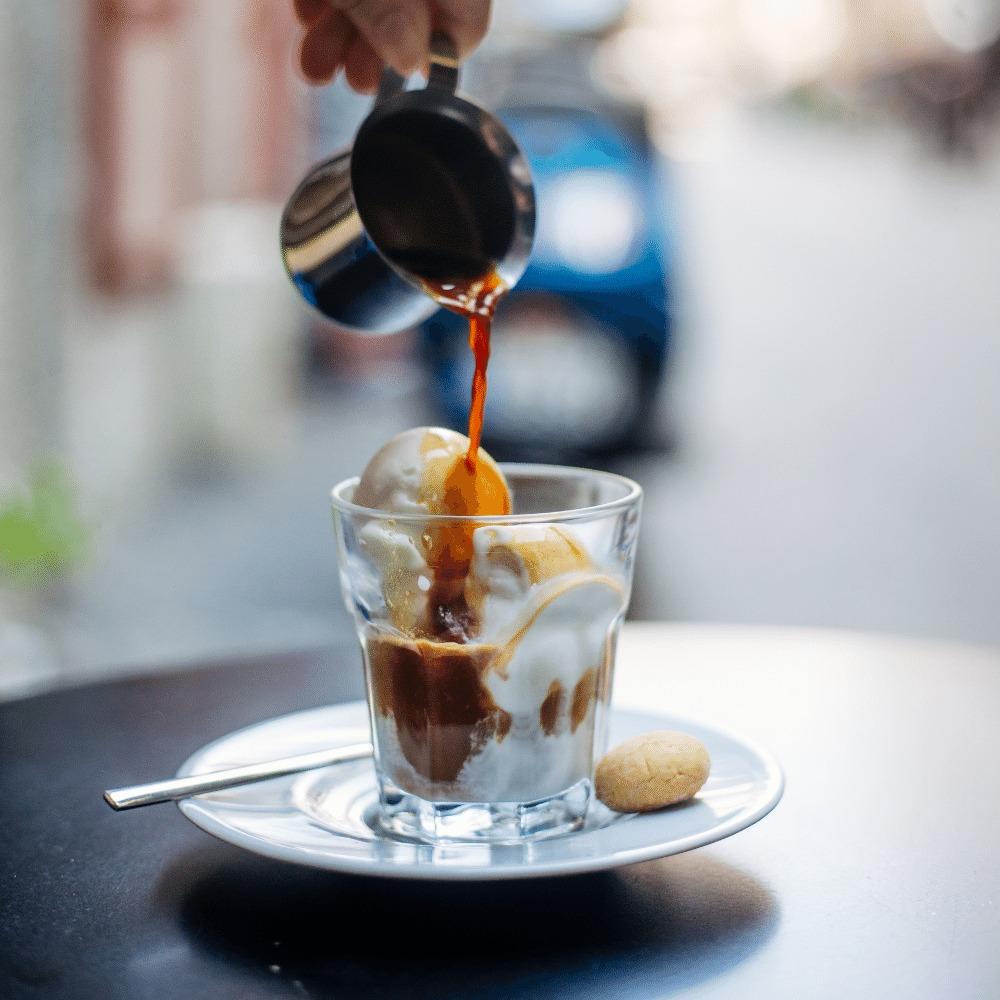 Dark bean's robust flavors make it an excellent base for various coffee recipes and flavored syrups. Experimenting with different concoctions can bring a new dimension to your coffee experience. Some ideas to try include:
Classic Espresso Drinks: this coffee roast works well in espresso-based drinks like lattes, cappuccinos, and mochas. The strong, bold flavors complement the steamed milk and froth, creating a balanced and enjoyable beverage.
Iced Coffee: Transform your coffee into a refreshing iced beverage by pouring it over ice and adding a splash of milk or cream. For a touch of sweetness, consider adding simple syrup or flavored syrups like vanilla, caramel, or hazelnut.
Specialty Drinks: Explore the world of specialty coffee drinks by incorporating this coffee roast into recipes like an affogato (a scoop of vanilla ice cream topped with a shot of espresso) or a café con miel (coffee with honey, and whole milk).
Storing Dark Roast Beans for Optimal Freshness
Proper storage is essential to preserve the flavor and aroma of your dark roast beans. Here are some tips for storing your beans to ensure optimal freshness:
Airtight Container: Store your beans in an airtight container to protect them from exposure to oxygen, which can cause the beans to become stale.
Cool, Dry Place: Keep your beans in a cool, dry place away from direct sunlight and heat sources. High temperatures can cause the beans' oils to break down, affecting their flavor and aroma.
Avoid the Fridge or Freezer: While it may seem counterintuitive, storing your beans in the fridge or freezer can cause condensation to form and affect the beans' taste. Instead, stick to a cool, dry storage area.
By pairing your cup of joe with complementary foods, experimenting with recipes and flavored syrups, and properly storing your beans, you can significantly enhance your coffee experience and truly appreciate the bold, rich flavors it has to offer.
The Health Benefits of Dark Roast Coffee
Dark-roasted coffee not only offers bold flavors and rich aromas but also provides various health benefits. From its antioxidant to its cognitive benefits and disease prevention potential, this coffee roast can be a healthful addition to your daily routine.
Antioxidants
It's worth noting that this coffee roast is an abundant source of antioxidants, which play a pivotal role in neutralizing free radicals in the body and defending against oxidative stress. The roasting process increases the concentration of certain antioxidants, such as melanoidin, that contribute to the coffee's health-promoting properties. (4)
Cognitive Benefits and Disease Prevention
Research has shown that this coffee roast may have cognitive benefits and help prevent certain diseases. Some of these benefits include:
Improved Cognitive Function: The caffeine in dark-roasted coffee can improve alertness, focus, and overall cognitive function, making it an excellent choice for starting your day or boosting your mental performance. (5)
Reduced Risk of Neurodegenerative Diseases: Some studies have found that coffee may help reduce the risk of developing neurodegenerative diseases like Alzheimer's and Parkinson's, thanks to its antioxidant content and its potential to protect against the formation of toxic protein aggregates in the brain.
Lower Risk of Type 2 Diabetes: coffee has been linked to a lower risk of type 2 diabetes, possibly due to its ability to improve insulin sensitivity and reduce inflammation. (6)
Debunking Common Myths About Dark Roast Coffee
There are a few common myths about this coffee roast that warrant clarification:
Does dark roast coffee have more caffeine? Contrary to popular belief, dark roasted coffee generally has slightly less caffeine than lighter roasts. The roasting process breaks down the caffeine content, so dark beans will have marginally less caffeine. However, the difference in caffeine content is usually negligible and may not be noticeable for most coffee drinkers.
Dark roasted coffee is more acidic: Another common misconception is that this coffee roast is more acidic than lighter roasts. In reality, the roasting process reduces the acidity of the beans, making dark roasted beans less acidic and easier on the stomach for some individuals.
By understanding the health benefits of this coffee roast, from its antioxidant and nutrient content to its cognitive benefits and disease prevention potential, you can enjoy your favorite dark-roasted coffee with the bonus of knowing you're making a healthful choice.
Conclusion
In conclusion, this coffee roast offers a unique and bold flavor profile that many coffee enthusiasts appreciate. From understanding the characteristics of dark roast beans and the roasting process to exploring various brewing methods, food pairings, and health benefits, this comprehensive guide has provided valuable insights into the world of dark roast coffee. While it is a common belief that this coffee roast is stronger, it is essential to note that the term "stronger" can be subjective. Dark beans boast a more robust flavor and a lower acidity level, but they may contain slightly less caffeine compared to lighter roasts. As you embark on your coffee journey, remember to experiment with different beans, brewing techniques, and recipes to find the perfect cup of joe that suits your taste preferences. Cheers to discovering the richness and depth that this roast has to offer!
FAQ