In the realm of coffee aficionados, the journey to the perfect cup is a delightful pursuit. And what if we told you that this journey could be elevated even further with a touch of vibrant elegance? Enter the world of red coffee makers, where functionality meets aesthetics in a symphony of flavor and style. A red coffee maker isn't just an appliance; it's a statement that transforms your morning routine into a vivid experience.
In this article, we delve into a selection of remarkable red coffee makers that go beyond brewing, adding a splash of color to your kitchen and a dash of delight to every cup. From barista-grade excellence to retro-inspired charm, these coffee makers marry innovation with visual appeal, proving that a pop of color can indeed elevate your coffee ritual. Join us as we explore the world of these appliances and discover how they can infuse your mornings with both taste and vibrancy.
Red Coffee Makers: Key Takeaways
Colorful Symbolism: Red coffee makers go beyond functionality, embodying the symbolism of passion, energy, and victory, infusing your kitchen with a vibrant aura.
Timeless Integration: Red seamlessly adapts to various kitchen design eras, from classic to contemporary, making brands like Technivorm Moccamaster, Keurig, and Smeg timeless choices.
Striking Focal Point: This coffee machine serves as a captivating yet practical centerpiece, achieved by smart placement and the artful interplay of complementary colors.
Unified Aesthetics: Beyond the appliance itself, coordinating red accessories like toasters and cookware creates a harmonious and visually appealing kitchen environment.
Blend of Form and Function: Incorporating this appliance elevates your kitchen's style while catering to your caffeine needs, encapsulating both history and design aesthetics.
Top 5 Red Coffee Makers: An Expert Review
In the world of coffee aficionados, finding the perfect coffee maker is akin to discovering a hidden gem. Today, we dive into the realm of these appliances, exploring three remarkable options that cater to various preferences and lifestyles. Our expert review covers the Technivorm Moccamaster Red Coffee Maker, the Red Keurig K-Mini Single Serve K-Cup Coffee Maker, the Mr. Coffee Red Coffee Maker, and many more… These coffee makers aren't just kitchen appliances; they're essential companions for crafting your morning ritual. So, let's delve into the details of each option and uncover which one might become your new favorite.
Technivorm Moccamaster Red Coffee Maker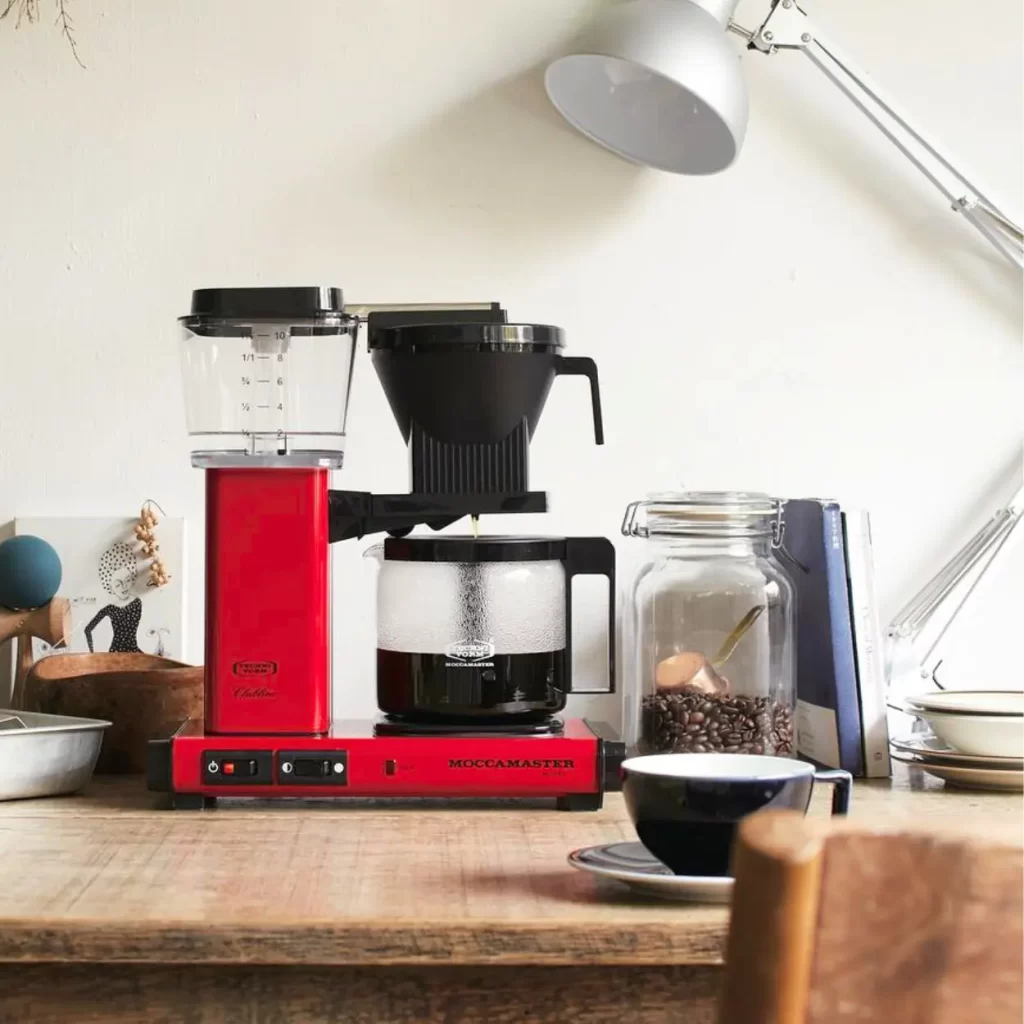 First on our list is the exquisite Technivorm Moccamaster Red Coffee Maker, a true testament to precision and quality. This manual coffee maker brings an unmatched level of control to your brewing process. Here's why coffee enthusiasts flock to it:
Perfect Coffee Every Time: The pump-free design ensures that water reaches the optimal temperature for extracting coffee's rich flavors, resulting in a consistently exceptional brew.
Brew-Volume Selector: Whether you're craving a single cup or a full carafe, this coffee maker provides the flexibility to cater to your desired brew volume.
Ease of Use: With a simple switch, you can enjoy a full 40 oz pot of coffee in just 4-6 minutes, ensuring convenience without compromising taste.
Quiet and Efficient: The Moccamaster Select operates quietly and boasts an auto-off feature after 100 minutes, granting you both peaceful mornings and energy savings.
Quality Assurance: Backed by a 5-year warranty, Moccamaster coffee brewers offer not just coffee indulgence, but also peace of mind.
Red Keurig K-Mini Single Serve K-Cup Coffee Maker
For those who value convenience without sacrificing flavor, the Red Keurig K-Mini Single Serve K-Cup Coffee Maker is a stellar choice. This poppy-red delight packs a punch with its efficient design and single-serve capabilities:
Compact Brilliance: With dimensions that fit comfortably in even the tiniest spaces, this coffee maker is a space-saving marvel.
Brew Your Way: The freedom to brew cup sizes ranging from 6 to 12 oz using Keurig K-Cup pods ensures that every coffee lover's cravings are satisfied.
Efficiency Unleashed: The one-cup reservoir simplifies your morning routine – just add fresh water for each brew, and you're ready to go.
Speed and Versatility: Within minutes, you'll have a steaming cup of your favorite brew ready, catering to your fast-paced lifestyle.
Thoughtful Design: The removable drip tray accommodates travel mugs up to 7.0 inches tall, ensuring no mess and easy cleanup.
Eco-Friendly: An auto-off feature conserves energy by turning off the coffee maker 90 seconds after the last brew.
Mr. Coffee Red Coffee Maker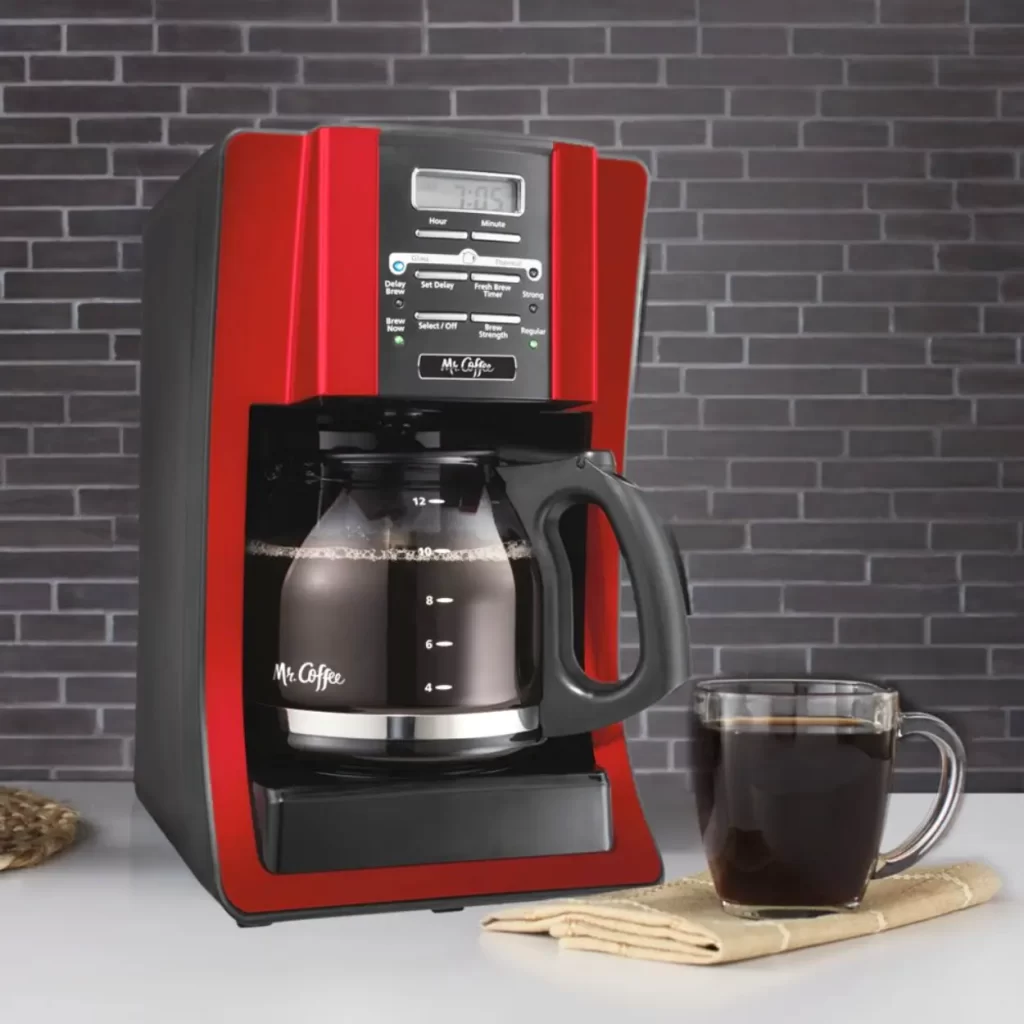 If you're seeking a versatile coffee maker that can effortlessly handle larger batches, the Mr. Coffee Red Coffee Maker is a strong contender. Here's why it's a staple in many households:
Ample Capacity: With the ability to brew up to 12 cups in one go, this coffee maker is perfect for entertaining guests or satisfying a crowd of coffee lovers.
Color Variety: While available in red, its black and clear variants give you options to match your kitchen aesthetics.
Reusable Filter: This coffee maker comes equipped with a reusable filter, making it environmentally friendly and budget-conscious.
User-Friendly: It's renowned for being easy to clean and even easier to use, ensuring that your morning routine remains hassle-free.
Flavor Excellence: Customer reviews consistently highlight the great flavor and aroma that this coffee maker extracts from every batch.
In the world of coffee makers, these three options offer distinct experiences tailored to your preferences. The Technivorm Moccamaster embodies precision and control, the Red Keurig K-Mini embraces convenience and speed, and the Mr. Coffee Red Coffee Maker champions versatility and capacity. Whichever one you choose, you're bound to elevate your coffee journey and transform your mornings into moments of pure delight.
Red Smeg Coffee Maker
When it comes to marrying functionality with aesthetics, the Red Smeg Coffee Maker effortlessly takes center stage. This coffee maker is more than a mere kitchen appliance; it's a statement piece that brings both style and substance to your daily brew. Here's why choosing the Red Smeg Coffee Maker is a decision that blends both form and function:
Elevated Features: This coffee maker has undergone significant upgrades, boasting a newly enhanced "Keep Warm" function that keeps your brew at the ideal temperature for up to 60 minutes post-brewing.
Sensory Experience: The newly added sound control function allows you to indulge in your coffee-making ritual without disrupting the peace around you.
Clean and Dry: The classic anti-drip system ensures that your countertop stays clean and your machine remains dry, making cleanup a breeze.
Programmable Convenience: The programmable feature lets you wake up to the aroma of freshly brewed coffee, tailored to your preferred brewing time.
Sophisticated Design: With its iconic Smeg design and vibrant red color, this coffee maker seamlessly blends into modern kitchens, adding a touch of elegance.
For those who appreciate both style and substance in their coffee makers, the Red Smeg Coffee Maker is a choice that marries the joy of brewing with the delight of aesthetics.
KitchenAid Empire Red 12 Cup Drip Coffee Maker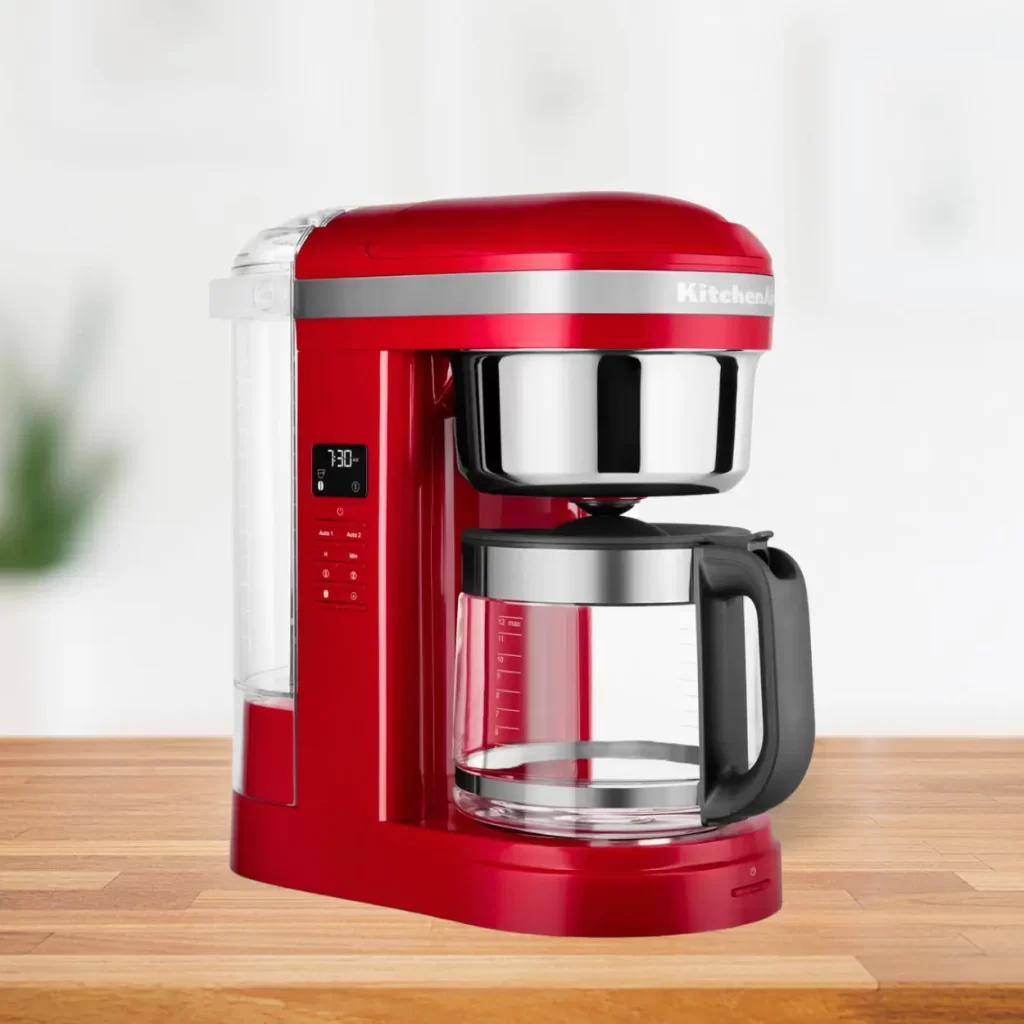 In the realm of drip coffee makers, the KitchenAid Empire Red 12 Cup Drip Coffee Maker stands as a testament to craftsmanship and innovation. If you seek an authentic coffee experience that combines efficiency with elegance, this coffee maker is a worthy contender. Here's why this coffee maker has captured the attention of coffee enthusiasts:
Ample Capacity: With a generous 1.7-liter carafe, you can effortlessly brew enough coffee to fuel your morning routine or cater to guests.
Precision Brewing: The unique 29-hole shower head ensures even saturation of coffee grounds, resulting in a well-balanced and flavorful brew.
Thoughtful Design: The removable tank and permanent filter simplify maintenance, while the glass carafe adds a touch of sophistication.
User-Friendly Interface: The intuitive buttons make operation a breeze, ensuring a seamless coffee-making experience.
Satisfaction Guaranteed: Backed by a 2-year guarantee, KitchenAid's commitment to quality and durability shines through.
For those who value precision, capacity, and a touch of luxury in their coffee journey, the KitchenAid Empire Red 12 Cup Drip Coffee Maker is a reliable companion that consistently delivers on taste and aesthetics.
Bialetti Red Moka Express Stovetop Espresso Maker
For aficionados of the true Italian espresso experience, the Bialetti Red Moka Express Stovetop Espresso Maker is a cherished classic that encapsulates tradition, flavor, and craftsmanship. This stovetop wonder encapsulates the essence of Italy's coffee culture and offers an unparalleled espresso experience. Here's why this espresso maker stands out:
Historical Legacy: With its iconic design dating back to 1933, the Bialetti Moka Express is a testament to Alfonso Bialetti's ingenuity and Italian coffee heritage. (1)
Authentic Brew: Crafted in Italy, it brews espresso in an authentic Italian manner, providing a rich and aromatic coffee that's steeped in tradition.
Ergonomic Excellence: The patented safety valve enhances safety and ease of cleaning, while the ergonomic handle adds a touch of practicality.
Versatile Sizing: Available in various sizes, you can enjoy your espresso as a single shot or in larger containers, catering to individual preferences.
Easy Preparation: Brewing is simple—fill the boiler, add ground coffee, heat on the stovetop, and let the distinctive gurgling sound guide you to your perfect espresso.
For those who crave the quintessential Italian espresso experience and appreciate the artistry of traditional coffee preparation, the Bialetti Red Moka Express Stovetop Espresso Maker is a cherished addition to their coffee arsenal.
Nespresso Red Inissia Espresso Machine by Breville (BEC120RED)
Introducing the Nespresso Red Inissia Espresso Machine by Breville, a compact powerhouse engineered to bring barista-quality coffee and espresso straight to your kitchen. This coffee maker, adorned in an elegant shade of red, embodies a perfect fusion of technology and style. Here's why this machine is essential for those who appreciate exceptional coffee experiences:
Barista-Grade Excellence: With its patented extraction system, this espresso machine effortlessly delivers up to 19 bars of pressure, ensuring every cup is a masterpiece.
Swift Performance: Experience the thrill of minimal wait time as the machine heats water to the ideal temperature in under 25 seconds.
Energy Efficient: With smart energy-saving mode, the machine automatically powers off after just 9 minutes of inactivity, conserving energy without compromising convenience.
Customizable Coffee: Featuring adjustable cup sizes and programmable buttons, you have the freedom to tailor your coffee to your liking, whether it's a bold espresso or a refreshing lungo.
Smart Design: The folding drip tray accommodates various cup sizes, while the stylish red hue and sleek form allow this machine to seamlessly integrate into any kitchen.
Complimentary Start: Unbox your new coffee journey with a complimentary set of Nespresso capsules, offering a taste of their diverse range.
Coffee Exploration: With over 30 permanent capsule options and exclusive seasonal blends, Nespresso ensures there's a coffee to satisfy every palate.
For those who seek a coffee maker that marries elegance, efficiency, and flavor, the Nespresso Red Inissia Espresso Machine by Breville is a must-have addition to your kitchen.
Nostalgia Retro Red Programmable Coffee Maker (12-Cup)
Indulge in a sense of nostalgia while embracing modern convenience with the Nostalgia Retro Red Programmable Coffee Maker. This charming 12-cup coffee maker not only adds a pop of retro-inspired style to your countertop but also elevates your coffee experience with its thoughtful features. Here's why this coffee maker is an embodiment of classic charm and functionality:
Generous Capacity: With the ability to brew up to 12 cups of coffee, this machine is tailor-made for daily use and entertaining alike.
Programmed Perfection: The 24-hour programmable clock and delay timer ensure you wake up to a fresh pot of hot coffee, precisely when you want it.
Pause & Serve: The handy Pause & Serve feature enables you to pour a cup mid-brew, catering to those moments when patience is scarce.
Safety Assurance: Boil dry protection and a two-hour automatic shut-off guarantee a worry-free coffee experience, even if you're preoccupied.
Warm and Inviting: After brewing, the automatic keep-warm function maintains your coffee's temperature for up to two hours, ensuring every cup is as delightful as the first.
User-Friendly Interface: The backlit LED display and simple controls—On/Off, Program, Hour/Minute—make operating this coffee maker a breeze.
Neat Pouring: The anti-drip design of the included carafe prevents messy spills while serving.
Clear Water Indication: The easy-to-read water level markings in the interior reservoir simplify the coffee-making process.
Eco-Friendly Option: The inclusion of a reusable filter and removable filter basket aligns with sustainability and reduces the need for disposable filters.
For those who adore the fusion of vintage aesthetics and modern convenience, the Nostalgia Retro Red Programmable Coffee Maker is a charming addition that evokes warm memories while delivering a delicious cup of coffee.
Buyer's Guide: Factors to Consider Before Purchasing
When embarking on the journey of selecting the perfect coffee machine for your kitchen, it's essential to be well-informed and make a choice that aligns with your needs and preferences. With a plethora of options available, each boasting distinct features and benefits, it's easy to get overwhelmed. To help you navigate this delightful yet crucial decision, let's delve into the key factors that should guide your purchase.
Price vs. Value: What's worth your money?
The allure of this coffee machine that catches your eye is undeniable, but before taking the plunge, it's important to assess the balance between price and value. Here are some considerations to keep in mind:
Budget Boundaries: Determine your budget range and explore options within it, ensuring you find a coffee maker that meets your financial comfort.
Features Matter: Compare the features offered by different models. Consider whether the machine aligns with your brewing preferences, whether it's programmability, capacity, or customization.
Longevity: Think of your purchase as an investment. Spending a bit more on a high-quality coffee maker with durability can save you from frequent replacements down the line.
In the realm of coffee makers, value isn't solely about the price; it's about finding the perfect balance between cost, features, and long-term satisfaction.
Size and Capacity: Serving Your Brewing Needs
A small coffee machine can pack a punch, but it's crucial to assess whether the machine's size and capacity cater to your brewing demands. Here's what to keep in mind:
Available Space: Measure your countertop space and ensure that the coffee maker you choose fits comfortably without crowding your kitchen.
Daily Demand: Consider the number of cups of coffee you brew on a typical day. If you're brewing for a large household or entertaining guests, opt for a model with ample capacity.
Brew Types: If you're a solo coffee enthusiast, a single-serve coffee maker might be more suitable. For those who enjoy brewing larger batches, a drip coffee maker with higher capacity is ideal.
Selecting the right size and capacity ensures that your coffee maker aligns perfectly with your lifestyle and coffee-drinking habits.
Warranty and Brand Reputation: A Long-Term Investment
This distinguishable kitchen appliance isn't just a short-term purchase; it's a part of your daily ritual. To safeguard your investment, consider the following:
Warranty: Research the warranty provided by the manufacturer. A longer warranty period often signifies the brand's confidence in their product's quality and durability.
Brand Reputation: Opt for established brands known for their coffee-making expertise. Brands with a solid reputation are more likely to deliver on promised features and customer satisfaction.
User Reviews: Explore user reviews and ratings to gain insights into the real-world performance and longevity of the coffee maker you're considering.
Choosing a coffee maker from a reputable brand with a strong warranty can offer peace of mind, ensuring that your coffee-making companion remains functional for years to come.
The journey to finding the perfect coffee machine involves a blend of considerations. Balancing price with value, selecting the right size and capacity, and investing in a reputable brand with a solid warranty all contribute to a decision that enhances your coffee experience and complements your kitchen aesthetics. By evaluating these factors, you're well-equipped to make an informed choice that results in countless satisfying cups of coffee.
Brewing the Perfect Cup: Tips with a Red Coffee Maker
Brewing a remarkable cup of coffee is an art that combines precision and passion. Even with a trusty coffee machine, there are nuances to explore that can elevate your coffee experience. From selecting the finest coffee grounds to achieving the ideal water temperature and maintaining your machine's peak performance, every step contributes to crafting a cup of coffee that tantalizes your taste buds. In this section, we'll delve into key aspects that can refine your brewing process and help you master the art of making coffee.
The Best Coffee Grounds for Your Machine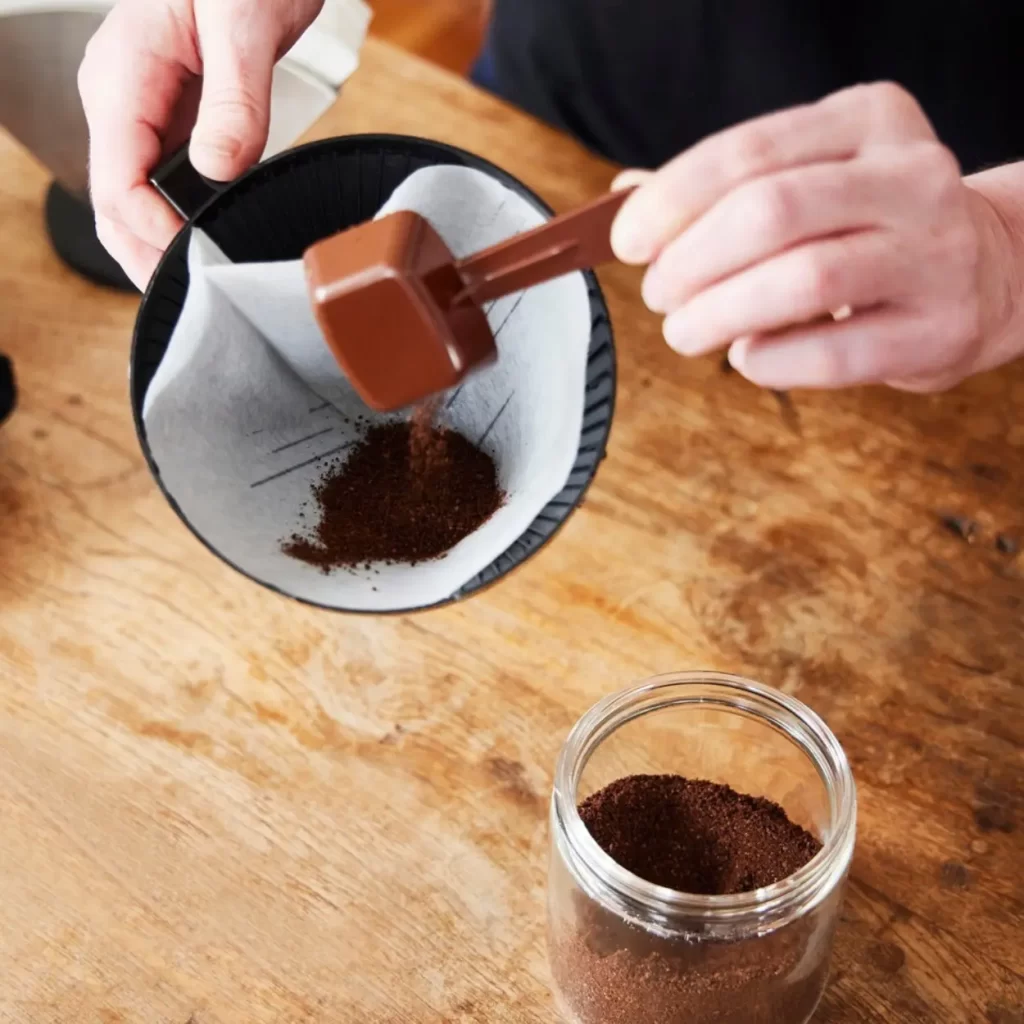 Brewing exquisite coffee starts with the quality of your coffee grounds. The following insights will guide you toward selecting the right grounds for your kitchen appliance:
Freshness is Paramount: Opt for freshly roasted coffee beans, ideally from local roasters, Unlike grocery store brands that might have aged on shelves, locally roasted beans offer the flavor nuances only achievable with recent roasting.
Water Matters: As coffee is predominantly water, begin with high-quality water. Filtered or spring water can significantly enhance the taste of your coffee, allowing the natural flavors to shine.
Regular Grinding: Grind your coffee beans just before brewing to retain their flavor and aroma. Invest in a burr grinder for consistent results.
Matching Grind Style: Ensure the grind style matches your coffee maker's requirements. Fine, auto-drip, and coarse are common grind options. Using the correct grind size ensures optimal extraction and flavor.
By selecting the right coffee grounds, you lay the foundation for a flavorful and aromatic cup of coffee.
Achieving Optimal Water Temperature
The water temperature plays a vital role in coffee extraction. Here's how to achieve the perfect water temperature for your brew:
Preheating for Consistency: During colder months, preheat your coffee carafe, Chemex, or French press with hot water. This minimizes heat loss during brewing, resulting in a hotter and more satisfying cup.
Precise Water Measurement: For pour-over brewing methods like Chemex, use a digital scale to measure both coffee grounds and water. This ensures consistency in each brew.
Instant Water Heating: Some coffee makers offer rapid water heating, which is crucial for achieving the right brewing temperature.
By maintaining optimal water temperature, you unlock the flavors trapped within your coffee grounds, creating a harmonious and well-extracted cup.
Maintenance: Ensuring Longevity and Taste Consistency
Caring for your coffee maker is essential for consistent taste and longevity. Here's how to ensure your machine remains in top condition:
Regular Cleaning: Use equipment cleaners specifically formulated for coffee makers to prevent residue buildup and ensure every cup is as flavorful as the last.
Weigh Your Coffee Beans: Achieve brewing consistency by weighing your coffee grounds using a digital scale. This practice guarantees replicable results.
Storage Wisdom: Store coffee beans in an airtight container at room temperature, shielding them from temperature fluctuations, moisture, and light.
Grinder Maintenance: Clean your grinder regularly to prevent cross-contamination of flavors between different types of beans.
Regular maintenance not only preserves your coffee maker's performance but also preserves the integrity of your coffee's flavor.
By honing these aspects, you'll unravel the true potential of your coffee machine, transforming every cup into an artful expression of taste and craftsmanship.
The History and Popularity of Red in Kitchen Appliances
The kitchen, often referred to as the heart of the home, has undergone a fascinating evolution in design and aesthetics. One color that has left a bold and lasting impression on kitchen decor is red. In this section, we delve into the history and popularity of red in kitchen appliances, particularly the allure it brings to the iconic red coffee maker.
The Symbolic Significance of the Color Red
The color red has etched its mark deeply within human history, representing a plethora of symbolic meanings that resonate across different cultures and societies. Its vibrant hue evokes a plethora of emotional responses and connotations, speaking to both the depth of human experience and the vastness of cultural traditions.
Intensity and Emotion
The profound connection between the color red and heightened emotions is undeniable. This link is biologically rooted: when intense feelings such as anger, passion, or distress surge within us, our skin often flushes red due to oxygenated blood propelled closer to the skin's surface. This response is driven by the "fight or flight" mechanism of the sympathetic nervous system. The evolutionary purpose of this physiological reaction remains debated, but prevailing theories suggest it may have evolved to signify dominance or to make an individual more attractive to potential mates, echoing insights from the Philosophical Transactions of the Royal Society B.
Dominance and Sports
The association of red with dominance doesn't just stop at individual reactions. Its influence extends to collective scenarios like sports. An intriguing study highlighted in the Nature journal found that soccer teams sporting red jerseys often outperformed their counterparts dressed in other colors, such as white or blue. This suggests that the color might psychologically impact both the players and their opponents, emphasizing the authority and power associated with red.
Well-being and Protection
Ancient civilizations deeply understood the symbolic potency of colors, often ascribing protective qualities to them. The color red, in this context, stood as a beacon of health and safeguarding:
Gemstones like garnets and rubies, radiant in their scarlet hues, were believed to bolster health and fend off ailments.
Drawing from the annals of Rome, it was common for children to wear red coral as an amulet, hoping its vibrant color would offer protection against diseases.
Similarly, in China, the practice of dressing children in red garments was widespread, reinforcing the belief in red's power to shield against illnesses.
Throughout time, red has continued to captivate and enthrall, symbolizing a myriad of concepts ranging from vitality and passion to conflict and valor. Whether it's the biology of our bodies or the jerseys of a sports team, red's powerful symbolism remains an enduring testament to its pervasive influence on human culture.
The multifaceted symbolism of red transforms it into more than just a color—it's an embodiment of emotions and energy that finds its place in kitchen aesthetics, including the presence of this bold kitchen appliance.
A Brief Timeline: From Classic to Contemporary Kitchen Designs
The journey of red in kitchen design has traversed various eras, each leaving an indelible mark on the color's significance:
1970s Boldness: The 1970s saw the emergence of bold kitchen colors, including Poppy Red. This era embraced vibrant hues, epitomized by the incorporation of red appliances that added a lively touch to kitchens. (2)
Classic Elegance: Moving into the late 20th century, red evolved from the vibrant tones of the 1970s to a more classic and refined shade. This transition allowed for a seamless integration of red kitchen elements into diverse design styles.
Modern Minimalism: In contemporary times, red takes on a new role. As kitchens become spaces of functionality and aesthetic harmony, these coffee machines stand as a focal point that bridges tradition with modernity.
The journey of red from the boldness of the 1970s to its present embodiment as a statement piece signifies its timelessness and adaptability in the realm of kitchen aesthetics, including the captivating presence of this coffee machine.
Why Red Coffee Makers Became a Statement Piece
The transformation of this appliance into a statement piece within kitchen decor holds its own narrative, shaped by various factors:
Contrasting Elegance: Against neutral and monochrome kitchen palettes, this coffee maker introduces a striking visual contrast that draws attention and adds personality.
Visual Focus: Red's innate ability to capture eyes makes this machine a natural focal point, anchoring the kitchen's design.
Expression of Style: Red transcends time, catering to both classic and contemporary design sensibilities, allowing for personal expression within diverse kitchen aesthetics.
The evolution of these kitchen appliances into coveted statement pieces underscores their ability to inject charisma and charm into kitchen spaces, making them a dynamic embodiment of both function and fashion.
Style Meets Function: Incorporating Red Coffee Makers in Kitchen Decor
A well-designed kitchen is a harmony of style and functionality. Adding this coffee machine not only elevates your coffee experience but also presents an opportunity to infuse your kitchen with a vibrant touch. In this section, we explore how to seamlessly integrate this appliance into your kitchen decor while ensuring it remains both eye-catching and practical.
Complementary Colors: Making Your Coffee Maker Stand Out
Amidst the neutral tones often found in kitchen spaces, this machine can serve as a captivating focal point. The following insights guide you in maximizing its impact:
Contrasting Hues: Consider the color wheel to identify complementary shades that enhance the allure of red. Greens and neutrals can provide an exquisite backdrop that makes your coffee maker pop.
Balanced Palette: While red commands attention, avoid overwhelming the space with too much color. Pair it with subtle accents that maintain visual harmony.
Strategic Placement: Position your coffee machine in an area where it can shine without overwhelming the overall design.
By strategically choosing complementary colors and placement, your kitchen appliance becomes an alluring focal point that seamlessly integrates into your decor.
Optimal Placement: Accessibility and Aesthetics
Ensuring that your small coffee maker is not only visually appealing but also conveniently accessible is crucial:
Workstation Proximity: Place your coffee maker near your coffee preparation area to streamline your morning routine.
Counter Space Utilization: Utilize available counter space to maintain a clean and organized look. Keep surrounding areas clutter-free to amplify your coffee maker's presence.
Ergonomics: Ensure that the coffee maker's height aligns with your comfort level for easy operation.
By thoughtfully considering placement, you enhance both the aesthetic appeal and practicality of your coffee machine within your kitchen.
Other Matching Red Kitchen Accessories and Gadgets
Elevate the allure of your coffee machine by harmonizing it with other red kitchen accessories:
Toasters and Blenders: Coordinate red tones with complementary kitchen gadgets like toasters and blenders for a cohesive visual theme.
Cookware and Utensils: Opt for red cookware and utensils that resonate with your coffee maker, creating a unified aesthetic.
Textile Accents: Introduce red through kitchen towels, oven mitts, and seat cushions that tie into your coffee maker's color scheme.
By extending the red theme to other kitchen elements, you forge a harmonious environment where your coffee maker stands as an integral part of a cohesive design.
Incorporating this appliance into your kitchen decor is a fusion of artistic expression and functional enhancement. With careful consideration of complementary colors, optimal placement, and matching accessories, your kitchen becomes a canvas where style seamlessly intertwines with utility.
Conclusion
In the realm of kitchen aesthetics, this distinguishable coffee machine emerges as more than just an appliance—it's a statement piece that brings vibrancy and character to your space. The journey we've embarked upon in this article has illuminated the multifaceted allure of red coffee makers, delving into their history, symbolism, and integration within kitchen decor.
From exploring the symbolic significance of the color red, which encompasses emotions ranging from passion to victory, to tracing its journey through various kitchen design eras, we've witnessed how red's timeless appeal seamlessly adapts to both classic and contemporary settings. The integration of this appliance into your kitchen is a nod to a rich history and a celebration of modern style.
Our exploration continued with insights on incorporating these charismatic coffee makers into your kitchen decor, unveiling the art of balancing aesthetics with functionality. We delved into the power of complementary colors, optimal placement, and the harmonious interplay of red with other kitchen accessories. The result is a cohesive, visually pleasing, and user-friendly kitchen space where your small coffee machine stands as a striking centerpiece, ready to cater to your caffeine cravings.
As we bring this journey to a close, the message resonates clear: This coffee machine is more than a device; it's a narrative of history, an embodiment of style, and an enhancer of your coffee experience. So, whether it's the iconic red Keurig coffee maker or any other small red coffee maker, their presence ignites a delightful burst of color that transcends mere utility, offering a captivating blend of artistry and function in the heart of your home.
FAQ