Coffee Crisp, an iconic Canadian chocolate bar, has garnered a loyal following since its introduction in 1938. This candy bar's distinct blend of crispy wafer layers, creamy coffee-flavored filling, and smooth milk chocolate coating has made it a favorite among chocolate enthusiasts. In this article, we will take a deep dive into the intricate history, diverse flavors, and variations of the Coffee Crisp candy bar, review customer feedback, and even provide some delicious recipes using this cherished chocolate bar. So, let's immerse ourselves in the world of this delightful chocolate bar and unveil why it has earned such a special place in Canadian hearts. (1)
The History of Coffee Crisp – Inspiration and Creativity
The intriguing tale of the adored Canadian confection, Coffee Crisp, can be traced back to the 1930s, wherein lies the inception of its original concept as the "Rowntree's Wafer Crisp" in the United Kingdom. As the chocolate bar was introduced to Canada, it initially bore the moniker "Biscrisp"; however, its title was soon to change. In 1938, a revolutionary coffee-flavored variation was added to the Biscrisp lineup, and this prompted the chocolate bar to be renamed as Coffee Crisp.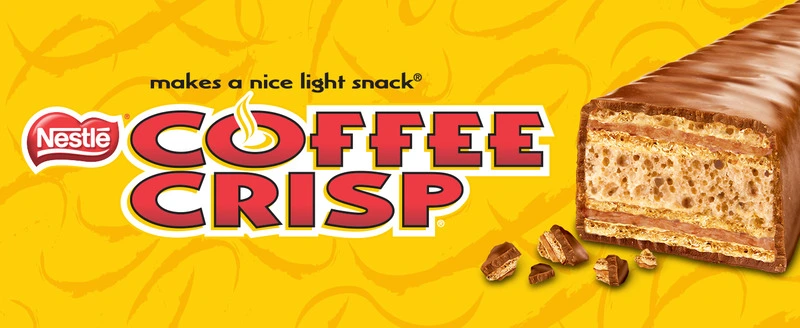 Over the years, the combination of vanilla wafer, foamed coffee-flavored soft candy, and milk chocolate outer layer has made this chocolate bar a much-loved treat throughout Canada. In 1988, Nestle procured Rowntree's Canadian operations, including the Toronto chocolate factory that is now the birthplace of Coffee Crisp. Presently, Nestlé Canada markets and sells Coffee Crisp as one of its premier chocolate brands.
The incredible narrative of Coffee Crisp's journey, from its modest origins in the UK to its current status as a cherished Canadian confection, exemplifies the timeless appeal of this delightful treat.
The Evolution of Coffee Crisp's Recipe – A Perfect Blend of Flavor and Texture
Coffee Crisp's recipe has undergone several changes and enhancements over the years. The initial recipe included a dark chocolate coating and a coffee-flavored cream filling. However, later, the recipe was updated to feature a milk chocolate coating, lending the chocolate bar a more velvety and sweet taste.
The combination of crispy wafers and coffee-flavored chocolate lends a unique texture to the chocolate bar. The wafer provides a crunchy texture that beautifully contrasts with the smooth and creamy chocolate, while the coffee flavor adds a sophisticated layer of complexity, creating a delightful and fulfilling experience.
In recent years, Nestle has introduced new variations of the beloved chocolate bar, such as Caramel and Triple Chocolate, offering a more diverse range of flavors for chocolate lovers.
Nestle's Commitment to Quality – A Sustainable and Ethical Approach
Nestle is devoted to sourcing top-quality coffee beans for its products. The company works directly with coffee farmers and cooperatives to ensure that the beans are grown and harvested sustainably while ensuring fair prices for farmers' crops. Nestle employs a rigorous quality control process to ensure that the coffee used in its products meets its high standards for taste and quality, providing a consistently exceptional experience for its customers. (2)
The chocolate candy bar has undoubtedly earned its place as an iconic Canadian treat, cherished by locals and visitors alike. Its perfect blend of crispy wafers, creamy coffee-flavored filling, and smooth milk chocolate coating offers a unique and satisfying taste and texture experience. With Nestle's commitment to sourcing high-quality ingredients and sustainable practices, It is sure to continue being a beloved favorite for generations to come.
Its popularity has extended to Japan, where it has become a sought-after souvenir item. What makes this particular bar of chocolate such a cultural phenomenon? Its complexity lies not only in its taste but also in its packaging design, marketing campaigns, and variations of flavors and products.
Packaging Design Evolution: A Journey through Time
The packaging design of Coffee Crisp has undergone a transformational journey over the years. The original packaging featured a red and white color scheme with an illustration of a coffee cup and saucer, which later gave way to a logo that now adorns the packaging with a coffee bean background. Today, the modern packaging design showcases the logo in bold letters on a brown background, adding a touch of sophistication to the brand.
From "Light Snack" to "Delicious and Satisfying": The Brand's Marketing Strategy
Nestle's marketing strategy for the chocolate bar has evolved from emphasizing its light snack status to highlighting its unique flavor and texture. The slogan "makes a nice light snack" was an early campaign, while recent campaigns focus on the irresistible taste of the candy bar. Furthermore, it has been featured in Canadian television shows and movies, amplifying its status as a cultural icon.
An Irresistible Treat: Indulge in Coffee Crisp
Coffee Crisp is a chocolate bar that satisfies both coffee and chocolate cravings. This delectable treat is loved by people worldwide and comes in various forms to suit everyone's preferences.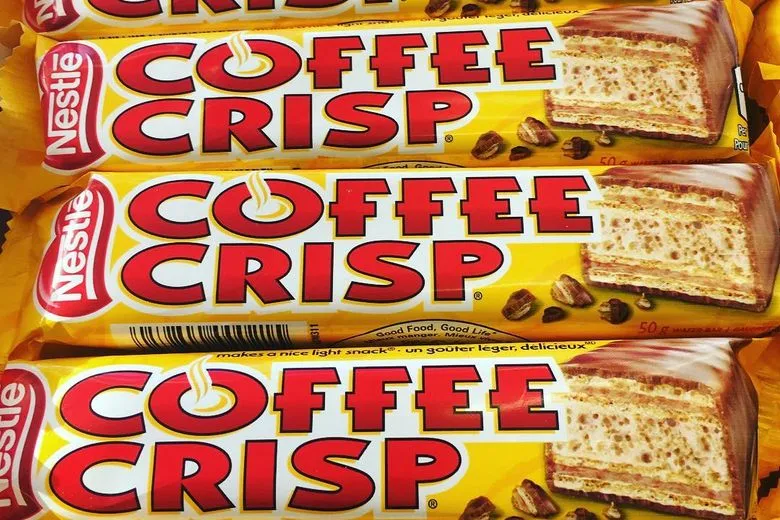 Coffee Crisp Variations – A Flavorful Journey
The candy bar has undergone several flavor and product variations, and its classic version remains a favorite among Canadian chocolate lovers.
The Classic Coffee Crisp: A Legend in the Making
The classic bar boasts a coffee-flavored cream center with crispy wafer layers, all enveloped in smooth milk chocolate. It is the candy bar that started it all and continues to reign supreme.
Coffee Crisp Bites: Perfect for Any Occasion
Coffee Crisp Bites are bite-sized versions of the classic candy bar, making them ideal for snacking on the go or sharing with friends. They contain the same coffee-flavored cream center and crispy wafer layers, but in a smaller, more convenient package.
Coffee Crisp Ice Cream: A Cool and Creamy Treat
Coffee Crisp Ice Cream is a frozen dessert that combines the flavors of coffee and chocolate. It features coffee-flavored ice cream with crispy wafer pieces and chocolate chips mixed in, all smothered in a layer of smooth chocolate sauce.
Limited Edition Flavors: An Adventure in Taste
Nestle releases limited edition flavors from time to time, adding a twist to the classic candy bar. Some of the limited-edition flavors that have been released include Maple, Caramel, and Chocolatey Caramel Brownie. These flavors generate much anticipation among fans and often sell out quickly.
A Comparative Analysis of Classic Coffee Crisp and Other Flavors such as Caramel and Triple Chocolate
The classic chocolate bar is renowned for its unique amalgamation of crispy wafers and coffee-flavored chocolate. However, the other flavors available offer a distinct twist on the traditional recipe. For instance, the Caramel flavor includes a creamy layer of caramel in addition to the chocolate and wafer, while the Triple Chocolate flavor boasts a lavish and decadent chocolate coating. Each flavor possesses its exceptional taste and texture, signifying that selecting the ultimate favorite is subjective and depends on personal preference.
The Popularity of Coffee Crisp as an Ingredient in Various Recipes
Coffee Crisp can prove to be a scrumptious addition to several recipes, including cakes, brownies, and even cocktails. Popular recipes that feature it as an ingredient comprise Coffee Crisp Ice Cream Cake, Brownies, and Martini.
Locating Coffee Crisp in Nearby Stores
The bar is widely available in grocery stores and convenience stores throughout Canada and other countries. You can also purchase Coffee Crisp candy online through retailers such as Amazon and Nestle's official website. In case you face any difficulty locating it in stores close to you, Nestle's customer service can assist you.
The Love for Nestle Coffee Crisp Among Coffee Enthusiasts
Coffee Crisp is a chocolate bar that holds a special place in the hearts of coffee enthusiasts. Its unique blend of coffee-flavored chocolate and crispy wafers make it an ideal accompaniment to a cup of coffee or espresso.
The Synergy between the Chocolate Snack and Coffee or Espresso
When savored together, the chocolate and coffee produce a harmonious fusion of flavors. The coffee flavor in the chocolate bar amplifies the taste of the coffee, while the crispy wafers provide a gratifying crunch that complements the smooth texture of the coffee. It is the perfect match for individuals who relish both coffee and chocolate.
Cafes Offering Coffee Crisp-Inspired Beverages and Delights
Numerous coffee shops and cafes provide drinks and treats inspired by Coffee Crisp. Popular examples include Coffee Crisp Latte, Mocha, and Frappuccino. These beverages are created by combining coffee with chocolate syrup and other ingredients to formulate a delectable and indulgent delight.
Replicating the Taste of Coffee Crisp in Coffee or Desserts at Home
If you are a fan of Nestle Coffee Crisp, you can effortlessly recreate its mouth-watering flavor at home. One way to do this is by adding a tablespoon of chocolate syrup or cocoa powder to your coffee or espresso. Alternatively, you can chop the chocolate bar and sprinkle it over your favorite desserts such as ice cream or cake, to include a crunchy and flavorsome topping. With a touch of creativity, you can relish the taste of this candy bar in a plethora of different ways.
Crafting Your Own Coffee Crisp Delicacies
Should you happen to be a devotee of this delicious snack, perhaps you might want to try fashioning your very own homemade renditions of this delightful treat. A myriad of recipes is readily available on the internet that either utilizes the bar as an ingredient or are inspired by its distinctive flavor profile. Here are a few suggestions to get your creative juices flowing:
Coffee Crisp Cheesecake
Nestle Coffee Crisp Cheesecake is a lavish dessert that amalgamates the flavors of coffee, chocolate, and creamy cheesecake. Typically, the recipe involves pulverizing the bars and incorporating them into the crust, as well as incorporating fragments of the candy bar into the cheesecake filling itself. The outcome is a luxurious and toothsome dessert that is sure to make an impression on your guests.
Coffee Crisp Milkshake
A Coffee Crisp Milkshake is a refreshing and chilled treat that combines the flavors of coffee, chocolate, and ice cream. Simply blend vanilla ice cream, milk, and crushed Coffee Crisp candy bars until they're creamy and smooth. For an additional indulgent touch, adorn with whipped cream and a lacing of chocolate sauce.
Coffee Crisp Truffles
Truffles are bite-sized morsels that are ideal for a sugary snack or a party dessert. To fabricate these truffles, blend cream cheese, crushed Coffee Crisp candy bars, and powdered sugar until you have a smooth and doughy consistency. Roll the mixture into petite balls and dunk them in molten chocolate. Refrigerate until the chocolate has hardened and revel in!
Coffee Crisp Latte Macchiato
To make a Coffee Crisp Latte Macchiato, you will need the following ingredients:
1 shot of espresso
1/2 cup of milk
1 tbsp of Coffee Crisp, crushed
Caramel sauce (optional)
Instructions:
Begin by brewing a shot of espresso and pour it into a glass.
In a separate container, heat 1/2 cup of milk until it reaches a frothy consistency. You can use a frother or a microwave for this step.
Pour the frothed milk over the espresso shot, leaving about 1/2 inch of space at the top.
Crush 1 tbsp of Coffee Crisp candy bar into small pieces and sprinkle it on top of the frothed milk.
Optionally, drizzle some caramel sauce over the top for added sweetness and flavor.
Serve and enjoy your homemade Coffee Crisp Latte Macchiato!
This recipe is a great way to enjoy the rich and creamy flavors of Nestle Coffee Crisp in a delicious and satisfying latte. However, keep in mind that this drink is high in sugar and calories, so it should be consumed in moderation as part of a balanced diet.
These homemade recipes are a gratifying and imaginative approach to savoring this iconic Canadian candy bar. Give them a try and observe how you can infuse the scrumptious flavors of coffee and chocolate into your homemade goodies.
Nestle Coffee Crisp vs Other Chocolate Bars
Coffee Crisp is a sought-after Canadian candy bar, but how does it measure up to other chocolate bars? Here's a comparison of Nestle Coffee Crisp with a few other favored chocolate bars on the market.
Coffee Crisp vs KitKat
KitKat is another chocolate bar that features crisp wafer layers. However, KitKat has a lighter, more brittle texture than Coffee Crisp, and its flavor profile emphasizes chocolate rather than coffee. Furthermore, KitKat is available in a broader array of flavors and variations.
Coffee Crisp vs Twix
Twix is a candy bar that features a biscuit base, a caramel filling, and a chocolate coating. Unlike the Coffee Crisp candy bar, Twix does not boast crispy wafer layers or coffee flavor. In addition, it is renowned for its rich caramel and chocolate flavor, and its unique texture that marries both chewiness and crunchiness.
Coffee Crisp vs Aero
Aero is a chocolate bar that features a bubbly, aerated chocolate center, smothered in smooth milk chocolate. Unlike Coffee Crisp, Aero doesn't have any crispy wafer layers or coffee flavor. Aero's texture is fluffy and light, and its chocolate flavor is creamy and velvety.
While this candy bar stands apart with its amalgamation of coffee-flavored cream and crispy wafer layers, other chocolate bars offer their distinct flavors and textures. At the end of the day, the preference between Nestle Coffee Crisp and other chocolate bars is subject to personal taste and predilection.
Unveiling the Nutritional Information: A Detailed Look at a 50g Candy Bar
Calories: 260
Fat: 13g
Saturated Fat: 7g
Trans Fat: 0.1g
Cholesterol: 5mg
Sodium: 60mg
Carbohydrates: 33g
Fiber: 1g
Sugars: 25g
Protein: 2g
It is important to note that these values may vary slightly depending on the specific product and serving size. Additionally, consuming too much sugar and saturated fat can lead to health problems, so it is recommended to enjoy Coffee Crisp and other sweets in moderation as part of a balanced diet.
Coffee Crisp Reviews and Ratings
For more than eight decades, Coffee Crisp has been a delectable and popular candy bar in Canada, but what is the consensus about its flavor and quality? Here are some customer reviews and ratings:
Customer Reviews of Coffee Crisp
By and large, customer reviews of Coffee Crisp are upbeat, with many people commending the candy bar's unique flavor and texture. Some reviews wax eloquent, describing it as "scrumptious," "mind-blowing," and "irresistible." Others applaud its affordability and widespread availability, making it a favored option for a quick snack or a sweet treat.
Positive Feedback
Many enthusiasts revel in the candy bar's unparalleled coffee-infused filling and crispy wafer layers, all smothered in smooth milk chocolate. Many individuals also relish the convenience of the bite-sized Coffee Crisp Bites, ideal for on-the-go munching. Additionally, some people hail it as a Canadian icon and a symbol of national pride.
Negative Feedback
Although a vast majority of reviews for the chocolate bar are favorable, some critics are less than impressed by the candy bar. Some individuals opine that the coffee flavor is excessively potent or artificial, while others deem the texture to be excessively crunchy. Additionally, some people feel that it is excessively sweet or lacks depth of flavor.
Overall, customer reviews and ratings are largely positive, with numerous individuals relishing its unique flavor and texture. Despite some naysayers, the candy bar remains a much-loved Canadian delicacy that has weathered the test of time.
Share the Joy of Coffee Crisp
Sharing Nestle Coffee Crisp with others can be an excellent way to spread happiness and demonstrate your gratitude for someone special. Whether you're giving it as a present or incorporating it into a community event or fundraiser, there are countless ways to share the love of this delicious candy bar.
Coffee Crisp as a Gift
The chocolate candy bar can make an excellent present for any occasion. Whether it's a birthday, anniversary, or holiday, this chocolate bar is guaranteed to bring a smile to someone's face.
What Occasions Are Perfect for Giving Coffee Crisp as a Gift?
The chocolate bar can be given as a present for any occasion, but it's particularly well-suited for occasions where coffee is usually savored, such as a morning meeting, a coffee break, or a coffee-themed event. It's also an exceptional gift for anyone who relishes chocolate.
How Can I Personalize a Gift of Coffee Crisp for Someone Special?
You can customize a Coffee Crisp present by packaging it in a special manner, such as a gift basket or a decorative box. You can also add a personalized note or card to express your appreciation for the recipient. Another idea is to pair it with a bag of their preferred coffee beans or a coffee mug to create a themed gift.
How Can I Order Coffee Crisp Online to Send as a Gift to Someone Outside of Canada?
If you're looking to send the chocolate bar as a present to someone outside of Canada, you can order it online through retailers like Amazon or Nestle's official website. You may also be able to find international retailers that offer shipping. When ordering online, make sure to check the shipping options and estimated delivery times to ensure that the present will arrive in time for the occasion.
Coffee Crisp and Community
Coffee Crisp, an iconic candy bar in Canadian society, has transcended its status as a mere confectionery item to become a cultural symbol of community and charity. The complexity of this chocolate bar goes beyond its combination of coffee-flavored cream, crispy wafer layers, and milk chocolate coating. Its impact on Canadian society is intricately woven into the fabric of everyday life, making it an essential part of the country's culture.
Unveiling Nestle's Contribution to Local Communities and Charities
Nestle has demonstrated a strong commitment to supporting local communities and charities. They have implemented various strategies to fulfill this obligation, such as donating a portion of their profits to local organizations and charities. Additionally, Nestle participates in community events and fundraisers to promote charitable causes. Nestle Coffee Crisp has become a popular item for such events, with proceeds directed towards various charitable organizations, thereby facilitating positive community impact.
Innovative Ways to Incorporate Coffee Crisp into Community Events or Fundraisers
The versatility of the bar makes it an ideal ingredient for community events and fundraisers. One of the creative ways to incorporate this candy bar is by hosting a Coffee Crisp bake sale. Volunteers can use the candy bar as an ingredient in their baked goods, thereby creating unique treats that are sure to delight customers. Another fun idea is to create a Coffee Crisp-themed scavenger hunt or trivia contest, with exciting prizes for the winners. It can also be sold as a fundraising item, with proceeds donated to a local charity or organization.
Spreading the Love on Social Media
Social media provides a platform to share one's love for the chocolate bar with others. Fans of this iconic chocolate bar can share pictures of their favorite recipes or experiences. Creating social media challenges or contests that incorporate its usage is another exciting way to spread the love for this candy bar. Hashtags like #CoffeeCrisp or #CanadianChocolate can also be used to connect with other fans of the candy bar, thereby fostering a sense of community and camaraderie.
Conclusion
Coffee Crisp's journey began as a new candy bar developed by Nestle Canada over 80 years ago. Since then, its unique blend of flavors has made it a favorite among chocolate lovers. It has also evolved to become a cultural icon in Canada, with its popularity leading to the creation of different flavors and product variations. Homemade recipes incorporating the chocolate have also been developed by fans of the candy bar. Despite some critics, most reviews are positive, with many people appreciating its affordability and unique taste.
The chocolate bar's cultural significance extends beyond its status as a candy bar. It has become a symbol of community, charity, and social events, bringing joy and satisfaction to people who indulge in its delicious flavor. Nestle's contribution to local communities and charities through Nestle Coffee Crisp is an essential aspect of its success. It's versatility makes it an ideal ingredient for community events and fundraisers, while social media provides a platform to share the love for this iconic candy bar. It's impact on Canadian society is undeniable, and it is sure to continue delighting chocolate lovers for generations to come.
FAQ