Coffee and sleep seem like two elements on the opposite of a spectrum. We drink coffee to stay awake. It's that simple. Coffee helps counteract sleepiness through caffeine. Adults, in particular, enjoy the benefits of being able to stay awake to do everything they need to do in a day. It wakes you up, keeps you alert, helps you focus, and enhances cognitive function. People love it as much as they need it—so much so that they're willing to put up with its bitter taste. As much as coffee enthusiasts claim to drink coffee for its flavor, most drinkers are just after the effects.
The problem comes when it's time to rest. One of the significant adverse side effects of drinking coffee (the amount and time of day) is its ability to disrupt a person's sleep cycle. Coffee drinkers are all too familiar with this scenario: you drink coffee to stay awake, but you can't sleep when the tasks are done and trying to fall asleep. As we all know, an insufficient amount of sleep can compromise a person's alertness, among other negative effects on a person's health.
Technically speaking, coffee is not the bad guy, but the caffeine in it. It is a stimulant that blocks sleep-inducing hormones in the brain and increases adrenaline production. It enters the body through the stomach, intestines before getting absorbed by the bloodstream within 20 minutes of consumption.
Too Much of a Good Thing 
Caffeine is a stimulant; it is not a destructive substance but has to be regulated so that it does not negatively affect a person's health. For example, people look to caffeine if they want a productive day because it helps them focus and stay alert. As a result, it's not uncommon to see people chugging coffee down several times a day.
Some say that it's not the amount of coffee one drinks but the timing. It takes about 4-6 hours to metabolize half of the amount of caffeine, and it takes about 20 minutes to be absorbed into the bloodstream. It has been said that a person can handle up to 400 mg of coffee a day (95 mg of caffeine per 8-ounce cup), which means having 3 to 4 8-oz cups a day is still safe.
Just because it's safe to drink that many cups of coffee in a day doesn't mean you should. Each person's body is unique. Some people might metabolize caffeine faster than average, while others might metabolize it slower. Not to mention, caffeine is highly addictive. Too much coffee and caffeine can lead to insomnia, headaches, and drowsiness during the day.
Negative Effects of Caffeine
Sleep is an important component of recovery and overall health. After having a productive day fueled by caffeine, people have to rest and recover. Unfortunately, unregulated caffeine intake can have the following negative effects:
Poor sleep quality. Otherwise known as light sleeping, poor sleep quality manifests in feeling drowsy in the morning or feeling tired.
Interrupted sleep. The inability to sleep through the night means waking up every couple of hours and having a hard time getting back to sleep. Similar to having poor sleep quality, this leads to waking up feeling tired.
Irritability and weak emotion regulation. People who have not slept well are usually irritable. Because they are tired, they do not have the ability to control their emotions and actions, especially in stressful situations.
Forgetfulness. Lack of sleep affects a person's cognitive function. People who are not well-rested are less alert and are not able to retrieve information from the brain as quickly as they should.
Rapid heartbeat. The adrenaline rush from caffeine can increase heart rate. However, too much caffeine can lead to palpitations, especially in those with preexisting heart conditions.
Dehydration. Coffee is a known diuretic. Drinking too much without drinking enough water can lead to dehydration, which can lead to worse symptoms like fatigue.
The Best Proactive Measure: A Healthy Daily Routine
Having healthy sleeping habits starts with a healthy daily routine. Try to get 7 hours of sleep every night. It's not always easy to do especially for those who have busy lifestyles. Here are some tips to consider:
Take coffee about 1 to 2 hours after waking up. When a person wakes up in the morning, the mind and body are also naturally waking up. This means that the body does not yet need a "kick" from an external substance. If you experience a dip in your energy levels during the mid-morning hours, then let that be the only time you drink your first cup.
Since caffeine takes about 20 minutes to be absorbed by the body, take a power nap right after drinking coffee. The caffeine will have kicked in by the time you wake up. On top of that, you will feel refreshed because both your mind and body were able to rest completely. Make sure to keep the nap at 20 minutes; otherwise, you risk oversleeping and feeling fatigued.
Have a sleep schedule. Sleep at the same time every night and wake up at the same time the next day. It's normal to set one's alarm to wake up in morning. Try setting an alarm before bedtime. That way, you can start on your turn down routine (more on this later).
Do not drink coffee too close to bedtime. As mentioned, it takes several hours for caffeine to be fully metabolized by the body. Avoid drinking caffeinated coffee after 4:00pm; switch to decaf.
Exercise. A lot of people preach about the benefits of exercising in the morning. It might work for some, but others might prefer exercising later on in the day. Those who want to have good quality sleep should try doing light exercises for 30 minutes, about 1 to 2 hours before bedtime. This is an excellent time to use up all pent-up energy you probably did not use while you were behind the desk, working away.
Stay hydrated. Dehydration can have a negative effect on the quality of sleep because it can contribute to symptoms like cramping and dry mouth.
Do not eat about 2 to 3 hours before bedtime.
Invest in a good mattress, pillows and bedsheets. Trick your brain into getting excited about going to bed. Having lovely bed linens and a comfortable bed and pillow will definitely help!
How to Fall Asleep After Drinking Coffee 
Sometimes, a healthy, proactive routine does not help, especially on days when you drink too much coffee. It could have been due to a busy day or mistakenly drinking regular coffee when you meant to have decaf. Whatever the reason is, there are some suggestions on what you can do: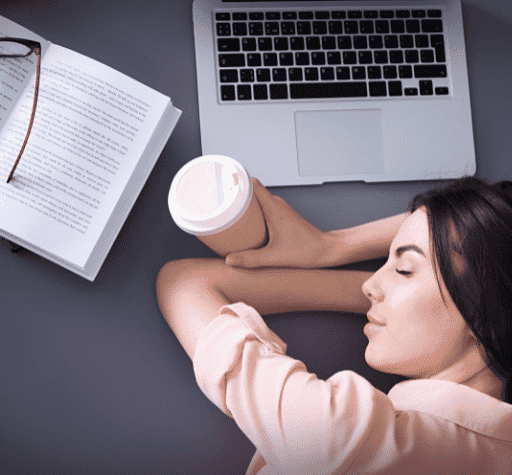 Replace regular coffee with decaffeinated coffee.
Decaf is not totally caffeine-free. However, switching to decaf in the afternoon means that the caffeine will be metabolized faster. It will take less than 6 hours for the body to get rid of the caffeine.
Take a sleep aid.
Melatonin is a naturally occurring hormone in the body that tells the body when it's time to sleep and when it's time to wake up. Other over-the-counter sleeping pills can sometimes leave a person feeling dizzy and drowsy in the morning. Taking a melatonin supplement can help a person sleep and wake up feeling refreshed.
Avoid blue light.
Avoid browsing on your smartphone or computer right before going to bed. The bright blue light not only strains the eyes, but the brightness sends signals to the brain that it should be alert. Switch off the screens at least 30 minutes before going to bed.
Have a turndown routine.
Take a warm shower, do your skincare routine, meditate, and light a candle. As much as a healthy morning routine sets a person up for a productive day, a turndown routine prepares a person to switch off and rest.
Regulate your room's temperature.
Make sure that the temperature of the room is neither too hot nor too cold to facilitate relaxation.
Play background music.
Instead of the upbeat pop music, you listen to throughout the day, try to put on some white noise or ambient music to help the brain relax.
Final Thoughts 
Health and wellness experts have long targeted coffee and caffeine consumption for wreaking havoc on one's sleep schedule. As we all know, sleep is a critical factor in maintaining a person's overall health and wellbeing. The truth is drinking coffee is not a bad thing. It's a flavorful, inexpensive, and highly accessible drink that many people rely on to get through their day. Who doesn't need that caffeine kick and mental alertness to accomplish important tasks, right? As mentioned in the previous sections, the trick to having a healthy sleep cycle without having to give up coffee is to regulate it. It has been said that it's not so much about the amount of coffee; it's the timing of drinking it. Follow the suggested steps and see how your sleeping habit improve.
IF YOU'VE ENJOYED THIS ARTICLE, GIVE IT A PIN!