These days, each brand of kitchen appliance has at least one coffee maker model on its roster, and it can be a pain just trying to figure out which one to buy. Unlike espresso machines, which are more specialized, technical, and expensive, coffee makers are more user-friendly and straightforward. The niche of specialty coffee lovers might be growing, but the average person does not really care much other than having their caffeine kick in the morning.
There is no need to pay an arm and a leg for a good, standard coffee maker. Coffee makers are so common, it's not that hard to find one that gets the job done while being easy on the pocket. It does take a bit of research to find a model that suits you best—not all coffee makers are made equal, especially in the realm of inexpensive models. Buying the cheapest filter coffee maker model might feel like you land a good deal, but if it breaks or stops working within a couple of months, you've just wasted good money. Here's a tip: instead of going for the cheapest model, go for value for money. There are hidden gems among lesser-known brands, but don't write off more popular brands—they're earned their reputation for a reason.
What to Know Before Buying a Coffee Maker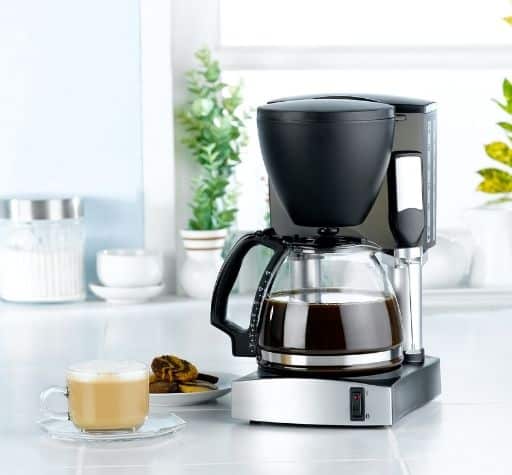 Even the best cheap coffee makers come with a lot of features. It's not uncommon to encounter these features: automatic shutoff, brewing options, and programmable to make coffee in advance. Before deciding on which one to purchase, consider your needs and lifestyle.
Capacity
How many cups do you need? Those who live alone or live in a household where there are not many coffee drinkers would get by with a single-serve coffee maker. In contrast, those who live with a large group of people or find themselves entertaining a lot might like to buy a large-capacity coffee maker.
Budget
It's easy to find the best cheap filter coffee maker for less than $100. There are models that might be a little more expensive and boast more features. However, you have to decide which features are most essential for you.
Additional features
Large-capacity coffee makers are usually made with either glass or thermal carafes. Glass carafes are more common, while thermal carafes are more expensive. Small-capacity coffee makers (such as single-serve coffee makers) usually come with a portable travel cup. Does the coffee maker come with a reusable filter? Those who are conscious of being wasteful might want to buy a coffee maker that has a reusable filter. Lastly, those who love buying capsules or pods might want to consider a model that has an option for capsules.
It's tempting to buy a model that is cheap. Because coffee makers are so common, it's not hard to find affordable options that come with a lot of features. However, not all coffee makers are made equal. Buy one that has features that you need that are within your budget; everything else is a bonus.
The Best Coffee Makers Under $100
Hamilton Beach 2-way Brewer
Hamilton Beach 49933 2-Way 12 Cup Programmable Drip Coffee Maker & Single Serve Machine, Glass Carafe, Auto Pause and Pour, White
2 WAYS TO BREW: SINGLE CUP OR FULL POT. The included single-serve scoop makes it easy to just scoop, place and brew. You can brew up to 14 oz. into a cup or travel mug on the single-serving side or make up to 12 cups on the carafe side with ground coffee.
SIMPLE SINGLE-CUP BREWING — DOESN'T USE K-CUP PODS. Why waste money on pods that limit your options. Use your favorite ground coffee instead with the Hamilton Beach coffee maker. Note: travel mug and cups are not included.
PEACE OF MIND WITH 2 HOUR AUTOMATIC SHUTOFF. How many times have you walked out the door, only to wonder: did I turn the coffee maker off. Now there's no worry or turning around to check, since the coffee maker turns off automatically after two hours.
PROGRAMMABLE COFFEE MAKER FOR WAKE-UP READY COFFEE. Simply program the coffee maker with the time you want to start brewing coffee, fill the water reservoir and add ground coffee to your filter. When you wake up, coffee will be piping hot and ready to drink.
CHOOSE YOUR BREW STRENGTH WITH SELECT-A-BREW. Control how strong you want your coffee with two brew options: regular and bold.
[i2pc show_title="false" title="Pros & Cons" show_button="false" pros_title="PROS" cons_title="CONS" ][i2pros]It has two brewing options: Pot and Single serve.
It automatically shuts off after two hours, making it energy efficient.
This coffee maker is also programmable.
Can brew up to 12 cups of coffee — perfect for a big family!
Brews 5 cup sizes.[/i2pros][i2cons]Not compatible with k-cups.[/i2cons][/i2pc]
Hamilton Beach Programmable 12-cup Brewer
Hamilton Beach Programmable Coffee Maker, 12 Cups, Front Access Easy Fill, Pause & Serve, 3 Brewing Options, Black (46310)
EASILY FILL FROM THE FRONT.The FrontFill water reservoir and swing-open brew basket provide easy access under cabinets,so it's simpler to add water and coffee grounds.The swing-out brew basket opens from the front and is designed for easy cleaning.Filter type:Reusable
WAKE-UP READY COFFEE WITH EASY-TOUCH PROGRAMMING: It's easy to program the coffee maker and clock. Use Easy-Touch programming to set the Hamilton Beach coffee maker up to 24 hours ahead so hot coffee is ready in the morning when you wake up.
AUTO SHUTOFF: This drip coffee maker automatically shuts off after 2 hours for peace of mind. Never worry about leaving home with the coffee maker on again.
CUSTOMIZE BREW STRENGTH. Use the Select-a-Brew brew-strength selector on the programmable coffee maker to set your coffee's brew strength to match your preference or mood. Choose regular, bold or 1-4 cup options.
KNOW WHEN IT'S TIME TO CLEAN: The coffee maker gives you cleaning reminders to let you know when it's time to run the self-cleaning cycle. Fits Hamilton Beach 80674R water filters (sold separately).
[i2pc show_title="false" title="Pros & Cons" show_button="false" pros_title="PROS" cons_title="CONS" ][i2pros]This programmable machine can be set up so that it can brew coffee at any particular time.
This coffee maker can also control the strength of the coffee.[/i2pros][i2cons]The features are limited, but it's highly rated and gets the job done.[/i2cons][/i2pc]
Keurig K-Mini Coffee Maker
Sale
Keurig K-Mini Single Serve Coffee Maker, Black
FITS ANYWHERE: Less than 5 inches wide, perfect for small spaces.Filter type:Reusable.Temperature Control : No. Froths Milk : No..Display Screen : No, Digital Clock : No.
YOUR PERFECT AMOUNT: Brew any cup size between 6-12oz with Keurig K-Cup pods.
ONE CUP RESERVOIR: Just add fresh water for each brew.
FAST & FRESH BREWED: Coffee made in minutes.
CORD STORAGE: For easy transport and tidy countertops.
[i2pc show_title="false" title="Pros & Cons" show_button="false" pros_title="PROS" cons_title="CONS" ][i2pros]This single-serve coffee maker can brew from 6 to 12 oz.
Compatible with K-cup pods
It is less than 15-inches wide, which makes it easy to store.[/i2pros][i2cons]Considering that this machine can only brew single servings and has features that are relatively common, it is expensive.[/i2cons][/i2pc]
Ninja CE251 Programmable Brewer
Sale
[i2pc show_title="false" title="Pros & Cons" show_button="false" pros_title="PROS" cons_title="CONS" ][i2pros]This coffee maker can brew up to 12 cups of coffee at a time.
It comes with a glass carafe and is programmable.
Users can schedule freshly brewed coffee.
The removable water reservoir is easy to refill and empty.[/i2pros][i2cons]Some users have complained about receiving a broken carafe.[/i2cons][/i2pc]
Cuisinart DCC-3200P1 Perfectemp
Sale
Cuisinart Coffee Maker, 14-Cup Glass Carafe, Fully Automatic for Brew Strength Control & 1-4 Cup Setting, Stainless Steel, DCC-3200P1
Enjoy Hotter Coffee: Utilize expert coffee-making technology to ensure your coffee temperature is perfect, delivering a delightful taste experience without compromising flavor or quality.
Brew Strength Control: Tailor your coffee flavor to perfection by choosing between regular or bold settings, catering to your unique taste preferences with every brew.
Fully Automatic Coffee Brewer: Experience convenience with 24-hour programmability, offering flexibility with 1-4 cup settings, auto-off functionality (0-4 hours), and an optional ready alert tone for added convenience.
14-Cup Glass Carafe: Indulge in generous servings of coffee with a sleek glass carafe featuring a decorative stainless-steel handle and matching body, creating a stylish addition to complement your kitchen appliances
Fill with Ease: Enjoy accurate water filling through the easy-to-view water window, while Cuisinart's Brew Pause feature allows you to savor a cup of coffee before the brewing cycle completes, enhancing your coffee-drinking experience
[i2pc show_title="false" title="Pros & Cons" show_button="false" pros_title="PROS" cons_title="CONS" ][i2pros]This coffee maker can brew up to 14 cups of coffee.
Users can control the strength of their brewed coffee.
It shuts off automatically and is also 24-hour programmable.[/i2pros][i2cons]Cuisinart is a well-known brand of kitchen gadgets. However, the features of this coffee maker are quite basic.[/i2cons][/i2pc]
Boly Single Serve Coffee Maker
Single Serve Coffee Maker Brewer for K-Cup Pod & Ground Coffee Thermal Drip Instant Coffee Machine with Self Cleaning Function, Brew Strength Control
Rapid Brewed Coffee Right At Your Fingertips: This personal single serve coffee maker will give you that fresh, pure taste that is required to jump start your day. Have your cup ready to drink in only 3 minutes. Hot enough to still have hot coffee with cream added. The water adjustment function allows you to control how much coffee you want to brew to save expensive grounds.
Brew With Strength Control : This small single serve coffee machine displays measurements from 6 oz to 14 oz in the reservoir, allowing you to control the amount of coffee brewed to adjust dark or light and satisfy your taste.
Fast Brewing and Self-cleaning : Want to drink hot coffee within 3 mins? Just simply add water to the measurable water tank, insert coffee pod or ground coffee, then press the corresponding button to brew your hot coffee. The coffee machine will automatically switch off after brewing is complete. Press the 2 buttons at the same time and this one cup coffee maker could be self-cleaned.
Portable and Tiny Design: This coffee machine saves counter space, which is very suitable for small places, like room, office, RV, hotel, apartment. You can put it in your suitcase when you need to travel long distances.
Warm Tips : Please brew water to clean for first use,it can be more effective to extract essence from coffee.ONLY can be used under USA voltage standard 110V-120V, a voltage converter is needed if used in other countries.
[i2pc show_title="false" title="Pros & Cons" show_button="false" pros_title="PROS" cons_title="CONS" ][i2pros]This coffee maker can make coffee using both k-cup pods and ground coffee.
It has a self-cleaning function and can brew coffee within 3 minutes.
Users can also control the strength of the brew.[/i2pros][i2cons]None[/i2cons][/i2pc]
Mr. Coffee 12-cup Coffee Maker
Sale
Mr. Coffee 12-Cup Manual Coffee Maker, White
Classic functionality and modest design keep brewing simple and easy for coffee drinkers that love the taste of a great cup of coffee
Grab-A-Cup Auto Pause stops cycle when you need a cup before brewing is finished
Dual Water Window to see exact water level as you fill, for no overflows
Power ON/OFF Indicator lights show coffee maker is in on mode and to remind you to shut it off
Lift & Clean Filter Basket for fast and easy clean up
[i2pc show_title="false" title="Pros & Cons" show_button="false" pros_title="PROS" cons_title="CONS" ][i2pros]This coffee maker has an pause function—if you need to get coffee before it's finished brewing, you can do so without the risk of making a mess.
The filter basket is easy to lift and clean.
This best-selling machine is probably the best reasonably priced coffee maker in the market right now.[/i2pros][i2cons]It's a standard coffee maker. Do not expect bells and whistles from this model.[/i2cons][/i2pc]
Aeropress Coffee and Espresso Maker
Aeropress Original Coffee and Espresso Maker, Barista Level Portable Coffee Maker with Chamber, Plunger, & Filters, Quick Coffee and Espresso Maker, Made in USA
Professional-Grade Coffee Right at Home: A household name amongst baristas and coffee enthusiasts worldwide, the AeroPress Original is a new kind of coffee press that uses a rapid, total immersion brewing process to make smooth, delicious, full-flavored coffee without bitterness and with low acidity. The AeroPress Original brews a full-bodied coffee with maximum flavor every time!
Goodbye, French Press: No more bitterness or grit. The rapid brewing of the AeroPress Original eliminates bitterness and acidity while the micro-filters keep grit out of your coffee (unlike a French press). No more messy coffee grounds – clean-up takes seconds! The plunger wipes the chamber clean as you brew
Travel with Your Coffee Gear: The AeroPress Original is lightweight, compact, portable, and durable. It is easy to pack with some coffee and a cup for use while traveling, camping, backpacking, boating, and more! Includes the AeroPress Original Chamber & Plunger, 350 replacement AeroPress Original micro-filters, filter holder & filter cap, funnel, scoop, and stirrer
How to Use: Just add coffee and water, stir, and press. Easily makes 10oz (295ml) of regular coffee or 1 to 3 espresso style shots for use in lattes, cappuccinos, and other espresso-based drinks per pressing in about a minute. It can also make cold brew in just two minutes! We recommend a medium-fine grind, but vary your recipes however you choose!
About AeroPress: Smart design and creativity have always been the heart of what we do, and we are now squarely focused on inspiring even more coffee lovers around the world to revolutionize their coffee routine. Designed in Silicon Valley, Made in the USA, Materials used in AeroPress Original coffee makers are free of BPA and phthalates
[i2pc show_title="false" title="Pros & Cons" show_button="false" pros_title="PROS" cons_title="CONS" ][i2pros]A portable coffee maker that is well-loved by camping enthusiasts.
It is compact enough to bring around while traveling to ensure that you are never without a good cup of coffee.
The set comes with a scoop, funnel, AeroPress, and filters.[/i2pros][i2cons]It is a different way of brewing coffee altogether.
There is a learning curve, but it's no longer a problem once you get used to it.
This machine also requires a specific type of filter.[/i2cons][/i2pc]
Chulux Single Cup Coffee Maker Machine
CHULUX Single Cup Coffee Maker Machine with Travel Mug,3 Mins Fast Brew Coffee Brewer for Capsule or Ground Coffee,5 to 12 Oz Brew Size,Black
【2 in 1 Brew Function Coffee Pod Machine】Our single cup coffee brewer is compatible with most 1.0 & 2.0 pod coffee capsule and ground coffee.A portable 14oz travel mug is included,keep your coffee hot up to 4 hours,conveniently for you to take it everywhere.
【One Button Operation】800W heating element with fast brewing system makes your favorite flavors,also features auto shut-off preventing from overheating and keeping safe.One cup of hot brewed coffee will ready for you just within 3mins.Also can use it as a water boiler to get hot water or tea.
【Compact & Suitable Design】The slim size takes up less space,perfect for business trip or limited countertop.This portable mini brewer is friendly for trip,dorm,office,hotel or any size kitchen.Only be used for 120V voltage.
【Built-In Reservoir & Removable Drip Tray】The water amount you pour equal to coffee amount that flows out,ensure every fresh cup.Without any mess.The personal coffee brewer supports for standard size or larger mugs (up to 5.3" height) by adjusting drip tray.
【Food-approved Material & Simple to Clean】BPA-free material for water tank and piercing needle.Detachable filter basket and removable drip tray are easy to clean.Drip tray keep brew space neat and clean.For cleaning,just add water and vinegar and press button.
[i2pc show_title="false" title="Pros & Cons" show_button="false" pros_title="PROS" cons_title="CONS" ][i2pros]This single-serve coffee maker can accommodate both ground coffee and coffee capsules.
It comes with either a milk frother or travel mug that can keep coffee warm for up to 4 hours.
It can brew coffee within 3 minutes and has an automatic shutoff feature.
It is compact and perfect for kitchen counters with limited space.
It comes with a detachable filter basket that is easy to clean.[/i2pros][i2cons]Some users have complained of receiving defective machines that broke down within the first few uses.[/i2cons][/i2pc]
Braun KF6050WH BrewSense Drip Coffee Maker
Sale
Braun KF6050WH BrewSense Drip Coffee Maker,12 oz, White
Note: 1)Too coarse a grind, too little coffee, or insufficiently tamping the grounds before brewing can all lead to inadequate pressure for a proper brew. 2)It is important to note that the amount of espresso extracted will vary depending on the grind size and amount and reprogramming may be needed when the size and amount are adjusted
The perfect cup of coffee: Braun's pure flavor technology ensures your coffee is made at the right temperature and brewing time to extract the best coffee flavor and aroma. Expect excellent results, whether you brew a full pot or choose the 1–4 cup setting
Wake up to a fresh pot: A programmable 24-hour timer means your coffee will be ready when you are. The auto shutoff feature will turn it off automatically. And the easy-to-read clock is visible from anywhere in your kitchen
Rich flavor anytime: The brew pause system lets you pour a cup anytime during the brew cycle without dripping. Plus, the 12 cup flavor carafe seals in the fresh flavor by minimizing air exposure
Your coffee your way: A unique water level indicator lets you brew an 11-ounce mug or up to 12 cups of coffee
[i2pc show_title="false" title="Pros & Cons" show_button="false" pros_title="PROS" cons_title="CONS" ][i2pros]This machine focuses on brewing an exceptional cup of coffee with just the right water temperature and brewing time.
Like other machines, this one is programmable and has an automatic shutoff feature.
It can brew up to 12 cups of coffee.
The pause function allows users to get some coffee before the finished brewing time.
It has a cord storage system that makes for easy cleanup and storage.
No need to worry about wires cluttering the countertop.
Braun's unique filter allows essential oils from the ground coffee to seep through without allowing ground coffee to escape into the pot.[/i2pros][i2cons]Considering the relatively standard features, this coffee maker is quite expensive compared to other models that have the same features.[/i2cons][/i2pc]
After Purchasing
It is best to buy the coffee maker from a store, test it out before buying. However, those who choose to purchase the machines online should do some due diligence and inspect the coffee maker closely upon receiving it. Check for any broken or missing pieces and take photos. Try it out as soon as you can and report any concerns to customer service immediately. Hold on to the receipt for a few weeks. Use the coffee maker several times and watch out if it starts to malfunction within the first few weeks or months. Cheap coffee makers have their shortcomings, but they should not break down with just a few uses.
Final Thoughts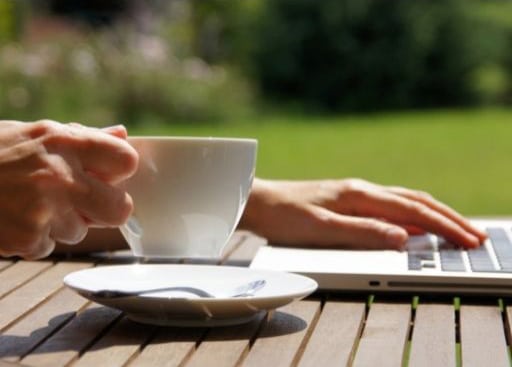 Shopping for the best affordable coffee maker is quite a challenge. On the one hand, there are many options to choose from. On the other hand, people should be discerning. Just because a coffee maker is cheap does not mean it's terrible. Likewise, coffee makers from popular brands are not always the best option. Start by figuring out what you need based on your regular coffee consumption and the type of coffee you prefer. The beauty of it is, there are many options at various price points. There is no need to create a dent in your budget just to get a good cup of joe.
IF YOU'VE ENJOYED THIS ARTICLE, GIVE IT A PIN!