In the vast world of coffee, few names resonate with the same allure as Hawaii's Koa Coffee. With their commitment to quality and authenticity, the brand has carved out a distinctive niche in the global coffee market. This Koa coffee review seeks to delve deep into the heart of their offerings, from the famed Koa kona coffee to their other exceptional beans, offering an unbiased assessment for aficionados and casual drinkers alike. Guided by the seasoned palates of the team at The Coffee Guru, we embark on a journey to explore the tastes, aromas, and stories brewed within every cup of Koa Coffee's finest selections. Join us as we journey through Hawaiian coffee landscapes, savoring the rich tapestry of flavors that only Koa coffee beans can offer.
Koa Coffee Review: Key Takeaway
Exceptional Quality and Range: Koa Coffee offers a premium selection of Hawaiian coffee, including sought-after choices like 100% KONA, 100% KA'U, and the exclusive Peaberry selection, ensuring a variety for every palate.
Sourcing Practices: While Koa Coffee provides top-tier coffee beans, there's room for the company to be more transparent about its sourcing practices, allowing consumers a clear view of the bean's journey from farm to cup.
Price Reflects Premium Nature: The pricing of Koa Coffee beans, especially varieties like 100% KONA, is on the higher side. However, given their premium nature and the unparalleled taste they offer, the cost is justifiable for those seeking a luxury coffee experience.
Customer-Centric Approach: With features like their "My Daily Aloha Subscription Program" and a dedicated customer service team, Koa Coffee prioritizes its customers, ensuring they have the best experience, both in terms of coffee and service.
Brand Reputation: Renowned in the coffee industry, Koa Coffee has consistently received praise and accolades, solidifying its position as a top-tier brand in the world of gourmet coffee, as echoed by raving reviews from dedicated patrons.
Koa Coffee Beans: The Finest Hawaiian Selection
Stepping into the fragrant world of Koa Coffee, one is immediately greeted by a symphony of diverse flavors and roasts. The plantation's commitment to quality and variety has garnered it both admiration and a dedicated clientele. Notably, Koa Coffee curates a selection of its finest offerings available in TRI-PACK options, giving coffee enthusiasts a taste of the richness that is the Koa signature.
100% Ka'u Coffee Private Reserve Medium Roast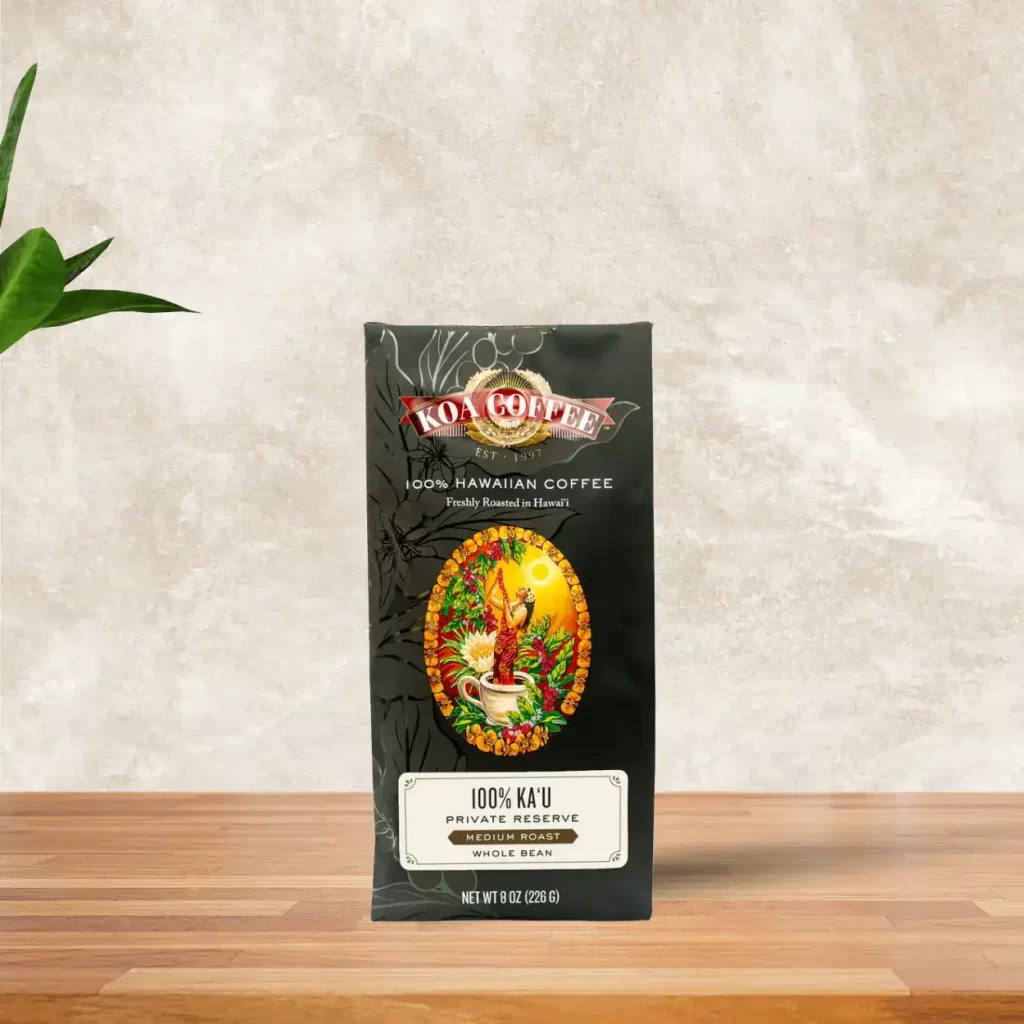 Originating from the southern expanse of Hawaii's big island, adjacent to the renowned Kona Coffee belt, the 100% Ka'u Coffee Private Reserve is a testimony to Koa's dedication to authenticity and flavor. With subtle hints of brown sugar and currant, coupled with an aftertaste of spice, this brew captures the essence of its origins.
Coffee Highlights:
Luscious syrupy mouthfeel
Minimal acidity
Fragrances of citrus and jasmine
Smooth flavor with a spiced finish
Premium Hawaiian Coffee
100% Kona Coffee Private Reserve
As a signature offering, the Private Reserve Kona Coffee is a blend of various grades, crafted exclusively at the Koa Coffee Plantation. This unique fusion, originating from the slopes of the Mauna Loa volcano, comes alive in its medium roast, bringing forth the flavor that only the Koa Kona coffee beans can offer.
Coffee Highlights:
Exclusive blend available only at Koa Coffee
Medium roast highlighting its unique flavor
Beans sourced from the Mauna Loa slopes
Available in both Medium and Dark Roasts
Offered as both Whole Bean and Ground
100% Kona Estate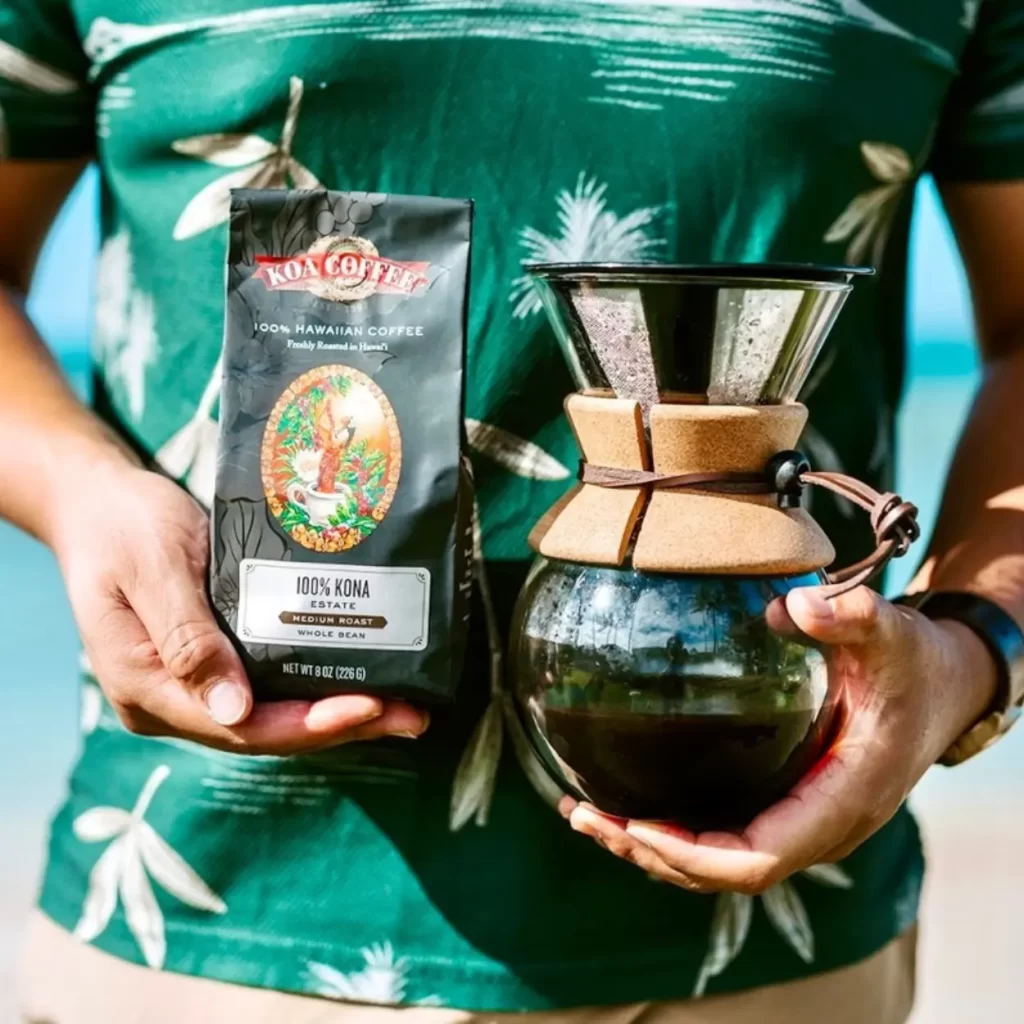 The Estate Kona Coffee is a promise in every sip. It assures that each bean originates from a singular Kona Coffee farm, capturing the very essence of Hawaii in its medium roast. This Koa coffee review is a testament to its consistency, making every cup a journey to the Hawaiian slopes.
Coffee Highlights:
Sourced from a singular Kona Coffee farm
Medium roast highlighting the flavor of Mauna Loa slopes
Exclusivity in every brew
Available in both Medium and Dark Roasts
Offered as both Whole Bean and Ground
100% Kona Peaberry
A rarity in the coffee world, the Peaberry Kona stands out. While most coffee cherries house two beans, the Peaberry Kona holds just one – a small, oval bean that brings a full-bodied flavor. Revered as the "Champagne of Kona", this offering is fast gaining popularity among aficionados, revealing the secret charm of these unique beans.
Coffee Highlights:
Rare oval-shaped "peaberry" beans
Full-bodied with a velvety texture
Zesty touch enhancing its flavor
Renowned as the "Champagne of Kona"
Available in both Medium and Dark Roasts
100% Kona Coffee Grande Domaine Vienna Roast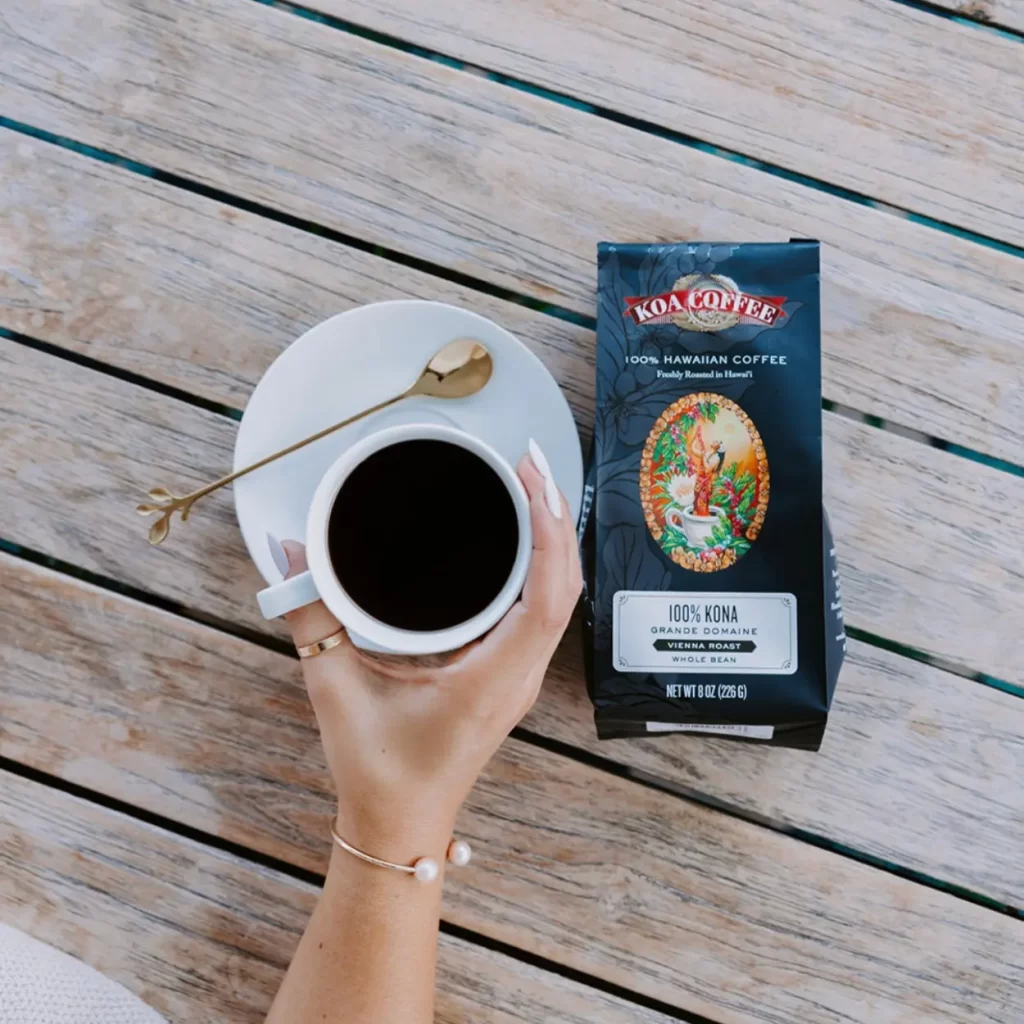 Claiming its prestigious place as a winner in the Kona Coffee Cupping competition, the Grande Domaine Vienna Roast is nothing short of art in a cup. This blend is a sun-soaked ode to the Mauna Loa region, promising an unparalleled flavor, making every sip an aloha-infused experience.
Coffee Highlights:
Winner of the Kona Coffee Cupping competition
Blend of flavorful Kona coffee beans with Peaberry Kona
Vienna roast deeper than medium
Evokes the character of Mauna Loa region
Offered as both Whole Bean and Ground
100% Waialua Estate Medium Roast
Hawai'i's fertile soils have been nurturing coffee since 1825, starting on the lush island of Oahu and later expanding to the renowned Kona region on the Big Island. The town of Waialua, situated on Oahu's North Shore, was once the epicenter for vast sugarcane plantations and Dole's legendary pineapple fields. However, with the decline of these agricultural titans by the 1990s, the Dole Company envisioned a new agricultural chapter, giving birth to the Waialua Estate. Spanning 155 acres and situated between the Waianae and Ko'olau mountains, this estate is a testament to Oahu's rich agricultural heritage. With volcanic soil at an elevation of 700 feet, it crafts a coffee enriched with Oahu's tales. Its flavor profile dances between floral fragrances and cocoa, with a light chocolate undertone, making it a true reflection of its birthplace.
Coffee Highlights:
Single-origin from Oahu's North Shore.
Floral undertones complemented by cocoa nuances.
Characterized by low acidity and a velvety mouthfeel.
Offered in both Whole Bean and Ground.
Recognized as a Premium Hawaiian Coffee.
100% Kona Natural Medium Roast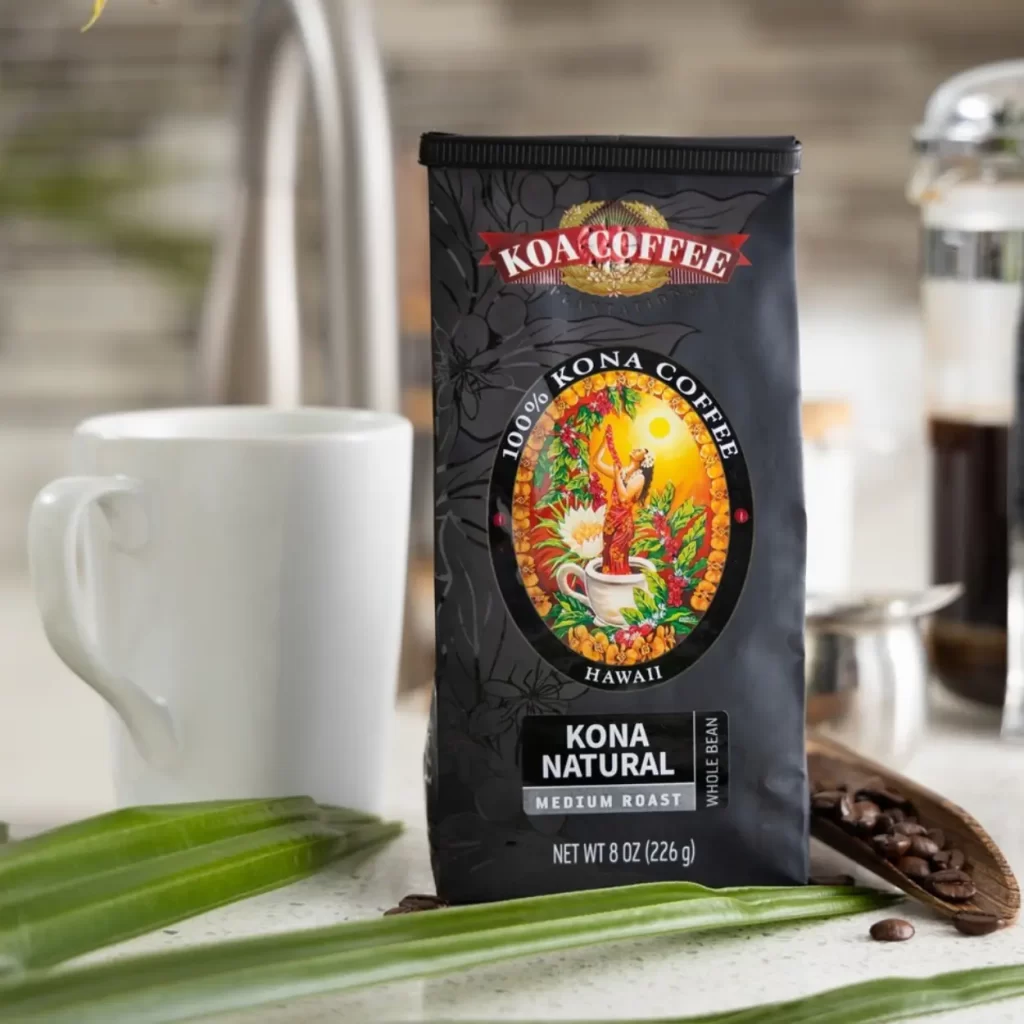 The Kona Natural stands as a tribute to coffee in its rawest and most genuine form. By adopting the natural processing method, the coffee cherries are sun-dried in their entirety, ensuring that the beans inherit the natural sugars and nutrients from the cherries. This results in a brew that sings with fruity notes and an irresistible aroma, promising an experience that beckons one to relive the sensation.
Coffee Highlights:
100% authentic Kona Coffee with natural processing.
Sun-drying within the cherry skins for flavor preservation.
Offers a silky texture dotted with robust fruity notes.
Available in Whole Bean and Ground formats.
Emanates a captivating and refreshing aroma.
100% Kona Coffee Swiss Water Decaf Medium Roast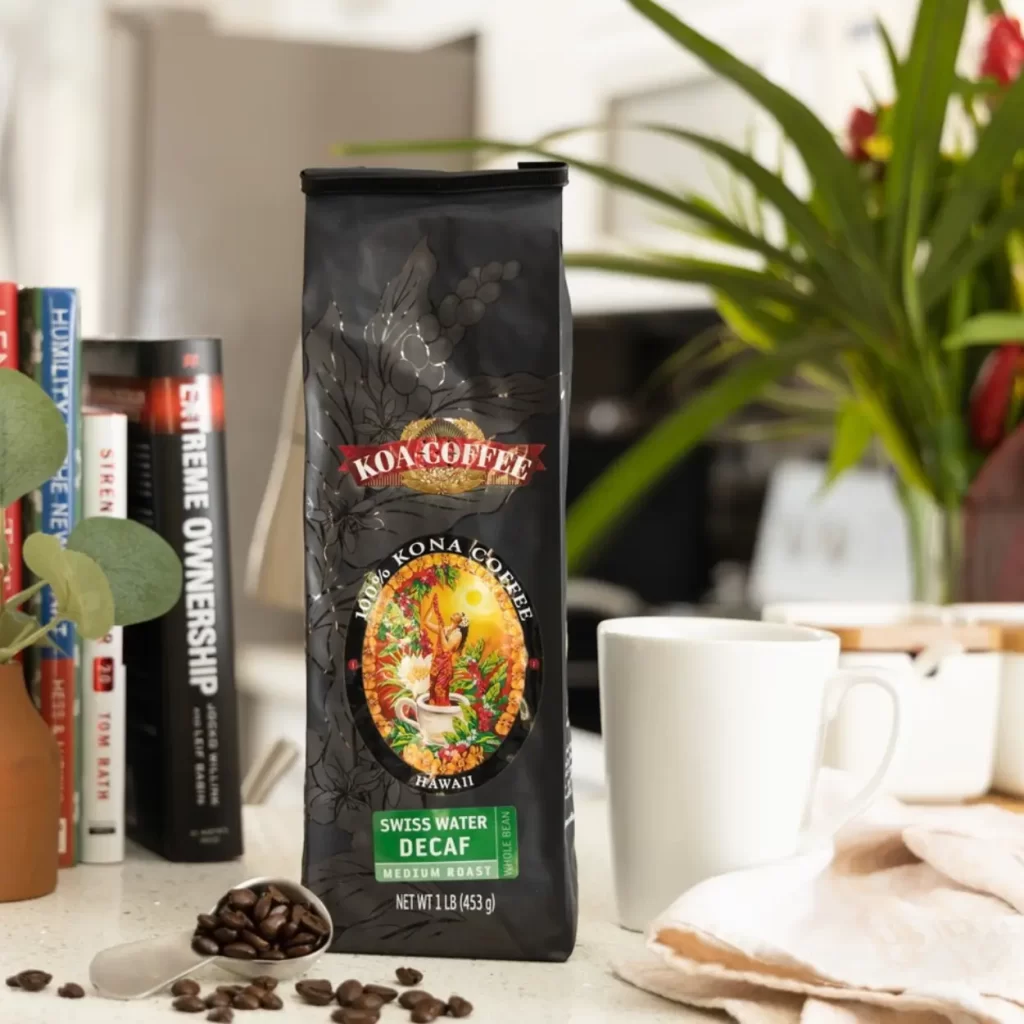 Decaffeination might often dilute the soul of coffee, but not when it embraces the Swiss Water method. This dedication to preserving the rich taste of Kona Coffee leads to a brew devoid of caffeine but full of flavor. Whether it's blended with another Kona variant or enjoyed on its own, this coffee guarantees the rich experience that Kona lovers treasure. Originating from the esteemed slopes of Mauna Loa and roasted to medium perfection, this brew promises an evening of serenity and flavor, embodying the essence of Aloha without the kick of caffeine.
Coffee Highlights:
Processed using the chemical-free Swiss Water Method.
Suitable for evening relishing.
Medium roast that captures the spirit of Mauna Loa.
Exclusively available in Whole Bean.
Retains the iconic aroma and flavor of Kona Coffee beans.
Tasting these Koa offerings is not just about the coffee, but about imbibing the very spirit and legacy of the Koa coffee plantation. Each cup tells a story of dedication, passion, and a legacy of excellence.
Understanding the Premium Quality of Koa Coffee Beans
The journey to a cup of exceptional coffee begins long before the brewing process. For Koa Coffee, the path to excellence is intricate, involving a commitment to quality at every step. Their reputation in the market is not merely by chance; it's a result of meticulous care and dedication. Let's delve deep into what makes Koa Coffee beans stand apart.
Selection and Sourcing: The Koa Standard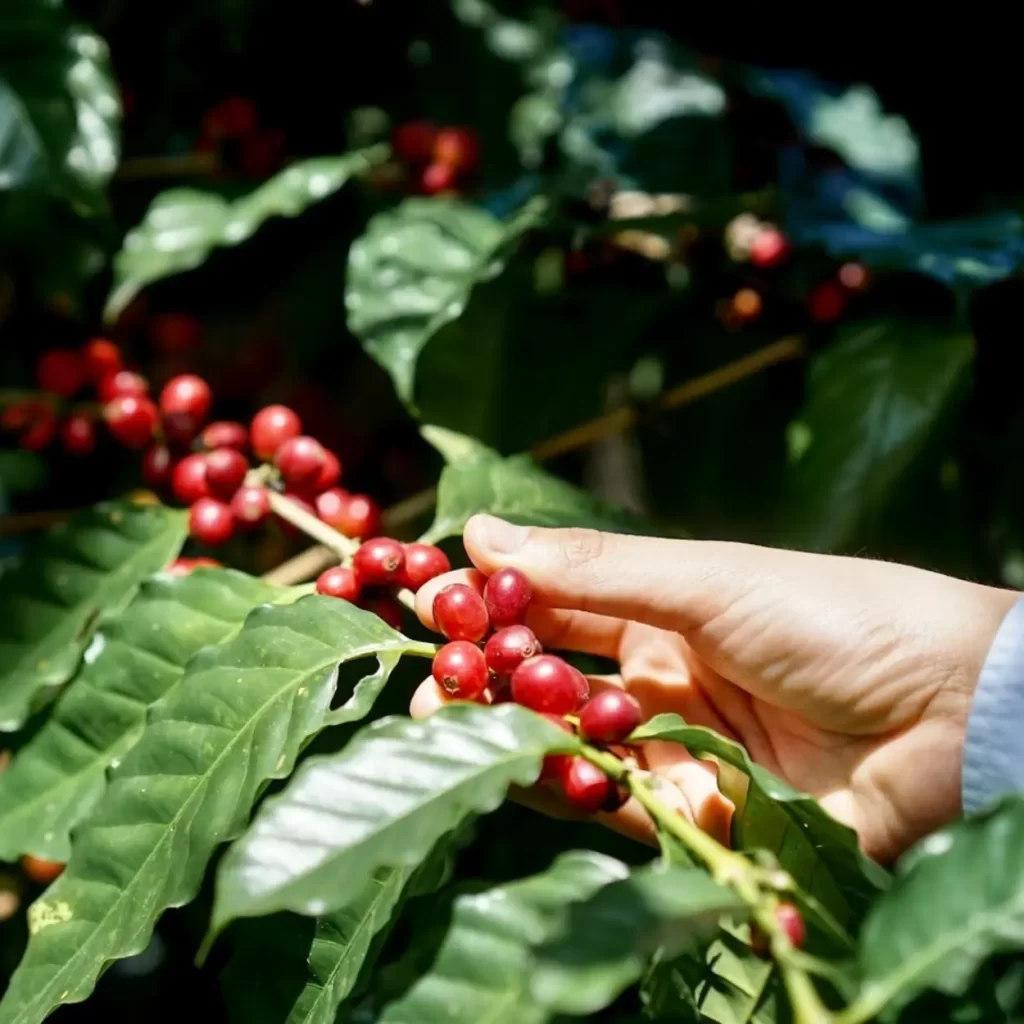 Koa Coffee beans are not your average beans; they embody a legacy of excellence and dedication. The foundation of their unmatched quality begins with the very first step – sourcing.
Uncompromising Quality: At the heart of the Koa standard is an unwavering commitment to quality. Only the finest cherries are selected, ensuring each bean is a testament to the meticulous care bestowed from farm to cup.
Koa Coffee Plantation: Nestled in the ideal climatic conditions of Hawaii, the plantation offers a nurturing environment for coffee cherries. The rich volcanic soil and optimal weather conditions combine to produce beans with distinct flavor profiles.
Direct Relationships: To uphold the high-quality standard, Koa establishes direct relationships with farmers. This not only ensures the beans' integrity but also supports local communities, promoting sustainable farming practices.
Roasting Techniques: Bringing Out the Best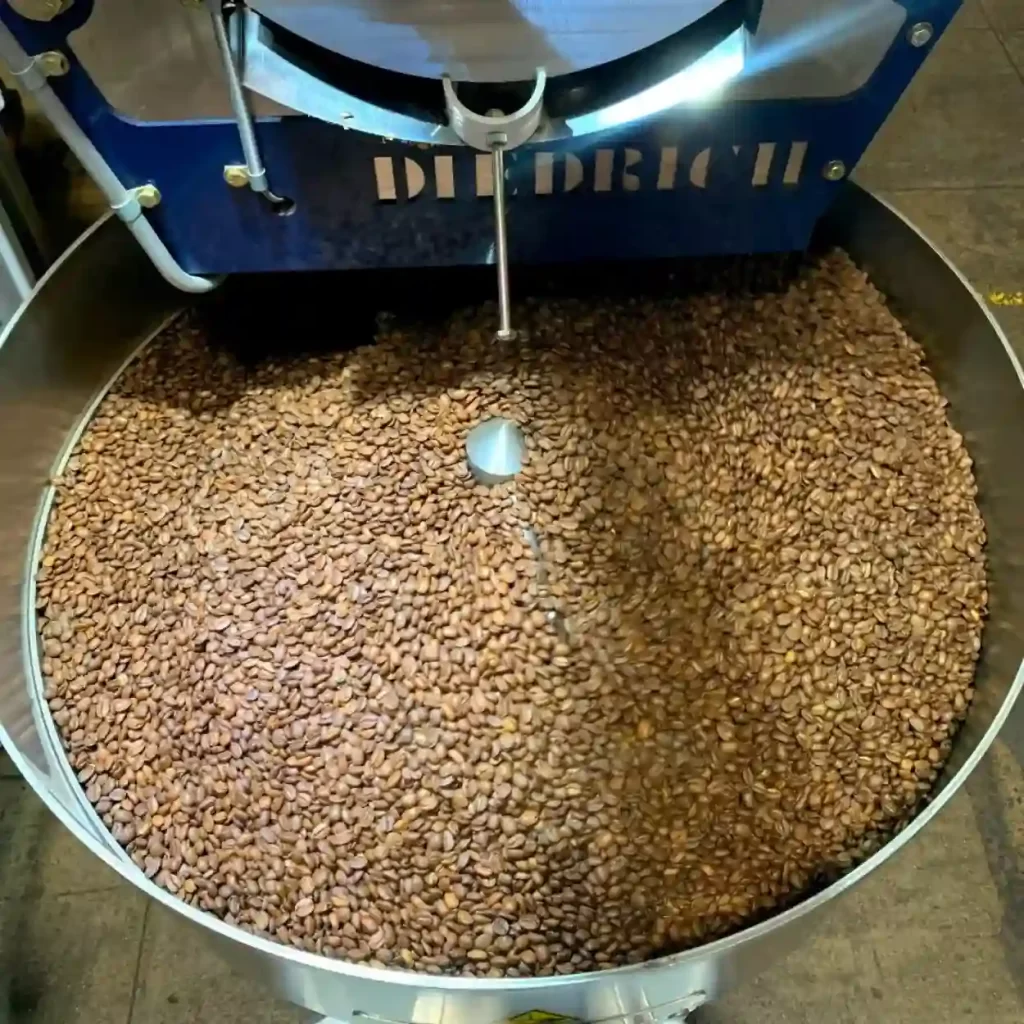 The transformative journey from a raw bean to the aromatic wonder we love in our cup is a craft that Koa has perfected over the years.
Art and Science: Roasting is both an art and science for Koa. Their expertise lies in understanding how different beans react to heat, ensuring the inherent qualities are heightened, not hindered.
Tailored Techniques: Not all beans are the same, and neither are their roasting requirements. Koa tailors its roasting techniques to highlight the unique characteristics of each batch, resulting in Koa Kona coffee that's both consistent and extraordinary.
Freshness Guaranteed: Roasted beans begin to lose their aroma and taste soon after. Recognizing this, Koa emphasizes quick packaging and delivery, ensuring consumers get to experience the full spectrum of flavors and aromas.
Flavor Profile: Tasting the Hawaiian Paradise
Every sip of Koa coffee transports you to the lush landscapes of Hawaii, offering an unparalleled sensory experience.
Symphony of Flavors: The beans encapsulate a range of notes, from fruity undertones to rich, chocolatey depths. Each cup promises a balanced, smooth, and harmonious taste, a direct reflection of the paradise from which it originates.
Signature Notes: The distinct climatic conditions and rich volcanic soil impart signature notes to Koa coffee beans. It's not just about caffeine; it's a holistic experience that tells a story of its origin.
From Hawaii, With Love: More than just a beverage, every cup of Koa coffee serves as a testament to the land, the people, and the passion that goes into its making. It's a slice of Hawaiian paradise, delivered fresh to your doorstep.
Through a combination of impeccable sourcing practices, refined roasting techniques, and a deep understanding of flavor profiles, Koa Coffee stands as a beacon of quality and excellence in the world of gourmet coffee.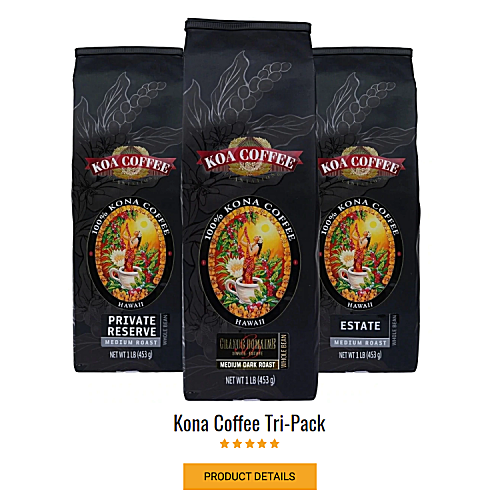 History and Legacy of Koa Coffee
Koa Coffee has an illustrious past that traces back to the vibrant landscapes of Hawaii. With each bean and blend, it not only delivers a unique taste but also narrates the rich history of the Koa Coffee Plantation and the dedication behind it.
The Beginnings: Birth of Koa Coffee Company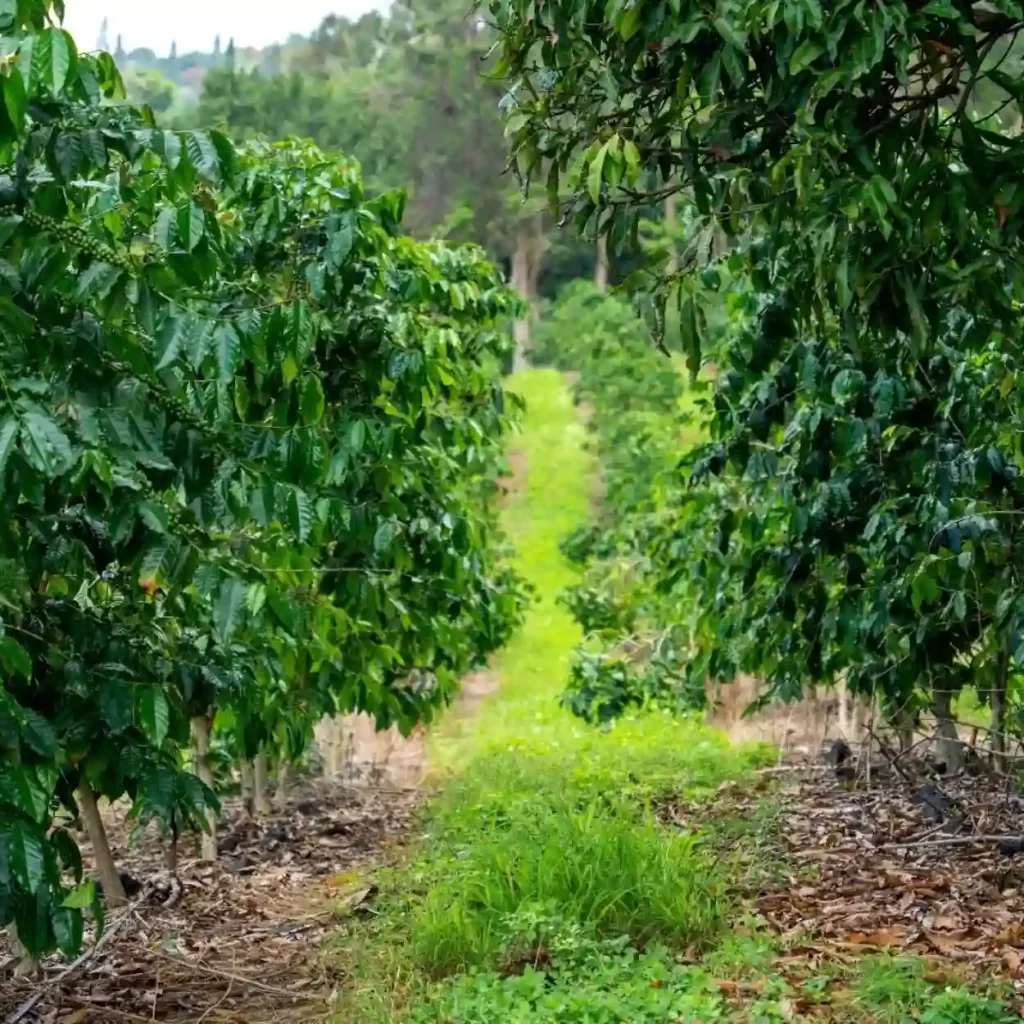 In 1997, nestled in the heart of Hawaii, Koa Coffee began its expedition. What started as a humble family enterprise swiftly metamorphosed into a brand synonymous with excellence. This narrative unfolds as follows:
Initiation: The Koa Coffee journey commenced as a small-scale family endeavor. Rooted in dedication and a passion for quality, the brand took its first steps.
Commitment to Quality: From the very outset, Koa Coffee prioritized quality above all else. Adhering to age-old traditions, every Koa coffee bean was handpicked with precision, ensuring only the ripest, cherry-red beans were selected. This practice ensured an avoidance of mechanical harvesting, which often mixes green beans with mature ones.
Human Touch: Despite the rise in automation, Koa Coffee remained committed to human craftsmanship. The meticulous art of roasting and packaging was, and still is, conducted by their devoted team, ensuring a personal touch in every pack.
The Growth: From Local to Global
As the sun set and rose, Koa Coffee experienced growth that transcended local boundaries. Their consistency and commitment to quality played pivotal roles in this expansion. Key growth aspects include: (1)
Recognition: Winning accolades such as the prestigious Gevalia Cupping Competition and being named the PCCA Coffee of the Year bolstered their reputation.
Global Acclaim: The brand's global footprint was firmly established when it was featured in Forbes' "Top 10 Coffees of the World" list. Moreover, it secured a notable mention as the "Finest Coffee in the US" in another Forbes list, showcasing the grandeur of Koa Coffee beans.
Continuous Enhancement: Never resting on its laurels, Koa Coffee consistently elevated its quality standards. With state-of-the-art roasting facilities, they achieved a flawless finish in each batch, while innovative packaging techniques ensured that the beans' freshness remained intact.
Exploration: Not limiting themselves to a single variety, Koa Coffee began exploring other premium Hawaiian coffee blends, celebrating the diverse and distinct flavor profiles that the archipelago had to offer.
Awards and Recognitions: The Brand's Badge of Honor
The journey of Koa Coffee is embellished with awards and accolades, a testament to its outstanding quality and the team's relentless pursuit of excellence:
National Pride: As previously discussed, touted as the finest coffee in the US by Forbes, Koa Coffee Plantation has set a benchmark for American coffee producers.
Prestigious Titles: Their win in the esteemed Gevalia Cupping Competition and the PCCA Coffee of the Year award further elevated their position in the coffee industry.
Heartfelt Appreciation: But beyond the awards, the brand cherishes the unwavering support from its patrons. Their Koa Coffee Review sections brim with positive testimonials, underlining the brand's commitment to delivering an unparalleled coffee experience.
In the world of coffee, Koa Coffee stands as a testament to dedication, quality, and the Aloha spirit. Every sip is an invitation to the vibrant landscapes and traditions of Hawaii, a journey from the Koa Coffee Plantation to the warmth of your mug. Indulge in the essence that defines their brew and savor the aloha-infused flavor that has made Koa a global favorite.
How We Rate and Review Koa Coffee
Coffee Quality & Variety: 4.5/5
Koa Coffee presents an extensive assortment of premium Hawaiian coffee varieties, from the cherished 100% KONA to the unique Peaberry selection. Their TRI-PACK option and flexible subscription model cater to a broad range of coffee enthusiasts, from the occasional drinker to the connoisseur. The provision of different sizes and types (whole bean or ground) further enhances their score. The slight point deduction arises from the potential of expanding their variety even further, potentially exploring more unique blends or flavors.
Sourcing Practices: 3/5
Despite the evident quality of their coffee, Koa Coffee's transparency regarding their sourcing practices is unfortunately lacking. In today's conscious consumer market, detailing sourcing practices is crucial for building trust and maintaining a reputation. Their silence on this crucial aspect demands a considerable reduction in score.
Packaging and Presentation: 4.5/5
With a captivating and culturally rich design, Koa Coffee's packaging exudes a premium feel. The red ribbon logo, complemented by the illustration of the Hawaiian woman, encapsulates the brand's identity. Clear labeling further enhances the user experience. A minor deduction arises from the potential opportunity to incorporate more information on sustainability or sourcing practices on the packaging.
Price and Value: 4/5
Given the premium nature of the beans, especially 100% KONA and Peaberry, a higher price point is expected and justified. While coffee aficionados might see the inherent value, casual coffee drinkers or budget-conscious consumers might find it steep. Therefore, the brand caters more to those who prioritize quality and unique flavors over budget considerations.
Social and Environmental Impact: 2.5/5
The absence of clear information on Koa Coffee's social and environmental impact poses questions. In an era where corporate social responsibility is a significant factor in purchasing decisions, Koa's lack of disclosure in this domain is a missed opportunity to connect with a larger, eco-conscious audience.
Customer Service and Experience: 4.5/5
Their stellar approach to customer service is evident through easily accessible communication channels and the dedication of a time-bound support team. Their active presence across various social media platforms and incentive programs, like newsletter discounts, ensures a comprehensive and delightful customer experience. A near-perfect score reflects their commitment to ensuring customer satisfaction.
Brand Reputation and Customer Perception: 4.75/5
Koa Coffee's accolades, as mentioned in prestigious platforms like Forbes, combined with consistently positive customer reviews, underpin its reputation as a premier coffee brand. Their journey, marked by awards and recognition, accentuates their commitment to excellence. Their unwavering customer base and stellar reviews highlight the brand's integrity and the superior quality of their offerings.
Packaging and Presentation
Social and Environmental Impact
Customer Service and Experience
Brand Reputation and Customer Perception
Conclusion – Guru's Score Verdict: 4/5
Wrapping up our comprehensive Koa coffee review, we've journeyed from the volcanic Hawaiian landscapes to the brewing intricacies of every cup. Koa's dedication to excellence is evident in every aromatic bean they produce. The Koa coffee beans encapsulate a rich history, combined with the dedication of the Koa Coffee Company, resulting in an unparalleled coffee experience. After our meticulous analysis, The Coffee Guru team gives Koa Coffee a final score verdict of 4 out of 5. This high score is a testament to the brand's commitment to quality, heritage, and the overall customer experience. Koa exemplifies excellence in the realm of premium coffee.
While they shine in most domains, there's a clear opportunity for growth in areas like sourcing transparency and outlining their environmental and social initiatives. Nevertheless, for coffee enthusiasts seeking unparalleled quality and a rich flavor profile, Koa Coffee is indisputably among the top choices. As the curtains fall on this review, we can confidently say that Koa Coffee holds a revered spot in the world of gourmet coffee.
FAQ