For years I would ask baristas to grind my coffee beans for me. It was quick, free, and for lack of a better word, convenient. While my coffee tasted great for the first few brews, it tended to lose its flavor and vivid aroma after a few days.
What the less knowledgeable me didn't know at the time was that my coffee grinds were falling prey to oxidation. All of that changed when I finally purchased a manual coffee grinder. It gave me the freedom to select my grind size for different brewing methods and ensured that I was getting the best out of my coffee beans.
If you don't own a manual coffee grinder yet, you will do well to invest in one; it will revolutionize your coffee experience.
5 Best Manual Coffee Grinders Under $50
Why should you grind your coffee beans right before brewing?
After roasting, coffee beans are exposed to the elements and begin to change rapidly. Oxygen interacts with the beans, robbing them of their freshness and flavor. When coffee beans are ground, oxidation is accelerated, leading them to lose their flavor more rapidly than whole beans. That's why it's preferable to grind your beans right before brewing to extract the best coffee possible.
Having your very own grinder is a game-changer. It brings you closer to becoming an expert, gives you control over grind size, and allows you to brew a mean cup of joe. In short, if you want to take your coffee game to the next level, you must get one.
Manual or Electric?
While electric grinders can grind a large amount of coffee in a flash, owning a manual grinder is an excellent idea. They're a little more hands-on (okay, a lot more) but are portable, lightweight, and the perfect travel companion. What's even better is that you can get a pretty good manual grinder without having to spend a fortune.
What is a manual coffee grinder?
A manual coffee grinder is a small device made up of a storing chamber for whole beans, a set of burrs for grinding, and a collection chamber for ground coffee. These three parts are connected by a rod that travels from burr to handle.
Unlike its electric counterpart, a manual grinder requires your energy to work. By spinning the rod, you activate the burrs, which grind your beans to the desired size. With a good manual grinder, grinding a cup's worth of beans is not a very demanding task. However, if you must grind a lot of coffee at once, it could be a workout.
Remember that a better-quality grinder will make the grinding process much easier and give you a more uniform grind size. While you don't have to spend a fortune on a high-performance grinder like the Comandante C40, you can still find a reliable manual grinder between $30-$50.
What makes a good coffee grinder?
You'll need a durable grinder that grinds with relative ease, offers several grind settings, and is easy to clean. Before picking your manual grinder, you ought to have some basic guidelines to make an educated decision. While looks are important, you'll want to go a little deeper and ask yourself the right questions. Here are a few things you should consider:
Size and Weight
If you're looking for a travel grinder, size and weight will be significant factors to consider.
Capacity
Most manual grinders have a capacity of 20-30 grams, allowing you to make roughly two cups of coffee. So, if you usually make coffee for more than two people at a time, you may need to consider a larger grinder – a capacity of 40 grams may be more suitable.
Material
The material of your burrs is important. You'll have to choose between ceramic, stainless steel, or cast iron. Each material has its pros and cons.
Ceramic: retains its sharpness but isn't the most durable
Stainless steel: durable and sharp but tends to be more expensive
Cast iron: doesn't overheat but is likely to rust in humid environments
Settings
You want a coffee grinder with several grind settings to give you the freedom to grind for different brewing methods. Ideally, you want a full spectrum of grind sizes to make all coffee styles (espresso fine to French press coarse).
Handle length
This one is often overlooked. A short handle will make it difficult to spin the rod, which means more work for every cup of coffee. You don't want a grinder that discourages you from using it.
Sound
Loud popping and crushing isn't the most welcoming sound. Some grinders are quieter than others.
There are tons of grinders out there, so it's essential to narrow down your search and focus on the ones that are worth it. I've carefully selected five of the best grinders under $50 to help you find one that best suits your needs. Let's go!
It's hard to believe that the JavaPresse Coffee Grinder is available for such an affordable price. This elegant little device is portable and quiet enough to use during the wee hours without waking the family. The ceramic burrs provide a consistent grind and have over 18 grind settings to give you plenty of control to fine-tune your coffee extraction.
However, the handle isn't the sturdiest during the grinding process and may latch off if you're not careful. Grind setting may be confusing at first, so it will take some trial and error to get your desired grind size.
Sale
JavaPresse Manual Coffee Grinder — Stainless Steel Conical Burr Bean with Hand Crank and 18 Adjustable Settings, Fine to Coarse Portable Espresso for Camping or Travel
ENJOY THE PERFECT CUP OF FRESH COFFEE ― The Manual Coffee Grinder by JavaPresse Coffee Company has a built-in adjustable ceramic burr with over 18 manual grind settings to ensure you have 100% precision & control over the coarseness of your grind. This hand coffee grinder is great for all brewing methods to enjoy the perfect cup of fresh coffee and espresso in the morning, and it's designed for use with single-serve or drip coffee makers.
CONVENIENT, PORTABLE, AND EASY-TO-USE ESPRESSO GRINDER ― The hand crank grinder eliminates 90% of electric grinder noise. JavaPresse's patented manual ceramic burr assembly needs no batteries or cords, making it perfect for fresh coffee at home or on the go. It's the ultimate camping coffee grinder and pairs perfectly with your coffee maker, offering a noise-free grinding experience.
THE BEST WAY TO START YOUR DAY ― This manual coffee bean grinder is equipped with a professional grade ceramic conical burr for an incredibly consistent coffee grind that heightens flavors of the most exquisite beans in the world. Smell the fresh aroma of fresh ground coffee as you brew them on your espresso machine, drip coffee, French Press, or pour over coffee maker!
TREAT YOURSELF TO THE HIGHEST QUALITY MANUAL COFFEE GRINDER THAT IS BUILT TO LAST ― Crafted with the same essence as traditional Japanese cookware, our patented ceramic handheld coffee grinder burr is tested through three quality inspections to last 5 times longer than comparable stainless steel coffee burrs. Combined with an impeccable frame and convenient size, this is the pinnacle travel coffee grinder that is a great gift for Father's Day or travel enthusiasts.
ENHANCE YOUR MORNING WHILE MAKING AN IMPACT AROUND THE WORLD ― Your deliciously crafted cup of coffee from our manual coffee grinder is helping empower coffee farmers to chase a brighter future. A portion of our profits go towards positively impacting our partner's coffee supply chain and their local communities. Our mission hinges on one fundamental idea: when we care, happiness flows and everyone wins. Including you with this hand coffee bean grinder by JavaPresse.
Dimensions: 1.8 x 7.5 x 1.8 inches
Weight: 9.4 ounces
Grind Material: Ceramic Burrs

JavaPresse Manual Coffee Grinder Pros and Cons

[i2pc show_title="false" title="Pros & Cons" show_button="false" pros_title="PROS" cons_title="CONS" ][i2pros]Great Value
Quiet
Portable
Tons of Settings[/i2pros][i2cons]Handle
Confusing Settings[/i2cons][/i2pc]
Verdict:
At this price range, it's difficult not to like the JavaPresse Coffee Grinder. Whether you're at the office, at home, or out camping, this grinder will not disappoint.
The Hario Skerton Pro is a combination of style and performance. The unit is well-crafted and doesn't feel cheap as you turn its handle. It has a glass jar capacity of 100 grams, making it convenient to prepare coffee for the entire family. From ultra-fine to coarse, the Skerton Pro provides a pretty consistent grind.
The major downside to this grinder is its grinding speed. The handle feels sturdy, but it just isn't the fastest grinder of the bunch. It's also a little too bulky to call it a travel manual grinder.
Sale
Hario "Skerton Pro" Ceramic Manual Coffee Grinder, Black
Skerton Pro: A favorite amongst coffee newcomers and professionals alike. Its compact size makes it the perfect grinder both travel and home. This grinder can make a full range of grind sizes, whatever your preference
New and Improved: An update to the original Skerton-- The Skerton Pro features a modern update on the classic design with sleek lines, and with easier-to-adjust burr settings for improved grind consistency
Perfect Grind: Ceramic conical burrs ensure a precise, uniform grind-- Our burrs transfer less heat and shave coffee beans versus cracking them like blade grinders. Ergonomically designed crank handle detaches for compact storage and easy travel
Japanese Design: Designed by Hario in Japan to provide coffee lovers with easy access to freshly ground coffee. The Skerton Pro was designed to be portable, and easy to use even while traveling or on the go
Product Details: 100g Coffee grounds capacity; W167×D95×H195mm; Heat-proof glass bowl is made in Japan; Mill, hopper lid, non-slip cover, lid are made in China
Dimensions: 4.1 x 3.9 x 8.1 inches
Weight: 22.88 ounces
Grind Material: Ceramic Burrs

Hario Skerton Pro Manual Coffee Grinder

[i2pc show_title="false" title="Pros & Cons" show_button="false" pros_title="PROS" cons_title="CONS" ][i2pros]Capacity
Robust Design
Great Espresso Grinds[/i2pros][i2cons]Bulky
Grinding Speed[/i2cons][/i2pc]
Verdict:
If you're looking for a sturdy, durable grinder and don't mind a longer grinding time, this one's for you.
The Kuissential EvenGrind is a real contender to the crown for best grinder under $50. It looks a lot like the Hario Skerton with its wide, stocky body. While it's not as beautifully designed as the Skerton, it looks and feels solid, robust, and durable.
Where the EvenGrind shines is in doing what you want it to do: grind your coffee beans! The removable stabilizing cage helps reduce burr wobble, which results in a consistent grind that will make superb coffee. The grind settings can be adjusted at the top of the grinder right under the handle – convenient and easy to use.
Like the Skerton, the setback of this device is its size and weight. Furthermore, it can be challenging to use if you have smaller hands.
Dimensions: 4.9 x 4 x 7.9 inches
Weight: 21.76 ounces
Grind Material: Ceramic Burrs

Kuissential EvenGrind Manual Grinder Pros and Cons

[i2pc show_title="false" title="Pros & Cons" show_button="false" pros_title="PROS" cons_title="CONS" ][i2pros]Price
Grind Consistency
Easy Setting Adjustments[/i2pros][i2cons]Bulky
Not Ideal for Smaller Hands[/i2cons][/i2pc]
Verdict:
The Kuissential Evengrind is an excellent alternative to the Hario Skerton Pro. While it's not as esthetically pleasing as its counterpart, it's undoubtedly a solid grinder that will produce great grind consistency.
Made from a single piece of wood, the Akirakoki is a stunning grinder with an authentic "coffee look." Its cast-iron burr is efficient, rugged, and heat resistant. The Akirakoki isn't the lightest, but it makes up for it by its compact size and could be considered a good travel grinder.
The hopper can hold about 35 grams of coffee and the catcher an excess of 50 grams – enough to make three to four cups of coffee. It's quieter than most grinders, thanks to its thick, high-quality wood.
On the other hand, it doesn't offer enough settings to really control your grind, and adjustments can be confusing. It isn't the fastest grinder either, so you'll have to be patient with this one.
Akirakoki Manual Coffee Bean Grinder Wooden Mill with Cast Iron Burr, Large Capacity Hand Crank, Portable Travel Camping Adjustable (Brown wood)
☕️HIGH QUALITY WOOD: pig iron top, solid wood body(carve from one piece of solid wood block, never going to crack), premium cast iron burr.
☕️DURABLE BURR: Cast iron conical burrs don't produce the heat that can adversely affect your coffee's essential oils, and have no metal odor and will never rust.
☕️ADJUSTABLE GRINDING: Use the screw under the grinder base to control the fineness of your coffee grinding.
☕️EASY CLEANING STORAGE: Simple to disassemble for thorough cleaning, and designed for compactness and portability to save space for easy storage.
☕️EASY AND QUIET GRIND: The ergonomically designed Crank handle to provide effective leverage for a smooth and easy grind, and consistently eliminates noise.
Dimensions: 7.72 x 3.43 x 3.31 inches
Weight: 21.44 ounces
Grind Material: Cast Iron Burrs

Akirakoki Manual Coffee Bean Grinder Pros and Cons

[i2pc show_title="false" title="Pros & Cons" show_button="false" pros_title="PROS" cons_title="CONS" ][i2pros]Aesthetic
Capacity
Quiet[/i2pros][i2cons]Grind Settings
Speed[/i2cons][/i2pc]
Verdict:
If you want a beautiful grinder that will look good in your kitchen and will do a pretty good job at grinding your coffee, the Akirakoki isn't a bad choice.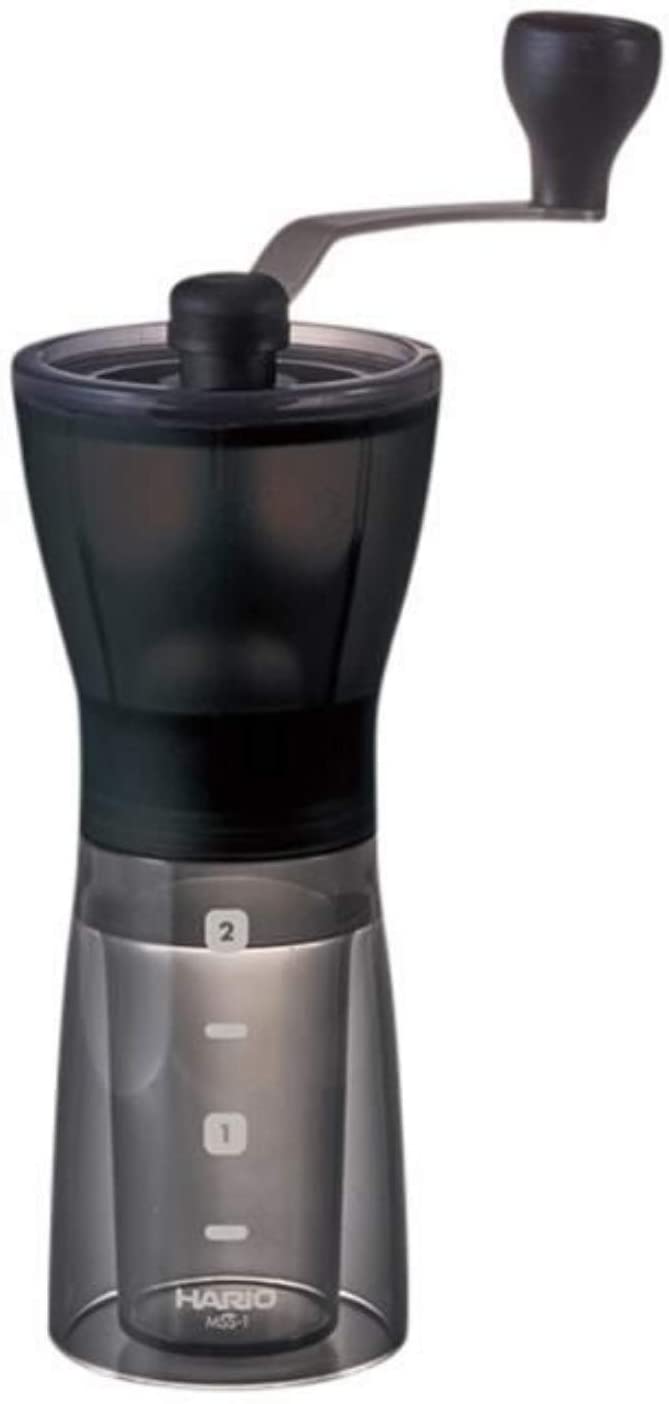 One of the most affordable grinders on this list, the Hario Mini Slim Mill Plus is a real bargain. Lightweight, portable, and stylish, it's the grinder you want on a long trip. No taller than 8 inches and weighing around 200 grams, it's super compact but still gets the job done and done well. The ceramic burr will chew through your beans and produce fairly consistent grinds (similar to the Skerton).
Unlike most Hario grinders, this one doesn't feature a glass grind catcher, but that's not necessarily a bad thing if you're always on the move. At least with the Mini Mill, you don't have to worry about dropping it.
Size is the obvious drawback. It has a pretty small bean hopper (roughly 25g of coffee), so it may not be the most suitable grinder if you need to prepare several cups in one go. And if you're looking for ultra-precise grinds, the Mini Mill may let you down.
Sale
Hario Ceramic Coffee Mill - 'Mini-Slim Plus' Manual Coffee Grinder 24g Coffee Capacity
The Mini-Slim Plus: A great grinder for both beginners and pros! Its slim, compact design makes for a great grinder for home and travel. Ceramic mill is easily adjusted for right grind coarseness providing a consistent grind for perfect fresh coffee
New and Improved: Upgraded from our original Mini-Slim with a newly designed ergonomic handle and shaft coupling for better traction
Perfect Grind: Ceramic conical burrs ensure a precise, uniform grind-- Our burrs transfer less heat and shave coffee beans versus cracking them like blade grinders. Ergonomically designed crank handle detaches for compact storage and easy travel
Japanese Design: Designed by Hario in Japan to provide coffee lovers with easy access to freshly ground coffee. The Mini-Slim Plus has a small, lightweight design which makes it the perfect travel accessory for any coffee lover
Product Details: Coffee capacity 24g; W150×D72×H220mm
Dimensions: 4 x 7 x 3 inches
Weight: 10.6 ounces
Grind Material: Ceramic Burrs

Hario Mini Slim Ceramic Coffee Mill Plus Pros and Cons

[i2pc show_title="false" title="Pros & Cons" show_button="false" pros_title="PROS" cons_title="CONS" ][i2pros]Size
Price
Plastic[/i2pros][i2cons]Small Hopper Size
Grind Consistency[/i2cons][/i2pc]
Verdict:
It may not be the best tool if you drink an insane amount of coffee and need to grind a ton of it daily. But if you want a handy, durable, and portable grinder that can get the job done, the Mini Mill Plus is a superb manual grinder.
Last Thoughts
The five grinders above all have their pros and cons, but all of them are a great way to improve your coffee drinking experience. Purchasing a manual grinder will further your coffee knowledge and help you make a better-tasting cup of joe. You'll soon find out that there's nothing like making coffee from bean to cup. Happy grinding!
About the Author
A spunky French-born American, Alex has embraced the nomadic lifestyle for over a decade. He's a freelance writer who likes to move to a funky beat. Coffee is his fuel, passion his motivator, and rhythm his language. He's a sucker for the smell of old books, jazzy tunes, and a proper cup of jitter juice. Reach him on LinkedIn!
IF YOU'VE ENJOYED THIS ARTICLE, GIVE IT A PIN!