Few things in life are as satisfying as the rich, aromatic allure of freshly ground coffee. Whether you're a casual sipper or a dedicated coffee connoisseur, the choice of grinder can significantly influence the flavor profile of your daily brew. In our quest to empower coffee lovers to make the best brew possible, we bring to you an in-depth review of the JavaPresse Manual Coffee Grinder. This little gadget has garnered significant attention in the coffee community for its durability, portability, and impressive control it provides over the grind size.
This review aims to dive into every aspect of the JavaPresse Manual Coffee Grinder, dissecting its functionality, performance, and value proposition. We'll explore how this compact device can unleash the true potential of your coffee beans, transforming them from mere seeds to the foundation of an exquisite, full-bodied brew. Strap in, coffee enthusiasts – you're in for an invigorating journey!
Sale
JavaPress Manual Coffee Grinder: Key Takeaway
Experience Coffee Perfection: With over 18 manual grind settings, the JavaPresse Manual Coffee Grinder delivers precision and control, ensuring an impeccable brew each time.
Portable and User-friendly: Unlike electric grinders, the JavaPresse's hand-crank mechanism eliminates noise, and requires no batteries or cords, making it the ideal coffee companion for home use or travel.
Enhance Your Flavor Palette: The professional-grade ceramic conical burr in the JavaPresse grinder provides a consistent grind, enhancing the flavors of top-quality coffee beans from around the world.
Craftsmanship Meets Durability: Inspired by traditional Japanese cookware, the JavaPresse grinder's patented ceramic handheld burr assembly endures rigorous quality inspections, ensuring longevity five times longer than comparable stainless steel burrs.
Making a Positive Impact: Not only does the JavaPresse grinder elevate your coffee ritual, but it also contributes to empowering coffee farmers and transforming their communities, letting you enjoy the perfect cup while making a difference.
Understanding the JavaPresse Manual Coffee Grinder
Delving deeper into the world of coffee can be an exhilarating journey. As you venture beyond the supermarket shelf, you'll discover a myriad of flavors, brewing techniques, and of course, grinding methods. Today, we'll be examining a product that has captivated coffee enthusiasts and casual sippers alike – the JavaPresse Manual Coffee Grinder. In this section, we aim to guide you through its distinctive features, from the simplicity of its design to its impressive grinding prowess. So grab a cup of your favorite brew and join us as we unravel the allure of the JavaPresse Manual Coffee Grinder.
Overview of the JavaPresse Manual Coffee Grinder
The JavaPresse Manual Coffee Grinder, ingeniously designed for quality and portability, excels in providing a top-notch grinding experience with its professional-grade ceramic conical burr. Built to optimize the flavors of even the most exquisite coffee beans, it operates quietly and consistently, making it a necessity for any coffee enthusiast. The device's compact design, coupled with its stainless steel frame, makes it not only durable but also a perfect travel companion.
Key Features and Benefits
The JavaPresse Manual Coffee Grinder brings a multitude of features that cater to different needs, whether you're looking for precision in grind size, noise reduction, or portability:
Adjustable Grind Selector: With over 18 settings, it gives you complete control over the coarseness of your grind, thereby enhancing the brew's flavor.
Noise Reduction: Unlike electric grinders, this manual grinder uses a hand crank mechanism that reduces the noise produced during grinding by over 90%, allowing you to grind coffee quietly even in the quietest of environments.
Portability: The grinder operates without the need for batteries, power, or long cords, making it ideal for outdoor activities such as camping, hiking, or backpacking trips.
Sustainability: In addition to its functional features, part of the profits from JavaPresse goes toward improving coffee farmers' lives and their local communities, giving you another reason to appreciate your morning brew.
Quality and Durability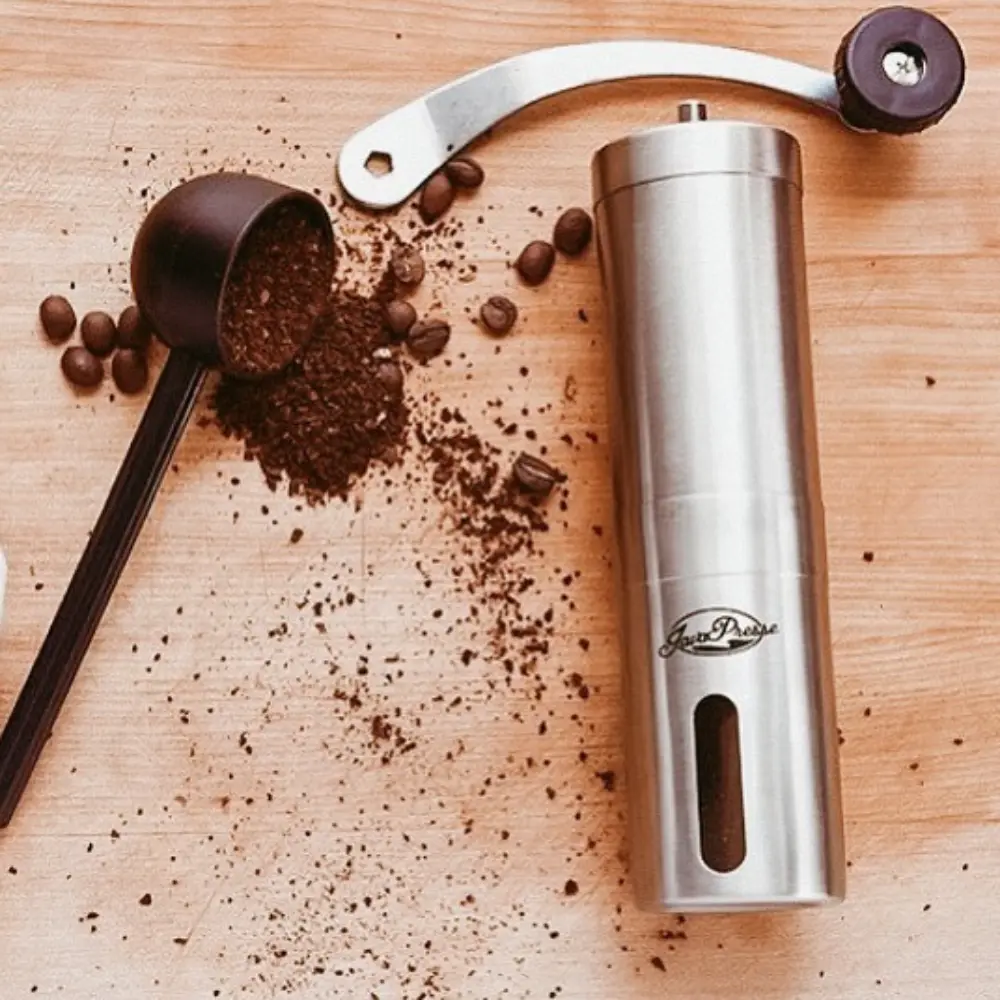 Quality is a key characteristic of the JavaPresse Manual Coffee Grinder, reflected in both its construction and its functionality:
Quality Construction: Crafted with the same essence as traditional Japanese cookware, the device's ceramic burrs undergo three rigorous quality inspections, ensuring long-lasting durability.
Durability: The grinder's ceramic burrs are proven to last 5 times longer than typical stainless steel burrs. This, along with the sturdy stainless steel frame, makes it a device built to endure.
Consistency: The professional-grade ceramic conical burr ensures a consistent grind, enhancing the flavors of the coffee beans, no matter the brewing method you choose.
Understanding these key aspects of the JavaPresse Manual Coffee Grinder equips you with the necessary knowledge to maximize its potential and transform your coffee brewing experience.
Mastering the Art of Grinding with JavaPresse
Harnessing the full potential of the JavaPresse Manual Coffee Grinder isn't merely about using it, but understanding the science of coffee grinding that lies behind its design. Mastering this device involves learning how to adjust the grind size, understanding the grinding process, and finessing your technique over time. Let's delve deeper into these aspects.
Choosing the Right Grind Size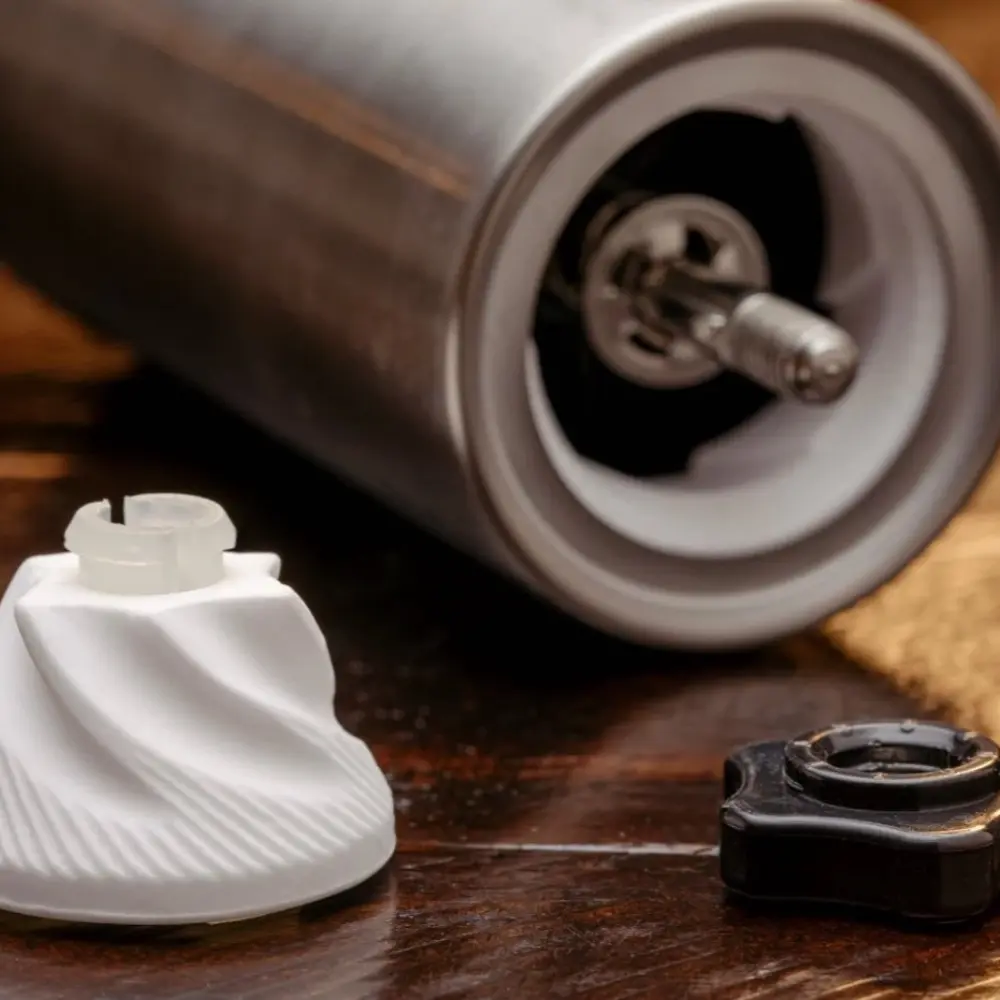 The first step to exceptional coffee brewing is knowing how to select the perfect grind size. Luckily, the JavaPresse Manual Coffee Grinder comes equipped with an adjustable knob beneath the burrs, offering a range of grind sizes to match your brewing preferences. Here's a quick guideline for your brewing needs:
French press brewing: 13-18 clicks
Pour Over coffee brewing: 7-9 clicks
Aeropress: 7-9 clicks
Espresso brewing: 1-3 click
Remember, these settings are just starting points. Coffee is a personal experience, and we encourage you to experiment with different settings to find what suits your palate the best. Once you've found your preferred grind size, keep a note of it for future reference.
Step-by-Step Grinding Process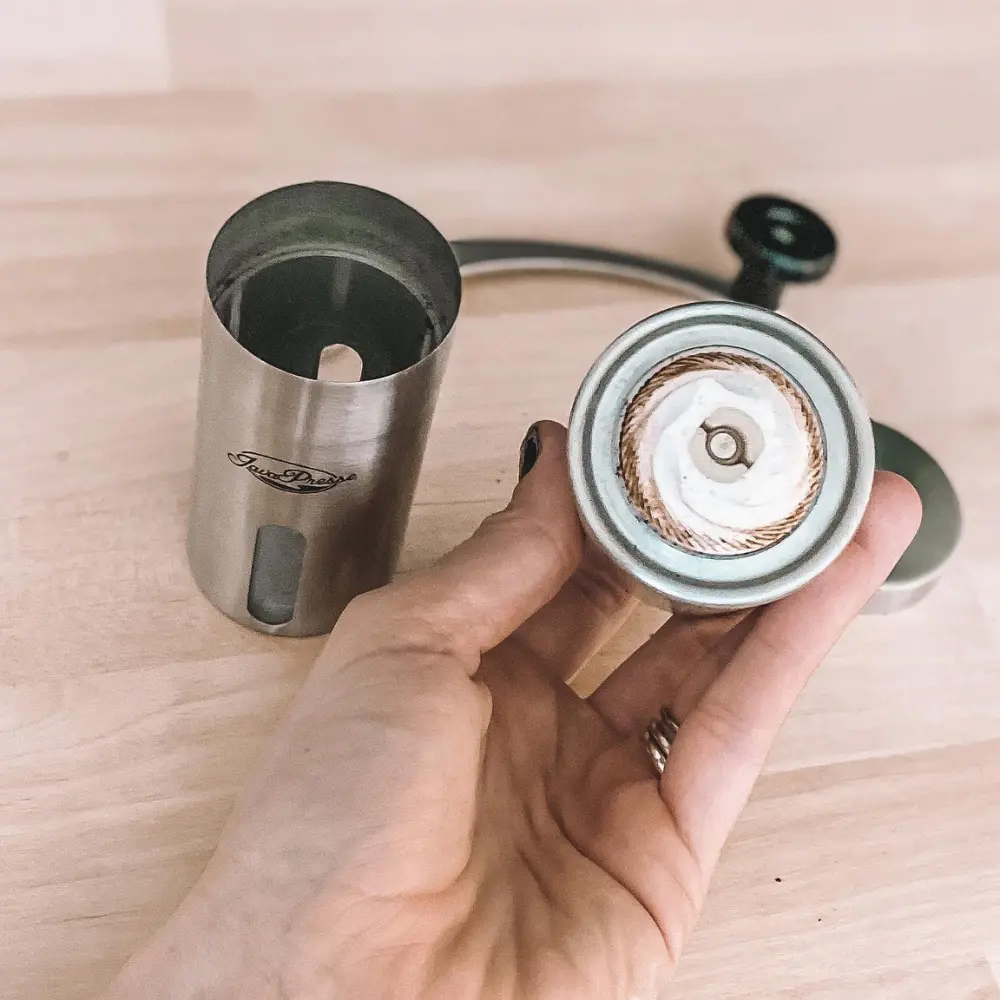 Grinding coffee with the JavaPresse grinder is a straightforward process. Start by removing the bottom grind reservoir to access the grind setting knob. Then, tighten the knob to its maximum extent. From this point, you can start loosening the knob, turning it counterclockwise while listening for the clicks. Each click represents a different grind setting. Begin at 0 and adjust it according to your preferred grind size.
While this process may not have the glamour of automated electric grinders, the tactile experience of manual grinding, coupled with the precision it offers, provides a unique sense of control and satisfaction.
Adjusting and Fine-Tuning Your Grind
The key to truly mastering the JavaPresse Manual Coffee Grinder lies in continual refinement. Experiment with different grind settings, observe how it changes the flavor profile of your brew, and keep tweaking until you achieve your ideal cup.
Additionally, consider the grinding speed. In our tests, grinding 20 grams of coffee took about 46 seconds for a coarse grind and 70 seconds for a fine grind. While not the fastest, it maintains a steady pace that ensures consistency.
To sum up, mastery of the JavaPresse grinder isn't just about getting your morning caffeine fix; it's a journey of exploration and refinement, leading you towards the perfect cup of coffee, every time.
Unlocking Flavor Profiles with JavaPresse
The journey to an exceptional cup of coffee doesn't stop at choosing the right coffee beans or the perfect brewing method; it also involves how you grind your beans. With the JavaPresse Manual Coffee Grinder, you have the opportunity to unlock great flavor profiles. In this section, we'll discuss how the freshness of beans, the impact of roast levels, and grind consistency can dramatically enhance your coffee experience.
Coffee Beans 101: The Role of Freshness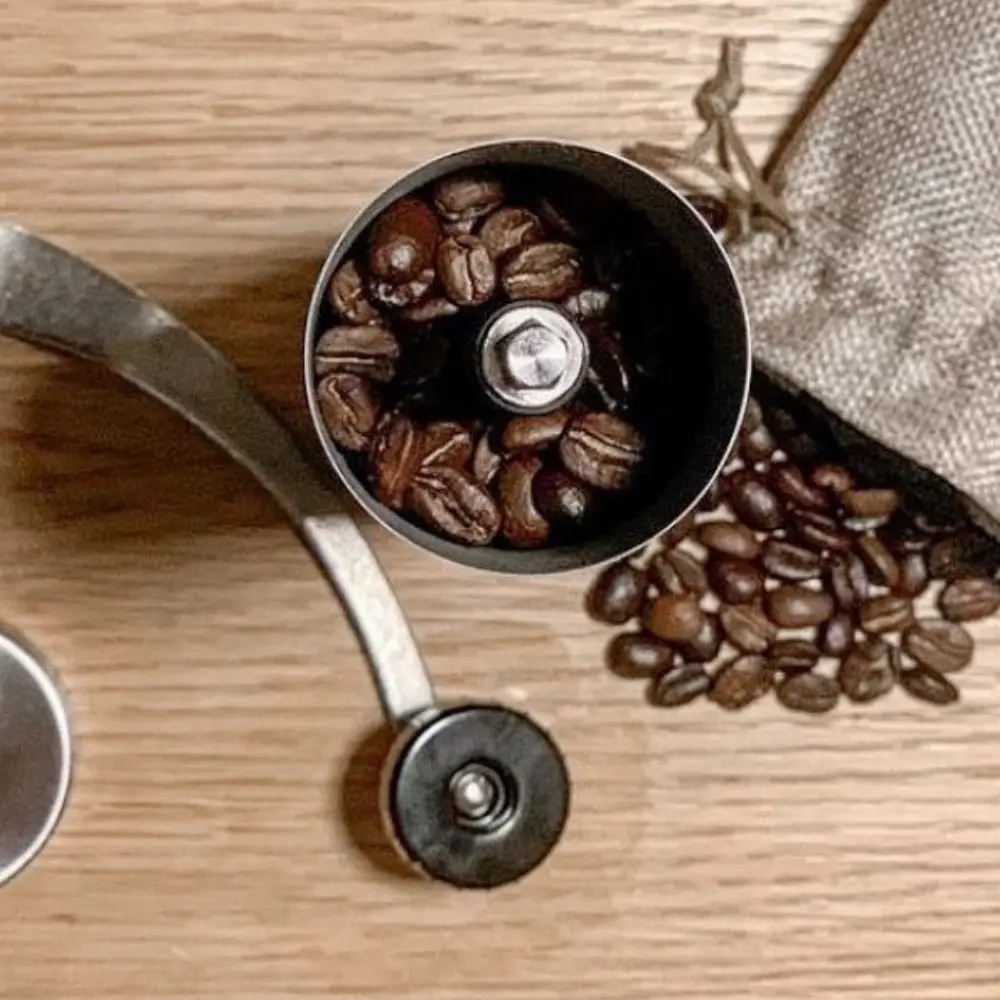 One of the pivotal aspects of a flavorful cup of coffee lies in the freshness of your coffee beans. Freshly roasted coffee beans are rich with volatile compounds that contribute to the aroma and taste. However, these compounds begin to dissipate as soon as the beans are roasted. That's why it's crucial to grind fresh beans just before brewing, allowing you to capture the maximum flavor. With the JavaPresse Manual Coffee Grinder, you can grind your beans to perfection, just in time for your brew, ensuring you savor all the complex flavors your coffee has to offer.
Roast Levels and their Impact on Taste
The roast level of your coffee beans significantly influences the flavor profile of your brew. Light roasts retain most of the original coffee bean flavors, often described as fruity or floral. Medium roasts offer a balance between the beans' inherent flavors and the flavors developed during roasting, creating a harmony of taste and aroma. Dark roasts emphasize the flavors developed during roasting, bringing out the deep, robust notes of caramel or chocolate.
With JavaPresse's adjustable grind settings, you can match the grind size to your preferred roast level. For instance, a coarse grind works well with dark roasts for immersion brewing methods like a French press, while a fine grind is excellent for light to medium roasts in an espresso machine.
Grind Consistency: Maximizing Extraction
The extraction process, where water draws out the flavors from the coffee grounds, is heavily influenced by the consistency of your grind. (1) Too fine, and the water may over-extract the coffee, leading to a bitter taste. Too coarse, and the water could under-extract it, resulting in a weak, underwhelming brew.
The JavaPresse Manual Coffee Grinder excels in delivering a consistent grind, ensuring balanced extraction, and unlocking your coffee's full flavor potential. By adjusting the settings on your grinder, you can control the coarseness of your coffee grounds, tailoring it to your brewing method and taste preference. Whether you desire a punchy espresso or a smooth French press brew, JavaPresse has you covered.
By paying attention to bean freshness, roast levels, and grind consistency, you'll unlock new dimensions of flavor in your coffee. After all, coffee brewing is as much an art as it is a science, and with the right tools, like the JavaPresse Manual Coffee Grinder, every cup becomes a masterpiece.
Brewing Techniques for JavaPresse Users
Armed with your JavaPresse Manual Coffee Grinder, you're ready to explore the world of coffee brewing. By using different brewing techniques, you can transform your coffee experience, producing distinct flavor profiles with the same coffee beans. In this section, we'll guide you through using your JavaPresse grinder with three popular brewing methods: Pour Over, French Press, and Espresso.
The Pour-Over Method: A Match Made in Heaven
The PourOver method is a delicate process that brings out your coffee beans' subtle flavors and complexity. A medium-fine to medium-coarse grind is recommended for this method. With the JavaPresse Manual Coffee Grinder, you can precisely adjust the grind size to meet this requirement. The key is to grind your beans so that they resemble the texture of sea salt. This consistency will allow water to flow through the coffee at a controlled pace, resulting in a clean and vibrant cup of coffee.
Here are some steps to guide you:
Heat your water to around 195 to 205 degrees Fahrenheit.
Place a filter in your PourOver cone and rinse with hot water.
Measure out your coffee beans and grind them with your JavaPresse grinder.
Add the grounds to the filter, then gradually pour over the hot water, making sure all the coffee is evenly saturated.
Enjoy your bright, flavorful PourOver coffee.
French Press: Bold and Full-Bodied Brews
The French Press method, known for producing robust and full-bodied brews, works best with a coarse grind. Adjust your JavaPresse grinder to produce larger, consistent coffee particles that won't slip through the mesh of the French press.
Here's how you do it:
Heat your water to around 195 to 205 degrees Fahrenheit.
Add your coarsely ground coffee to the French press.
Pour in just enough hot water to soak the grounds, then let it bloom for about 30 seconds.
Add the rest of the water, place the lid on the French Press, but don't plunge just yet. Allow the coffee to steep for about 4 minutes.
Slowly press down the plunger, then pour and enjoy your rich, full-bodied French press coffee.
Espresso Shots: The Perfect Shot Every Time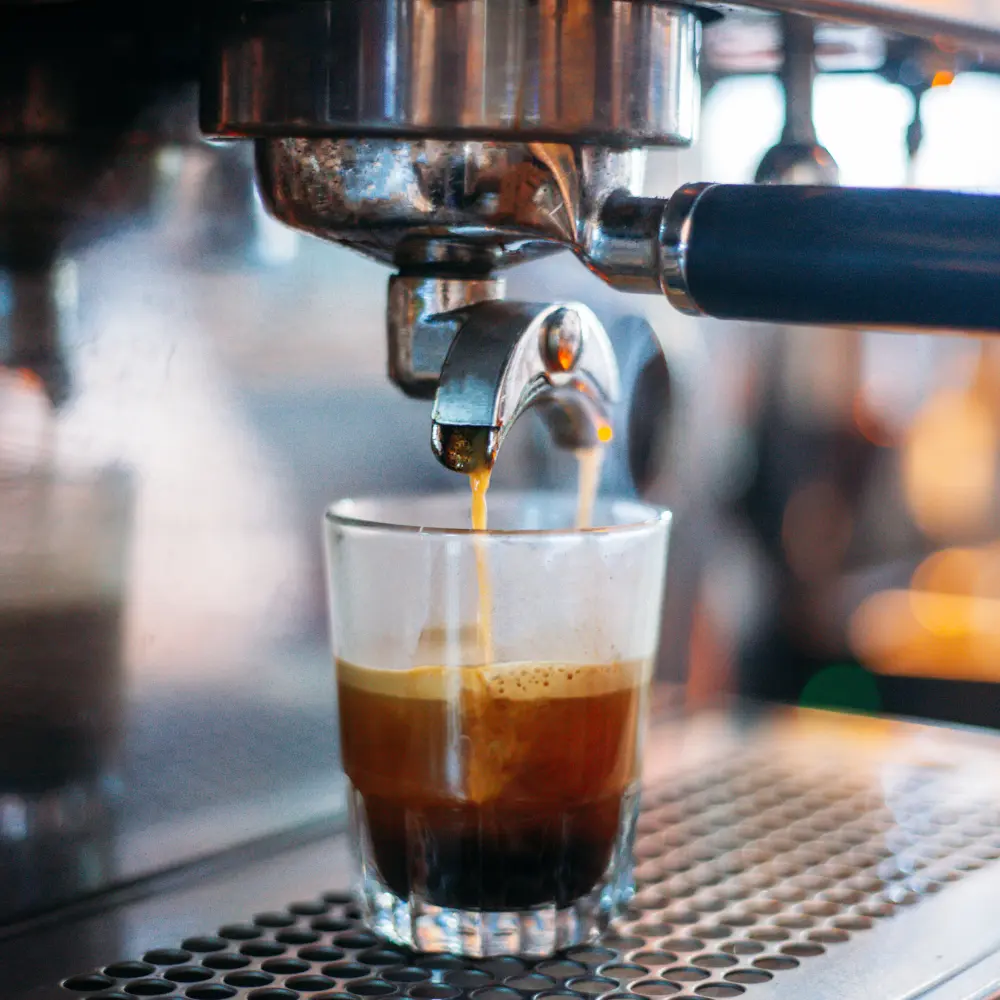 An Espresso shot is a concentrated form of coffee served in small, strong shots. A fine grind is vital for espresso to achieve the necessary pressure and extraction time. With JavaPresse's fine grind setting, you can produce a consistency similar to powdered sugar.
Follow these steps for an impeccable espresso:
Fill the espresso machine's portafilter with finely ground coffee from your JavaPresse grinder.
Tamp down the coffee grounds evenly.
Lock the portafilter into the machine and start the shot. A good shot should take about 20 to 30 seconds.
Savor the rich, bold flavors of your espresso.
With the JavaPresse Grinder, you're not just making coffee; you're crafting a beverage tailored to your preferences. From PourOver to French Press to Espresso, JavaPresse has your journey to coffee expertise covered. Enjoy the process and, most importantly, enjoy your coffee.
Maintenance and Care for Your JavaPresse Grinder
Owning a JavaPresse Manual Grinder isn't just about grinding and brewing coffee—it's also about taking good care of your equipment to ensure longevity and optimal performance. This section will walk you through the proper cleaning and storage, troubleshooting common issues, and tips to extend the lifespan of your JavaPresse Grinder.
Cleaning and Proper Storage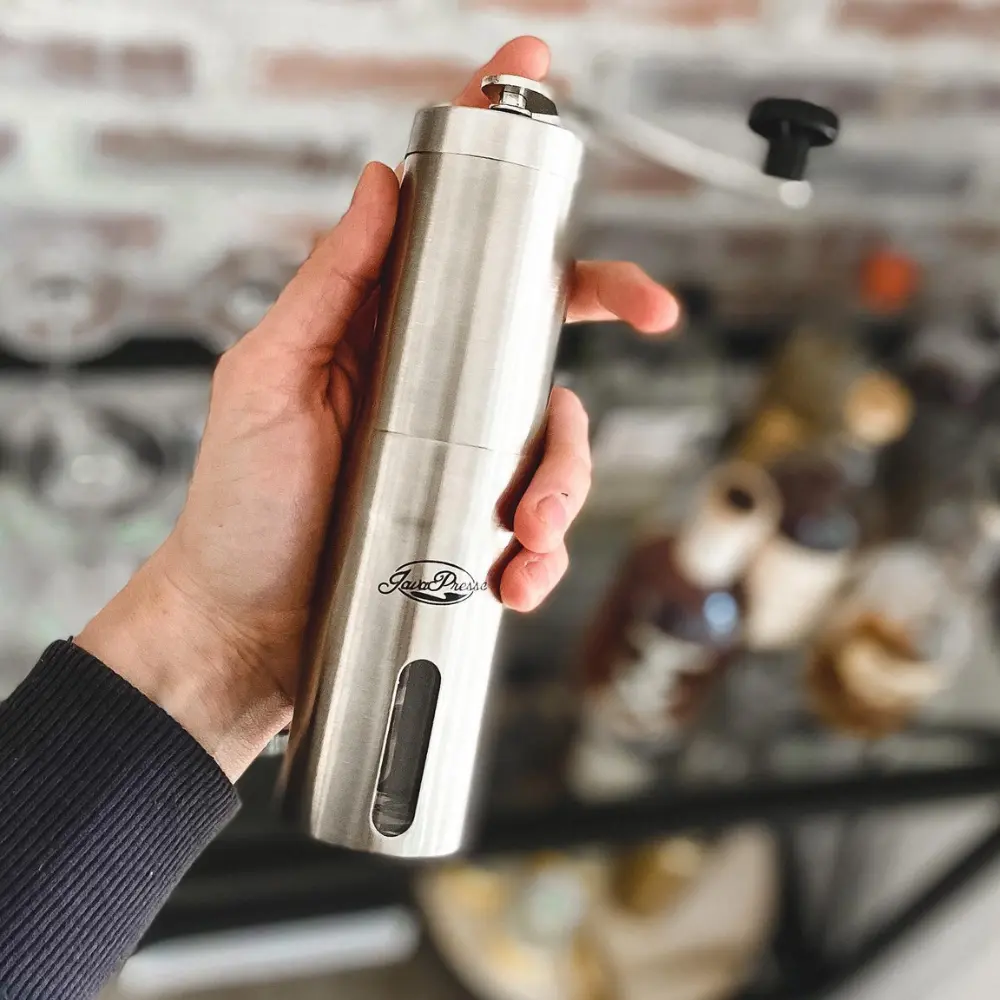 Cleaning your JavaPresse Grinder is crucial to maintain its performance and prevent any undesirable flavors in your brew caused by old, stale grounds. Follow these simple steps for effective cleaning:
Disassemble the grinder: Unscrew the handle and remove the inner and outer burr. This will give you access to all parts that come into contact with the coffee.
Brush out the grinder: Use a small brush to gently remove coffee residue from the burrs and the grind chamber.
Rinse: Once you've brushed out the residue, you can rinse the components with warm water. Never use soap, as it can leave a residual taste.
Dry: Make sure to thoroughly dry all parts before reassembling to prevent any rust.
For storage, keep the grinder in a dry place away from excessive heat and moisture. Also, remember to store it in a way that does not place pressure on the handle to prevent any damage.
Troubleshooting Common Issues
Even the best coffee equipment can occasionally run into issues. Here are some common issues you might face with your JavaPresse Grinder and how to troubleshoot them:
The grinder is hard to turn: This could be due to overfilling the grinder or setting the grind size too fine. Make sure not to fill the grinder past its capacity and adjust the grind size as needed.
Inconsistent grind size: This could be a sign that the burrs need cleaning. Coffee residue can interfere with the grinder's ability to produce a consistent grind.
The handle keeps falling off: Ensure that the handle is securely attached before you start grinding. If the issue persists, contact JavaPresse customer service for further assistance.
Extending the Lifespan of Your Grinder
Your JavaPresse Grinder is built to last, but with a few additional care practices, you can extend its lifespan even further:
Regularly clean your grinder: As mentioned before, regular cleaning keeps your grinder in optimal condition.
Be gentle: Apply steady pressure when grinding, but don't force it.
Store properly: Keep your grinder in a cool, dry place.
Use quality beans: Low-quality beans may contain small stones or other debris that can damage the burrs.
Remember, the key to longevity for any coffee gear is proper maintenance and care. By following these guidelines, your JavaPresse Manual Grinder will continue to deliver outstanding grind consistency and enrich your coffee experience for years to come.
The JavaPresse Experience: User Reviews and Expert Opinions
To truly appreciate the JavaPresse Grinder, it's essential to delve into the vast sea of user experiences and expert opinions. What sets this grinder apart from the crowd? Let's explore what users and coffee connoisseurs have to say about their JavaPresse experiences.
What Users Are Saying: Positive and Negative Reviews
Every user brings a unique perspective to the JavaPresse Manual Grinder, celebrating its strengths and highlighting areas for improvement. Here's a glimpse of the sentiment among JavaPresse users.
First up, we have a glowing review from Michael D.:
As a first-time grinder owner, I was drawn to the JavaPresse Manual Burr Grinder. The control it offers over the grind size, its simplicity, and the freshness it brings to my coffee has greatly enriched my coffee experience. It's evident that JavaPresse is passionate about quality coffee, and I can't wait to experiment with different types of beans.
Users like Marco D. also share the transformative impact the JavaPresse grinder has had on their daily routines:
JavaPresse's burr grinder has been a delightful addition to my morning routine, enriching my coffee's flavor. I appreciate the abundance of resources and tutorials provided by JavaPresse to help me make the most of this product. The different grind settings make it versatile, suitable for all types of coffee beans. I'm very pleased with my purchase.
The majority of users express great satisfaction with the product, citing the precision control, ease of use, and overall impact on their coffee's taste. While there are occasional mentions of the manual effort required to grind, the superior results and affordability of the JavaPresse Grinder seem to overshadow this minor inconvenience.
Professional Perspectives: Expert Opinions on JavaPresse
JavaPresse is not only well-regarded among coffee enthusiasts but also held in high esteem by coffee professionals. Experts appreciate its reliable grind consistency, adjustability, and durable construction. Its focus on quality, attention to detail, and commitment to delivering exceptional coffee experiences align with what professionals expect in a coffee grinder.
Coffee experts also underscore the value of the adjustable grind settings, making the JavaPresse grinder adaptable to different brewing methods, from French Press to Espresso. This versatility, combined with its ease of use, compact size, and quiet operation, makes it stand out among its competition.
To sum up, the JavaPresse Manual Coffee Grinder enjoys high praise from both users and experts alike. Its blend of quality, precision, and versatility has earned it a solid reputation in the coffee world, enhancing and revolutionizing everyday coffee experiences.
Comparative Analysis: JavaPresse Versus Other Manual Grinders
In the vast world of coffee, the grinder you use can significantly impact the final taste of your brew. Here, we take a comprehensive look at how the JavaPresse Manual Burr Grinder stacks up against its competitors.
Pitting JavaPresse Against Popular Alternatives: An In-Depth Comparison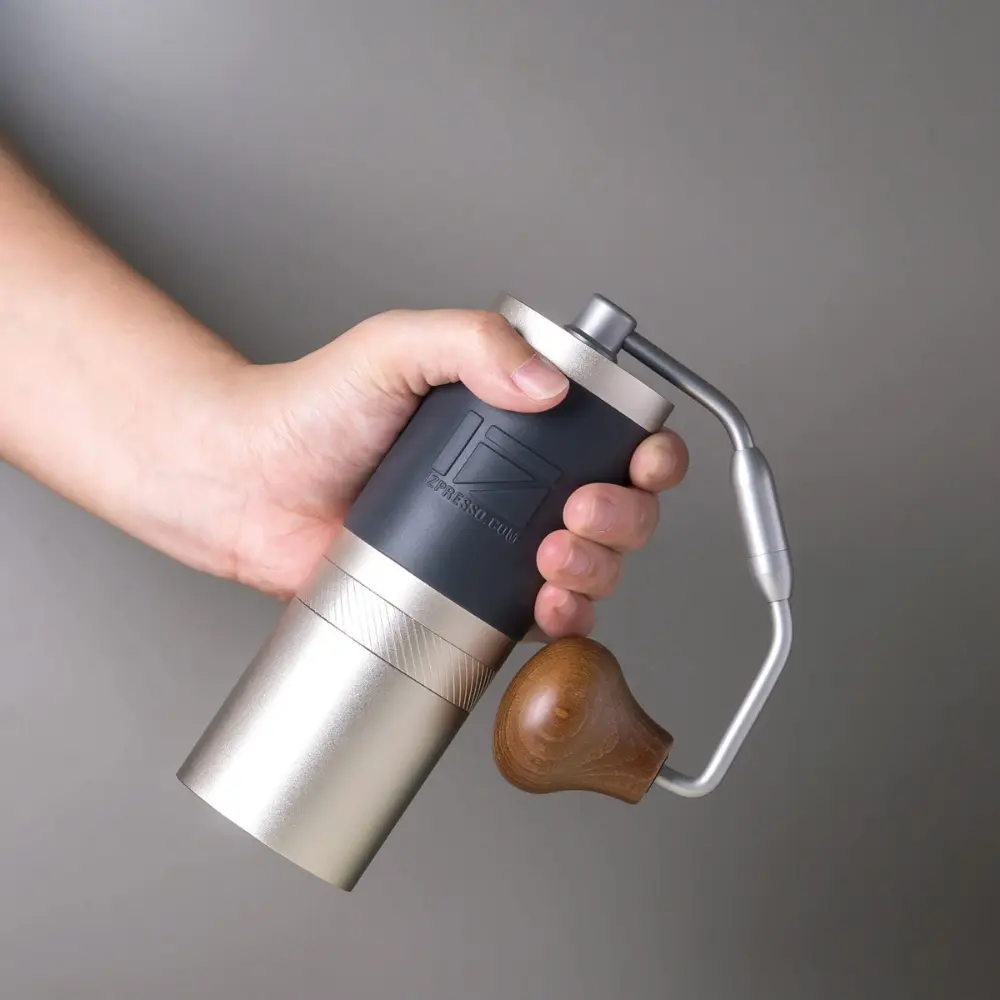 While the JavaPresse Manual Grinder excels in several areas, it's crucial to see how it fares against other popular manual grinders in the market.
Porlex Mini Stainless Steel Coffee Grinder: This Japanese-made manual grinder is compact and boasts a solid stainless steel body. However, the JavaPresse outdoes the Porlex with its 18-grind settings. Additionally, the JavaPresse has a quieter grinding process, reducing noise disruption.
Hario Skerton Pro Manual Coffee Grinder: The Skerton Pro is well-regarded for its durability and grind consistency. While it does have a larger capacity than the JavaPresse, its bulky size makes it less travel-friendly. Plus, the JavaPresse's built-in adjustable grind selector with over 18 settings provides more versatility for different brewing methods.
1Zpresso JX Series Manual Coffee Grinder: The 1Zpresso grinder stands as a top-tier manual grinder, featuring a Foldable Handle Adjustable setting for ultimate convenience. Meanwhile, the JavaPresse offers a remarkable range of over 18 manual grind settings, granting you complete precision and control over your grind coarseness. With its versatility for all brewing methods, this hand coffee grinder ensures a perfect cup of fresh coffee and espresso every morning. Offering an excellent balance of impressive features and affordable pricing, it delivers exceptional value for your money.
Price to Performance: Is JavaPresse Worth the Investment?
The JavaPresse Burr Grinder delivers a fantastic performance that punches well above its price point. It may not have as many grind settings as high-end manual grinders, but it provides enough options to cater to various brewing methods, from French press to espresso.
The grinder is compact, lightweight, and portable – an ideal companion for those who want to enjoy fresh coffee on the go. The quiet operation, ease of use, and exceptional quality of its ceramic burrs further enhance its value proposition.
All these features, coupled with the company's commitment to customer satisfaction, make the JavaPresse an excellent investment for both coffee novices and connoisseurs.
The Pros and Cons of the JavaPresse Manual Burr Grinder
To provide a comprehensive review of the JavaPresse Manual Burr Grinder, we need to discuss both the positive and negative aspects.
Pros
Adjustable Grind Settings: As mentioned before, with over 18 settings, the JavaPresse Grinder allows you to tailor the grind size to your brewing method, whether it's espresso, French press, or pour-over.
Portability: Its compact and lightweight design makes the JavaPresse an ideal travel companion. Whether you're going on a camping trip or just want to enjoy a fresh cup at the office, this grinder has you covered.
Quiet Operation: Unlike electric grinders, the JavaPresse is significantly quieter. Its hand crank mechanism reduces noise, allowing for early morning grinding without disturbing others.
Durability: The JavaPresse grinder boasts a sturdy stainless steel body, while its ceramic burrs are designed to last five times longer than their stainless steel counterparts.
Value for Money: Given its features and performance, the JavaPresse grinder offers excellent value for money. It delivers a high-quality grind at a fraction of the cost of many high-end grinders.
Cons
Grinding Speed: As a manual grinder, the JavaPresse is not as fast as its electric counterparts. Depending on the coarseness setting, grinding can take some time and physical effort.
Capacity: The JavaPresse grinder's compact design means it has a smaller capacity compared to some other grinders. For single servings, it's more than adequate, but for larger brews, you may need to grind multiple batches.
Lack of Numeric Settings: The grind settings are not numerically labeled, which can make it somewhat tricky to remember your preferred setting. However, this can be easily overcome by counting the clicks from the fully closed position.
Understanding these pros and cons should help prospective buyers make an informed decision. All things considered, the JavaPresse Manual Burr Grinder is a well-rounded grinder that delivers in terms of quality, consistency, and portability.
How We Rate The JavaPresse Manual Burr Grinder
Quality and Durability: 9/10
The JavaPresse Manual Burr Grinder is built from stainless steel, known for its durability and resistance to wear and tear. This indicates the company's commitment to creating products that last. Its ceramic burrs, resistant to heat and wear, significantly contribute to its long lifespan. However, as with all manual devices, the handle and moving parts may wear out over extended use, hence the 9/10.
Ease of Use: 8/10
Operating the JavaPresse is relatively straightforward. Once the grind size is set, users simply add beans and turn the crank. However, manual grinding can be physically demanding, especially for those unaccustomed to it. Some users might find it challenging to grind finer settings due to the necessary exertion, which is why we've rated it 8/10.
Versatility: 10/10
The JavaPresse shines in its versatility. With over 18 settings, users can easily adjust the grinder to produce the desired coarseness, making it suitable for a wide range of brewing methods. From French press to espresso, this grinder caters to all coffee lovers, earning it a perfect 10.
Grind Consistency: 8/10
For a manual grinder, the JavaPresse provides impressive consistency in grind size. This ensures optimal flavor extraction and helps users produce high-quality coffee every time. However, no grinder is perfect, and some users may notice minimal variations in grind size on closer inspection, hence the 8/10 rating.
Portability: 10/10
One of the standout features of the JavaPresse is its portability. Its sleek, lightweight, and compact design make it an ideal travel companion. It requires no batteries or electricity, making it perfect for camping trips, vacations, or office use. For portability, it's a clear 10/10.
Value for Money: 7.5/10
Considering its durable construction, grind consistency, and versatility, the JavaPresse offers excellent value for its price. It provides features typically found in more expensive grinders at a more accessible price point. However, some users may argue that there are cheaper alternatives on the market, which justifies a 7.5/10 rating.
Customer Service: 9/10
JavaPresse is recognized for its responsive and helpful customer service. Their commitment to customer satisfaction is reflected in their willingness to address issues and provide educational resources. While they provide excellent service, room for improvement always exists, hence the 9/10 rating.
Sale
Conclusion – Guru's Overall Score Verdict: 4.4/5
Crafting the perfect cup of coffee is an art, and the JavaPresse Manual Grinder is an exceptional tool for any coffee lover's toolkit. With a myriad of adjustable settings, superior portability, and outstanding durability, it delivers a consistently excellent grind that's sure to enrich your coffee brewing experience. Despite a few minor shortcomings, its advantages are numerous and compelling.
In our in-depth analysis, we've found that JavaPresse's commitment to quality and the user experience shines through in the thoughtful design of this manual grinder. Its ability to unlock the hidden flavors in each coffee bean is impressive, making each cup of coffee a celebration of the rich, nuanced flavors that coffee aficionados love. Whether you're a seasoned barista or a casual coffee drinker, the JavaPresse Manual Burr Grinder can elevate your daily coffee ritual and reveal new dimensions of taste and aroma.
After comprehensive testing and scrutiny, the team at The Coffee Guru is pleased to assign the JavaPresse Burr Grinder a noteworthy score of 4.4 out of 5. This rating mirrors its exceptional performance, superior craftsmanship, value for the investment, and the delightful, user-centric experience it delivers. While it requires a slightly higher degree of effort and time than its electric counterparts, the rewarding outcome is undeniably worthwhile. On the downside, some users may experience a bit of a learning curve in finding their ideal grind setting. Nevertheless, JavaPresse has commendably fashioned a product that pays homage to the art of coffee making, marking it as a significant investment for all coffee lovers.
FAQ