In the fascinating realm of coffee brewing, nothing represents precision quite like the Hario V60 Dripper. This iconic tool is a game changer for enthusiasts and professionals in pursuit of the perfect pour-over coffee. Today, the team at The Coffee Guru takes you on an insightful journey with this comprehensive Hario V60 Review. Unveiling its unique design, revealing its superior brewing control, and immersing into the sensory experience it delivers, we'll demonstrate why this V60 coffee maker is a cherished gem in the coffee world. So, buckle up as we delve into the delightful nuances of this top-tier brewing equipment and its impact on our beloved daily ritual.
GURU'S PICK: Hario V60 Coffee Pour Over Kit Bundle Set
The Coffee Guru highly endorses the Hario V60 Coffee Pour Over Kit Bundle Set for coffee lovers. This set's unique design promotes optimal flavor extraction, with a cone shape, spiral ridges, and large single hole for precise brewing. The bundle includes essential accessories like a glass server and measuring spoon. In short, it's an ideal tool for crafting cafe-quality pour-over coffee at home.
Hario V60 Dripper: Key Takeaway
Master of Brew Control: The v60 model stands out for its precise control over brewing variables, unleashing the true potential of your coffee beans.
Simplicity meets Elegance: Despite its minimalist design, the v60 is an aesthetic addition to any kitchen and a powerful tool for extracting rich and complex flavors.
Durability and Quality in One: Constructed from high-quality ceramic, the Hario model ensures long-term durability without compromising the quality of your brew.
Brew like a Pro: With practice, the Hario V60 pour-over technique lets you explore the intricate depths of your coffee, making it a favorite among coffee experts and enthusiasts.
Exceptional Value for Money: Considering its functionality, durability, and the superior brew it produces, the v60 model offers incredible value for every coffee lover out there.
Decoding the Key Features of Hario V60
In the realm of coffee brewing, this Hario model stands as an epitome of the manual, pour-over technique. The distinctive design and key features of this Japanese brewer not only set it apart but also contribute to its remarkable capability of brewing an impeccably balanced cup of coffee. Let's dive deep into these defining attributes.
The Aesthetics and Practicality of Design and Material
The v60 is more than just a functional coffee maker – it's a piece of art. The iconic design is characterized by a 'V-shaped cone, angled at exactly 60 degrees, giving the brewer its name – V60. This unique design element isn't just for aesthetics, it has a vital function:
The sharp angle of the cone ensures the water flows towards the center, extending its contact time with the coffee grounds for fuller flavor extraction.
The v60 model series is defined by diversity, offering various models made from different materials and available in an assortment of colors.

Hario V60 Ceramic Coffee Drippers
Celebrated for their superior heat retention properties, these ceramic models come in a variety of colors, such as red, white, matte black, smoky green, and indigo blue, among others. Notably, the Hario V60 Ceramic Coffee Dripper White – Size 02 (Coffee Masters Edition) offers an elevated brewing experience, specifically designed for competitive coffee brewing.
Hario V60 Glass Coffee Drippers
These models, available in red, black, and white, are built with high-quality heat-resistant glass, ensuring durability and optimal coffee extraction.
Hario V60 Metal Coffee Drippers
Featuring an elegant design and excellent thermal conductivity, the metal models are available in stainless steel and matte black finishes.
Hario V60 Copper Coffee Dripper
Known for its top-notch heat retention and unique aesthetic, the copper model adds a touch of sophistication to your coffee brewing experience.
Hario V60 Plastic Coffee Drippers
Practical and lightweight, the plastic models are perfect for on-the-go brewing, and come in clear, red, and white options.
Each material brings a unique nuance to the brewing process and influences the resulting coffee's taste, allowing you to select one that best fits your brewing preferences.
Unique and Special Models
The Hario model also offers a range of special edition and innovative models:
Hario V60 One-Pour Dripper MUGEN: Available in both ceramic and plastic, this one-pour dripper offers simplicity and convenience.
Hario V60 Double Mesh Metal Coffee Dripper: This model, offered in sizes 01 and 02, uses a double mesh design for a unique extraction process.
V60 Glass Dripper Olive Wood: Combining the aesthetics of natural olive wood with the heat resistance of glass, this model offers a unique and stylish design.
Hario V60 Pour Over Drip Decanter: Combining the brewing process and the serving vessel into one, this model offers a streamlined coffee experience.
Coffee Kits for the Complete Experience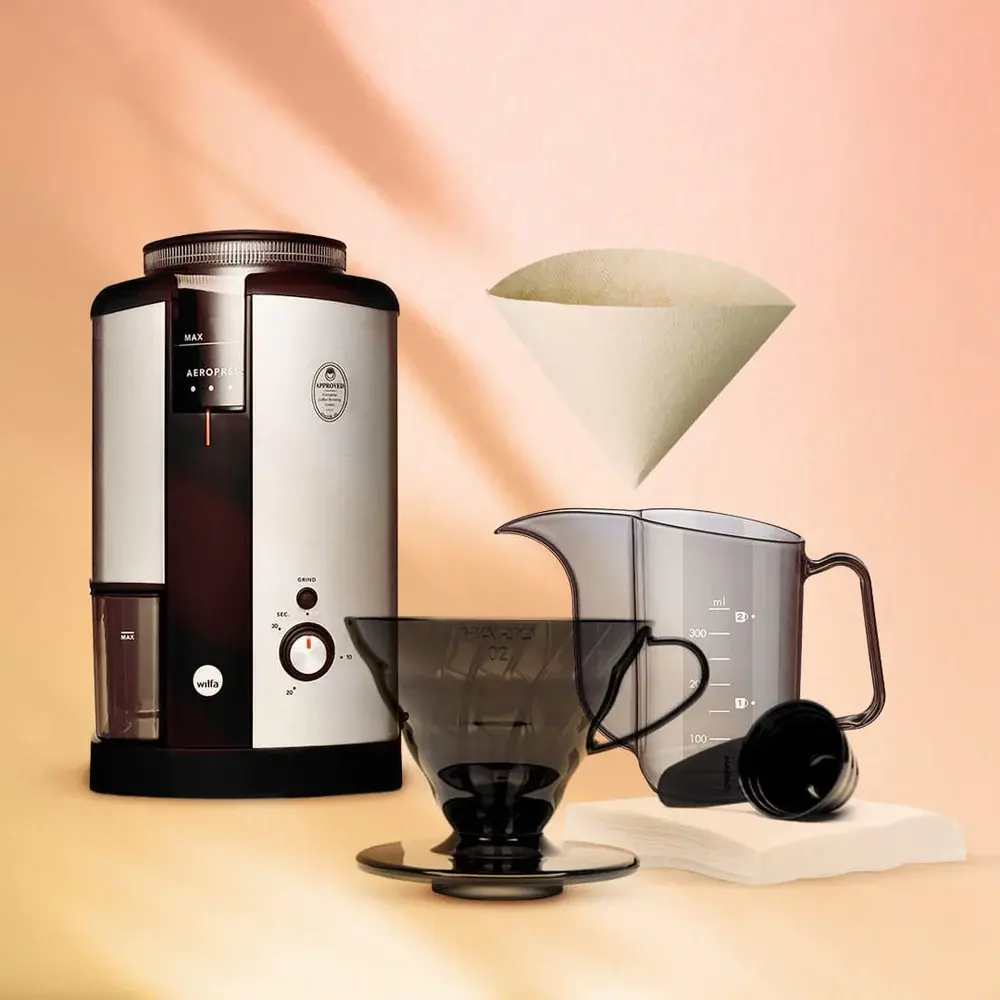 Hario also offers bundled options such as the "Hario V60 Craft Coffee Maker Kit + AIR Drip Kettle Bundle" and "Wilfa x Hario Simply Brewing Kit Bundle" in silver and black. These kits are perfect for those looking to dive into the Hario V60 pour-over experience as they contain everything you need to get started.
In essence, the Hario model range provides a pour-over brewer for every coffee lover, whether you prefer the heat retention of the v60 ceramic, the practicality of the v60 plastic, or the unique finishes of the other models. You'll also find a model for any brew size you need, thanks to the variety of Hario V60 sizes available. Regardless of your preference, every model promises the same thing: a fantastic Hario V60 pour-over brewing experience.
Navigating the Spiral Ribs and Large Single Hole
The Hario model boasts two more distinctive features: the spiral ribs and a large single hole at the base.
The Spiral Ribs: These interior ridges work to maximize airflow during the brewing process by separating the coffee filter from the walls of the dripper. The increased airflow enables a more even extraction and a better-developed flavor profile in your coffee.
The Large Single Hole: Unlike many coffee drippers with multiple small holes, the V60 features a single, large hole at its base. This design detail gives you the ability to control the flow rate and dwell time of the water passing through the coffee grounds. By controlling your pour, you have the flexibility to influence the strength and flavor of your coffee, customizing your brew to perfection.
The Hario V60 Sizes and Their Influence on Your Brew
The v60 model comes in multiple sizes, predominantly in sizes 01 and 02, with larger options like size 03 also available. The choice of size directly affects your brewing quantity and the corresponding filter paper you require.
Size 01: Perfect for brewing a personal cup, this size is ideal for solo drinkers and minimalists.
Size 02: Can brew up to four cups of coffee, suitable for small gatherings or a small family of coffee lovers.
Size 03: This larger variant is fit for commercial usage or for those occasions when you have a large group of coffee enthusiasts to serve.
Each size maintains the iconic V60 design, ensuring that regardless of the volume of coffee you're brewing, you'll consistently produce a cup with the distinctive quality and flavor associated with this Hario dripper. Therefore, the choice of size is mainly a matter of personal need and preference.
Top Accessories for Enhancing Your Hario V60 Experience
Enhancing your coffee brewing process with the v60 model goes beyond just owning the coffee maker itself. There's a world of accessories designed to perfect your brew. Below are some essential additions to consider, for both the casual coffee lover and the brewing connoisseur:
Accurate Measurements:
Hario V60 Drip Coffee Scale: Available in black and stainless steel variants, this scale ensures that your coffee-to-water ratio is precise, leading to a consistent brew every time.
Measuring Scoops: Available in materials like ceramic, wood, and stainless steel, Hario's range of measuring scoops will help you achieve the perfect measure for your brew. Some special mentions include the Hario Matte Black and Copper Coffee Measuring Scoops.
Precision Grinding with Hario:
Hario Mini Mill PLUS Ceramic Coffee Grinder: Small but mighty, this hand grinder is an excellent choice for those who want freshly ground coffee, even on the go. It features an adjustable grind setting, allowing you to control the coarseness of your grind, and a compact design, making it perfect for travel.
Hario Bloom Skerton Plus Ceramic Coffee Grinder: This upgraded model offers an improved grinding experience with a burr stabilizer plate, ensuring consistent grind every time. Its robust construction and larger capacity make it ideal for everyday home use.
Hario Smart-G Coffee Grinder: With its easy-to-use design and adjustable ceramic burrs, this grinder offers both convenience and quality. It's perfect for those looking for a balance between functionality and simplicity.
Wilfa x Hario V60 Craft Coffee Maker Kit: This kit combines the best of both worlds with a Wilfa grinder and a Hario model dripper. It's the perfect kit for beginners or those looking to step up their coffee game, providing all the tools you need for precision brewing at home.
Each of these grinders offers unique features to suit various brewing needs and preferences. Whether you're a seasoned coffee connoisseur or a beginner exploring the world of specialty coffee, the right grinder can significantly enhance your V60 experience.
For Aesthetics and Function:
V60 Olive Wood Stand Set 02: Enhance your brewing station with this elegant stand that not only holds your V60 but also adds a touch of style to your kitchen.
Hario V60 Arm Stand: This stand adds a touch of sophistication to your brewing setup and provides a secure stand for your V60.
Hario V60 Drip Station – Clear: This clear drip station not only catches any errant drips but also helps you monitor the brewing process visually.
Hario Drip Stand Cube Black: A sleek, compact stand that gives your brewing setup a modern look.
Improved Brewing Technique:
Hario V60 Buono Drip Kettle Thermometer: This thermometer helps you heat your water to the perfect temperature for brewing, ensuring an ideal extraction.
Hario Bamboo Stirrer: This eco-friendly stirrer helps you mix your coffee grounds uniformly, leading to a balanced brew.
For a Complete Coffee Experience:
Hario Kasuya Cupping Spoon and Bowl: These tools will allow you to taste your coffee like a professional, noting subtle flavor notes and differences between brews.
V60 Thermal "Uchi Mug": Available in silver and black, these mugs keep your brew warm for longer, letting you savor your coffee at your own pace.
Hario Shot Glass (140ml) and Hario Bona Enamel Tea & Coffee Canister – 400ml: These additions to your coffee collection ensure you can enjoy your brew in style, and store your coffee beans or grounds securely.
Essential Extras:
Hario Filter Paper Stand: Keep your Hario V60 filters organized and readily available with this stand.
Latte Shaker-Off White: If you love lattes, this shaker is a must-have. It helps you froth milk to a perfect consistency for your coffee.
Remember, a quality gooseneck kettle, like the V60 Kettle, and a Hario V60 Decanter, are also excellent additions to your brewing setup. These tools and accessories can help refine your brewing process, allowing you to get the most out of your v60 coffee maker.
Step-by-Step Guide to Brewing with Hario V60
Harnessing the best from your Hario model requires more than just having the finest coffee beans and top-notch water. It demands understanding the brewing process intricately and applying that knowledge skillfully. This section will guide you through choosing your coffee beans, explain the brewing process, and even offer solutions to common brewing issues.
Choosing Your Coffee Beans: A Matter of Preference
Before you can start brewing with the Hario model, you need to choose your coffee beans. Remember, the type of coffee you select can significantly impact the final taste of your brew.
Origin: The geographical origin of your coffee beans plays a role in the flavor profile. For example, African beans often have a bright, fruity flavor, while South American beans might bring rich, chocolatey notes.
Roast: The degree of roast can also influence the flavor. Light roasts tend to exhibit more acidity and preserve the unique flavors of the beans, while dark roasts have a robust, bold flavor with less acidity.
Freshness: Always opt for freshly roasted beans and grind them right before brewing. This preserves the essential oils and aromas, resulting in a fresher and richer cup of coffee.
Experiment with different origins, roasts, and grind sizes until you find the combination that satisfies your taste buds. Generally, a medium to fine grind is recommended for a balanced extraction with the v60 model. The grind size also influences the brew time— too coarse, and the water will flow through quickly resulting in a weak brew; too fine, and the water may get trapped, leading to an over-extracted bitter cup of coffee.

At the end of the day, choosing coffee beans is largely a matter of personal preference, and the best way to discover what you like is through experimentation.
The Hario V60 Brewing Process Explained
Now that you have your preferred coffee beans, let's dive into the brewing process. Here's how to use this v60 model for a satisfying cup of coffee:
Heat the Water: Start by heating up to 250ml of water in your Hario kettle. The optimal temperature for brewing coffee is between 92-96 ºC.
Grind Your Beans: Grind around 15g of your chosen coffee beans to a medium-fine consistency.
Prep Your Dripper and Filter: Place the Hario model on top of your mug or coffee server, then insert the Hario V60 filter. Rinse the filter with hot water to remove any paper taste and preheat the dripper and mug.
Set the Scale: Discard the rinse water, and position the v60 and your mug or server on the scale. Reset the scale to zero.
Add the Coffee: Now add the ground coffee, making sure it's spread evenly across the filter.
Begin the Brew: Start by wetting the coffee grounds with just enough water to soak them completely. Wait for about 30 seconds to allow the coffee to "bloom"—this is when the coffee releases carbon dioxide, leading to better extraction.
Continue Pouring: After the bloom, continue pouring water in a slow, circular motion, avoiding the filter edges. Stop pouring when the scale reads 250g. The entire pour should take about 2.5 minutes.
Enjoy Your Coffee: Once the water has fully passed through the coffee, remove the dripper, and enjoy your perfectly brewed coffee.
Remember, coffee brewing is as much an art as it is a science. Don't be afraid to tweak and adjust these steps to find the process that gives you the perfect cup.
Troubleshooting Common Brewing Problems
Even with a device as simple as this Hario model, you may still run into some issues. Here are a few common brewing problems and their solutions:
Weak or Watery Coffee: This could be due to your coffee being too coarsely ground or your water pouring too fast. Try a finer grind or a slower pour rate.
Bitter or Over-Extracted Coffee: If your coffee tastes overly bitter, it might be over-extracted. To resolve this, consider a slightly coarser grind or pour your water faster to shorten the brew time.
Inconsistent Taste: If your coffee tastes great one day and off the next, ensure you're using the same water temperature, coffee-to-water ratio, grind size, and pouring technique each time. Consistency is key to brewing great coffee.
By mastering these steps, you can brew a perfect cup of coffee every time with your v60. Don't be afraid to experiment and adjust the process until you find what works best for you!
Comparing the Hario V60 with Other Brewing Methods
Navigating through the world of coffee makers can be an overwhelming task, especially when you're confronted with a multitude of brewing methods. This article aims to clarify the differences between this distinctive v60 model and other popular brewing techniques to help you find the right fit for your taste.
Hario V60 vs. Chemex: A Battle of Giants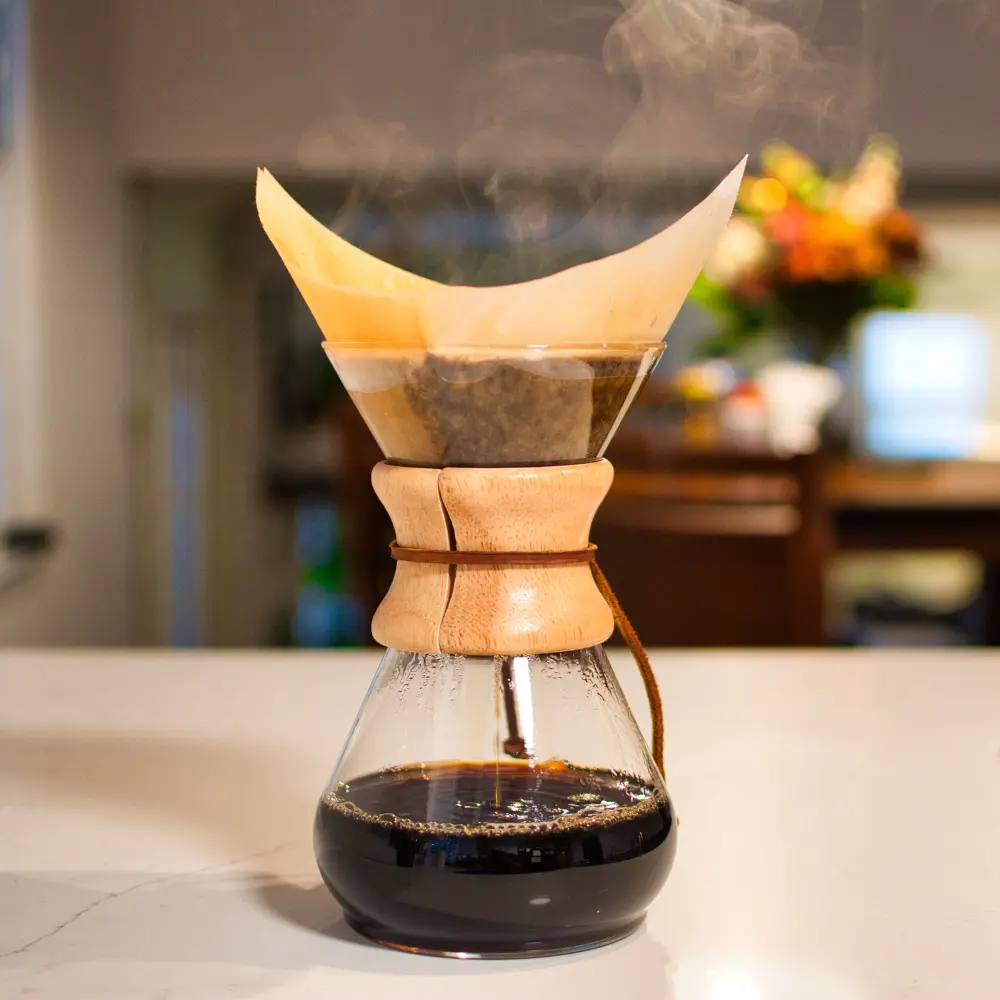 The v60 and the Chemex are often compared due to their similarities in brewing methodology. Both utilize the pour-over technique, but with slight variations that contribute to distinctive taste profiles.
Hario V60: The V60 coffee maker, available in materials like ceramic, glass, metal, and plastic, is well-known for its unique V-shaped design and spiral ridges, which optimize airflow and prevent filter blockage. With its wide hole at the bottom, the Hario model dripper allows for greater control over the brewing time, which can alter the flavor of your coffee. For instance, a fast pour can lead to a lighter brew, while a slow pour might result in a stronger taste.
Chemex: The Chemex is admired for its elegant design and capacity to brew larger volumes. The main difference lies in the filter. Chemex's thick, proprietary paper filters remove more oils and solids than most, resulting in a cleaner, more tea-like cup of coffee. In contrast, the Hario V60 pour-over often presents a more robust, full-bodied brew due to its thinner filters.
When deciding between Hario V60 vs Chemex, consider the complexity and body you want from your coffee and how much control you prefer during the brewing process.
Hario V60 Versus Kalita Wave: A Comparative Analysis
The Hario model and the Kalita Wave, both of them being stalwarts in the world of pour-over coffee, often find themselves pitted against each other due to the contrasting coffee experiences they offer.
Hario V60: Known for its distinct conical design and spiraled ridges that enhance airflow and prevent filter clogging, the V60 offers a high degree of control over the brewing process. Its wide hole at the bottom facilitates control over the water flow and brewing time, allowing you to fine-tune the flavor profile of your coffee. A faster pour generally results in a lighter brew, while a slower pour can yield a more potent coffee flavor. The v60 shines in bringing out the nuanced flavors and aromatic complexities of your coffee beans, especially suitable for light to medium roasts.
Kalita Wave: The Kalita Wave stands out with its flat-bottomed design and three small holes that contribute to a more even and consistent water flow, yielding a slower and more forgiving brewing process. This design aspect makes the Kalita Wave a better choice for beginners or those who prefer a straightforward brewing routine. When it comes to taste, the Kalita Wave delivers a more balanced cup of coffee, emphasizing the body and sweetness, making it ideal for those who appreciate a fuller, richer coffee experience.
In the Hario V60 vs Kalita Wave debate, your choice ultimately boils down to your personal preferences, brewing skills, and the flavor profile you're aiming to achieve. Both are exceptional additions to your coffee brewing arsenal, each offering a unique pour-over experience.
Hario V60 vs. French Press: From Clarity to Full Body
While both the v60 model and the French Press can yield delightful coffee, they offer distinctive brewing experiences and resulting flavors.
Hario V60: As mentioned before, the V60 coffee maker provides a hands-on brewing experience and yields a clear, nuanced cup of coffee, showcasing the individual flavors of the beans.
French Press: The French Press coffee maker, on the other hand, immerses coffee grounds fully in water, then uses a metal filter to separate the brew from the grounds. This method extracts more oils and allows fine coffee particles into the cup, which results in a fuller-bodied and slightly muddy coffee.
The choice between the Hario model and the French Press comes down to personal preference: if you enjoy a clean, bright coffee, opt for the Hario V60; if you prefer a robust, hearty brew, the French Press might be your match.
Hario V60 vs. Aeropress: Portability or Precision?
Comparing the v60 model with the Aeropress brings us to a debate between portability and precision.
Hario V60: Known for its precision, the Hario model offers an opportunity to manipulate various brewing parameters, like the grind size, water temperature, and pouring technique, allowing coffee connoisseurs to fine-tune their brew to perfection.
Aeropress: The Aeropress, on the other hand, is renowned for its portability and speed. It uses pressure to extract coffee quickly, resulting in a strong, clean cup with low acidity. However, it allows less control over the brewing process.
In the Aeropress vs Hario V60 face-off, your decision will depend on whether you prioritize control and nuance or speed and convenience.
Choosing a coffee maker ultimately depends on your personal preference and lifestyle. The v60, with its precise control and clean flavor profile, is ideal for coffee enthusiasts who enjoy the art of brewing.
Maintenance Tips for Your Hario V60
Your Hario V60 pour-over brewer is not just another kitchen appliance; it's an investment in your daily coffee routine. Hence, it is crucial to maintain it properly to ensure its longevity and consistent performance. In this section, we'll explore some important tips on cleaning, storing, and replacing various components of your v60.
Cleaning Your Hario V60: Enhancing Longevity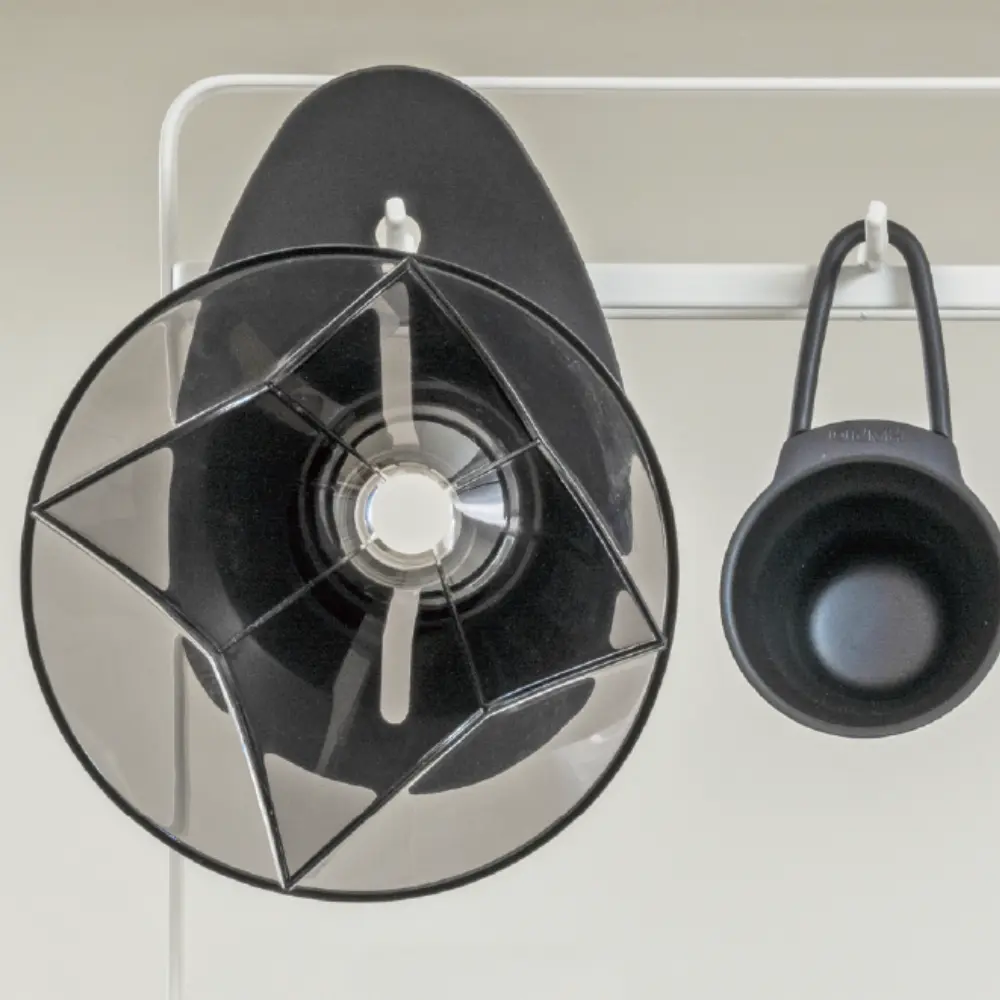 Proper cleaning is key to extending the lifespan of your Hario model and maintaining the quality of the coffee it brews. Below are some steps to ensure your v60 model dripper remains in top shape:
Immediate Cleaning: Rinse the dripper immediately after each use to prevent coffee oils and grounds from drying and sticking to its surface. This is particularly important for the v60 coffee maker models made from materials like ceramic and glass.
Deep Cleaning: Perform a deep clean once a week. Dissolve a mild, coffee-specific detergent in warm water and soak the dripper for a few minutes. Then use a soft brush to gently scrub off any remaining residue. Avoid harsh cleaning agents or abrasive scrubbers as they may damage the surface, especially in the case of the Hario glass models.
Rinse and Dry: Rinse thoroughly to ensure no detergent remains. Following this, dry it completely before storage to prevent moisture accumulation, which can lead to mold and unpleasant odors.
How to Store Your Hario V60: Best Practices
Proper storage is another crucial aspect of maintaining your v60. Here are some best practices:
Store in a Dry, Cool Place: Avoid locations where the dripper may be exposed to moisture or high heat. These conditions can damage the material over time, affecting its durability and performance.
Upright Storage: Always store your Hario model in an upright position to prevent deformation or damage, especially in the case of glass and ceramic models.
Avoid Crowded Spaces: Try not to store your dripper in crowded cupboards or drawers where it could be knocked over or chipped.
Replacing Hario V60 Components: When and How
Occasionally, components of your Hario model might need replacing. Here's when and how to do so:
When to Replace: Most parts of your v60 model should last a considerable time if maintained properly. However, you may need to replace components if they become cracked, chipped, or severely stained. Plastic models may also show signs of wear over time.
How to Replace: Hario provides individual components like the glass server or the dripper separately, making it easy to replace specific parts without having to purchase a whole new set.
To sum up, proper maintenance not only improves the lifespan of your V60 model but also ensures that every cup of coffee you make lives up to the high-quality brewing experience you've come to expect from this iconic brand. By following these tips, you'll keep your V60 in top condition, helping it deliver consistently delicious pour-over coffee for years to come.
Hario: A Retrospective
In this section, we invite you to journey with us through time as we explore the remarkable history of Hario. From its inception in the 1920s to the globally recognized brand it is today, we will delve into the milestones that have defined Hario's legacy.
Humble Beginnings: 1920s-1940s
Starting its journey in Tokyo in October 1921 as Shibata Hiroshi Manufacturing, Hario first made its name in the production and sale of laboratory glass instruments. The brand ventured into the coffee industry, revolutionizing it with their high-quality coffee equipment. A closer look at their historical timeline gives a sense of the evolution that has occurred.
Hario's journey in glass production began in earnest in the 1940s. With the construction of a factory and a glass crucible furnace in 1940, they started their research on glass melting. In the following decade, Hario marked another milestone in its history with the successful melting of "Hario Glass" in 1949. (1)
Progress and Innovation: 1950s-1960s
The 1950s saw Hario refining their operations further, notably installing the industry's first tank furnace for top-grade hard glass, known as "Hario Glass," in 1955. The company's innovation streak didn't stop there. In the 1960s, they installed the industry's first automatic glass tube forming machine, and in 1964, Hario Co., Ltd. was established as an independent division for heat-resistant glass tableware sales.
Expanding Horizons: 1970s-1980s
Hario continued to forge ahead in the 1970s and 80s, investing in technology to enhance their production capacity. Notably, in 1980, they ventured into the automotive headlens industry, illustrating their diverse applications of glass technology.
Global Recognition: 1990s-2000s
Hario entered the 1990s on a high note by signing a licensing contract to share electric melting technology for borosilicate glass with Vetrier in Italy. In 1999, they established Hario Logitem (Hario Logistics Center), marking the beginning of a more streamlined era of operations.
By the turn of the millennium, Hario was setting standards for industry practice, achieving ISO9001 certification for its Koga factory in 2000. Their pursuit of excellence continued well into the next decade, which saw the establishment of various subsidiaries, such as HARIO ASIA PTE. LTD., HARIO USA, INC., and HARIO EUROPE BV.
The Present and Future
Today, the company's heat-resistant glass, "Hario Glass®," is manufactured at Japan's only heat-resistant glass mass production factory located in Koga City, Ibaraki Prefecture. The entire production process, from preparation to assembly, is performed under stringent quality control to ensure that each product that carries the Hario name lives up to its legacy of excellence.
From humble beginnings, Hario has grown into a world-renowned brand that combines tradition, innovation, and craftsmanship in its products. With its roots in scientific precision, Hario continues to shape the coffee industry, setting the bar high for coffee brewing equipment.
User Testimonials and Expert Opinions on the Hario V60
The v60 coffee maker has become a staple in the coffee brewing world, known for its simplicity and the quality of coffee it produces. To truly understand the reach and impact of this popular brewer, let's explore testimonials from coffee enthusiasts and experts from across the globe.
What Coffee Lovers Say: Testimonials from Around the World
Enthusiasts from every corner of the world love the v60 model dripper for its simplicity and versatility. Many users have expressed that the V60 has opened up a new world of coffee brewing for them. They've lauded its ease of use, even for beginners, and the rich, full-bodied coffee it produces. Here are a few sentiments from global coffee lovers:
"I've always been a coffee drinker, but the V60 has taken my love for coffee to a new level. The flavor is incredible!"
"My first V60 brew was a game-changer. I could taste subtle flavors I never knew existed in coffee."
"The V60 is easy to use and consistently brews a great cup of coffee. It's become an essential part of my morning routine."
What Coffee Experts Think: The Professional's Verdict
Professionals in the coffee industry also have high praise for the V60. Here are a few expert opinions from prominent figures in the industry:
James Hoffmann, co-founder of Square Mile Coffee Roasters and 2007 World Barista Champion, admires the V60 for its simplicity and consistently good results.
Agnieszka Rojewska, co-founder of Chapter One Coffee in Berlin and the 2002 German Barista Champion, loves the V60 for its widespread use, which allows for easy experimentation and recipe sharing.
Odd-Steinar Tøllefsen, co-owner of Supreme Roastworks in Oslo and 2015 World Brewers Cup Champion, praises the V60's design as the epitome of filter coffee brewing, appreciating its consistency and versatility.
Martha Grill, a coffee instructor, and 2019 Brazilian Barista Champion, values the V60's simplicity and its ability to deliver a clean, balanced cup of coffee.
Hario V60 in Coffee Shops: A Barista's Perspective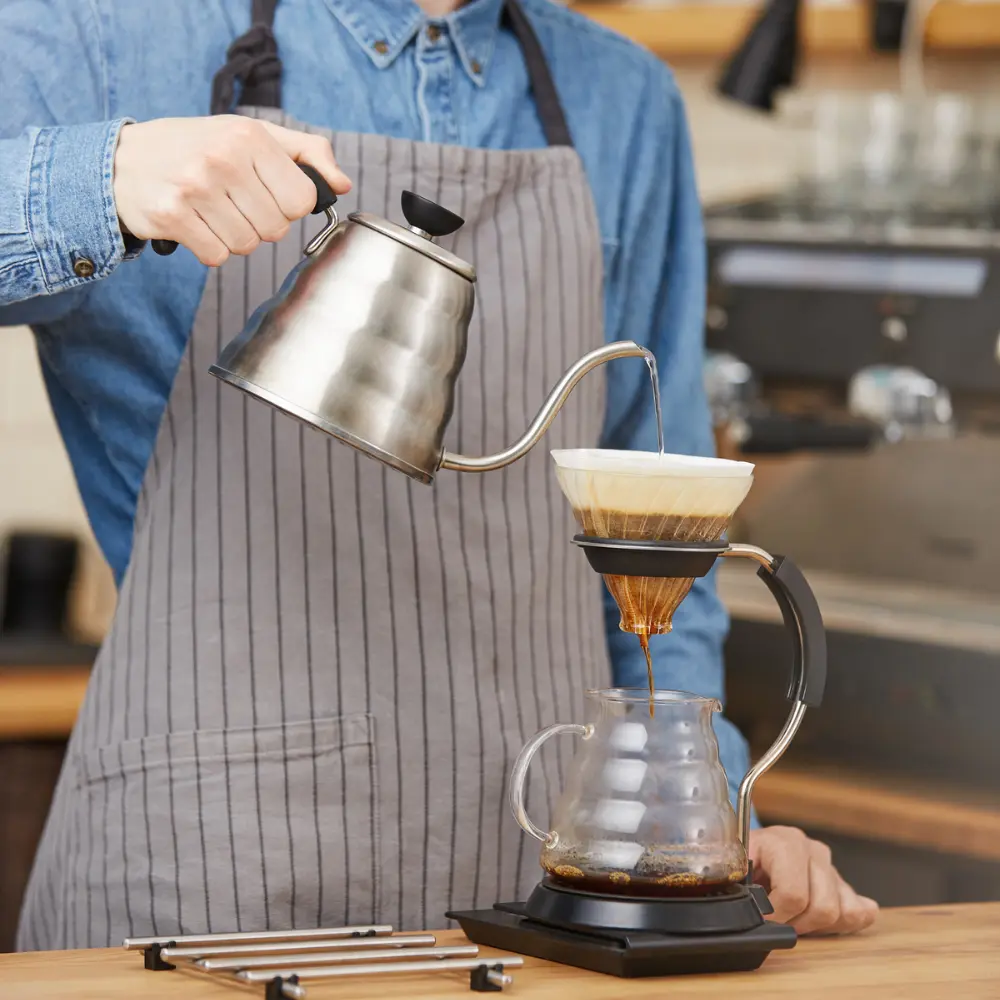 From the perspective of baristas in coffee shops around the globe, the V60 holds a special place. Its consistency, flexibility, and capacity for delivering nuanced flavors make it a go-to choice:
Pierre De Chanterac, a barista at Terres De Café in Paris and winner of the French Brewers Cup in 2019, praises the V60 for its ability to explore a coffee bean's potential. He appreciates the brewer's adaptability, enabling a brew time from two minutes to seven minutes, depending on the desired result.
Overall, whether you're a casual coffee lover or a professional in the industry, the V60 is a tried and true method for brewing a delightful cup of coffee. Its user-friendly design and consistently excellent results make it a favorite among coffee connoisseurs worldwide.
Advantages and Disadvantages of the Hario V60 Drip Brewer
When choosing a coffee brewing method, it's essential to understand the advantages and potential challenges associated with each. In this section, we will evaluate the pros and cons of the v60 model Dripper, a beloved piece of equipment among coffee enthusiasts worldwide.
Pros of the Hario V60 Dripper
Precise Control: This distinctive dripper is renowned for offering users a high degree of control over their brewing process. From the grind size and water temperature to the pour speed and direction, you can tweak every aspect of your brew to suit your taste.
Quality of Brew: This V60 coffee maker yields a clean and flavorful cup of coffee, reflecting the bean's quality and roast level. The design, including its distinctive spiral ribs and a large hole at the bottom, promotes even extraction, resulting in a balanced and nuanced brew.
Versatility: This v60 model comes in different sizes (01, 02, and 03) and materials (ceramic, glass, metal, or plastic), providing options to suit different needs and preferences. Whether you want a single cup or multiple servings, there's a Hario model to meet your needs.
Ease of Cleaning: Cleaning this distinctive dripper is a breeze. It has a straightforward design without any intricate parts, which allows for easy rinsing or wiping after use. Most models are dishwasher-safe, further enhancing convenience.
Cons of the Hario V60 Dripper
Requires Technique and Practice: To get the most out of your v60 Dripper, you'll need to perfect your technique. Variables such as pour rate and grind size can greatly impact the taste of your coffee, and it might take some experimentation to find your sweet spot.
Time-Consuming: Brewing with the v60 Dripper is not a "set and forget" method. It requires your full attention during the brewing process, which could be a downside for those seeking a quick and easy coffee fix in the morning.
Additional Equipment Needed: To brew coffee optimally with the Hario Dripper, you'll need a few extra pieces of equipment, such as a gooseneck kettle for precise pouring and a good-quality grinder to get the perfect grind size. This could mean additional investment for some users.
Single-Serve Limitation: While the v60 does come in larger sizes, it is primarily designed for single-cup brewing. If you regularly need to make coffee for a group, it might not be the most efficient method.
Understanding these aspects of this V60 Dripper can help you make an informed decision about whether this brewer aligns with your coffee brewing habits and preferences.
How We Rate & Review The Hario V60 Pour Over Brewer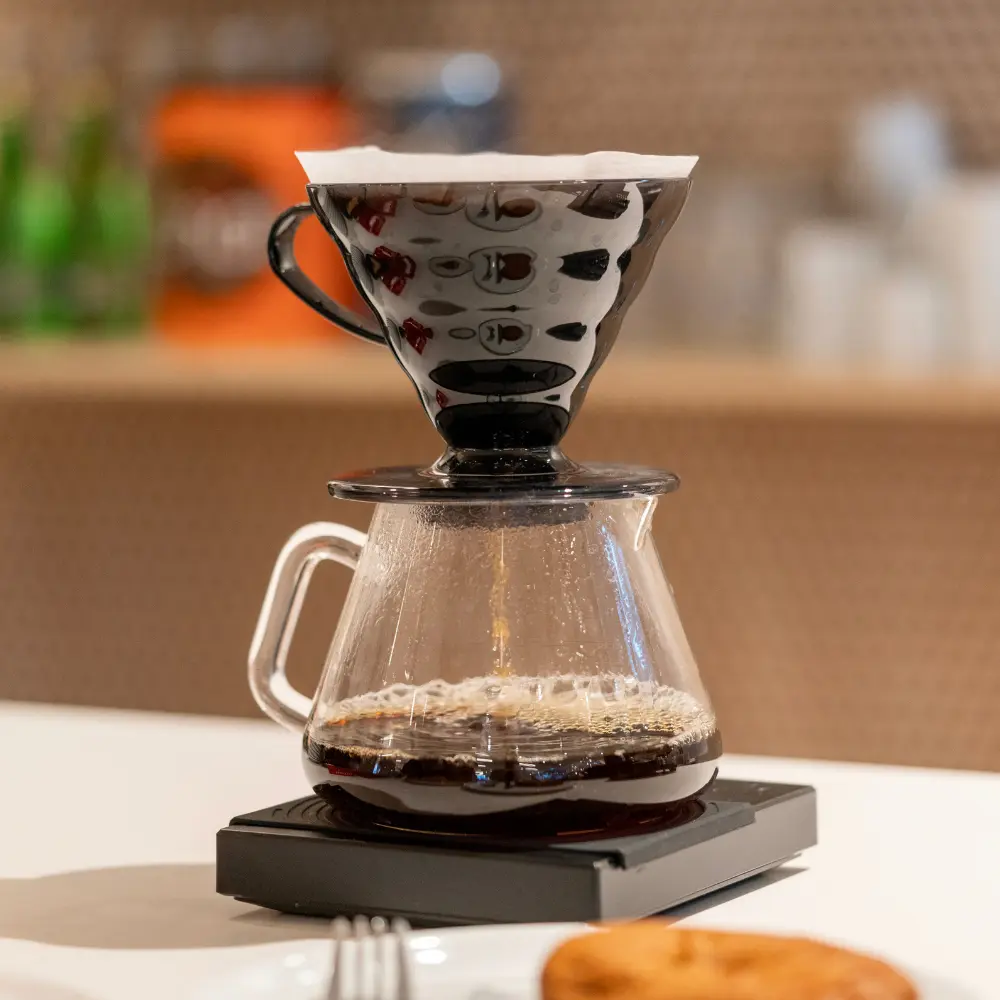 Design and Aesthetics: 4.5/5
The Hario model scores high in design and aesthetics. With its sleek conical shape, polished ceramic exterior, and visually engaging spiraled ridges on the interior, it fits seamlessly into any kitchen or café. However, we docked half a point as some users might find the ceramic material a little heavy and the design minimalist compared to other visually striking brewers in the market.
Ease of Use: 4/5
This coffee maker has a moderate learning curve, particularly for newcomers to the pour-over method. However, once familiar with the technique, the V60 is straightforward to use. Cleaning is a breeze. But the point of docking comes due to the necessity of being precise with pouring technique, grind size, and water temperature.
Consistency of Brew: 4.5/5
The coffee brewer consistently yields an excellent brew. Its unique design promotes even extraction of coffee grounds, leading to a balanced and flavorful cup. However, as the brew's quality can be influenced by various factors like grind size and pouring technique, mastering these elements is critical to ensuring consistent results.
Flexibility and Control: 5/5
This v60 model scores perfectly in this criterion. It allows total control over the brewing process—brewing time, water temperature, and grind size can all be manipulated to taste. This feature is appreciated by coffee enthusiasts who enjoy fine-tuning their brew.
Durability: 4.5/5
The V60's durability varies with its material. The porcelain and glass versions offer excellent heat retention but are more prone to breakage if dropped. In contrast, the plastic model is far less susceptible to damage from falling but does not retain heat as well. The metal version, often stainless steel, strikes a balance between heat retention and durability. Each version has its advantages, and your preference will depend on your specific needs. The 0.5-star deduction comes from the relative fragility of the porcelain and glass models.
Value for Money: 5/5
Given its high-quality construction, exceptional brew control, and the excellent coffee it yields, this distinguishable dripper provides great value for money. It is reasonably priced, considering the substantial improvement it can bring to your coffee brewing experience.
Conclusion – Guru's Score Verdict: 4.7/5
In our comprehensive Hario V60 review, we've unearthed the many reasons why this iconic coffee brewer stands at the forefront of the pour-over coffee world. From its humble beginnings to its groundbreaking design, the v60 coffee maker is a testament to Hario's century-long commitment to quality and innovation.
Our team at The Coffee Guru gives this Hario V60 dripper an impressive Editor's Score Verdict of 4.7 out of 5 stars. The elegance of its design, combined with its durable construction and the unrivaled control it offers over the brewing process, make it a coffee maker that delivers value well beyond its price point.
Whether you're a novice to the world of pour-over coffee or a seasoned coffee connoisseur seeking to refine your brewing repertoire, this dripper offers a transformative coffee experience that not only satiates your caffeine cravings but also unfolds a new dimension of flavor exploration. If your quest is to brew coffee that truly resonates with your taste buds, then this is an investment worth making. As always, we at The Coffee Guru are here to guide you on your coffee journey. Thank you for joining us on this deep dive into the world of precision pour-over coffee. Until our next brew-tiful exploration, happy brewing!
FAQ