When you walk into a coffee shop, looking to order a cold drink to help you deal with the summer heat, you will see a long list of iced drinks to choose from. Of the many options, you'll most likely come across either of these two: frappes and Frappuccino. Let me start by saying that yes, there is a difference between the two. What is a frappe? Is it the same as a Frappuccino?
Join me as I dive into each of these popular drinks—looking into the similarities, the differences, origins, and other relevant information about the two. Hopefully, the next time you walk into your neighbourhood café or coffee shop at the mall, you'll know why some have frappes and others don't, and what you can expect when you place your order.
An Introduction to Iced Beverages
Why can't we stick to simple names like coffee with milk? Coffee with foam? Coffee with whipped cream? Whether you go to a coffee chain like Starbucks, Coffee Bean and Tea Leaf, or Seattle's Best, or to a neighborhood café, you will find a list of blended beverages right beside their list of hot drinks.
Every coffee shop seems to have a unique name for their blended drinks—it's almost impossible to keep track! One of the most (if not the most) popular one would have to be a Frappuccino. It has become synonymous with all sorts of blended drinks being sold at cafes, restaurants, and even supermarkets. Aside from Frappuccino's, frappes are also quite ubiquitous.
Iced beverages are equally as popular as hot drinks. Good old coffee is good, but coffee shops also need an alternative item for non-coffee drinkers and an option for those who do not want a hot beverage. Iced blended drinks tend to be more popular during summer and in places with a hotter climate. Likewise, parents who go to coffee shops might want a non-coffee option for their children. Of course, iced beverages can have coffee, but others do not.
Unlike the straightforward espresso or brewed coffee, there's a lot of room for experimentation when it comes to blended drinks. This can be fun for recipe developers and customers who enjoy variety.
What is a Frappuccino?
The Frappuccino is a well-loved ice blended drink that is made and sold by Starbucks. The Frappuccino first came to be in Massachusetts. It was invented by a café called The Coffee Connection back in 1992. It is basically a hybrid drink. It uses a combination of milk, sweeteners, and coffee—the same basic ingredients as a cappuccino, which is the inspiration for its name: Frappuccino. This drink became so popular among the university crowd in the early 90s, The Coffee Connection started selling them to their other stores in other states. The Coffee Connection trademarked this unique drink with a unique name. When Starbucks acquired The Coffee Connection several years later, they also got the rights to sell this wonderful product.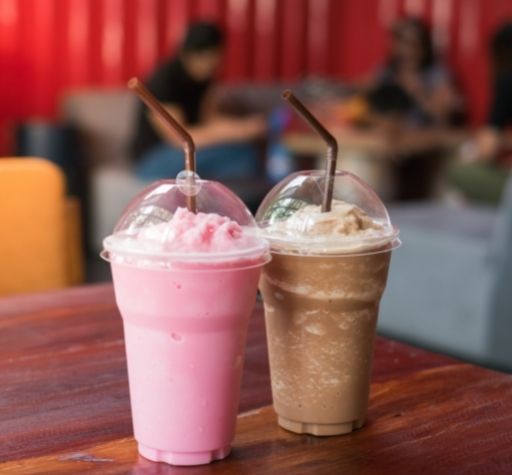 The Coffee Connection made their version of the Frappuccino using a slushie machine, while Starbucks made it with a blender. The Frappuccino has since become a mainstay in the menu of every Starbucks store, kiosk, and booth all over the world. It has become so popular, that it has since seen many evolutions over the years.
Frappuccino—a Brand in Itself
As mentioned before, the Frappuccino is a brand that Starbucks owns. It continues to be sold in all Starbucks stores. Because of its success, there have been many recipes of the Frappuccino that have come and gone. While classics like the Coffee, Mocha, Vanilla, and Caramel have been around for many years, seasonal and limited-edition offerings like the Unicorn Frappuccino have made an appearance on the menu as well. Regional flavors like Matcha are also created to cater to the local market.
The Frappuccino brand name continues to contribute to the success of Starbucks—and is possibly one of the main elements that make it stand out from its many competitors. Frappuccino-related merchandise is sold in stores, while canned versions of this popular drink have made their way to supermarket shelves. Think about it, how many coffee shop chains have a product that is as popular, as unique, and as memorable as the Frappuccino?
How to Make a Frappuccino at Home
A Frappuccino-style drink is relatively easy to make. If you have a good blender like a Vitamix, then all you will have to worry about is the ingredients. A simple recipe requires a few basic ingredients: espresso shots or coffee, milk, ice, and some type of sweetener. Put all the ingredients in a blender, and blitz until everything is blended well. Pour it in a tall glass, then add some whipped cream and syrup. You can customize the recipe by removing coffee and replacing it with non-coffee options like chocolate or cocoa.
The Frappuccino recipe is owned by Starbucks, so other cafes and enthusiasts can only approximate the ingredients and proportions when they make their own version.
Play around with the proportions of the ingredients. Use more coffee if you want that caffeine kick, more sugar or syrup if you like sweets, or more milk if you want a creamy drink. You can replace regular milk with almond or soy milk if you're lactose intolerant.
What is a Frappe?
Before the Frappuccino, there was the frappe. "Frappe" is a French word that means iced. Back then you can literally put ice cubes in a cup of coffee and call it a frappe.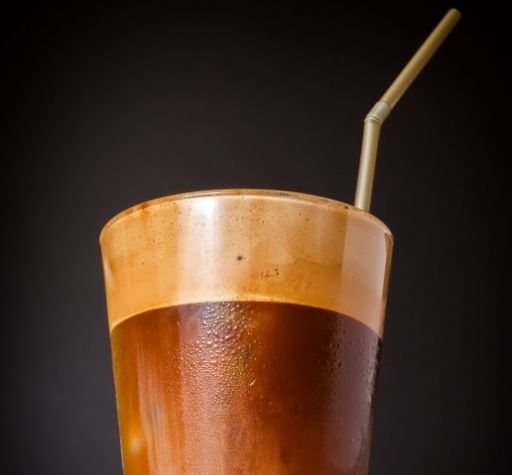 There is an urban legend that says that the frappe was first invented in the 19th century. It was popular in Europe, but its popularity did not spread to other parts of the world until the 1950s. According to some sources, a representative of Nestle went to Greece for an exhibit sometime in the 50s. While on break, he realized that he did not have hot water on hand to mix with his instant coffee. Instead, he put his coffee, cold water, ice in a shaker. He shook the mixture vigorously to ensure that the granules dissolve completely. The result was a cold beverage with foam on top—the foam being the key element that we associate with frappes.
The frappes we know today have a partially frozen, slushie-like texture due to using blenders and slushie machines when making a frappe. Some cafes use brewed coffee or espresso instead of instant coffee (like they did in Greece).
How to Make a Traditional Frappe
The "traditional" way to prepare a frappe is to use some instant coffee, water, and ice. Put everything in a shaker, then pour in a glass. Using a shaker is important in this case because it evenly mixes the ingredients quickly, and it creates the froth on top.
To make a coffee frappe, use a stronger, dark roast coffee instead of instant coffee so that the coffee taste will shine through. Add sugar, milk, and ice as needed. Mix the ingredients using a shaker or a blender then pour in a glass.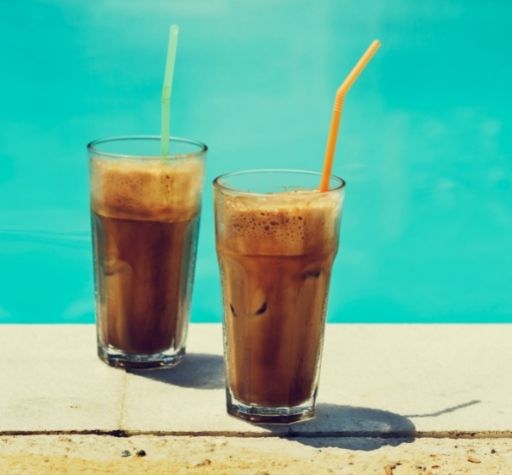 Here you'll notice that the frappe uses coffee, while the Frappuccino does not necessarily use coffee. Starbucks probably has as many coffee-based Frappuccino's as the non-coffee flavors. Rightfully so because not all people who go to coffee shops want or like coffee.
The flavor of your frappe will be directly influenced by the type of coffee that you use. Dark roast coffee will have a richer, more bitter flavor, while light to medium roast coffee might have a more acidic taste.
Comparison: Frappuccino vs Frappe
It would be an oversimplification to say that the difference is just in semantics, but at this point, it seems to be that way. The frappe and Frappuccino are the same yet different. A frappe uses instant coffee, while a Frappuccino can be made using other ingredients. You can, however, surmise that a Frappuccino is a modern take on the classic frappe. However, there are other differences to note:
A typical coffee-based Frappuccino uses brewed coffee, while the traditional frappe uses instant coffee. While not all Frappuccino's are made with coffee, frappes always use instant coffee.
Frappuccino's are more akin to a milkshake than an iced coffee—you can have it as a treat but not as a coffee replacement. Frappes bears more resemblance to a coffee—and is in fact, the cold or iced version of a coffee. Therefore, you can assume that a frappe will most likely contain caffeine unless the barista used decaf coffee.
Frappes usually have a more coffee-like flavor, while the Frappuccino is sweeter. Even if it's a coffee-based Frappuccino, you'll hardly taste it because it's mixed with ice, milk, syrup, and/or sugar and topped with whipped cream.
In terms of popularity, the frappe is more popular in Europe, while the Frappuccino is more popular in the U.S.
Because Starbucks owns the trademark of Frappuccino, they are the only company that is entitled to make and sell this drink. Although Starbucks owns the brand and the recipe, nothing is stopping other coffee shops from creating similar drinks and selling them under a different name. In fact, The Coffee Connection has been selling their version, aptly called The Original, using the recipe that they first came up with before Starbucks came into the picture.
Modern-day frappes (like the ones that McDonald's offers) are quite similar to Frappuccino's. Although most are still coffee-based, they use whipped cream, syrup, and other add-ons. They have frappes that do not contain coffee.
Each coffee shop probably has its own version of a frappe and ice blended beverage, you'll never run out of options to try. Although no other coffee shop in the world is allowed to sell Frappuccino's, you cannot deny that this Starbucks patented drink has inspired other shops to recreate their offerings.
A Word of Caution
Frappes and Frappuccino's are great, but you have to watch out for the amount that you're drinking and how often you're drinking it. Unlike coffee that is low-calorie and sugar-free (if you're having black coffee), these blended drinks are loaded with artificial sweeteners and flavorings. There's no way to know exactly how much is added to each drink. You're likely going over the daily dietary limit for sugar, especially if you're getting the regular size.
Because frappes use fewer ingredients, you can assume that it has fewer calories than a Frappuccino. A frappe with milk and sugar can contain up to 120 calories per serving, whereas a venti-sized Frappuccino can have up to 340 calories (not to mention the high sugar, fat, cholesterol, and sodium content due to the other ingredients used.). Instant coffee contains only a few calories per scoop, but if you want to be extra careful about the sugar content, ask your barista to serve the sugar and milk on the side.
Do what's best for your health and limit your intake. If the craving for a sweet drink is particularly strong, order the smallest size or split it with a friend. If you're going for a Frappuccino, order it without the whipped cream and replace regular milk with soy or non-fat milk.
A Frappe is not a Frappuccino
It's true! A frappe is not a Frappuccino even if they all kind of look and sometimes taste the same. The frappe first came to be in the 19th century, whereas the Frappuccino was invented much later, in the early-to-mid 90s.
In this article, we explored the similarities and differences between a frappe and a Frappuccino. This information might be useful if you're a cold drink enthusiast, but not so much if you like your coffee plain and hot.
Do with this information what you want. It might be helpful when you're overwhelmed with the choices in a café's menu, or it can make for a good ice breaker when you're chatting up the barista. The burden of figuring out what to order is still entirely up to you. Hopefully, the information above will help you make an informed decision on your next trip to the café.
IF YOU'VE ENJOYED THIS ARTICLE, GIVE IT A PIN!